The foundations of a powerful SEO strategy
The features of RankTracker are meant to make things easier
Want to get off to a great start with SEO? Quickly find the best opportunities through competitor analysis and our ground-breaking Discovery tool. Once your SEO campaign is up and running, keep an eye on its progress with the handy Overview dashboard.
See your most important SEO metrics
Instantly view your search result ranking, your ranking position for tracked keywords, the traffic you're receiving from searches, and more.
When you want to refine the data, add filters to see how you rank in different locations or on different devices.
SEO Savings
Find out exactly how much your SEO-generated traffic is saving you, compared to what you'd spend on equivalent paid traffic.
Sharing
Send your team a view-only link to your Rank tracker account to show them the latest SEO data on-demand.
Ranktracker
Global, national and local ranking updates
Monitor your website's position in Google, Bing, Yahoo and more. Track your rankings for multiple keywords on mobile and desktop, and see the search volumes for each keyword.
You can even check your progress in different countries, cities and zip code areas, and choose from daily, weekly or monthly updates.
Learn more
Keyword finder
Find the best keywords from a database of billions
Enter any search term to see a list of keyword ideas, accompanied by search volume and difficulty data. You can even search for keywords relevant to a specific location and language.
Learn more
SERP checker
See search engine results from around the world
Enter a keyword to see what search engine results it produces in 50+ countries, and discover whether it's possible to rank for it. We combine data from Moz and Majestic for improved accuracy.
Learn more
Actionable SEO Tasks
Set up your website like an SEO pro
Optimizing your website for SEO? Actionable Data gives you step-by-step guidance on site settings, keyword research and more, helping you get maximum traffic.
Learn more
Web audit
Easy problem-solving
Find out what's holding your site back from ranking higher. The audit tool scans over 100 data points to instantly identify any hidden SEO issues, and then lets you know how to fix them.
Generate handy XML audit reports for your IT team, and compare past audit records to check for recurring errors.
Learn more
Reports
Show colleagues and clients your progress
Create fully customizable reports that show how your visibility has changed, how your competitors are ranking, and more. Download or email to colleagues straight from your dashboard.
Dashboard
Your favorite stats, right where you need them
Make sure your SEO ship is sailing in the right direction. The dashboard gives you an overview of the metrics you need most – like tracked keyword rankings, web audit scores and competitor reports.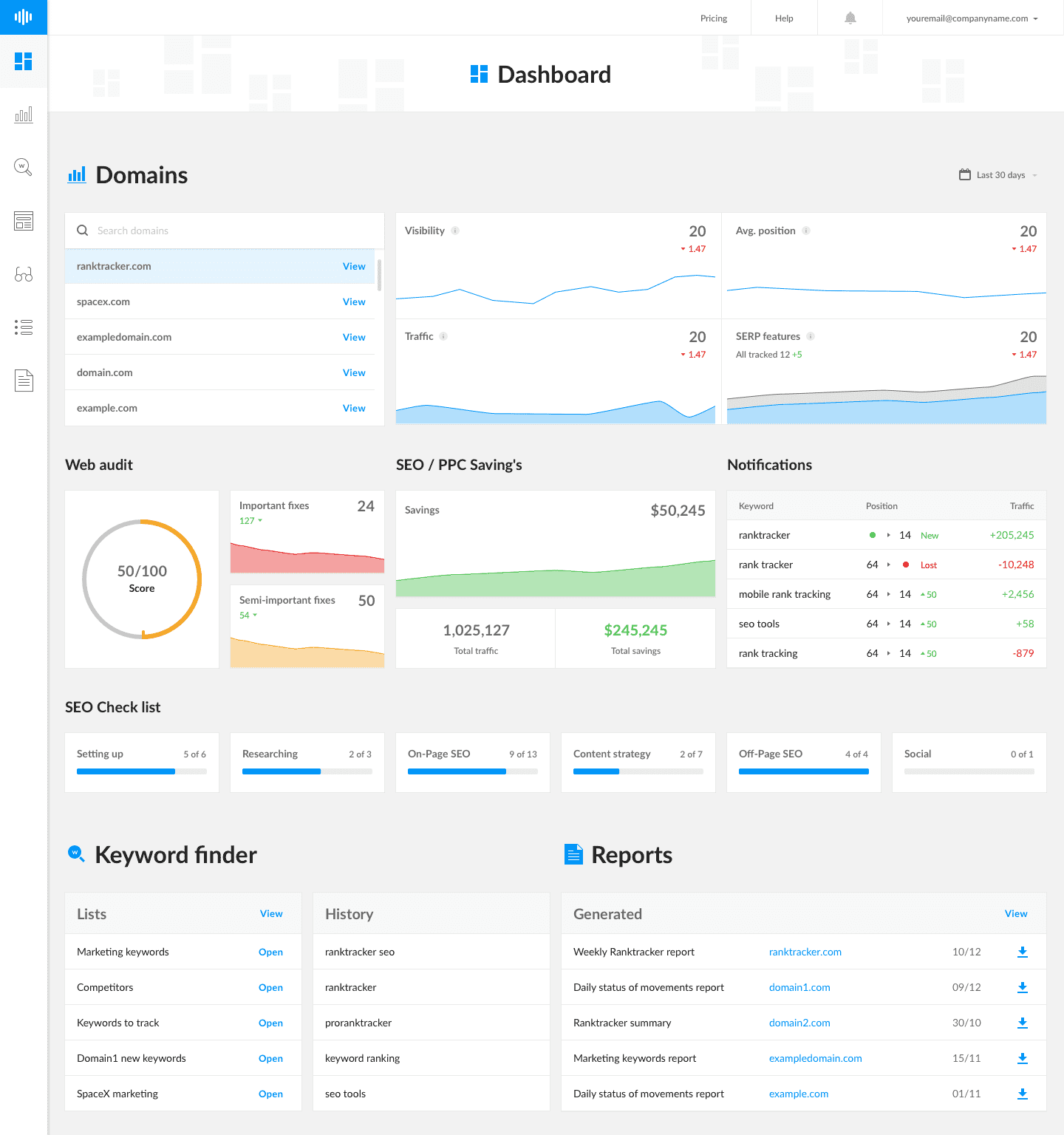 What do people have to say?
Vithurs, CEO
Rankfluence
With so many rank tracking tools available on the market today, it can be tricky finding "the one". After playing around with Rank Tracker and discussing its various features with Felix, it's clear to me they have a solid product. For anyone still in doubt, they offer a 7 day free trial, which allows you to explore the tool before you make a decision!