How it works
Ranktracker provides you with the SEO insights you need to bring targeted traffic to your website. Research keywords, assess the competition, detect problems and more – all from a single dashboard.
Rank Tracker
Get an instant overview of your most important SEO metrics. Ranktracker updates daily to monitor how your site visibility and keyword ranking are progressing.
Overview
Competitors
Pages
Metrics
Grossing
Discover Keywords
SEO / PPC Savings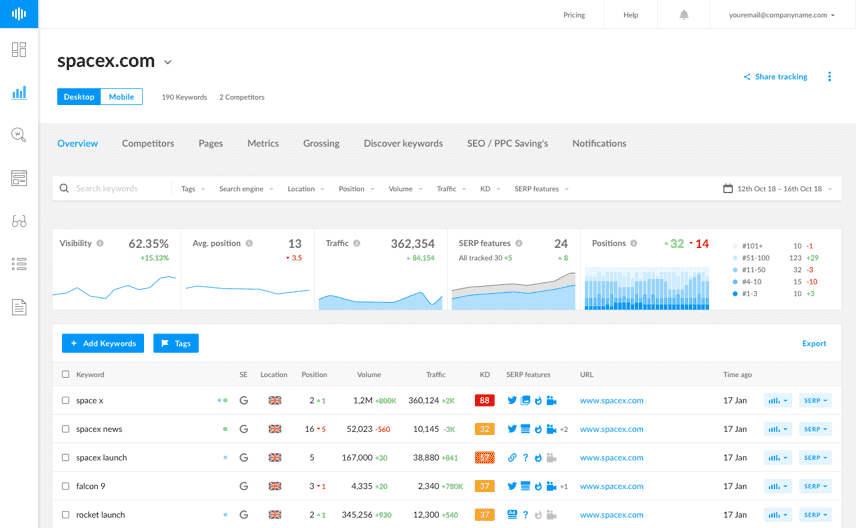 Overview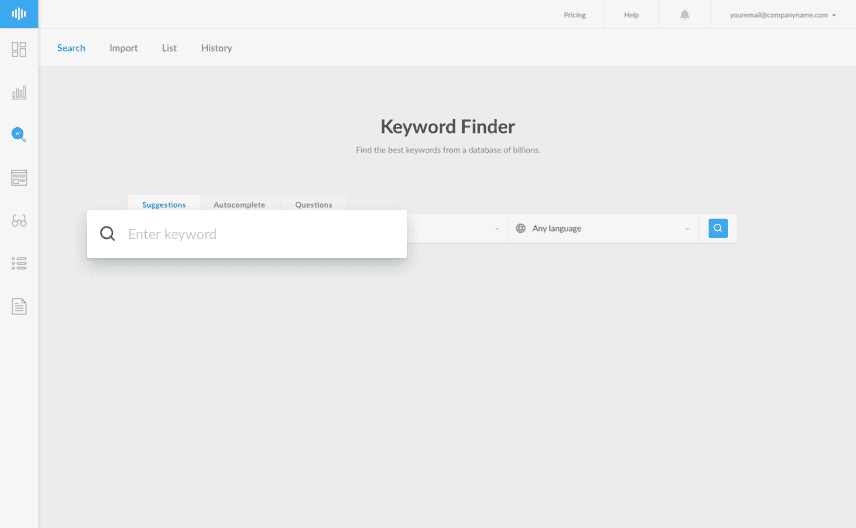 Enter keyword
Keyword Finder
When you're planning SEO content, enter a word into the finder to bring up related keywords. Instantly see which keywords you should use to get the most traffic.
Enter keyword
Choose country / language
Keyword difficulty score
Exact search volumes
Trends
CPC & PPC competition
Keyword lists
SERP Checker
Research SEO opportunities by entering keywords into the SERP checker. Instantly see location-specific search results and learn whether your site can rank for that keyword.
Enter keyword
Choose country / language
Analyze search results
Keyword difficulty score
SERP feature impact
45+ SEO Metrics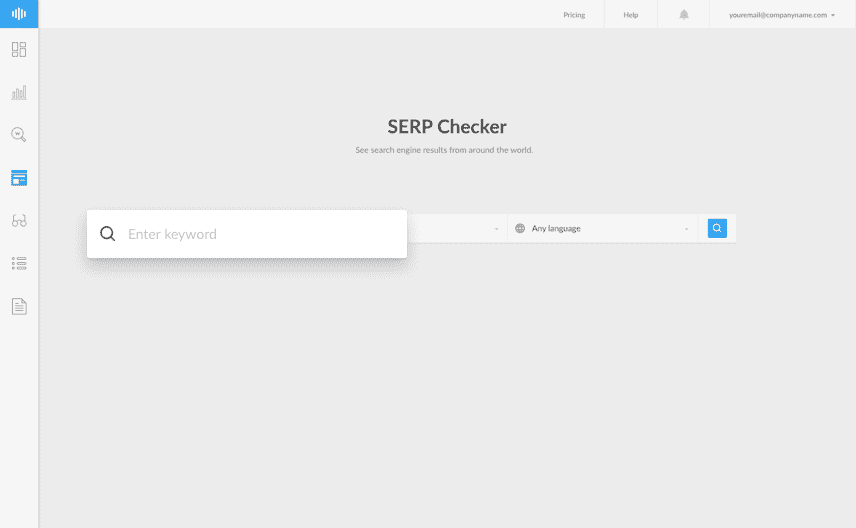 Enter keyword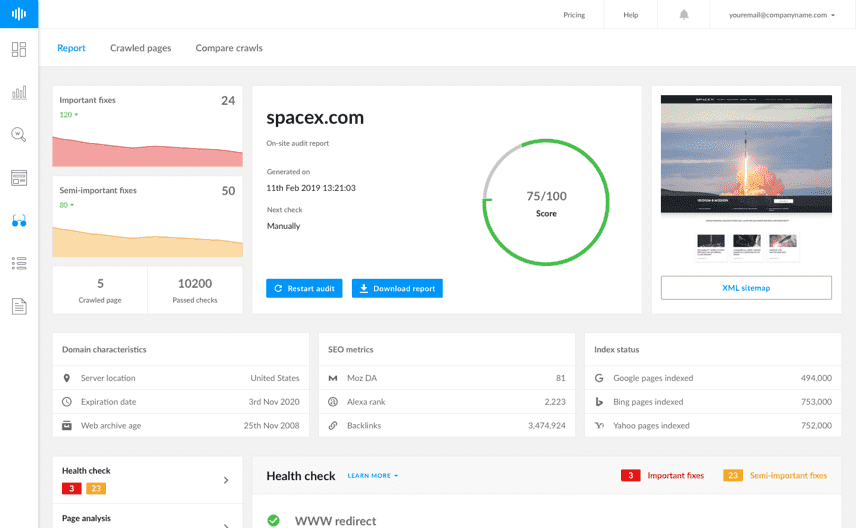 Report
Website Audit
All sorts of technical issues can damage your SEO - often without you knowing. Website audit scans your site and identifies any problems that could affect your rankings.
Report
Important fixes
Semi-important fixes
Crawled pages
Compare crawls
Reports
Create customizable reports to show how your site's ranking has changed over time. Download as a PDF or .csv file, or send to colleagues and clients via email.
Create report
Update frequency
Report type
Customisable
Report preview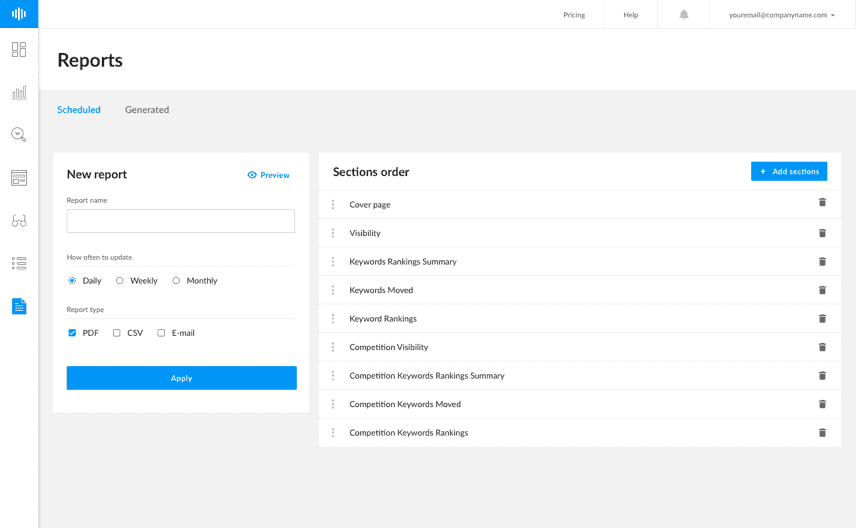 Create report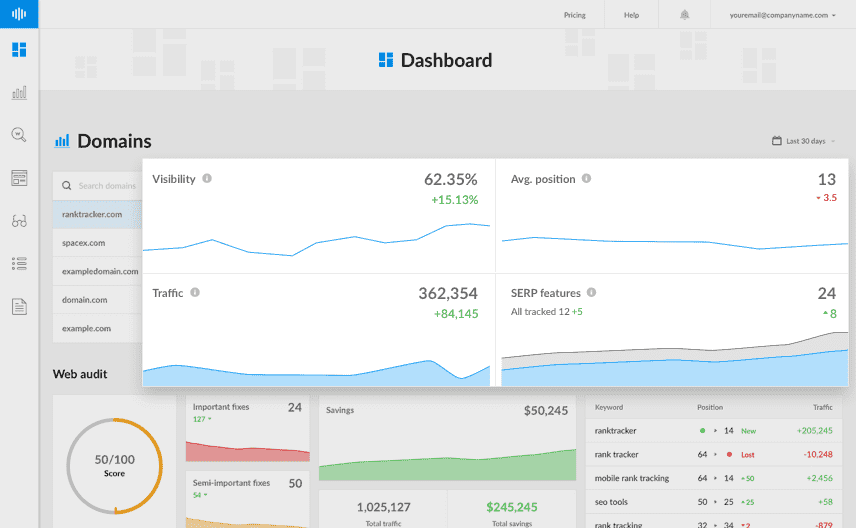 Domain overview
Dashboard
The dashboard shows you important SEO metrics – like your website's position in the search rankings, and the amount of traffic you're getting.
Domain overview
Website Audit 2.0
SEO / PPC Savings
Notifications
SEO Checklist
Keyword Finder
Reports
Start using Ranktracker… For free!
Find out what's holding your website back from ranking.
Create a free account
Or Sign in using your credentials