Global, national and local ranking updates
Track your ranking progress for any specific location. Simply enter your website and the country, region, or city you're interested in, and then choose between daily, weekly or monthly updates.
Monitor your progress on desktop and mobile
Rank Tracker lets you switch between mobile and desktop views, so you can check your ranking progress on different platforms.

Visual overviews of your ranking progress
Rank Tracker graphs show how your position has changed over time, so you can easily share progress with colleagues and clients. Get instant overviews of your visibility, traffic, average search engine position, and more.

This visualization shows you what proportion of the available search engine traffic your tracked keywords are receiving. The higher up the rankings you go, the more clicks your site should get.
See if your search engine listings include SERP features
Find out if the search engine results show SERP features like shopping previews, maps or reviews for your site. If they're not appearing anywhere, you have an opportunity to optimize your content for SERP features – and get a massive traffic boost.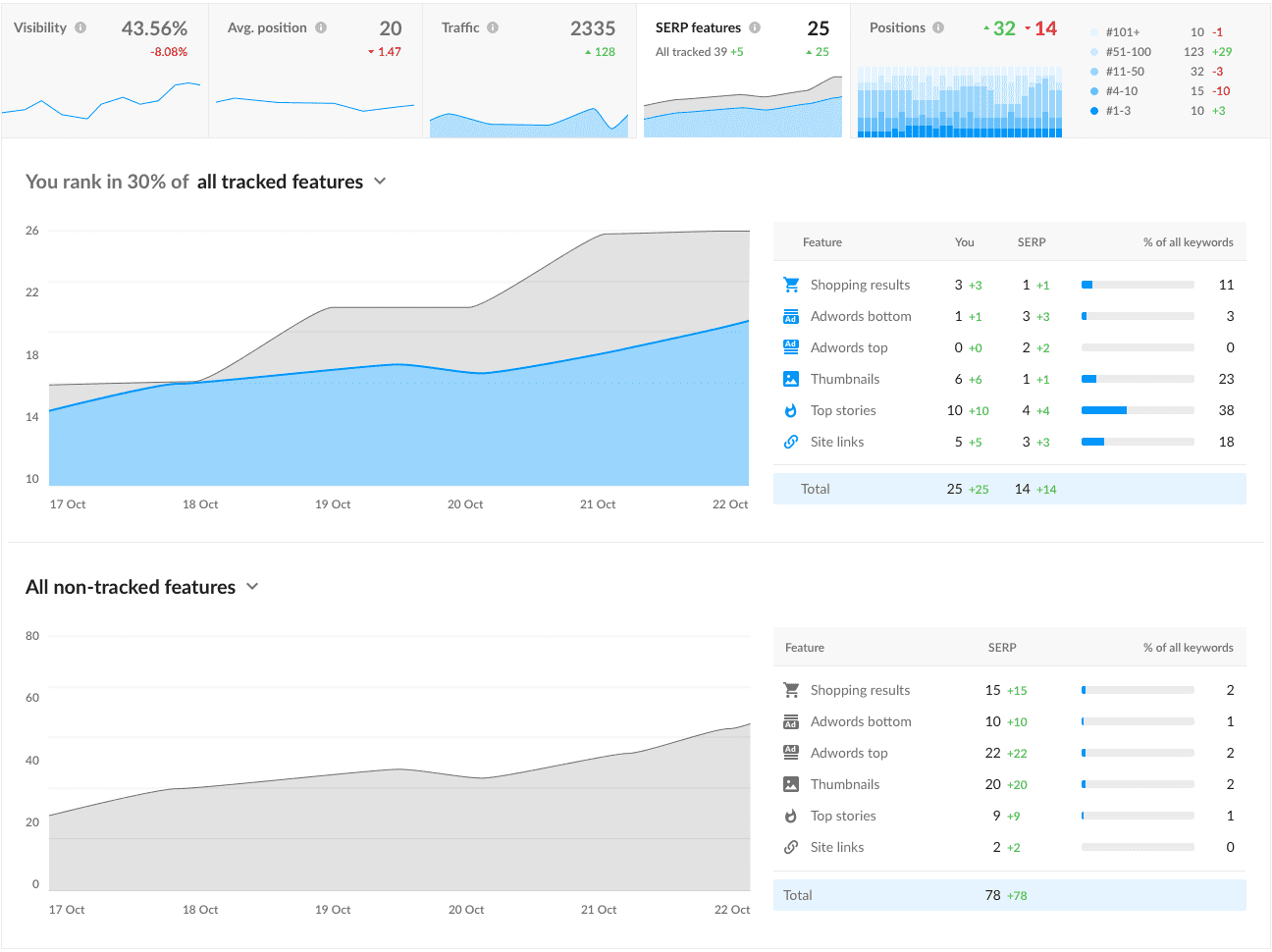 Focus on the keyword data you care about
When you want to track your ranking for specific keywords, you can hone down your search criteria to get more accurate insights. Filter by search engine, location, language and much more.

Compare your progress against your competitors
Enter any competitor's website URL to track their ranking movements side-by-side with yours. You'll see how well your strategy is working, and determine when you need to ramp up your SEO activities.

See how your ranking position has changed compared to your competitors' positions – great for when you're trying to outrank them.
Track individual website pages
When you're optimizing different parts of your site, you can see how individual pages rank too. Rank Tracker shows you the average position for each individual page, plus additional metrics like search volume and traffic. You can even see what keywords each page is ranking for.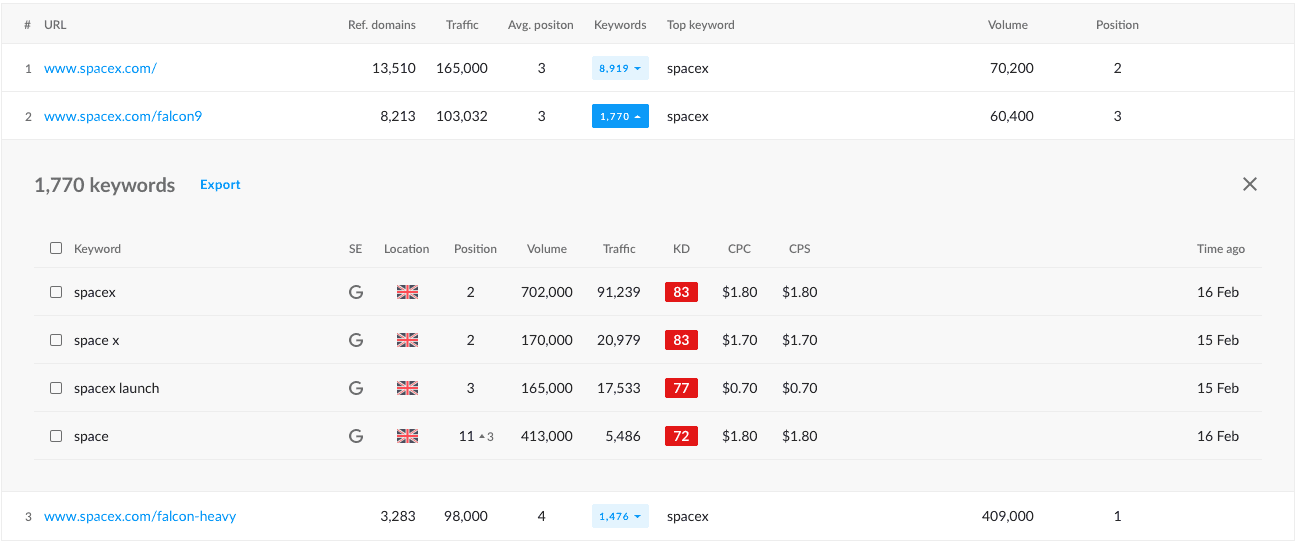 Helpful metrics for every keyword
See the important metrics for all your tracked keywords in one place. With a quick overview of factors such as search volumes and clicks generated, you can easily see how individual keywords are performing.

Grossing reports highlight recent activitying
Get a closer look at how your keywords have performed over the last 7, 30 or 90 days with the grossing reports. Look out for spikes (or drops) that correspond with your marketing activities to see what's working and what isn't.

Discover new ways to maximize your site's sales potential
Has your site already been live for a while? You're probably already ranking for some keywords without realizing it. The Discovery tool identifies them so that you can optimize your content for the traffic you're currently getting. It's a simple way to get a sales boost.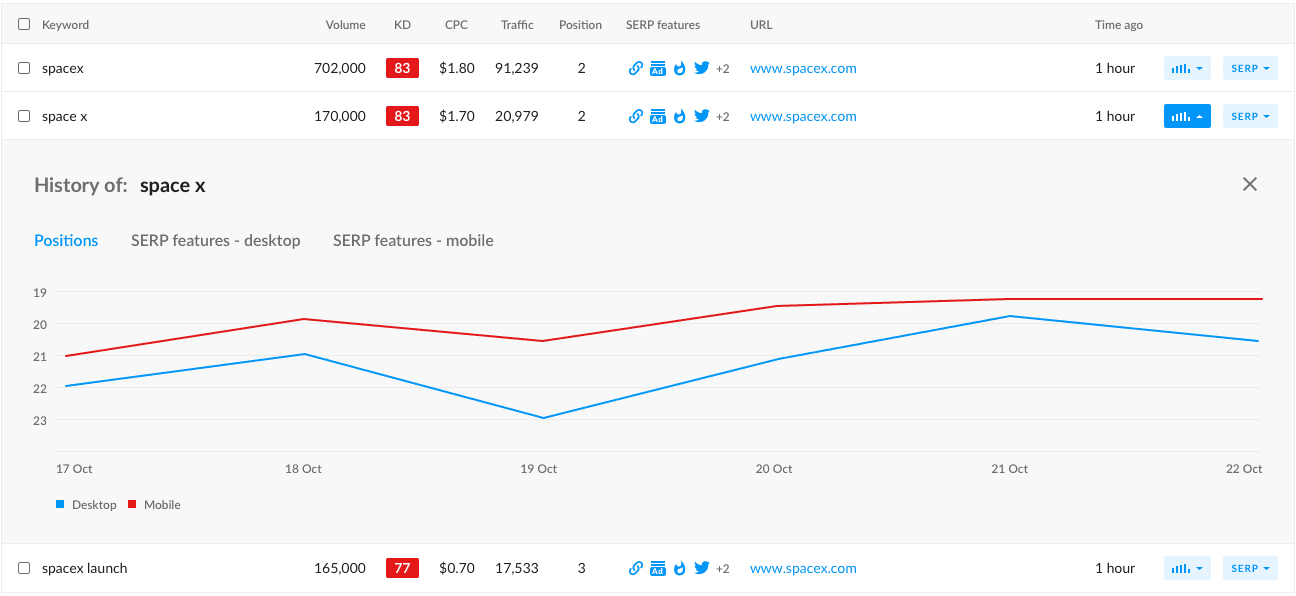 See what you're saving on paid traffic
Find out how much money you're saving through your SEO campaigns. The SEO/PPC (Pay-Per-Click) savings tool quickly calculates how much your organic traffic would cost if you were paying for it.

Ranking change notifications
Handy alerts mean you don't have to spend time looking through data readouts. Whenever there's a change in your ranking or traffic, you see a clear notification in the dashboard.

See a sample Rank Tracker report
Being successful with SEO is about making smart decisions. Rank tracker's unique tools give you accurate insights for every stage of optimization – from planning and analysis to tracking and problem-solving.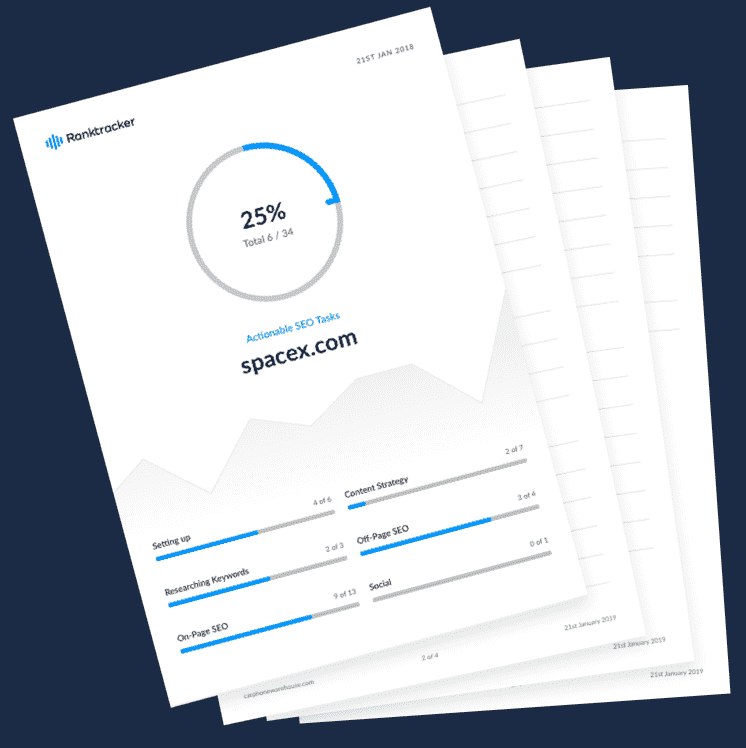 Learn more about other features
What do people have to say?
Vithurs, CEO
Rankfluence
With so many rank tracking tools available on the market today, it can be tricky finding "the one". After playing around with Rank Tracker and discussing its various features with Felix, it's clear to me they have a solid product. For anyone still in doubt, they offer a 7 day free trial, which allows you to explore the tool before you make a decision!