Intro
Are your email campaigns not delivering the results you desire? Do you feel like your messages are getting lost in the cluttered inbox of your subscribers? Fear not, as effective SEO strategies can help you optimize your email marketing campaigns and increase their impact.
In this blog post, we'll explore ten tried-and-tested SEO tips to boost your emails' visibility, clickthrough rates, and conversion rates using different techniques like email finders and automation software. Whether you're a seasoned marketer or a beginner, you'll find this post useful in enhancing the success of your email campaigns. So, let's dive in and discover the secrets to a successful SEO-driven email marketing strategy!
The importance of SEO in email marketing campaigns
SEO and email marketing may seem unrelated, but they can work together to improve your overall marketing strategy. SEO, or search engine optimization, is optimizing your website for search engine visibility and engagement. Improving your website's ranking on SERPs can drive organic traffic and improve your brand visibility.
On the other hand, email marketing is a way of directly communicating with your audience through their inbox. Combining SEO and email marketing strategies can improve your email deliverability, target specific audience segments, include relevant keywords in your email content, and encourage positive user behavior to enhance your website's ranking.
Search Engine Optimization (SEO) plays a critical role in the success of any digital marketing campaign, including email marketing. When email campaigns are optimized for search engines, they become more relevant and visible to online users, helping businesses reach out to potential customers more efficiently.
Here are some of the key reasons why incorporating SEO into your email marketing campaigns is essential:
Improved visibility and clickthrough rates
Better engagement rates
Improved relevance, personalization, and targeting
Increased conversion rates
Improved trust and credibility with your audience
Strategy 1: Optimize Your Email Subject Lines
Optimizing your email subject lines is essential for boosting your email marketing campaigns. It is the first thing that your readers will see when they receive an email from you, and it should be crafted strategically to ensure that your readers not only open the email but also engage with it.
According to a recent study, 47% of marketers test different email subject lines to optimize email performance and increase clickthrough rates. Creating a sense of curiosity or urgency, highlighting the benefits of your product or service, and offering discounts or promotions can make your email subject lines stand out. By optimizing your email subject lines, you can improve your open rates and ultimately increase your ROI.
Strategy 2: Segment Your Email List for targeted content Using LinkedIn Email Finder
Regarding email marketing, delivering the right message to the right audience is essential. This means segmenting your email list based on different criteria like demographics, location, interests, and behaviors. Doing so can increase open and clickthrough rates, reduce unsubscribe rates and drive more conversions.
The All-in-One Platform for Effective SEO
Behind every successful business is a strong SEO campaign. But with countless optimization tools and techniques out there to choose from, it can be hard to know where to start. Well, fear no more, cause I've got just the thing to help. Presenting the Ranktracker all-in-one platform for effective SEO
However, finding accurate email addresses for your target segments can be time-consuming and challenging. That's where LinkedIn Email Finder comes in. It's a powerful tool that can help you identify and extract valid email addresses of your potential prospects from their LinkedIn profiles. Here are some of the benefits of using LinkedIn Email Finder in segmenting your email list for targeted content:
Save time and effort in finding accurate email addresses
Reach out to your ideal audience with personalized and relevant content
Increase engagement, open and clickthrough rates of your email campaigns
Reduce bounce rates and improve deliverability by sending emails to verified addresses
Expand your database by discovering new contacts in your target segments
Improve your sales and marketing efforts by targeting decision-makers directly with a customized message
Segmentation can significantly improve the effectiveness of your email marketing campaigns. By leveraging LinkedIn Email Finder, you can create targeted email lists that deliver personalized and relevant content to your ideal audience, boosting your results and ROI.
Strategy 3: Use Relevant Keywords and Create Engaging Email Content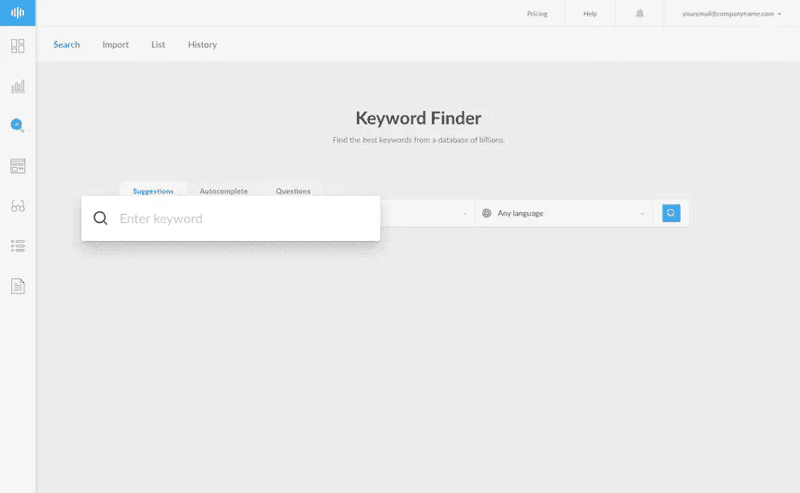 Regarding email marketing, using relevant keywords and creating engaging content is crucial for success. Start by researching the keywords your target audience is searching for and incorporating them naturally into your email content. But don't stop just stuffing keywords into your emails – focus on creating engaging content that provides value to your subscribers.
Use storytelling, humor, and personalization to grab their attention and keep them interested. And don't forget to optimize your email content for mobile devices, as more and more people are checking their emails on their smartphones. By using relevant keywords and creating engaging content, you'll improve your email open and clickthrough rates and boost your overall SEO efforts.
Strategy 4: Include Strong Call-to-Actions (CTAs)
A robust CTA drives users to your website, and it can make or break the success of your social media or email campaign.
Whether it's encouraging people to click on a link, leave a social media comment, visit an online store, or make a purchase, a call to action needs to inspire your audience to take a desired action. This can be done by using action words such as "shop," "book," and "order" and supplementing them with an urgent word to encourage instant action like "now" or "today." Remember, your CTAs should stand out and be placed strategically in your email template to improve engagement with your audience.
Strategy 5: Include Social Sharing Buttons
Including social sharing buttons on your website and in your email campaigns is critical to the success of your SEO efforts. By encouraging your audience to share your content on social media, you increase your reach and visibility, leading to potential backlinks and increased website traffic. These buttons should be strategically placed in visible locations on your website and in your emails, making it easy for users to share your content with just a few clicks.
This approach can also improve your social media presence and brand awareness and enhance engagement with your target audience. Don't underestimate the power of social media in boosting your SEO efforts, and take advantage of the benefits it can bring to your email marketing campaigns.
These buttons can encourage your subscribers to share your content with their network, increasing the reach of your message. Here are some key points to keep in mind when adding social sharing buttons to your emails:
Choose the right social media channels: Include the platforms where your target audience is most active and engaged.
Optimize button placement: Place the sharing buttons prominently in your email so they are easily visible and accessible.
Align with your campaign goals: Make sure the content you share aligns with your email campaign's goals.
Customize messaging: Create customized messaging that will encourage your subscribers to share the content with their friends and family.
Track metrics: Keep track of how many shares and clicks each social sharing button generates so you can continue to refine and improve your campaign.
By incorporating social sharing buttons into your email marketing campaigns, you can increase your reach and maximize the impact of your message.
Strategy 6: Use Email Automation
Automating your emails is one of the most useful strategies for optimizing email marketing campaigns. Email automation is a process that involves setting up triggered responses based on specific actions that users take. For example, users can receive a welcome email when they subscribe to your email list. If they abandon their cart, they can receive a reminder to complete their purchase.
Email automation can save time and effort in sending personalized and targeted emails to subscribers.
Automating welcome and thank-you emails can improve the subscriber experience and build brand loyalty.
Email automation can segment subscribers based on behavior, preferences, and demographics for better targeting.
Automated triggered emails such as cart abandonment, re-engagement, and birthday greetings can increase conversions and engagement.
Email automation can track and analyze key metrics such as open rates, clickthrough rates, and conversion rates to improve campaign performance.
Integration with other marketing tools, such as CRM, social media, and landing pages, can enhance the effectiveness of email automation.
Regular testing and optimization of email automation workflows can continuously improve campaign results.
Automation improves the relevance of your emails, which can lead to higher engagement rates.
Additionally, automation can save you time and energy, allowing you to set up a series of emails in advance and let the system take care of the rest. By implementing email automation, you can boost your email marketing campaigns and maximize your return on investment.
Strategy 7: Improve Your Email Deliverability
Ensuring your emails reach your audience is a foundational aspect of email marketing. You can make all the effort you like to craft engaging CTAs or subject lines, but if your emails don't make it to their inbox, all that hard work goes to waste. Improving your email deliverability should be a priority, and thankfully you can employ several powerful techniques to ensure that your emails hit the mark.
The All-in-One Platform for Effective SEO
Behind every successful business is a strong SEO campaign. But with countless optimization tools and techniques out there to choose from, it can be hard to know where to start. Well, fear no more, cause I've got just the thing to help. Presenting the Ranktracker all-in-one platform for effective SEO
An important first step is to prime your IP address by sending small batches of emails to engaged contacts, which will help to build trust with ISP filters. Other key tactics include registering a subdomain for your email activity and monitoring your Sender Score carefully to avoid falling below the threshold that ISPs use to block senders. Using these tactics and others, you'll set your email marketing campaigns up for success.
Strategy 8: Test and optimize email campaigns for SEO
This effective importance of SEO strategy for boosting your email marketing campaigns involves testing and optimizing email campaigns for SEO. One crucial aspect of email marketing is consistently testing the effectiveness of your campaigns. This includes testing your subject lines, call-to-actions, email content, and landing pages. Regular testing and optimization allow you to discover what works best for your audience and tailor your email marketing to meet their needs.
Conduct A/B testing on email campaigns to improve SEO performance.
Test different subject lines to determine which performs best in search results.
Test different sender names and addresses to improve visibility in search engines.
Optimize email content to include relevant keywords and phrases for SEO
Test different call-to-actions (CTAs) in emails to improve clickthrough rates and engagement.
Implement tracking and analytics to measure the success of email campaign optimizations
Use data from A/B testing to continually improve and refine email campaigns for better SEO results.
Furthermore, these results can be used to optimize your emails for SEO by incorporating the most relevant and popular keywords. Creating content that resonates with your audience while being SEO-friendly can improve your search engine rankings and attract more traffic to your website.
Strategy 9: Optimize email landing pages for SEO
Optimizing your email landing pages for search engines can greatly improve your email campaigns' visibility and conversion rates. First, create a landing page with a clear objective and a compelling CTA. Use relevant keywords in your page copy and URL, and make sure your page is mobile-friendly and optimized for speed.
Consider incorporating schema markup to help search engines better understand your page content. Social proofs, like testimonials and reviews, can also increase credibility and conversion rates. Lastly, consistency in branding and messaging between your email and landing pages can add legitimacy and promote trust with your audience. By using these optimization techniques, you can boost the effectiveness of your email marketing campaigns.
Strategy 10: Use schema markup in emails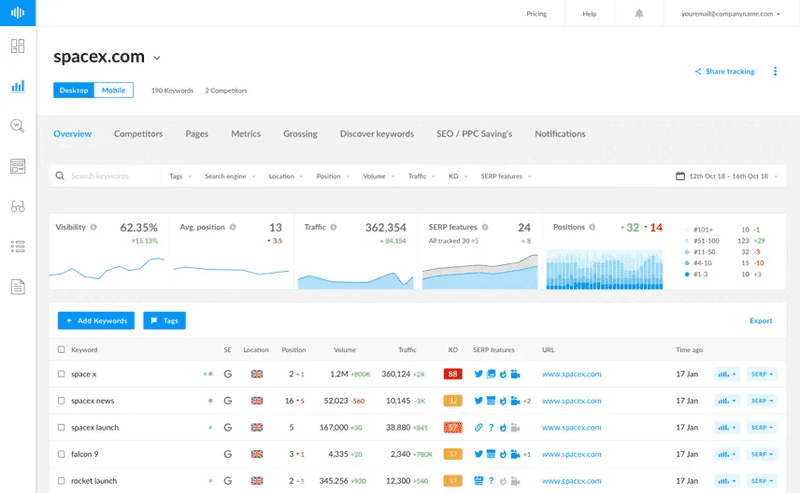 Schema markup is an important element in search engine optimization (SEO). It adds structured data to your webpage or email content, which the search engine crawlers can easily understand. With the help of structured data, your emails can feature rich snippets and special SERP features that often have higher clickthrough rates than normal search results.
In Gmail, structured data enhances the recipient's experience in the Promotions tab. Using schema markup in emails can make the inbox more engaging and efficient for your customers. Some common ways to use Schema structured data in Gmail include adding a clickable CTA in an email subject line, creating interactive carousels, and adding product information. Consider implementing schema markup in your email campaigns to increase engagement rates and improve SEO.
Monitor and analyze email and SEO performance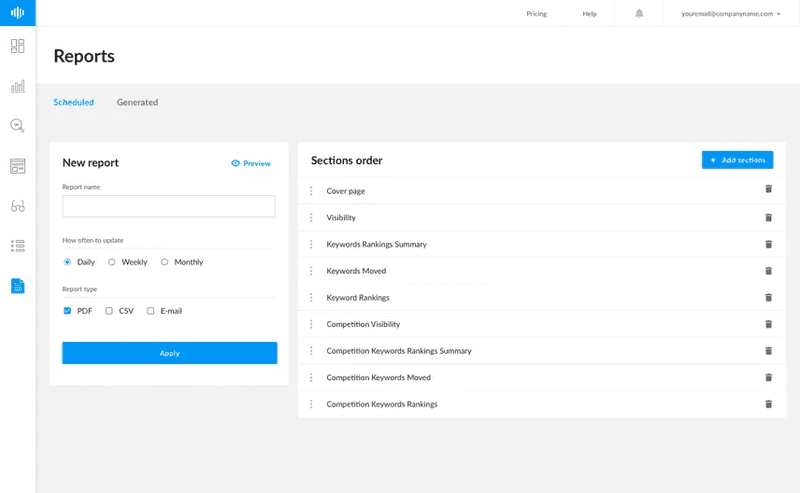 The All-in-One Platform for Effective SEO
Behind every successful business is a strong SEO campaign. But with countless optimization tools and techniques out there to choose from, it can be hard to know where to start. Well, fear no more, cause I've got just the thing to help. Presenting the Ranktracker all-in-one platform for effective SEO
To effectively reach a wider audience and achieve significant business growth, monitoring and analyzing email and SEO performance regularly is crucial. Email marketing helps businesses target their audiences effectively, generating leads and brand awareness. By monitoring email performance, businesses can gauge the success of their campaigns, identify areas that require improvement, and adjust their strategies accordingly.
Similarly, SEO performance analysis can help businesses see how their website ranks on different search engines, identify high-traffic keywords and optimize their content to improve visibility. Regularly monitoring and analyzing email and SEO performance can help businesses measure the effectiveness of their online marketing efforts and make necessary adjustments to improve their digital presence.
Regularly analyzing and adjusting your email marketing strategy ensures that your efforts are optimized for success and delivering the best possible results. Don't be afraid to try new strategies and tactics; always keep an eye on the data to make informed decisions about moving forward with your campaigns. Remember, in the world of email marketing, data is king, and by constantly analyzing your efforts, you can unlock the full potential of your campaigns and drive real results for your business.
Conclusion
In conclusion, incorporating effective SEO strategies into your email marketing campaigns can significantly boost your email deliverability, open rates, clickthrough rates, and conversions. By optimizing your subject lines, using targeted keywords, segmenting your lists, and creating high-quality content, you can improve your email engagement and achieve better results.
Tracking your SEO performance and making data-driven decisions can help you continually refine and improve your email marketing campaigns. So, consider these 10 SEO strategies and start reaping the benefits of more effective and efficient email marketing today.