Intro
In today's crowded marketplace, standing out from the competition can be a real challenge. But the most successful brands all have one thing in common: a clear and compelling brand promise. But where do you start? This guide will highlight some of the most iconic brand promise examples today.
In this article, we'll explore 10 iconic brand promise examples from some of the world's most recognizable brands and provide expert advice on how you can create your own memorable and effective brand promise. Whether you're launching a new business or looking to revamp your existing brand, understanding the power of a strong brand promise is crucial to your success.
I included a simple guide and best practices for using archetypes in your branding to help you get started. Ease your mind that you can confidently create your brand promise after reading this guide. Before we begin the discussion, let's find out what a brand promise is.
What is a brand promise?
A brand promise is about building trust and integrity. It means you (as a business leader or marketing leader) need to set the record straight upfront of the experience, value, and quality you will provide to your prospects whenever they interact with your business.
Unique, realistic, and credible are 3 important factors for a memorable brand promise. Make it short and simple. Remember, you only have seconds to captivate your target audience's attention. Ensure they instantly understand your brand promise and how it will benefit them.
Learn from successful brands if you run out of ideas. Read on and see how brands aced at winning their customers' loyalty through famous brand promises.
9+ successful brand promise examples for inspiration
Millions of successful companies dominate our world today, and all have a meaningful brand promise to stand out from the competition. Here are 9+ of the best brand promise examples from large-revenue companies that exceed the customers' expectations. Let these examples inspire you when writing your own.
1. Amazon
Amazon is undeniably one of the most successful online stores in the world. The company develops its brand identity based on the customers' needs and satisfaction. They make that clear on their brand promise: to build a place where people can find and purchase everything they need with reasonable prices, better selection, and convenient services.
Take a moment and look at Amazon's website. It started solely as an online bookselling company, but now over 12 million different products and services are available. They also have 2 million third-party sellers using the platform.
The All-in-One Platform for Effective SEO
Behind every successful business is a strong SEO campaign. But with countless optimization tools and techniques out there to choose from, it can be hard to know where to start. Well, fear no more, cause I've got just the thing to help. Presenting the Ranktracker all-in-one platform for effective SEO
The product prices give breath to the brand promise as Amazon offers compelling deals and discounts. People popularly know it as the everything store.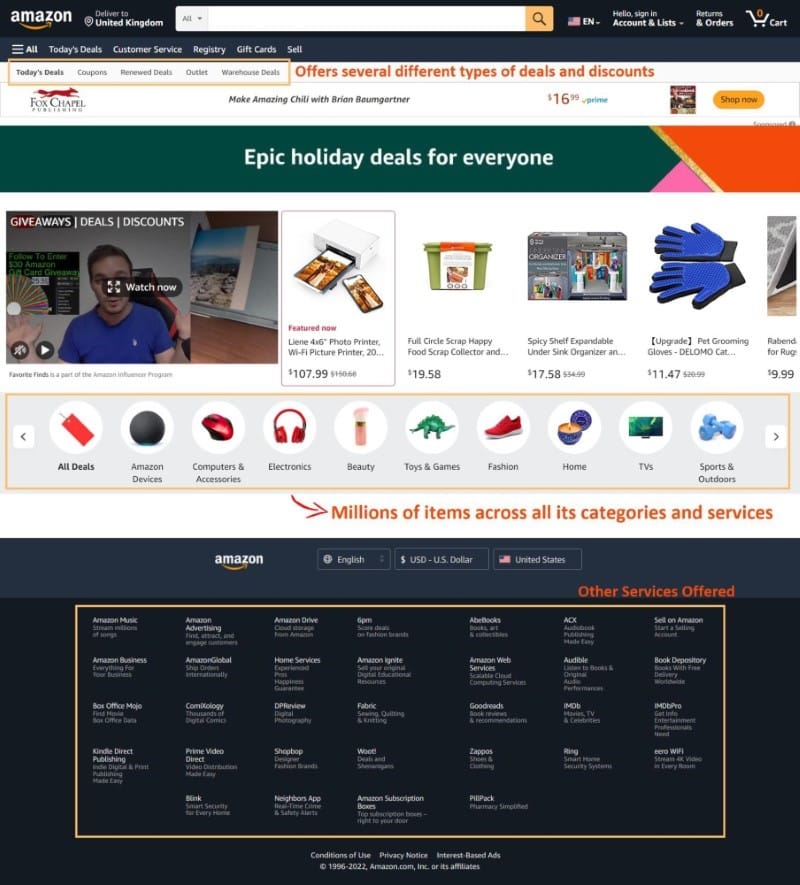 A brand promise will achieve optimal results when reflected in every aspect of the business. And that's exactly what Amazon did. The company aligns the brand promise with its goals, projects, and innovations to ensure they can change lives for the better. This isn't only meant for the shoppers but also for retailers, developers, content creators, and their employees.
Amazon has been staying true to its promise for almost 3 decades now. It receives tons of recognition from massive companies, the most recent in TIME's 100 most influential companies in 2022.
2. Apple
Putting customer satisfaction first is always the top priority of business leaders, and Apple is no exception. Instead of highlighting their products' convenience and benefits in their brand promise, they promote creativity and innovation.
The creativity promise involves their employees. They want to ensure they can help them nurture creativity and drive incredible performance. They deliver this central promise by giving the employees a stimulating workplace atmosphere and freedom in the product-making process (creation to development).
Innovation, on the other hand, is deeply embedded in Apple's company culture. They ensure to provide smart, intuitive, quality products to make people's lives simpler and more efficient. They also pay more than the usual attention to the product development process. They do this by focusing on a few products to perfect their design, functionality, and reliability.
The All-in-One Platform for Effective SEO
Behind every successful business is a strong SEO campaign. But with countless optimization tools and techniques out there to choose from, it can be hard to know where to start. Well, fear no more, cause I've got just the thing to help. Presenting the Ranktracker all-in-one platform for effective SEO
Apple inspires people to bring their original and out-of-the-box ideas to life with the hope of creating change. They only present their innovative products and services as valuable tools to make that happen. This approach is now known as the Creator brand archetype.
The Creator brand archetype taps into people's desires to create something meaningful and valuable. Something that they can freely express their unique talents. This approach is best used when targeting dreamers, artists, and tech innovation-seekers.
3. Walmart
Walmart is the best brand promise example for simplicity – save money and live better. It's short and easy to understand. Above all, it speaks to what matters most for their target demographic.
The company delivers the promise by running EDLP/EDLC business model and working directly with suppliers and local farmers. With these strategies, they can offer the lowest prices without sacrificing the company's profitability.
You probably wonder how short a brand promise should be. The general rule of thumb is no longer than one or two sentences. It should include 10 words or fewer. Others suggest that if you can't say it in one breath, then it's too long.
4. Disney
A brand promise should be realistic and inspiring. Walt Disney is one of the few brands that successfully break the norm by offering a unique promise that evokes mystery and magic. The brand promise goes like this – creating world-class stories and magical experiences for every family member.
They deliver the promise by transforming fantasy into a beautiful reality – from films to theme parks. Their Imagineering research and development team is responsible for designing rides and other amusement facilities so people can freely interact with their favorite Disney characters.
One of their famous work is the Sci-Fi Dine-In Theater at Disney-MGM Studios. It's a 1950s-inspired drive-in theater that's always in the night setting. People can watch B-grade films, like the Attack of the 50-Foot Woman, in a vintage drop-top automobile.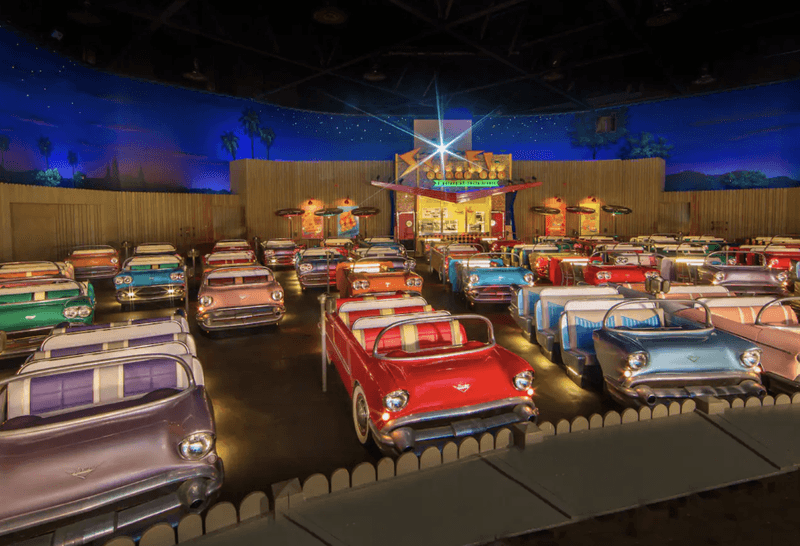 (Image Source)
They also properly inject a cross-generational target audience into their entire marketing strategy. It's a smart way to ensure all their product lines appeal to younger and older audiences.
You, too, can create an ethereal experience for your customers using the concept of the magician archetype. This brand archetype allows you to use and manipulate scientific solutions to create mysterious and magical moments. It produces outstanding results for brands that belong to the following industries:
Health
Beauty
Relaxation
Hospitality
Entertainment
5. Nike
Nike's brand strategy is so successful that people will immediately recognize it by hearing their famous tagline, "Just do it." Others can also recognize the brand's mission statement, "Bring inspiration and innovation to every athlete in the world."
Even without knowing their brand promise, these statements already give you a clear idea of what you can get when interacting with the business. And that is – they provide holistic support to inspire athletes to maintain an active lifestyle and empower them when doing sports. They also define the word "athlete" as anyone with a body, making it clear that you don't have to be a professional athlete to enjoy the healthy benefits of their products.
The company's brand promise is inspirational but has a strong and confident personality. If you want to use the same approach, add excitement and spirited elements so people won't perceive it as aggressive.
HP, the computer company, is a great example of this brand promise: We strive to engineer experiences that amaze, delight, and inspire thus successfully communicating compassion and care to its customers in everything they do.
6. Starbucks
A brand promise also has an impact on employees. It gives them a common goal like making the customers happy. That's why Starbucks wrote their brand promise specifically meaningful to their employees.
It's also backed up with training and education to ensure the employees understand the brand promise and how they can apply it to their daily dealings and decision-making process. Here are a few things included in their training that show their commitment to making every customer satisfied on every visit.
Serve people with a smile
Talk to each customer by name
Write the customer's name in their cup
Lastly (and most important), provide the level of service exactly the way customers want it
The latter is delivered by accommodating all of the customer's requests. You can ask the barista for 15 additions to your drink and they'll happily comply, except for when asking for extra espresso shots (they follow healthy limits).
7. Coca-Cola
The beauty of brand promises is flexibility. You can write it in any way you want them to. Coca-Cola wrote theirs intending to inspire moments of optimism and uplift. It's an honest core message encouraging people to take a step back, relax, and seek complete happiness.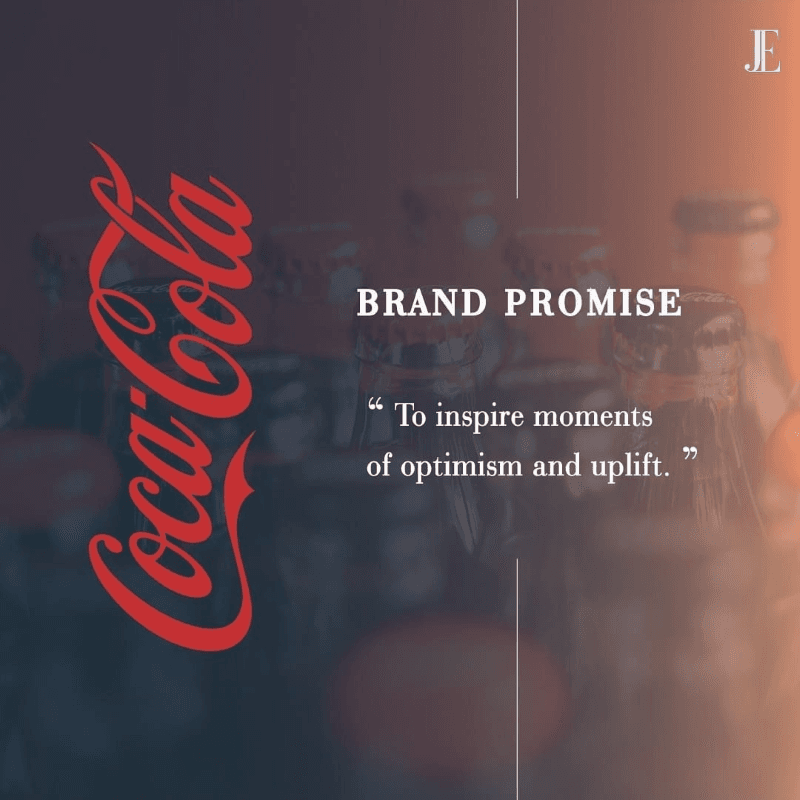 (Image Source)
They deliver the promise by writing compelling stories that bring family, friends, and communities closer together – sharing nothing but happiness. It becomes successful because they prioritize the consumers' needs and evolve its products around it. Now, people can instantly relate to Coca-Cola's brand promise whenever they hear the words happiness, love, and relaxation.
8. Mcdonald's
Some brands prefer to write a direct statement for their promise. But others injected the promise into their core values and mission statement. One excellent brand promise example is Mcdonald's: to serve delicious food people feel good about eating.
They followed it with the benefits the consumers will get on every visit:
Speed of service
Affordable prices
High-quality selection
Convenient hours and locations
McDonald's also believes actions are bigger than words. That's why they ensure their stakeholders are well-trained so they can implement the brand's core values in everything they do. As a result, consumers feel welcomed and valued. On top of that, they maintain a safe and healthy workplace for the employees.
9. UPS
When it comes to shipping success, UPS remains unbeatable. They have 115 years of experience providing excellent customer service and brand experience, the best combinations to retain customers and build customer loyalty. Another key to their success is a bold promise of speed and ease.
They deliver the promise by providing a frictionless customer experience. Since internet technology continues to be in demand, they also focus on providing engaging digital experiences to improve customer retention, engagement, and satisfaction.
UPS's approach to creating its brand promise is similar to Nike and FedEx (one of its major competitors). They consistently promote themselves as high quality and superior to their competition while establishing a reputation as problem solvers. They also never forget to inspire and empower people to achieve success no matter what it takes.
This strategy is also effective for pharmaceutical ingredient brands, security tool providers, and eCommerce tool providers.
10. BMW
The ultimate driving machine is the first thing that comes to mind when you hear the brand BMW. Many believe it's their brand promise, but it's one of their famous ad slogans in the 70s. Its true brand promise is – driving pleasure.

(Image Source)
This only shows how the company's priorities evolved. They now prioritize the customers' driving experience more than the product's design. They deliver this by engineering excellent performance abilities and unique features that boost convenience.
Regarding the product's entirety (design and features), they consider their customers' lifestyles. They want the mind of customers to feel good when driving their products and simply, make the experience fun and easy.
They also make it a mission to engage more with their audience by creating relevant content that is helpful and entertaining, employing reputation management efforts to make this happen.
Now that you know what a brand promise looks like and how it works, it's time to learn how to create your own. Here you go.
4 ways to write a good brand promise
There are tons of information online on how to write a good brand promise. After in-depth research and experimenting, I've finally narrowed down the best practices that provide outstanding results. Here are some that you can follow.
1. Brand promise formula
Creating a brand promise from scratch is harder than you think, particularly if you have never done it before. But there's nothing to worry about because you can use brand promise templates to make it easier for you. Here's the simplest formula: We promise to how + who + what.
So what does this mean?
How: Defines what your brand does and how customers can benefit from them
Who: Refers to your target audience
What: Describes what the customers will receive when using the products or services
Let's set at least 2 examples. Say you're a digital marketing brand like podcasting software and you want to compete with the big brands, your brand promise can say: Providing podcasting solutions to startup podcasters to scale subscribers in no time.
If you're an emerging tech news and information source trying to compete with brands like TechCrunch, your brand promise can go: The leading source of tech, digital innovation, and gaming news and information for the news-hungry tech enthusiasts.
A brand promise is a natural extension of your brand strategy. So if you have already written statements for the following, it speeds up the process.
Vision
Mission
Corporate values
Value proposition
Brand positioning
You can blend in their concepts and create one on-point idea. You can also simply put what your brand does and for whom.
2. Focus on the audience, not the words
No matter how beautifully you write the brand promise, it will miss the mark if it doesn't resonate with your audience's values, interests, and aspirations. Take time to determine what your audience wants to get from you.
Apart from product quality, experience is what matters most to consumers. Write your brand promise highlighting the experience you can provide when visiting your store (physical and online).
Let's say you're an online ad solution. You can focus your brand promise on people's reluctance to leverage the online platform for output uncertainty. Then, present the solution you offer, like a real-time insight tool where they can monitor their resources and investments for their peace of mind.
Current market competitions are also good to consider. It helps owners identify the unique traits customers find the most appealing and use them to get a competitive business edge.
3. Pick a brand promise type
Most business leaders craft an emotion-based brand promise because it creates more potent and meaningful connections with their target audience. It's effective, but it isn't the only option. There are different types of powerful brand promises you can use, and here are 2 types that work.
I. Price
A brand promise should convey a compelling benefit. One benefit that affects the consumer's purchasing decision is the price. They are more willing to buy a product when they know its worth. You don't have to include the exact price tag. You can describe it using words like high-end, cost-effective, or economical.
You can also adopt the approach of Asda. In 2010, the company launched a brand promise that says: Promising customers that their shopping at Asda would be 10% cheaper than other big supermarkets, and if it weren't, we'd refund them the difference. It's a tempting promise, but consumers are a bit skeptical because it may involve a lot of work on their side.
Asda solves this concern by providing a link with mysupermarket.co.uk, and all consumers need to do is enter a few details from their receipt – date and time of purchase, store number, and transaction number. This promise runs for 8 years before changing it and focusing more on their social responsibility.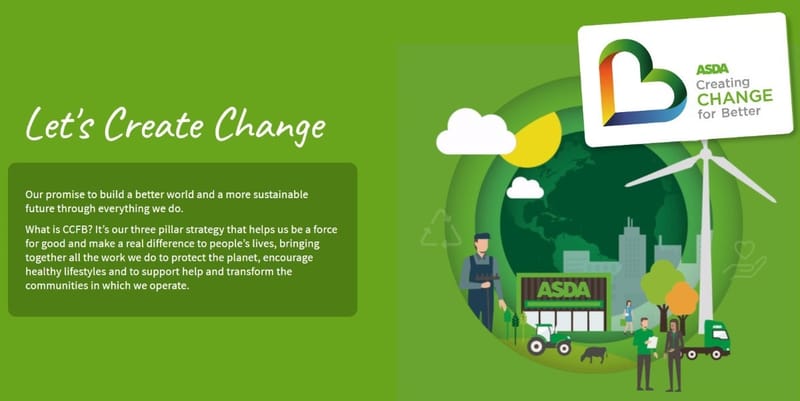 (Image Source)
II. Tagline
A brand promise and a tagline are two different statements. However, some companies use the tagline to convey their promise. Coors Light rose to fame when it promised "the world's most refreshing beer.", leveraging video for its branding. It changed over time and now has made a more relatable promise, which is the beer made to chill.
They deliver the promise by consistently running ad campaigns or contests. They ran a contest where customers had a chance to win free laundry services for a month. They do this to allow customers to have fun and chill at their favorite bar while watching college football games.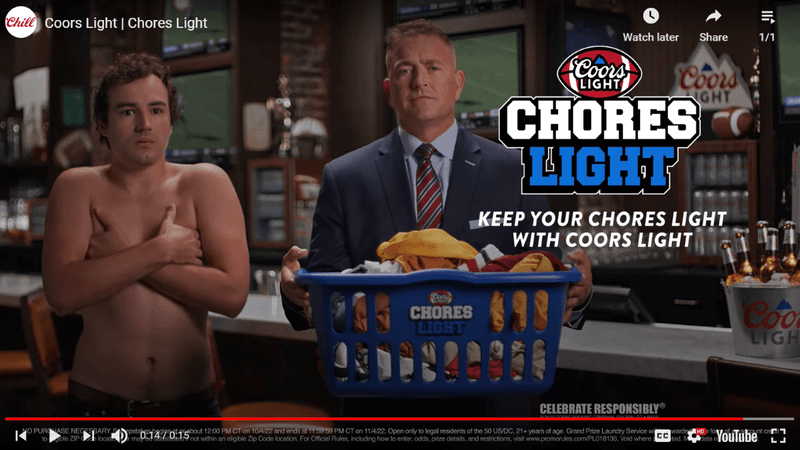 Other brands that use this type of brand promise are (check them out for inspiration):
VRBO: Where families travel better together
Ronseal: It does exactly what it says on the tin
Meow Mix: Tastes so good, cats ask for it by name
Aura AI Amazon Repricer: Repricing, Reimagined™
UnscrambleX: Simple, easy, and fast anagram unscrambler
Geico: 15 minutes or less can save you 15% or more on car insurance
4. Use brand archetypes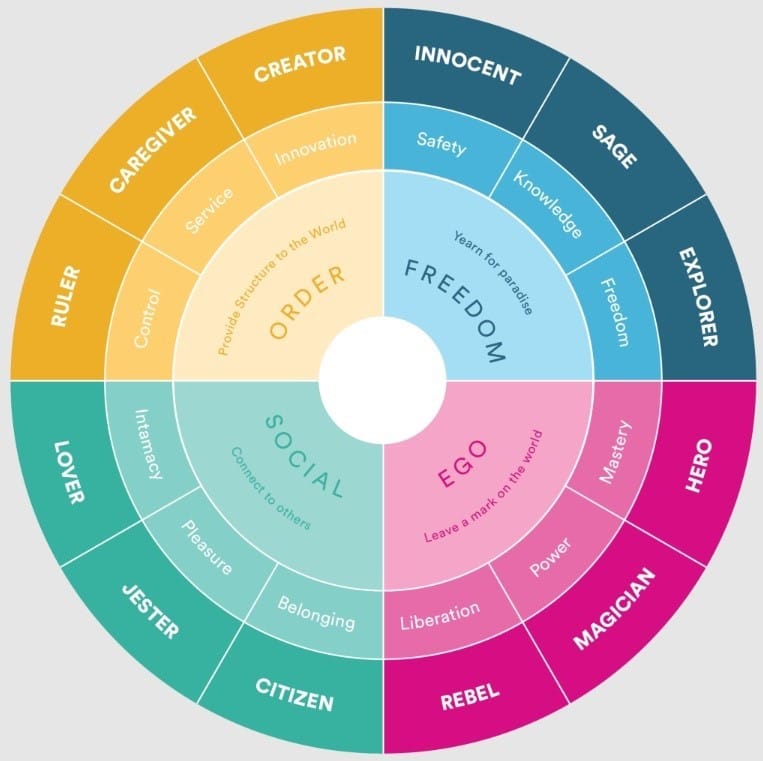 (Image Source)
If you prefer to craft your brand promises based on your core customers and their personality traits, brand archetypes can save you time. Brand archetypes are personas created by companies that represent fundamental human values and desires. They apply it to their brand narrative to develop and deepen an emotional connection with their target audience.
There are 12 brand archetypes. I'll not bore you with long details, so I'll only discuss 3 of the commonly used archetypes.
A. Creator archetype
Just like I've discussed in the brand promise example (Apple), the Creator archetype represents consumers' creative and inventive personalities. That's why businesses in the technology industry make it their go-to archetype when creating a brand promise.
The primary goal of the Creator archetype is to tap into the human imagination as a whole. You can also use it to target artistic and non-conformist people. Lego, Adobe, as well as most tech development brands like TrustShoring adopt this brand archetype into their brand promise.
B. Lover archetype
The lover brand archetype is about evoking the right emotions to make the audience feel special while meeting their needs. You can cover all kinds of love, including, but not limited to:
Familial
Parental
Self-love
Spiritual
Romantic
Friendships
Beauty and fashion brands like Chanel, GODIVA chocolates, and Victoria's Secret popularly use the lover archetype. But you can use it freely as long as your target audience is someone who values aesthetics and appearance.
Alfa Romeo sets a good example. Automobile brands commonly use the Explorer brand archetype because of its adventurous nature. However, Alfa Romeo's passion lies in designing vehicles that look perfectly at home, on the road, and in museums.
You can create your version of the lover brand archetype by bringing out the passion in your field. Let's say you're selling professional display dress forms. You can write a simple promise statement like this: We provide beautiful and well-crafted display dress forms that do justice to your hard work and creativity.
C. Sage archetype
Are you an expert in your field who wants to share your wisdom and knowledge? If so, the Sage brand archetype is the right option for crafting your brand promise.
It's all about seeking the truth and providing people with practical information that can help them better understand their job, lives, and everything else in the world. This will be helpful for tech sources, luxury travel guides, and mental health gurus.
To succeed in using this brand archetype, you have to prove that you're a trusted source of information. You can get inspiration from brands like Google, BBC, and MIT. You can also succeed in this brand archetype if you own consulting firms and marketing agencies.
The All-in-One Platform for Effective SEO
Behind every successful business is a strong SEO campaign. But with countless optimization tools and techniques out there to choose from, it can be hard to know where to start. Well, fear no more, cause I've got just the thing to help. Presenting the Ranktracker all-in-one platform for effective SEO
All you need to do is consistently share in-depth guides and courses (free and paid). Since the pandemic is still going on, the popular topic people want to know is how to make money using blogs, websites, and social media platforms. You can provide one-on-one consultation via virtual meetings or release a podcast.
Wrapping Up
Looking at brand promise examples and reading best practices guides can make the creation process more manageable. But the most effective market strategy you can use is putting yourself in your consumers' shoes. It will help you understand what they are looking for in a brand and their expectations.
Creating a great brand promise is crucial in building your brand identity. But experience speaks louder than words. So, keep your promise every single time and give your customers a unique and noteworthy experience.
You should also communicate the brand promise to every person involved in the implementation. Consistent delivery of the promise will positively impact your customer experience and the organization's bottom line, especially when partnered with effective brand awareness techniques.
Here at RankTracker, we provide you with SEO tools to scale your brand in the online stage. Check out our keyword finder, SERP checker, and backlink monitor, and perform a web audit of your website. Create a free account today.