Intro
AI is on track to become the most valuable technology of the 21 century. People use it to work on college essays, compose music, and make works of art. Recently, companies began to use artificial intelligence for many activities, including customer support and inventory management. But, many found that the tech can improve the quality of their SEO.
Amazon, Google, Microsoft, and Apple already use AI for this purpose. Platforms and tools built around this tech help them find and keep clients through many communication channels. This article offers helpful tips about using artificial intelligence in your SEO strategy and the tools for each of them.
How AI helps SEO strategies
There are several ways artificial intelligence technology helps businesses adjust their SEO plans:
Find opportunities. Finding the right topics to address in your content is a work of art. AI tools establish trending industry topics and spot competitive market gaps. This way, companies have the most effective topics to entice their audience with.
Optimize conversion rates. This technology helps improve traffic conversion rates. AI increases the chances of users providing their emails or buying products. These tools optimize pages to reach the goals of your business.
Improve the quality of content. Some companies abandon their content pages after publishing the first version. Of course, the seniority of a page helps with search rankings. But frequently updating its content and links via AI tools can help new pages rise up the SERP faster.
These qualities help businesses of all scopes improve their online presence. It's true for both "essay writer online" platforms and large corporations. There are several ways businesses may use these tools in their daily work.
Audit the current state of your website
As with all business-related things, you should first take stock of the current assets. The same is true about the SEO content of your website. There are plenty of AI-based tools that quickly check all on-site SEO elements. They identify issues with the page and show how to fix them. These AI-backed instruments scan full pages in several seconds.
This saves you a lot of time, especially when running your own business. You'll get instant results instead of spending hours researching and identifying issues. Many platforms provide dashboards that show the most pressing issues at hand. Such tools work with over 100 data points, including the robots.txt file.
Find better keywords
One of the best things about AI is its ability to quickly find relevant keywords. You can enter words and phrases relevant to your business to find SEO-related content. This makes it easier to establish what your audience is looking for in search engines. Some of the SEO tools allow for finding keywords with less competition.
They show users how difficult the competition is per keyword. These are often combined from several words. This allows making content with words and phrases that have the smallest competition. The longer the keywords, the more likely that the pages will rank well in search results. In turn, this brings more traffic to your pages.
Check SERP ratings of the webpages
AI technology also helps businesses gain the upper hand over their competitors. This can be done via platforms that have a SERP analysis tool. Companies of all scopes may use it to uncover weaknesses among their competitors. This technology analyzes search terms based on an enormous database of keywords. Such tools allow you to:
Narrow down the search to particular locations (country, region, city, or neighborhood).
See rankings for entered keywords.
The possibility of using them competitively.
View the number of search results.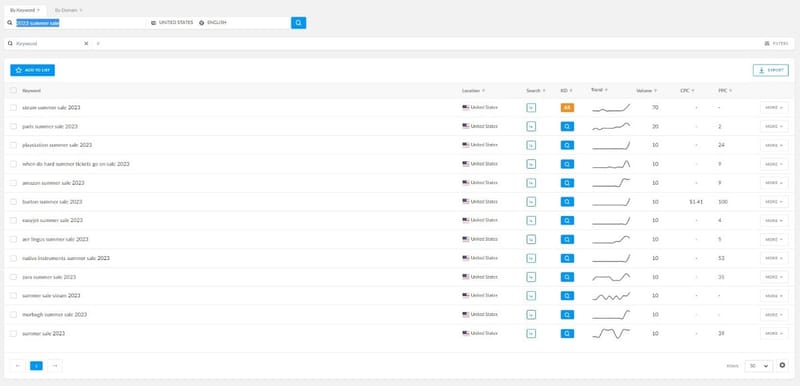 After performing a search, the tools show reviews, maps, shop links, and other related pieces of information. With patience and a systemic approach, you can pin down SERP features that will bring more visitors to the website.
Learn from the competition
Not everyone has the creativity to conduct successful SEO strategies on their own. That's why it's a good idea to see what your competitors are up to. For example, this can be done by viewing the backlink catalog of other companies. The information demonstrates which content users want to see the most.
In turn, it allows marketers to tailor their SEO strategies around things that work. There are plenty of tools that use AI for these purposes. They show the current rating of the domain and particular URLs. These tools also show the ratio of do-follow and no-follow links, as well as the total backlink number.
Improve local SEO reach
To get better results, you may search for keywords that are popular in a particular location or language. This helps target audiences that are outside of your regular market. For example, a US company that wants to expand to Europe may tailor materials to different countries. This optimization approach also ensures that your company is visible on the local scene.
The All-in-One Platform for Effective SEO
Behind every successful business is a strong SEO campaign. But with countless optimization tools and techniques out there to choose from, it can be hard to know where to start. Well, fear no more, cause I've got just the thing to help. Presenting the Ranktracker all-in-one platform for effective SEO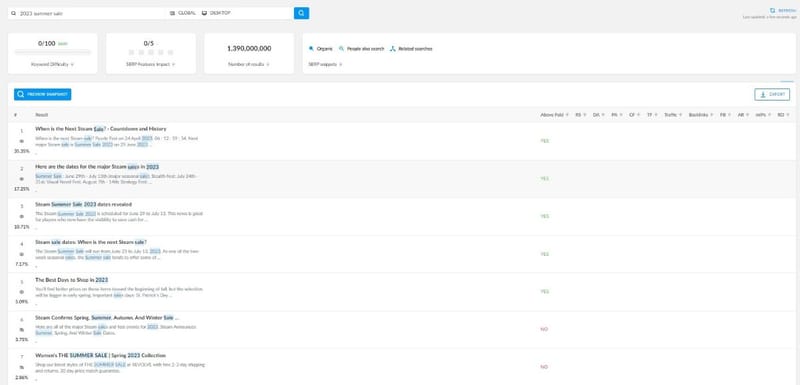 If you're running a small business, SEO optimization with AI makes it easier to find clients in your area of operation. With the right tools, you can climb the search results in your local community. The technology updates your listings which makes the website more likely to appear in various search engine results.
Make better meta descriptions
Google doesn't take meta descriptions into account when analyzing pages. Still, they are still important for search previews of pages. Whatever your website specialty may be, work on a good meta description. It will more likely result in visits through organic search.
As meta descriptions don't play a part in website ranking, one may use an AI tool to make a 1-sentence summary of a page. It won't affect the page's position and save time on creating a description on your own. This won't be problematic if Google scans your website for AI-generated content.
Enhance current and new content
After you find the right keywords to include in an SEO strategy, it's possible to use them in various pieces of content. For example, the keyword '2023 summer sale' may be used in an email marketing campaign for American clients. Your company may also use this phrase for on-site ads and other advertisement materials.
Newly found keywords may also help improve the SERP rankings of existing content. With a few tweaks, your firm may raise the results of its older blog posts and announcements. AI tools can analyze an older article or a marketing text. It will provide relevant suggestions to make it more effective. This will help your business find customers across search engines such as Google, Yahoo, Yandex, and others.
AI tools also come with a keyword history, making it easier to track the effectiveness of keywords. You can always discard words and phrases that don't get the results they used to. This allows marketers to better use the current Google algorithms and stay on top of the game.
Improve your writing
Text plays an important part in website structure and content. That's why maintaining its quality is vital. Poor sentence structure, spelling, grammar, and punctuation issues damage your reputation. They also drive users away. One may run their texts through Grammarly, Hemingway, Readable, and other apps. But AI tools go beyond locating errors.
These platforms can reformat articles and papers. The content can sound clearer and more structured through subheadings and bullet points. Working with artificial intelligence platforms gives people a new perspective on their writing. They may discard or adopt proposed ideas to tailor their work better. Of course, the texts still need a human touch after the initial AI help.
Track SEO campaigns
Once you have the necessary tools for an SEO campaign, AI makes it easier to track how well it's doing. There are plenty of platforms that watch how websites change their positions in search engine results. They notify users of problems with ongoing campaigns in a clear-to-understand way. You can use them to:
Get updates based on specific locations (global, national, and local).
Track progress via mobile and desktop apps for better information.
Follow all keywords in use for the search engine.
Track progress in all languages at Google, Yahoo, and Bing.
Track absolute and organic positions for all keywords.
Besides great apps, AI platforms offer daily email notifications about their progress. If users wish, they may get daily, weekly, and monthly reports from AI-assisted platforms.
Find a comprehensive AI tool
It might be possible that you use different tools for various aspects of your SEO strategies. To avoid any mishaps and lost information, try finding a platform that covers all the bases. Ideally, it should have tools for everything. From tracking content strategies to social media management. Luckily, there are plenty of online tools that cover these items.
Final thoughts
SEO strategies may be daunting to pull off. But there are plenty of AI-powered tools that make this activity more manageable and successful. Remember to check the current state of the website, improve SERP ratings, and see what others are doing. Once you have a clear strategy, seeing it through won't be a problem.