Intro
Numerous marketing tools and programs are available to aid you in running your business. Marketing tools have various features to help firms reach the widest audience. They assist with marketing content creation, publishing, audience engagement, performance insight, workflow automation, etc.
Read on to learn more about the best marketing tools to boost your brand engagement in 2023.
What Are Marketing Tools?
Tools that help marketers to boost sales and revenue are marketing tools. Marketers who employ practical marketing tools see an increase in ROI. In other words, efficient marketing tools offer benefits like understanding audience interests, original content creation, and social media management, among other features.
15 Best Marketing Tools To Boost Your Brand Engagement
Here are the 15 best marketing tools to boost your brand engagement in 2023. The tools listed below are the best in their corresponding categories.
Ranktracker: Best SEO Tool
Sendinblue: Best Email Marketing Tool
Hubspot: Best Marketing CRM
Statusbrew: Best Social Media Management Tool
Google Analytics: Best Analytics Tool
WordPress: Best Content Management Tools
Slack: Best Marketing Team Collaboration Tools
BuzzStream: Best Influencer Marketing Tools
Basecamp: Best Project Management Tool
Filmora: Best Video Marketing Tool
Optimizely: Best A/B Testing Tool
OptinMonster: Best Lead Generation Tools
Jira Service Desk: Best Customer Service Tool
Canva: Best Content Creation Tool
Adobe Marketo Engage: Best Marketing Automation Tool
SEO Tools
The potential of Web pages to rank higher in SERPs is examined by SEO tools. They should come along with a backlink checker and insights provider for online SEO activities. Numerous tools assess distinct SEO parameters while having varying roles.
Make sure to choose the best keyword finder. Content, backlinks, and domain analysis are some of the most important features to look into. Some of the best SEO tools are Ranktracker, Ahrefs, Serpstat, Semrush, Seobase, and Sitechecker. However, Ranktracker is the best tool to optimize your website's SEO. Check out all it offers below!
Ranktracker
Ranktracker is a simple but effective SEO software that allows you to research keywords, monitor rankings, and examine competition surrounding a phrase. Whether your company is a startup or established, it uses global data sources to keep you one step ahead in SEO.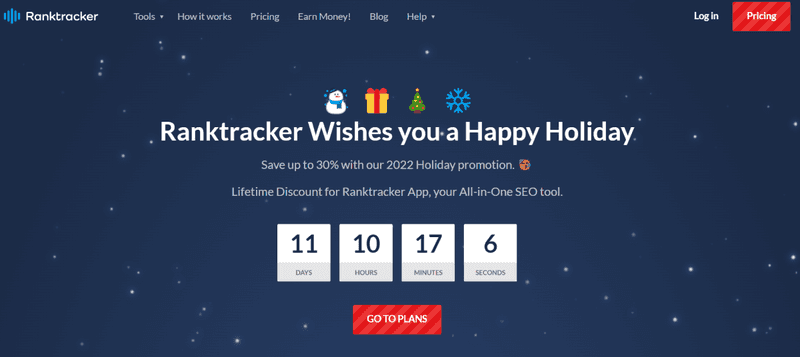 View your site's position in the search results for a particular keyword and the traffic that comes from searches. Adding filters can further refine data, and multiple devices and places can display your rank.
With the help of Ranktracker's exclusive collection of tools, such as Keyword Finder and SERP Checker, you can improve your SEO for planning, analysis, tracking, and problem-solving to make wise business decisions.
Email Marketing Tools
Businesses use email marketing as a major part of their reach-out strategy. Email marketing tools can help a lot in sending out promotional emails to a huge number of individuals at once. They use this to send an update about their offers, coupons, upcoming events, customized sales options, newsletters, and purchase updates.
The All-in-One Platform for Effective SEO
Behind every successful business is a strong SEO campaign. But with countless optimization tools and techniques out there to choose from, it can be hard to know where to start. Well, fear no more, cause I've got just the thing to help. Presenting the Ranktracker all-in-one platform for effective SEO
Market leaders are Sendinblue, Mailchimp, Constant Contact, Convertkit, Klaviyo, Mailjet, Mailerlite, and GetResponse. However, Sendinblue is the best email marketing tool for email promotions. Check out all it offers below!
SendinBlue
SendinBlue is an all-inclusive email marketing tool for large organizations. The simple platform has excellent features for creating engaging emails. Any business with no prior experience in email marketing can use this tool.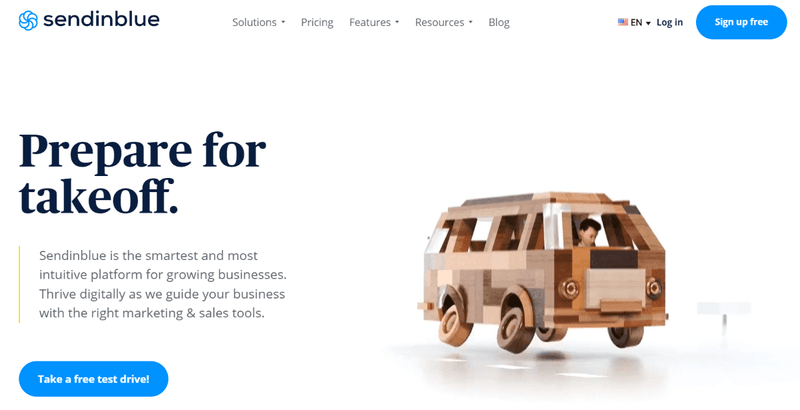 SendinBlue offers customer segmentation, workflows, and follow-up emails that help you to work effectively with the plan. You have options for sending bulk emails and setting ideal times and transactions.
It offers a free email marketing bundle with an infinite number of contacts. With their free plan, you can send up to 300 emails daily, but each one will have its custom branding.
Marketing CRM Tools
A marketing CRM enables firms to gather and centrally store data about prospects and consumers. Demographic information, past purchases, and user interactions across digital platforms are just a few examples of the data that may be collected.
The best marketing CRMs available today are HubSpot, Salesforce, monday.com, Zendesk Sell, Zoho, ActiveCampaign, and Nutshell.
HubSpot
HubSpot CRM is one of the most well-known and commonly used CRM solutions by top organizations. One major plus is that HubSpot offers a free feature. It is one of the most adaptable CRM solutions available.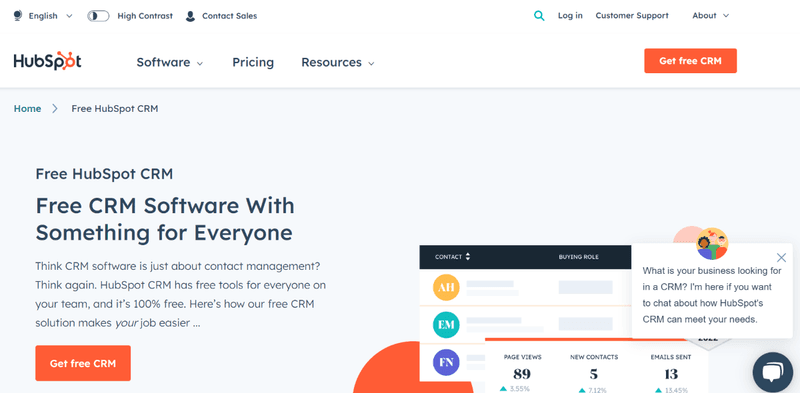 The All-in-One Platform for Effective SEO
Behind every successful business is a strong SEO campaign. But with countless optimization tools and techniques out there to choose from, it can be hard to know where to start. Well, fear no more, cause I've got just the thing to help. Presenting the Ranktracker all-in-one platform for effective SEO
Clients can get started immediately without making many changes as it is quick and easy to use. It makes collaboration and teamwork much easier, which helps you to provide better customer service.
Social Media Management Tools
The best social media management solutions enable one-stop control of your online social platforms. These tools assist you in developing a competitive strategy, monitoring real-time performance, and generating long-term revenue.
Pro Tip: Look for reputation management tools that feature social media management. It is a two-in-one feature, helping you with both important activities.
Some of the best social media management tools are Statusbrew, SproutSocial, Hootsuite, Social Pilot, and Buffer. Although SproutSocial is a revered social media management tool, Sprout Social alternatives like Statusbrew are promising with more features and better pricing.
Statusbrew
Statusbrew is a fully functional social media marketing tool with small businesses and agencies in mind. It offers comprehensive web app solutions like content management, automated publishing, engage, approval workflow, analytics, and social listening in one location.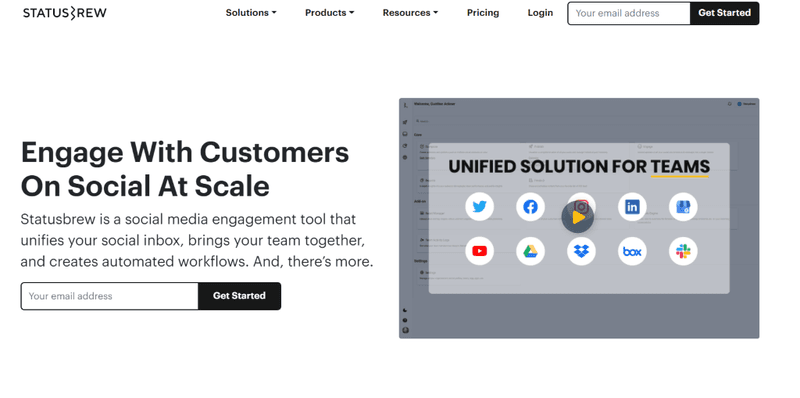 Thanks to integrations with Facebook, Instagram, Twitter, LinkedIn, Pinterest, YouTube, WhatsApp, and other networks, you can manage your entire social presence from a single dashboard.
The Engage inbox gathers all your incoming communications from various social media networks and provides an all-encompassing perspective of your social connections. The functionality of this application that displays all chats, comments, and mentions from all of your social network accounts in one location is its best feature.
Statusbrew also helps create superior social media approval procedures with advanced permissions and a flexible approval structure for your staff to submit and approve. It streamlines management and lowers errors by setting up what each team member can access and utilize.
Analytics Tools
Marketing analytics tools are software that helps advertisers track and forecast the success of marketing campaigns. By utilizing marketing analytics software, advertisers may better use their time and resources, get more significant results, and comprehend the repercussions of each marketing effort.
Some of the best analytics tools are Google Analytics, MixPanel, Heap Analytics, Cyfe, and Klipfolio.
Google Analytics
Google Analytics is the most famous website analytics tool that Google offers. You can use it to track website traffic and learn more about your users' origins, paths to your site, time spent there, and other key details. Google Analytics can be used with Google AdWords and Google Data Studio to analyze your marketing data in greater detail.
However, it isn't easy to define and analyze new conversions. It does not offer a way to monitor individual user sessions and understand how your visitors utilize them. It has a standard version that can be used for free.
Content Management Tools
Users can produce, modify, and publish digital material for websites, such as text, embedded audio and video files, and interactive graphics, using web content management (WCM) systems. These systems simplify the posting and publishing of material for people without coding knowledge by providing theme-oriented templates for distinctive design.
Some of the best WCM are WordPress, Webflow, Duda, Pantheon, Sanity, and Contentools.
WordPress
WordPress is the tool for you if you want to create excellent blog content easily. WordPress gives marketers the resources they need to set up a website or blog in addition to a user-friendly publishing platform for creating content, uploading material, tracking visitors, and having access to a variety of plugins that can help you optimize your marketing strategy.
Three gigabytes of storage and a WordPress.com address (you.wordpress.com) are included in the free edition.
Marketing Team Management Tools
Thanks to content collaboration solutions, employees can easily use and share content inside and outside their businesses. These platforms often include extensive security and privacy restrictions because they can be used to work with clients, partners, and suppliers. These days, alternative solutions like cloud office platforms, workstream collaboration platforms, and content services offer many of the same capabilities.
Some of the best marketing team management tools are Slack, Asana, and Trello.
Slack
Slack is a tool for work collaboration and communication. Slack revolutionizes the collaborative workspace of today and provides users with several advantages, including the following:
Messaging capabilities
File and media sharing
Phone and video calling
Project planning
The integration of tools and add-ons to facilitate smooth project flow
Slack Huddles have become a trend in recent years for conducting team meetings. The app seeks to make it possible for users to collaborate online from any place. The channels that make up the Slack workspace offer a place for teams to communicate and share ideas. It helps your team to work together efficiently by organizing channels in a faster way.
Influencer Marketing Tools
Influencers in the context of social media marketing already have a fan base or an engaged audience. Influencer marketing tries to leverage the influence of key persons on the social web to fulfill a company goal by developing mutually beneficial relationships.
Some of the best influencer marketing tools are BuzzStream, HypeAuditor, Storyclash, and BuzzSumo.
BuzzStream
BuzzStream is a tool for managing influencer outreach that helps marketers identify the influencers who would best support their content and target audience. The platform lets you tag contacts, assign them to team members, and categorize your outreach by the project.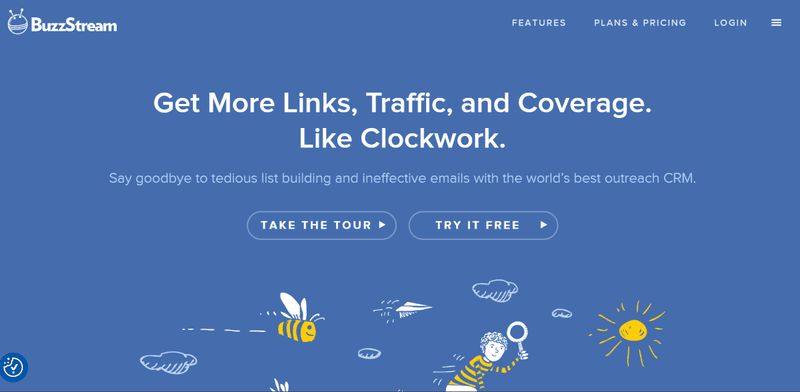 Project Management
Project management software is the answer to managing projects. Large projects necessitate meticulous planning, task assignment, deadline setting, monitoring everyone's adherence, and time tracking, whereas simple projects require a checklist.
Some of the best project management tools are Basecamp, Kissflow Project, Wrike, Monday.com, ProofHub, and Clarizen.
Basecamp
Basecamp is an online project management tool that makes it simple to arrange team members, assign new tasks, and keep track of their progress. It has a remote project management system that enables users to collaborate remotely. It also automatically maps your projects based on priority and a visual timeline.
Basecamp's easy drag-and-drop feature helps store files and documents that are important to team members.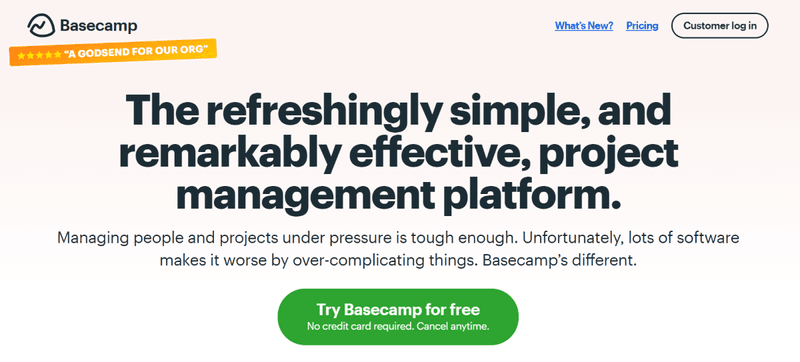 Video Marketing Tools
Video marketing tools are marketing solutions that enable lead engagement, video personalization, and video SEO to drive more traffic. Additionally, they are the business-focused platforms that assist expanding organizations in raising brand awareness, monitoring marketing effectiveness, and viewing data.
Some of the best video marketing tools are Filmora, VideoScribe, Stupeflix, WeVideo, Slidely, and Viewbix.
Filmora
Filmora software enables you to make basic adjustments (trim, rotate, brightness, contrast, and speed), audio edits, and more complex effects like picture–in–picture, automatic audio sync, auto color correction, and scene detection. It was quite famous in the previous decade as Wondershare Video Editor.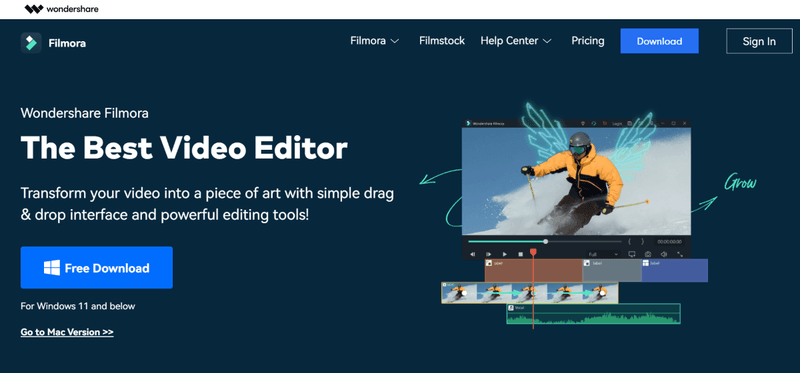 Filmora's user-friendly interface makes it one of the most straightforward and efficient editors that marketers can utilize. It is available for both Mac and Windows with Motion Graphics animation support. They also have inspiring how-to and tutorial films to help the users get the most out of their software.
A/B testing tools
A/B testing, commonly referred to as split testing or bucket testing, compares two iterations of a website or app to see which one performs better.
Some of the best A/B testing tools are Optimizely, VWO, Adobe Target, Oracle Maxymiser, AB Tasty, and Google Optimize 360.
Optimizely
Optimizely has exclusively targeted huge enterprise-level customers with its full array of CRO products.
Optimizely's core business is providing services for web experimentation and personalization. It can help you to test mobile apps and copies on web platforms. You will be able to understand which worked best based on customer experience across all touchpoints and employ it. With Optimizely's online experimentation tool, you can run numerous tests concurrently on the same page and be sure that the findings are accurate.
Lead Generation Tools
Businesses use lead generation tools to generate a list of potential prospects using contact forms or alternatives. It is usually collected from the website or campaigns. These tools are mostly used by product-based companies.
OptinMonster, TrustPulse, SeedProd, WPForms, and Constant Contact are some of the best lead-generating tools.
OptinMonster
The best lead generation tool, OptinMonster, makes it simple to turn visitors into leads and customers.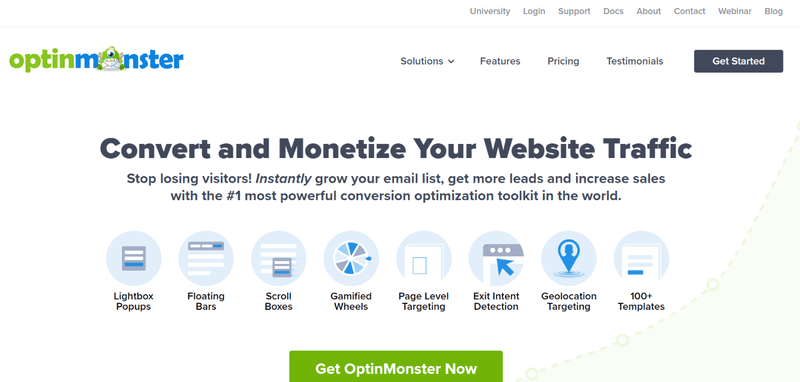 What kind of website you run and the leads you seek are irrelevant. The ideal approach for developing campaigns to gather high-quality leads for your particular requirements is provided by OptinMonster.
Popups, slide-in windows, header and footer campaigns, and gamified spin-to-win wheels are attractive on-site lead-generation campaigns you can develop with OptinMonster. Better still? You can do it using a user-friendly builder that is suitable for beginners.
Customer Service Tools
A customer service software's fundamental function is to offer a centralized system, known as a ticketing system, where support agents can manage, track, prioritize, and respond to customer or employee requests in bulk. Any tool that supports or facilitates customer service provision is considered customer service software.
Jira Service Desk, Recurly, SurveyMonkey, Freshdesk, and Zendesk are some of the best customer service tools.
Jira Service Desk
Jira Service Management provides IT teams with a cutting-edge service desk with all the necessary tools, including ITIL-certified procedures. Jira, created by Atlassian, positions itself as the answer to silos between IT, operations, and development teams.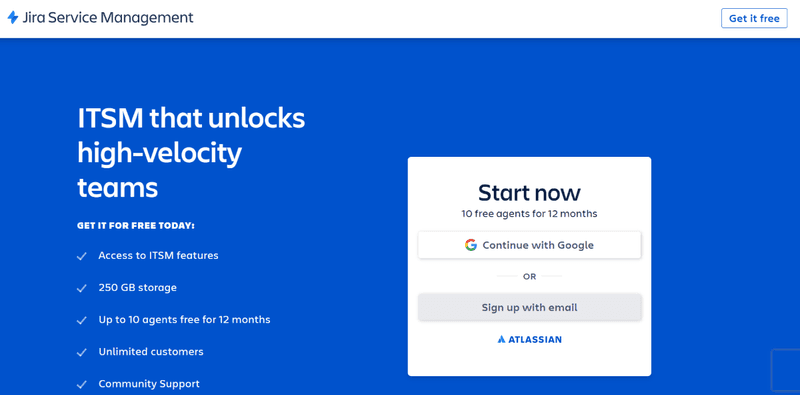 Non-IT customer service personnel could find Jira's feature set overkill for their requirements. If you're unsure, try out Jira for yourself; they have 7-day free trials and a free plan that might help you get a feel of the software.
Content Creation Tools
Content creation tools help in producing visual content. The work of content creators is facilitated and enhanced by these technologies. Examples include tools for creating GIFs, charts, videos, online graphic design, or topic research.
Canva, Recurly, Visme, Audacity, and Giphy are some of the best content creation tools.
Canva
Designing presentations, social media posts, infographics, resumes, mailings, logos, and YouTube intros are all possible using Canva. This application is terrific since it streamlines the design process and makes it simple enough for anyone to use.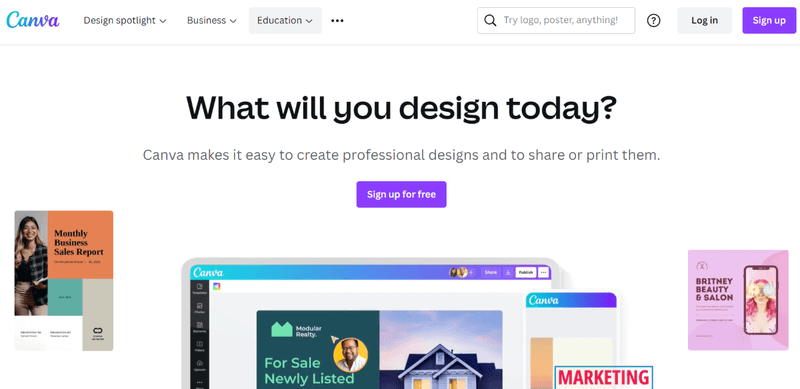 The All-in-One Platform for Effective SEO
Behind every successful business is a strong SEO campaign. But with countless optimization tools and techniques out there to choose from, it can be hard to know where to start. Well, fear no more, cause I've got just the thing to help. Presenting the Ranktracker all-in-one platform for effective SEO
It helps you avoid wasting time and money on pricey design tools. Additionally, it has a photo library, various designs for every requirement, and stock elements.
There is a free plan, and the premium begins monthly at $9.99.
Marketing Automation Tools
Marketing automation software simplifies the marketing processes required to support digital marketing initiatives. This can include lead generation, website monitoring, audience segmentation, behavioral analysis, and campaign management.
Adobe Marketo Engage, Customer.io, Eloqua, and Constant Contact are some of the best marketing automation tools.
Adobe Marketo Engage
Marketo's marketing automation is available for every channel and engagement. Since Adobe purchased Marketo, there are more similar jobs available. The fact that their full-featured software can manage everything from social media to account-based marketing to digital advertising makes it ideal for larger-scale marketing operations.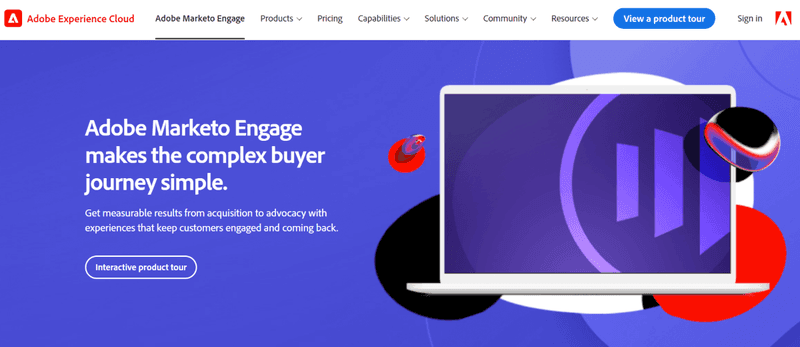 Conclusion
Marketing tools are a dynamic combination of platforms and services—including social media, email marketing, SEO, and everything else referred to as modern digital marketing. The above-mentioned tools can help you execute your social media marketing strategies. You can automate many processes and streamline your marketing campaigns with the correct tools.