Intro
Search Engine Optimization (SEO) is a complex and constantly evolving field that demands a skilled and vigilant team to stay ahead of the curve. The main objectives of an SEO team include optimizing a website for search engines, enhancing its online visibility, and attracting more organic traffic.
With the ever-changing search algorithms, SEO teams must stay up-to-date with the latest trends and techniques to ensure that their website's performance remains at its peak. In this post, we'll cover the key members that make up an effective remote SEO team, the powerful tools that can enhance their productivity, and the reasons why companies should level up their SEO efforts.
6 must-have SEO team members
The specific roles needed for your remote SEO team may vary depending on your business goals, size, and industry. No matter the size of your team, whether it's a small or large one, it's essential that the members possess the necessary skills and knowledge of technical SEO, on-page optimization, and off-page optimization.
If you want to build a solid team with the right set of skills, you'll need to recruit the following:
SEO Manager: oversees the SEO strategy, manages the team, and ensures that all activities are aligned with the business goals.
On-page SEO Specialist/Analyst: conducts keyword research, competitor analysis, and tracks the website's performance metrics to identify areas for improvement.
Technical SEO Specialist: responsible for the website's technical aspects, including site speed, mobile optimization, and website architecture.
Content Writer/Copywriter: creates high-quality, optimized content for the website, including blog posts, product descriptions, and other marketing materials or marketing collateral.
Content Editor: reviews and edits the content created by the content writer/copywriter to ensure that it meets the SEO guidelines and standards, including keyword usage, relevance, and search intent.
Link Building Specialist: develops link-building strategies to earn backlinks and establish long-term relationships with webmasters and influencers.
3 powerful tools to boost remote SEO team productivity
Airtable (cloud project management software)
The process of optimizing website content is not a small task. Editors and writers have to deal with hundreds, if not thousands, of website pages. They not only have to optimize existing content but also create new pages.
With so much content to manage, it can become a challenging task to keep track of what needs to be done, what has been done, and what still needs work. With Airtable, each member can focus on their priorities, while still providing visibility to the rest of the team.
Airtable offers unlimited Bases, which act as a database, allowing for easy storage and access to all the necessary information for a particular project. For example, when you create an SEO Content Base, you can have separate tables for landing pages, guest posts, blogs, and any other content-related tasks.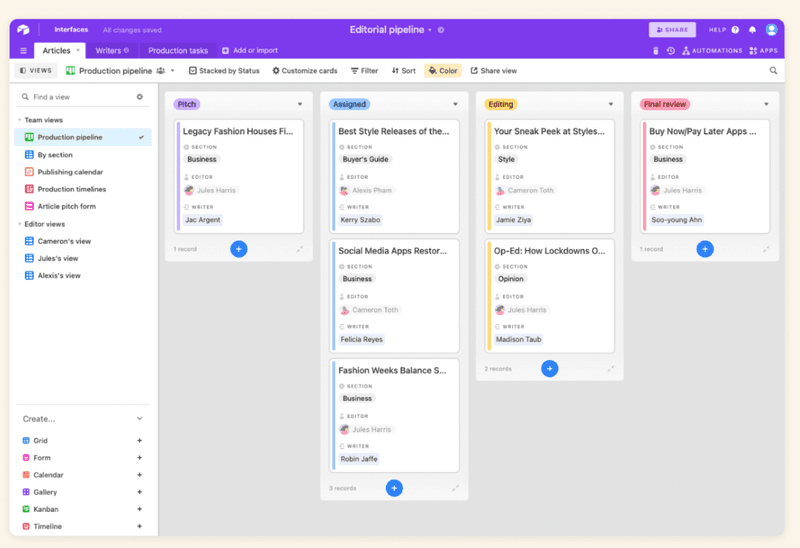 The All-in-One Platform for Effective SEO
Behind every successful business is a strong SEO campaign. But with countless optimization tools and techniques out there to choose from, it can be hard to know where to start. Well, fear no more, cause I've got just the thing to help. Presenting the Ranktracker all-in-one platform for effective SEO
In each individual table in your base, you can create multiple views like Grid, Kanban, or Timeline to show only specific fields. You can sort by status of the content request: for pitching, assigned, editing, and ready for publication. Or you can sort by assignees to monitor whether the writers and editors are meeting their deadlines.
As mentioned earlier, you have the flexibility to create unlimited bases, so you can create separate ones for link building outreach, technical seo, and overall SEO team goals. All of these SEO bases will be under one workspace, which can then be shared between a group of workspace collaborators. You can set permissions accordingly (editor, commenter, or read-only) to ensure that the right people get involved with the right project.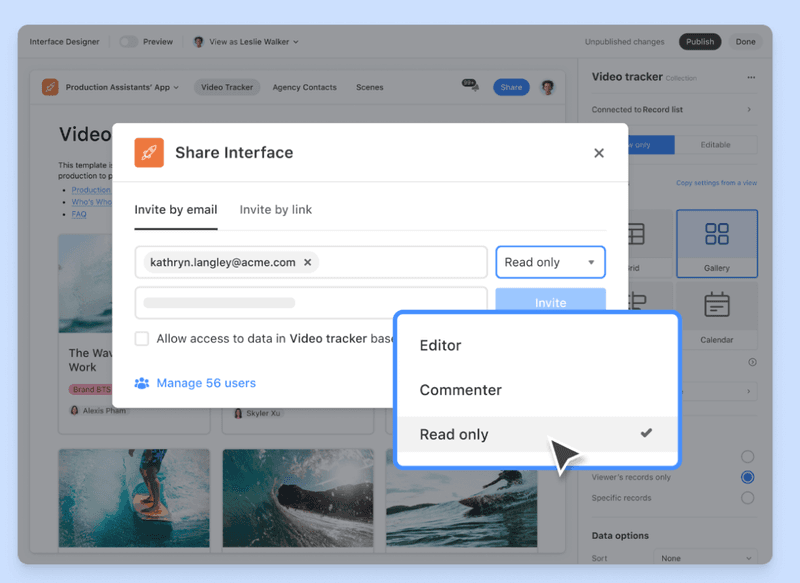 Pricing: Free plan available; Paid plans start at $10 per seat per month (billed annually)
Ranktracker (all-in-one SEO platform)
In many cases, remote SEO teams use separate tools for keyword research, rank tracking, link building, and technical SEO audits. Paying for multiple tools can be expensive, and using different tools can create workflow inefficiencies.
With Ranktracker, an all-in-one SEO tool, SEO specialists can do their jobs more efficiently by providing them with a comprehensive suite of SEO features within a single platform.
For on-page SEO specialists, features like Rank Tracker, Keyword Finder, and SERP Checker will come in handy. Here's a quick overview of each feature:
Rank Tracker: monitors your website's search engine ranking position, allowing you to customize tracking by location and language and compare rankings across different devices. It provides daily automated email notifications of any changes in your SERP rankings, enabling you to quickly react and make necessary improvements to your SEO strategy.
Keyword Finder: is a valuable resource for finding SEO keyword opportunities. It provides a difficulty score to help identify less competitive keywords, and allows you to find long-tail keywords specific to your niche. Additionally, the tool offers a keyword history feature to track changes in a keyword's popularity over time, so you can identify seasonal trends.
SERP Checker: provides a detailed analysis of top results for a keyword, allowing you to see competitor rankings. It also offers the ability to analyze local SERPs and detect any SERP features such as maps, reviews, featured snippets, and shopping links. When a SERP feature is detected, you'll see a 'snapshot' preview.

The All-in-One Platform for Effective SEO
Behind every successful business is a strong SEO campaign. But with countless optimization tools and techniques out there to choose from, it can be hard to know where to start. Well, fear no more, cause I've got just the thing to help. Presenting the Ranktracker all-in-one platform for effective SEO
For link building specialists, it's essential to gain insights into the backlink profiles of competitors. Ranktracker offers two useful features:
Backlink Checker: allows you to dive deep into every competitor's backlinks to assess their quality based on various metrics such as Domain Rating, URL Rating, anchor text, and more. This comprehensive analysis will enable you to identify valuable backlinks. The tool also makes it easy to save the best backlinks for later by adding them to the Favorites List.
Backlink Monitor: helps you gain insights into your backlink profile and evaluate the effectiveness of your SEO efforts. With the tool, you can see which websites are linking to your site and track changes in your linking domains over time. It also includes an anchor texts insights tool so that you can analyze individual anchor texts and understand why you're ranking better for some keywords than others.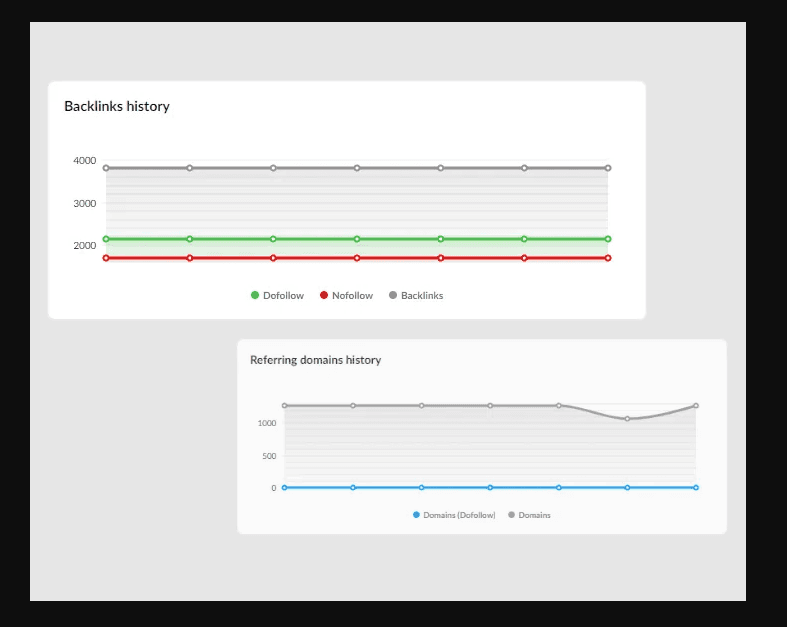 As an all-in-one SEO tool, Ranktracker makes sure that technical SEO specialists can identify site issues within minutes and resolve them immediately. With their Website Audit 2.0 tool, you can do the following tasks:
Scan all your pages
Save XML reports
See what's urgent on the audit dashboard
Get actionable insights
Compare previous scans
Evaluates over 100 data points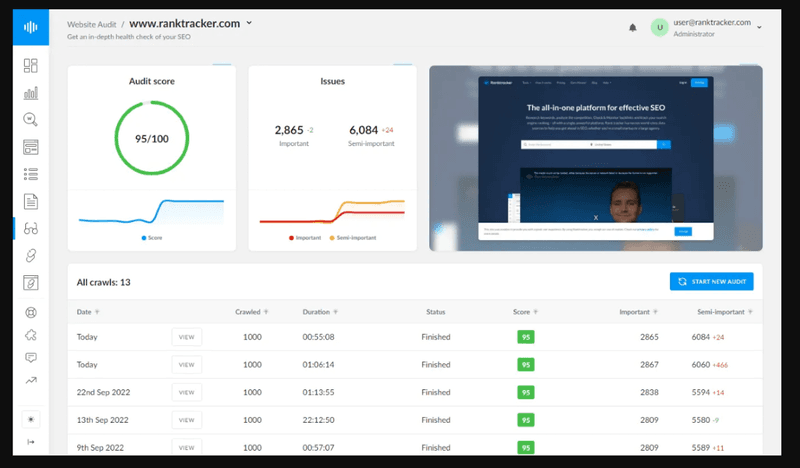 Sharing SEO performance data is crucial to ensure that all relevant stakeholders are aware of the progress being made in SEO efforts. With the Share Tracking View feature, SEO teams can create a link that they can share with other departments and with clients. This link provides access to the data dashboard, where all relevant information can be viewed in real-time. This allows for quick updates and collaboration, ensuring that all parties are aligned and working towards the same goals.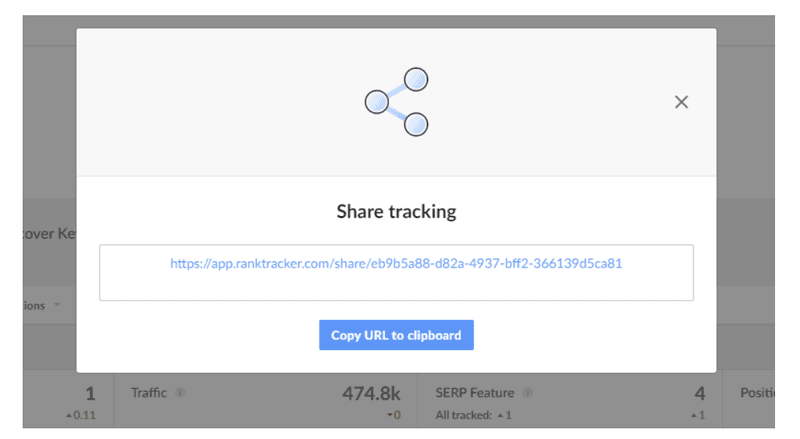 Pricing: Free trial available; Paid plans start at $13.50 per month (billed annually)
RingCentral MVP (unified communications platform)
Remote SEO teams need a reliable unified communications platform to collaborate effectively because working remotely can present unique challenges, such as lack of face-to-face communication and potential delays in communication. According to Chase Hughes, the CEO of Pro Business Plans, "remote SEO teams can be challenging to manage especially when distributed across time zones and geographies."
RingCentral MVP offers SEO team members the flexibility to communicate using their preferred mode of communication, whether it be team messaging, phone calls, video conferencing, SMS, or online fax.
To present SEO performance reports and get insights from the entire team, RingCentral MVP offers advanced video meeting features such as:
Whiteboard: a large digital canvas, similar to a drawing board, that allows every participant in a meeting to write, draw, and add graphics—providing ample space for collaboration. Its fun, visual, and dynamic interface brings teams together, promoting productivity and engagement among team members.
Advanced Meeting Insights: uses AI to generate meeting summaries, including keywords, highlight social media videos, and written summaries, all of which are automatically created after every recording. These features enable users to quickly find relevant recordings, review key moments of the discussion, and catch up on important points. The summaries can be easily shared with others in the organization for maximum collaboration and productivity.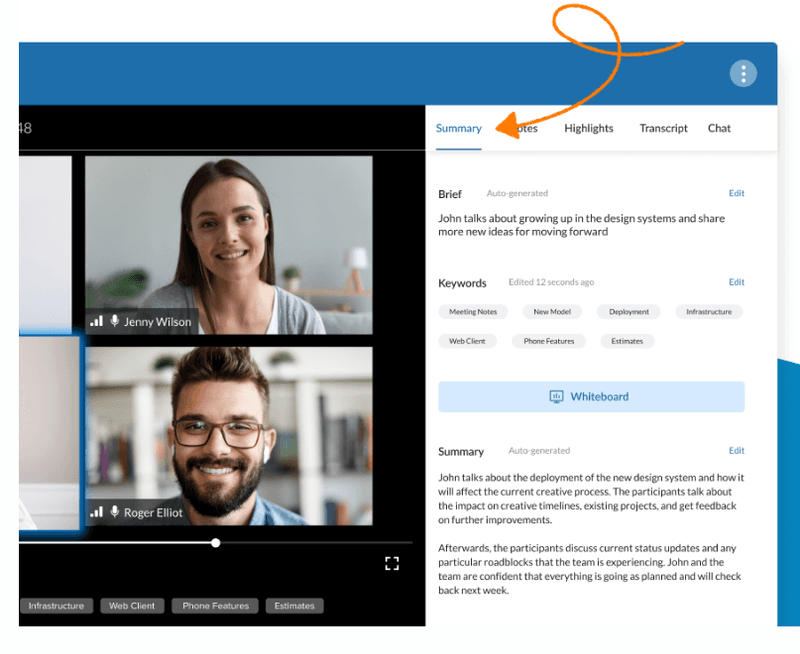 One of the greatest advantages of using RingCentral for remote SEO teams is the flexibility it offers. Unlike most video conferencing tools that limit meeting duration to 40 minutes, RingCentral allows you to run meetings for as long as necessary. This is especially beneficial for all-hands meetings, as you can host up to 100 participants.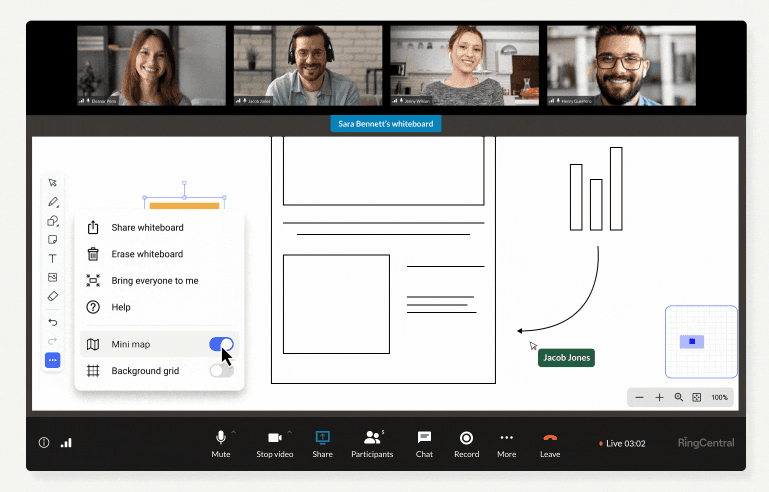 Moreover, joining a RingCentral meeting is extremely easy and convenient for attendees outside your organization as they can simply join via browser without the need to download the app.
For those who do opt to download the RingCentral app, they can take advantage of the Call Flip feature, which allows them to switch devices (from desktop to mobile and vice versa) during an ongoing meeting.
RingCentral also offers robust team messaging capabilities, which enables every member of the SEO team to send files, pin documents, and manage tasks. They can even make phone calls or start a video meeting right from the message window, making it a convenient all-in-one communication tool for remote teams.
Pricing: Free trial available; Paid plans start at $19.99 per user per month (billed annually). If you only need video conferencing capabilities, check out RingCentral's free video meeting solution: RingCentral Video Pro.
Workstreams.ai(innovative workflow management platform)
Are you tired of managing your remote SEO team through multiple platforms and tools? Look no further than Workstreams.ai! This innovative platform streamlines team collaboration and project management, making it the perfect solution for teams working remotely.
Workstreams.ai offers a variety of features that make it easy to communicate with team members, assign tasks, and track progress. With its intuitive interface and customizable workflows, you can easily create and manage projects, assign tasks to team members, and monitor their progress in real-time.
The All-in-One Platform for Effective SEO
Behind every successful business is a strong SEO campaign. But with countless optimization tools and techniques out there to choose from, it can be hard to know where to start. Well, fear no more, cause I've got just the thing to help. Presenting the Ranktracker all-in-one platform for effective SEO
One of the key benefits of Workstreams.ai is its ability to integrate with other tools and platforms, such as Slack, Trello, and Asana. This means your team can continue to use the tools they're already familiar with, while still benefiting from the centralized project management features of Workstreams.ai.
In addition to its project management capabilities, Workstreams.ai also offers powerful reporting and analytics features. You can track your team's productivity, monitor project timelines, and generate detailed reports on project progress and performance.
Overall, Workstreams.ai is the perfect solution for remote SEO teams looking to improve collaboration and streamline their workflow. With its intuitive interface, customizable workflows, and powerful reporting features, it's a must-have tool for any digital marketing team. So why wait? Try Workstreams.ai today and take your team collaboration to the next level!
Pricing: Free trial available; Paid plans start at $7.99 per user per month (billed annually).
Why invest in a remote SEO team?
By investing in a remote SEO team, businesses can improve their online visibility, attract more customers, and drive growth. Here are three key SEO statistics you should know about:
Closing Thoughts
To improve collaboration with a remote SEO team, it is important to have access to efficient tools that promote smooth communication, effective project management, and streamlined workflow. With a wide range of options available, from video conferencing software to project management tools, teams can select the ones that best fit their needs. Take advantage of free trial offers to gain a hands-on experience of our recommended tools.