Intro
With over 1.7 billion websites in the digital landscape, optimizing a website alone can't help businesses improve their visibility in Google searches. Businesses need solid marketing strategies to outrank competitors and boost ROI. That's where leveraging Twitter, a powerful social channel, can help. Reports affirm that Twitter has around 238 million monetizable daily active users.
So, embedding information like product links, tutorial videos, promotional offers, business addresses, contact numbers, and more in Tweets can help brands convey their message effectively. This combined with SEO tactics can further help businesses maximize their reach, thereby achieving top SERPs rankings.
In this post, we will share the five best tips to leverage Twitter and boost visibility on Google searches.
#1: Ensure the Tweets Align with Your Brand Messaging
Brand messaging conveys a business' unique value proposition with the right words that reflect its personality. It focuses on the brand's story and mission, thereby serving as a powerful differentiator. Engaging and winning customer trust becomes challenging without a strong brand messaging strategy.
Weak brand messaging = Poor brand perception!
This can stunt a brand's long-term growth. No wonder, leading brands ensure their website content resonates with their brand messaging. However, they often miss this while creating social media content.
But why is it crucial?
The All-in-One Platform for Effective SEO
Behind every successful business is a strong SEO campaign. But with countless optimization tools and techniques out there to choose from, it can be hard to know where to start. Well, fear no more, cause I've got just the thing to help. Presenting the Ranktracker all-in-one platform for effective SEO
Here's a quick and simple example to explain the "why."
We typed "Google" in the Google search bar. Notice what showed up in the search results.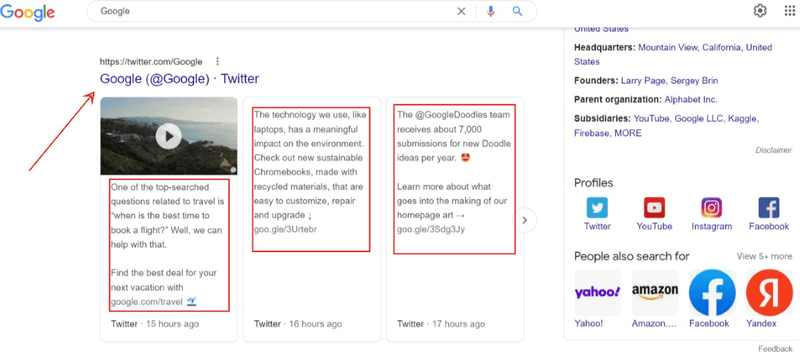 As you can see, a string of Google tweets appeared on the first page of SERPs. In technical terms, this is called a Twitter carousel.
The result reflects how Google shows tweets when a user searches for a brand.
So, tweets that have brand messaging intact can help companies showcase their brand personality. This can help users gauge the brand's value.
The All-in-One Platform for Effective SEO
Behind every successful business is a strong SEO campaign. But with countless optimization tools and techniques out there to choose from, it can be hard to know where to start. Well, fear no more, cause I've got just the thing to help. Presenting the Ranktracker all-in-one platform for effective SEO
The biggest benefit? You can control what the target audience notices about your brand. Hence, you can take this opportunity to create a positive impression. This can help you reach the target audience and showcase your authentic self.
Here are a few questions to consider while creating tweets.
What is your mission?
What's your unique value proposition?
Who is your target audience?
What does the target audience care about the most?
What are you trying to convey?
Why should the audience choose you over competitors?
Your tweets should highlight these elements. This can help you create valuable content for the users, thereby boosting brand awareness and identity.
#2: Optimize Your Tweets for Carousels
A tweet comprises 280 characters. Besides, users can't add more than one image or video to a tweet. These features may limit a brand from telling its story.
That's where the Twitter carousel ads can help.
Carousel ads display content in an engaging format. With Twitter carousels, users can add up to six swipeable videos or images in a single tweet. They serve as clickable spaces for the brand's website pages.
What's more? Video carousels have auto-advancing features. The carousel plays a video and advances to the next one automatically. Brands can customize headlines and add relevant landing pages to drive customer actions.
With the Twitter carousel, brands can:
Display multiple products or features
Highlight customer reviews or quotes
Share multiple offers
Illustrate benefits of services or products
According to Twitter, carousels resulted in a 20% increase in click-through rate for brands optimizing for multiple goals. Besides, they showed a 25% lift in click-through rate for brand campaigns focused on website visit conversions.
Leveraging Twitter carousels can thus boost a brand's reach and engagement.
Carousels can be created with tweet composer in the Ads Manager.
Notice how it offers several options for adding images, videos, and destination links with the tweet.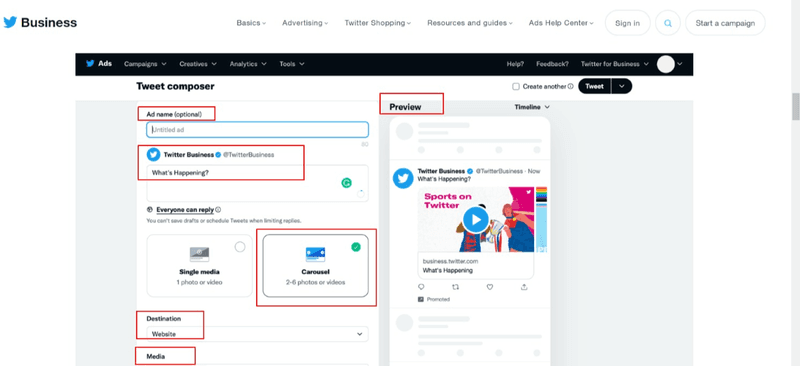 (Image source)
Here are a few tips to optimize tweets for carousels.
Include Keywords: Include targeted keywords with a CTA in every tweet you share. This can boost audience engagement.
In this tweet by Nike (9.4M followers), notice how they have targeted mercurial football. Observe how they have linked a CTA to drive action.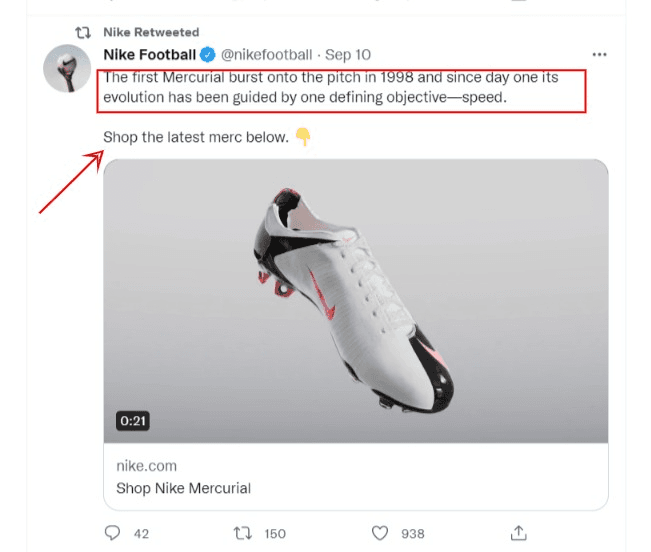 (Image source)
Add Hashtags: Add relevant and trending hashtags to your tweets. This can boost your chances of ranking on SERPs.
Notice how Digiorno (157.9K followers) used the relevant and trending hashtag "#NationalPepperoniPizzaDay" to grab user eyeballs.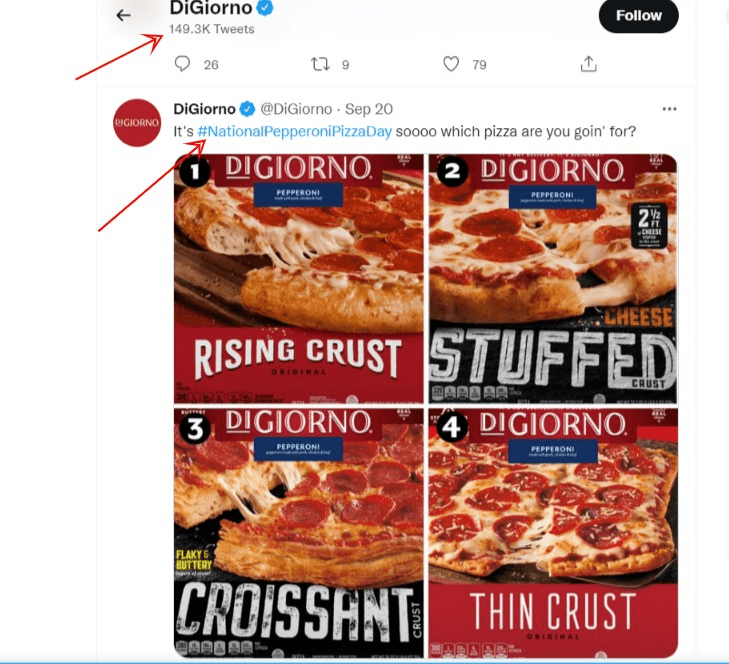 (Image source)
Discuss Trending Topics: What are industry leaders talking about? Ensure your tweets are relevant and timely.
With 377.4 K followers on Twitter, Forrester leverages the trendy topic discussion strategy to maximize audience engagement.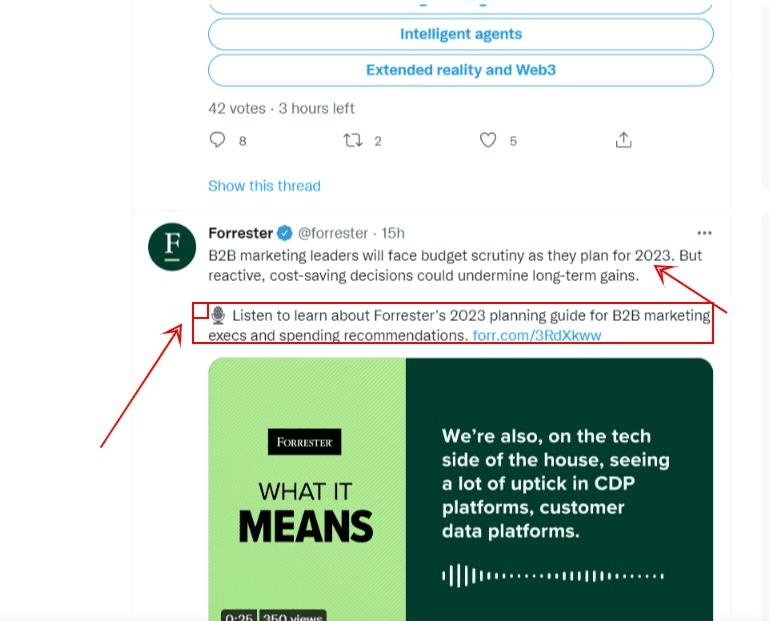 (Image source)
Tag Accounts: Mention and tag relevant accounts in your tweets. For instance, tag a leading influencer or thought leader from the industry. This can help boost engagement and attract new prospects.
Check out how Pepsi collaborated and tagged former American football tackle, Andrew Whitworth. No wonder, this cold drink brand has 3.1M followers on Twitter.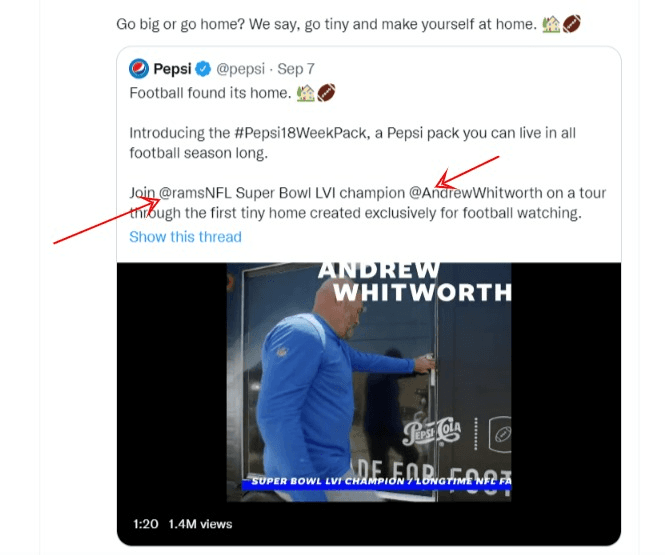 (Image source)
#3: Focus On Building a Loyal Following
Although there's no direct correlation between proactive social media engagement and Google rankings, posting high-quality tweets can help strengthen SEO. This can lead to improved brand visibility on Google searches. Here's how:
The more you tweet, the higher the audience engagement. While this engagement might not uplift your SEO, it can help boost click-through rates.
The key here is ensuring tweets are valuable to the audience. If the audience finds the content helpful, they may visit your website. So, tweets can indirectly contribute to relevant traffic on your website.
Check out the Twitter handle of JetBlue airways.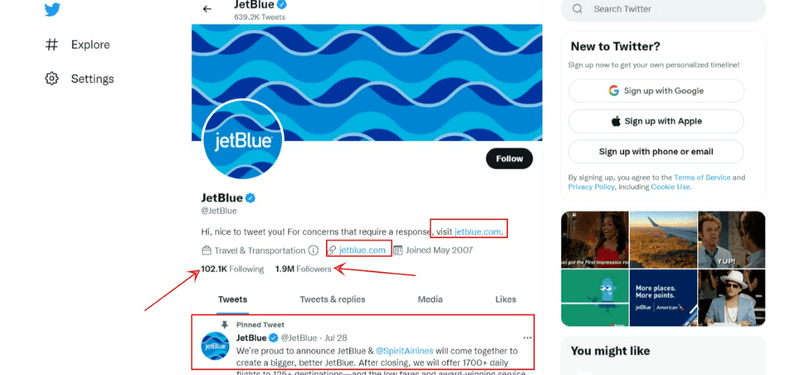 Source
Notice how this American airline company frequently tweets about its services, promotional offers, and the industry.
Besides, their team interacts and retweets the content by their followers, thereby establishing a bidirectional relationship. This strategy has helped this company earn a whopping 1.9 million followers. They have included their website link in the bio for users to visit, thereby gaining massive traffic.
High-quality and well-optimized content increases the chances of top domains linking to it. This makes a website trustworthy and helps brands earn backlinks, a crucial ranking signal for SEO.
Pro Tip: Count on tools like Ranktracker to optimize your content.

Here are its top features:
Keyword Finder: Identify the right keywords to attract new visitors.
SERP Checker: Research the competition for your keywords.
Web Audit: Audit your website to identify SEO errors and provide suggestions to fix them.
Backlink Checker: Spy on your competitors' backlinks to create effective SEO strategies.
Backlink Monitor: Monitor the number of backlinks and their domain ratings.
#4: Develop Content Distribution Strategies
Content distribution is equally crucial as content creation.
Without a solid content distribution strategy, it becomes difficult for brands to reach the target audience.
Here are a few effective tactics to distribute Twitter content.
Create a Content Calendar: Plan a detailed content schedule. Include various types of content formats for different days.
Here are a few formats to consider:
Relevant industry articles
Product update video
Tweets from followers
Buzzworthy statistics
This can help you proactively engage your audience. Count on tools like Coschedule or Feedly to plan and publish content (weekly, monthly, or yearly).
**Decide Timings: **According to HubSpot research, the best time to Tweet is from noon to 3 pm to 6 pm. So, schedule your tweet between this window for high engagement.
Post Frequently: According to RivalIQ, the top 25% of accounts on Twitter post around 12 times per week. This roughly translates to two tweets per day. So, make sure you post twice a day.
Collaborate With Industry Leaders: Connect with influencers and experienced professionals to promote your content on their Twitter handles. This can bring massive traffic to your account.
The takeaway? Fill your Twitter feed with valuable content. This can help grab the audience's attention and outrank your competitors, thereby boosting your credibility.
#5: Optimize Your Bio
A brand's bio is one of the first things users observe on their profile.
So, other than boosting rankings in SERPs, optimizing bio is crucial to create a positive impression on users. When drafted smartly, the 280-character Twitter bio can wow your target audience and strengthen relationships.
After drafting the Twitter bio, ask yourself:
What does your brand represent?
Does your bio reflect your brand personality?
Is it keyword-optimized?
Is it powerful enough to spark conversations?
Does it contain your website link?
Is it free from grammatical errors?
Is it easy to understand?
If it's a big yes, publish your bio right away.
The Twitter bio of Innocent Drinks (299.4K followers) is a perfect example.
The All-in-One Platform for Effective SEO
Behind every successful business is a strong SEO campaign. But with countless optimization tools and techniques out there to choose from, it can be hard to know where to start. Well, fear no more, cause I've got just the thing to help. Presenting the Ranktracker all-in-one platform for effective SEO
It highlights:
Witty brand personality
Value proposition (healthy drinks)
Keyword optimized content (healthy drinks)
Website link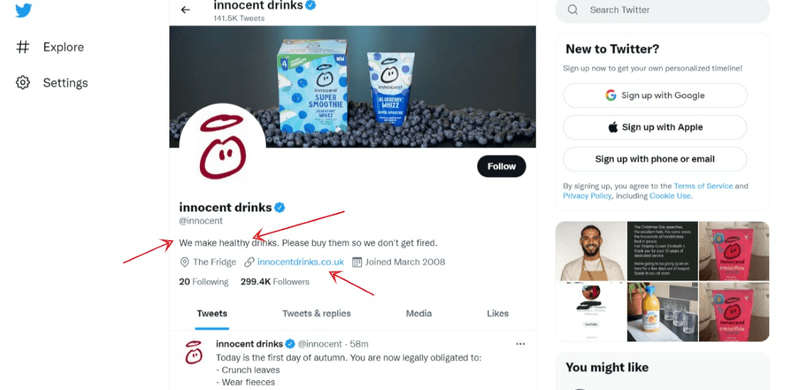 (Image source)
Pro Tip: Include relevant emojis, images, and hashtags to grab users' eyeballs.
Observe how Havmor Icecream (13K followers) implements this tactic.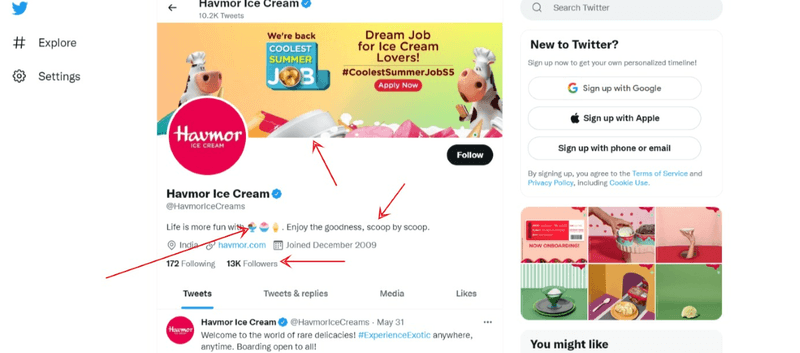 (Image source)
The company has used emojis in its bio to highlight brand personality. Besides, the background image amplifies the engagement quotient.
To Sum Up
If you aren't using Twitter SEO, you're missing out on a massive opportunity to improve digital visibility.
The shared tactics and tools can help you achieve top rankings in SERPs, thereby maximizing traffic. So, follow these Twitter best practices to boost visibility in the digital landscape.