Intro
Remember when receiving a customized email subject line with your name was a revolutionary personalization strategy? Today, however, it's not that simple.
When they visit your website or app, customers expect a tailored user experience created to cater specifically to their interests and needs.
Marketers constantly need to go above and beyond to create more robust and strategic approaches to remain competitive in the ever-decreasing attention span era–and that's where personalization comes in.
This extensive guide will walk you through every aspect of personalization in user experience, plus six unique ways you can start nailing the personalization game today!
So, put on your learning hats, and read on:
What Is Personalization?
Personalization is the process of tailoring the customer journey and experience to the interest and preferences of each user. It uses behavioral data, machine learning, and AI to deliver content and functionality that meets your customers' needs.
Think of the 'for you page' on your favorite eCommerce stores or the specialized Netflix recommendation–it's all part of personalization.
The All-in-One Platform for Effective SEO
Behind every successful business is a strong SEO campaign. But with countless optimization tools and techniques out there to choose from, it can be hard to know where to start. Well, fear no more, cause I've got just the thing to help. Presenting the Ranktracker all-in-one platform for effective SEO
It can be divided into three primary categories:
Explicit Personalization: This is where you tailor the experience based on the information the user provides. You can collect this information from surveys, social media interactions, or purchase and browsing history.
Implicit Personalization: This is built upon the users' behavioral patterns. Brands gather such data by analyzing product usage patterns, internet cookies, etc.
Contextual personalization: This uses pre-known customer information like internet cookies, geolocation, and device information.
Personalization can take many forms–headlines, visuals, product descriptions, ads, etc. The main idea is to make each user only interact with the information they need to make a decision about your product.
Why Is Personalization Important?
Because your customers expect it!
With every brand in the world just a few clicks away, consumer expectations are more elevated than ever. The fierce competition puts consumers in the ruling chair–if they expect something, we marketers deliver it. And personalization is no different.
When customers visit your website, application, or store, they want a relevant, contextual, and convenient experience. That's why brands that recognize visitors as individuals and customize their experience at every step of the journey succeed.
Here's some additional data to support our case:
91% of customers say they are more likely to buy from brands that share recommendations and offer relevant to them.
Companies that leverage personalization generate over 40% more revenue.
60% of customers show interest in becoming repeat buyers after a personalized shopping experience.
6 Ways to Use Personalization for Better User Experience
Like any other marketing effort, the end goal of personalization is to enhance user experience and guide them through a customized conversion funnel.
However, it's staggering to see how many businesses get it wrong.
A Gather Survey shows that 74% of marketing leaders struggle with their personalization effort. At the same time, brands risk losing 38% of users because of inefficient personalization strategies.
The All-in-One Platform for Effective SEO
Behind every successful business is a strong SEO campaign. But with countless optimization tools and techniques out there to choose from, it can be hard to know where to start. Well, fear no more, cause I've got just the thing to help. Presenting the Ranktracker all-in-one platform for effective SEO
Moreover, 51% of consumers expect businesses to anticipate their requirements and suggest personalized solutions.
But we've got your back. Here are the top 6 ways you can overcome such hurdles and use personalization to provide a better user experience:
1. Personalization Starts with Segmentation
User research and data lie at the core of every personalization strategy. And for your efforts to reap results, you must have a precise concept of whom you are catering to–that's where segmentation comes in.
It helps you group your users into different categories and create messages that resonate with each group best. These are a few general data points that can help you better segment your customers, including:
Geolocation
Behavior
Psychology
Firmology
Technography
Demography
Stages in the sales funnel
Once that's done, start creating detailed customer personas. Utilize a timeline maker to map your customer journey–different touchpoints and interactions.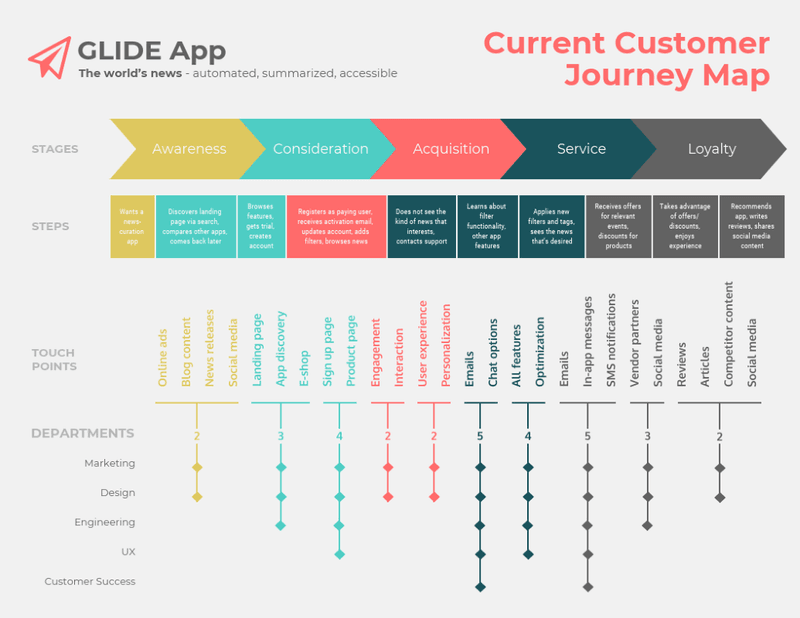 Think of what products and services your customers want and how they'd like to be informed about them. Their preferred channels can include social media, emails, product recommendations, and push notifications. Usually, a collection of top-user channels works best.
Whatever the case with your business, segment your audience and understand their expectations before you set on to meet and exceed them.
2. Gather User Data (The Ethical Way)
According to Salesforce, over 63% of consumers are happy to share their data with companies in return for more personalized discounts and offers. This means if customers see the benefits of giving their data and can trust that you'll use it ethically, they are more than happy to do it.
Thus prioritize establishing trust between your customer and you. Let them know how exactly you are collecting and using their data. Always provide them with an opt-out option. This helps reassure users that, at only point, they can opt out of communicating with the brand.
Here are some ways to responsibly collect data:
Collect data at sign-ups
Gather explicit data after sign-ups
Use cookies to track customers' browning behavior on your app or website.
Employ emails to target customers via email marketing.
You can also use client management software to gather and store comprehensive user data in one centralized location. Equipped with this centralized customer data, you can create a more personalized and relevant user experience–resulting in higher engagement, conversion, and sales.
3. Deliver Compelling Personalized Content
Every successful brand must have a marketing plan that uses personalized content. Plus, it's easy! You can do this with any already collected and available data about your users, especially their keyword searches and buying history.
However, before you get into creator mode, think of your users' pain points, their problems, and the content that can solve them.
You don't want to come off as salesy but as a brand that truly cares for its customers. Always have a human-centered approach. This will help build a trusting relationship that'll return better engagement and profits.
Here are some popular personalized content to create for each of your user segments
Interactive quizzes
Build-your-own product
Personalized newsletter
Customizable media
In Eventbrite's 2023 Attendee Survey Response, 56% of participants said they enjoy virtual events. You too can organize virtual events for personalized user experience by, for example, tailoring the event agenda, content recommendations, and more.
Slack uses on-demand live streams to interact with the customer and get their feedback in real-time.
4. Leverage Omnichannel Personalization
Most users start browsing on one device and revisit the website, application, or pages on another. This process can continue until they finally purchase or take action.
That's why savvy marketers use omnichannel marketing to reach their users in their specific customer journey stage. Even smarter marketers leverage omnichannel personalization to take the user experience further.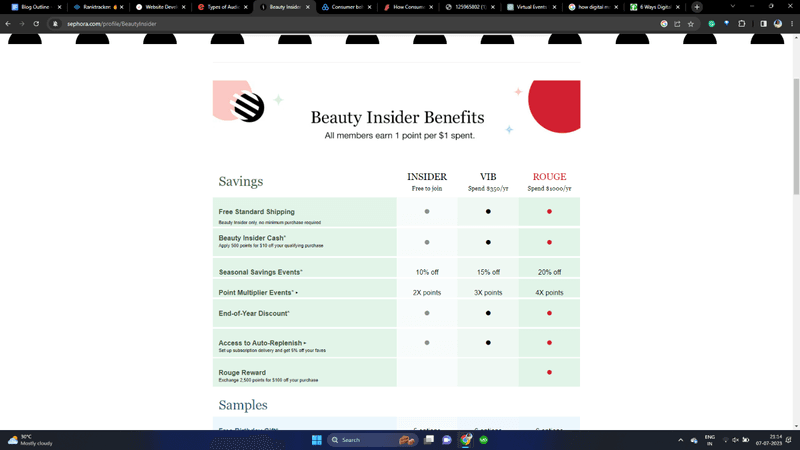 Take Sephora's approach, for example. The beauty giant is known for its brilliant personalized omnichannel strategies. The brand's Virtual try-on, Beauty Insider program, and personalized product recommendations on the website, app, and email marketing have helped it gain over 11 million repeat customer members (who spend 15X more than average users).
Consider the entire customer journey–including transitions across devices and platforms when creating your personalization strategy. Strive to tie different touchpoints together to create a consistent and seamless user experience rather than disjointed interaction.
Align the personalization strategy across departments for better communication and experience–including sales, marketing, and customer support.
If your web development cost allows, use tools like chatbots and live chats. They come in handy when delivering first-contact resolution on your website and application, thus creating a better user experience.
5. Start Where the Users Left Off
This is a popular strategy in eCommerce businesses, where users are greeted with a 'continue to shop for' section at the top. Even Netflix uses it by saving the point where you left off a movie or show and displaying it on top when you log back in–and it works.
To put it simply, it's effective because customers will see that you remember them. Plus, they don't have to hunt for the product or service (or show, in the case of OTT) every time they return.
You can leverage this too! Start by analyzing your user history and push them to make the final purchase or take the desired action. Use personalized recovery push notifications and customized websites to pursue them.
If the conversion rates remain low even after that, it might be time to conduct a thorough survey. Understand what makes your users abandon their shopping carts:
Price and unexpected cost
Security concerns
The poor or complicated process
Bad website/buying experience
Unappealing interface
Once you've nailed down the root cause, work on your brand or eCommerce personalization to make the user experience seamless and pleasant.
6. Test and Optimize Personalized Experience
There's no one-size-fits-all formula for personalization. You need to keep experimenting until you find things that produce promising results–and it can't happen without testing.
Here are some popular ways to test and optimize personalized user experience:
A/B Testing: This requires creating two more versions of the personalized experiences and testing them on different sets of users to see which gets the best response.
The All-in-One Platform for Effective SEO
Behind every successful business is a strong SEO campaign. But with countless optimization tools and techniques out there to choose from, it can be hard to know where to start. Well, fear no more, cause I've got just the thing to help. Presenting the Ranktracker all-in-one platform for effective SEO
User Testing: Here, you collect feedback and insights directly from feedback. It allows you to understand better their pain points, preferences, and opportunities for personalization.
Use tools like Ranktracker to track key user metrics and conduct competitor analysis to see what's working for them.
Soon, you'll find strategies that work for your brand and users. Maybe you'll create new strategies that could become the new personalization trend–who knows!
Hyper Personalized Customer Experience May Not Be Easy, but It Is Rewarding
We know it might look complicated, but it doesn't have to. You don't need to literally read your users' minds to give them a fantastic personalized user experience–it should just seem like you can.
Using the above strategies, you can start personalizing your user experience. And with time, your customers will start appreciating your efforts in the form of more engagement and sales.