Intro
In the world of eCommerce, clicks mean a lot. But conversions are king. As an online business owner, you know that every dollar counts and that's where AOV comes into play. AOV, or average order value, is the average amount of money a person spends on your website per transaction. And let's face it. Who doesn't want their customers to leave more money?
But how do you increase AOV without scaring off your buyers? It's a delicate balance between providing value and making your visitors feel like they are getting a good deal. Lucky for you, we've compiled seven proven strategies to help you increase your AOV without sacrificing customer satisfaction. So sit back and get ready to learn how to boost your eCommerce sales like a pro.
1. Make Recommendations Personal
Picture this: you stroll into a brick-and-mortar store, and a salesperson greets you with a big smile. Without even asking anything, they know what you're seeking. They understand your preferences, style, and what you're most inclined to purchase. That's the kind of tailored shopping experience that converts first-time customers into loyal ones.
But what about online shopping? How can you create that personal touch in the digital world? Simple. By harnessing data about your shoppers to customize product recommendations. Their browsing and purchase history can provide valuable insights into their preferences and develop targeted marketing campaigns. So you can appeal more directly to your target audience, boost sales, eliminate issues like an abandoned shopping cart, and drive up the AOV.
One effective way to do this is by using personalized "You May Also Like" sections. These sections use machine learning to analyze consumer behavior, location, demographics, and other details to suggest products they're likely to love. So, if someone's browsing dresses, the AI program can present a pair of shoes or boots to match their style perfectly.
For example, Fossil understood my preferences after spending some time on its website. So I see similar products to the ones previously studied. The section with product recommendations displays product photos, prices, and two buttons to access more goods. As you can observe, some items have the "Emboss Me" button, so you can customize them to have even more personalized and unique features.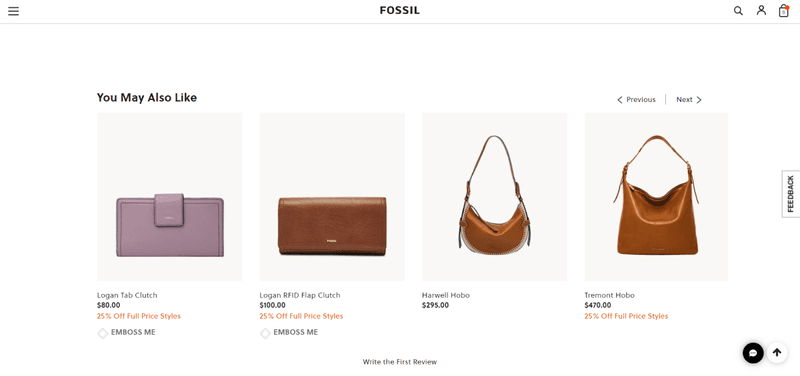 (Screenshot taken on the official Fossil website)
2. Try out limited-time offers and flash sales
Time-limited deals and flash sales can be game-changers if you want to boost sales and your AOV. This strategy can come in handy during off-peak sales periods when the demand is low. Consider how it works. Offer buyers a gift or a special discount if they purchase a specific quantity of products within 48 hours or so.
The All-in-One Platform for Effective SEO
Behind every successful business is a strong SEO campaign. But with countless optimization tools and techniques out there to choose from, it can be hard to know where to start. Well, fear no more, cause I've got just the thing to help. Presenting the Ranktracker all-in-one platform for effective SEO
It creates a sense of urgency among shoppers, tapping into their FOMO or the fear of missing out. Such a strategy can drive them to make the purchase. By promoting these deals on social media or using website banners, you can nudge prospects to take advantage of the offers.
It's that simple. People love the idea of getting something before the sale expires. For you, it means they may end up adding more items to their cart, even if it wasn't in their original plan. So why not give it a try?
Check how Lenox employs a sense of urgency on its Instagram page. It uses words like "Today only" and provides incentives like discounts or free shipping.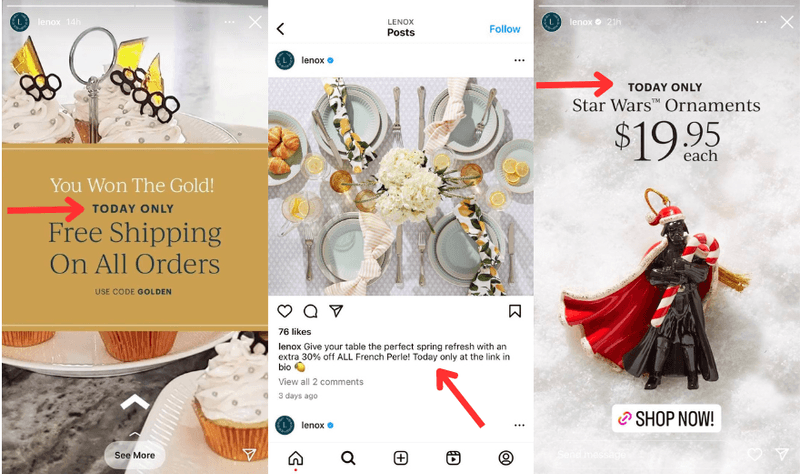 (Screenshot taken on the official Lenox Instagram account)
3. Make a loyalty program your secret weapon
A loyalty program is like a warm embrace for your existing customers. It's not just about retaining them but also creating strong bonds that keep them coming back for more. Here are a few points that speak volumes about why loyalty programs are a win-win for both the company and its buyers:
Keeping an existing customer is far less expensive (up to 5-7 times) than acquiring a new one.
Retention is king when it comes to ROI. Boosting retention rates by a mere 5% can increase profits by up to 95%.
Happy and loyal shoppers spread the good word about your brand and become your ultimate brand ambassadors, bringing in more clients.
If you're wondering whether you should implement a loyalty program or not, let me tell you: it's all about increasing that AOV. Picture this. A shopper has filled their cart with all the goodies they want and is about to hit the checkout button. But wait, what if they could earn some exciting rewards by purchasing a specific product or reaching a certain spending threshold?
It can be a discount on their next purchase, a gift, or even a chance to get their hands on the latest product line before everyone else. And just like that, they add a few more items to their cart, leaving more money in your store. Plus, they'll keep coming back to redeem those hard-earned points. See the magic?
Below is a Designer Shoe Warehouse (DSW) loyalty program. The merchant divides its VIP program into tiers so you can choose the most suitable one for your needs.
The All-in-One Platform for Effective SEO
Behind every successful business is a strong SEO campaign. But with countless optimization tools and techniques out there to choose from, it can be hard to know where to start. Well, fear no more, cause I've got just the thing to help. Presenting the Ranktracker all-in-one platform for effective SEO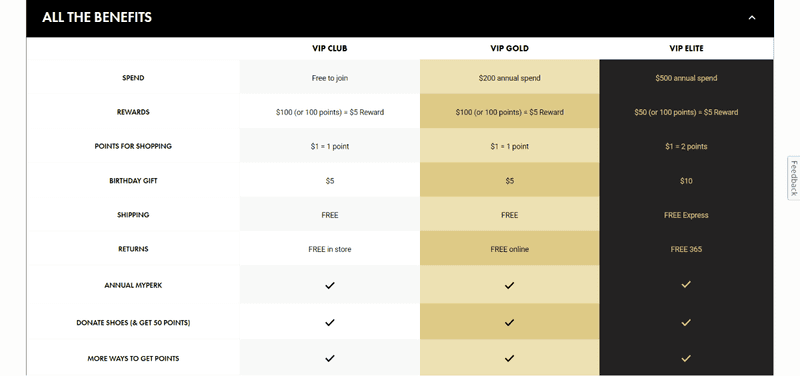 (Screenshot from the official DSW website)
4. Boost sales with smart product bundles
Shopping can be overwhelming, and consumers don't always want to spend time picking out individual items. But what if you could make their lives easier by offering convenient package deals? Shoppers are more likely to purchase bundled products because it saves them time and decision-making.
For instance, getting a burger by itself is great. But a ready-made combo with fries, sauce, and a drink? Even better! Fast food restaurants get it, and you can join them too. You can increase your average order value and earn more money by offering bundled products. Instead of paying $5 for one item, the client may happily pay $25 for a complete package.
Pro tip: Allow clients to choose the specific features or add-ons they want in their bundle. That way, they feel valued, and it's an opportunity to showcase your products. Here are a few extra tips to make the most of bundle deals:
Offer pre-selected bundle deals based on buyers' preferences or popular products.
Create bundles for special occasions or holidays.
Use bundle deals to upsell or cross-sell related products.
Display the savings prospects will receive by purchasing a bundle deal.
Remember, the goal is to make it easy for visitors to purchase and provide them with value for their money. Package deals can make their shopping experience more enjoyable, leading to more sales and higher customer loyalty.
Sometimes all you want to do is add several items with one click, be it for convenience or cost-saving reasons. ColourPop lets you do it on its dedicated page for product bundles.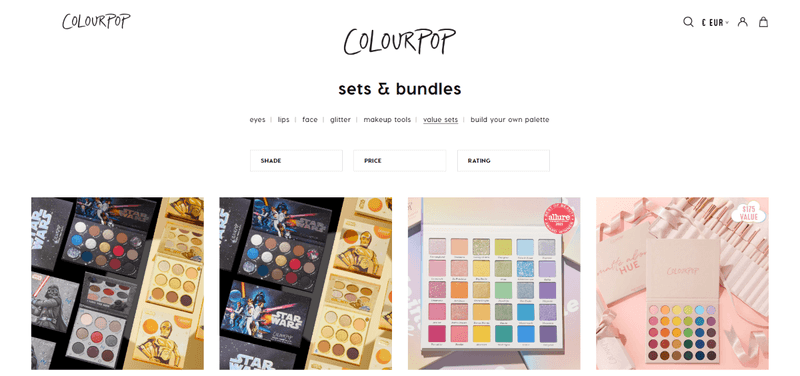 (Screenshot from the official DSW website)
5. Offer free shipping upon reaching a threshold
Looking for a way to incentivize shoppers to buy more from your eCommerce store? Free shipping can be a powerful motivator, but you may hesitate to absorb the added cost. Don't worry. There's a solution: a free shipping threshold.
It can be tough to figure out the right threshold for your store. But as a general rule, it's recommended to set it at about 30% higher than your average order value. For instance, if your AOV is $50, you can offer free shipping on orders of $65 or more.
Prominently display this offer on your homepage, product pages, and at checkout. You can even use notifications to remind shoppers how close they are to qualifying for free shipping. Trust us. This strategy can pay off big time!
Here is how the Barnes & Noble shopping cart works. It's a pop-up with a list of the items, where you can change the number of goods, remove them, or save them for later to the wish list. We can also observe information about free shipping, which becomes available after reaching a $40 threshold or more for the order.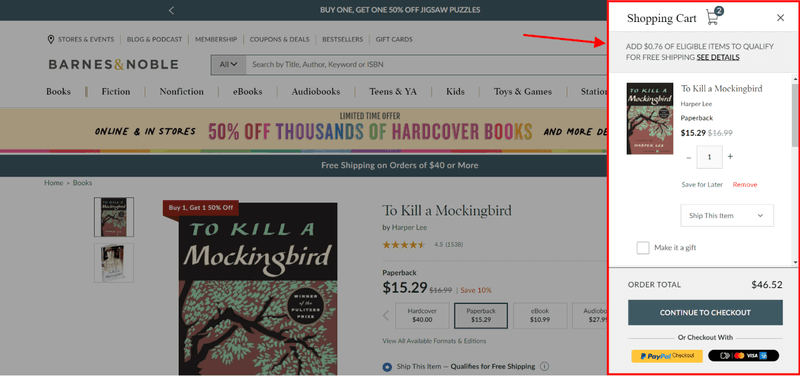 (Screenshot from the official Barnes & Noble website)
6. Reassess product pages
Let's look at your product page. Apart from breadcrumbs, it should contain many more essential elements to convert people into clients, such as:
Product photos and videos: High-resolution product photos and videos help viewers better understand what they buy.
Product description: It should provide all the relevant information, such as the available sizes, materials, colors, etc.
Customer reviews: Feedback is essential for providing potential clients with an unbiased opinion on the product, helping them make an informed purchase decision.
Related products: Buyers may find other interesting goods related to their current query and add them to the shopping bag.
Product satisfaction guarantee: Offering a satisfaction guarantee ensures shoppers that their purchase is risk-free. It may be a free try-on before purchasing, effortless returns, retailer's adherence to sustainable principles, and so on.
Shipping information: Providing the prospect with the exact shipping cost and timeline helps increase trust and boost conversions.
Return policy: Making the return policy transparent helps build consumer trust and encourages them to take the final step in the conversion process.
Below is the Bombas online store example. Its product page contains crucial information, visuals, and sections for a person to convert without a second thought. It even provides a 100% happiness guarantee through the Bombas Customer Happiness Team.

Screenshot taken on the official Bombas website
If you're looking for a way to improve your product pages and potentially amplify the AOV, Rank Tracker can be a useful tool to consider. This platform analyzes and tracks the website's performance and keyword rankings to help you identify areas for improvement in terms of SEO.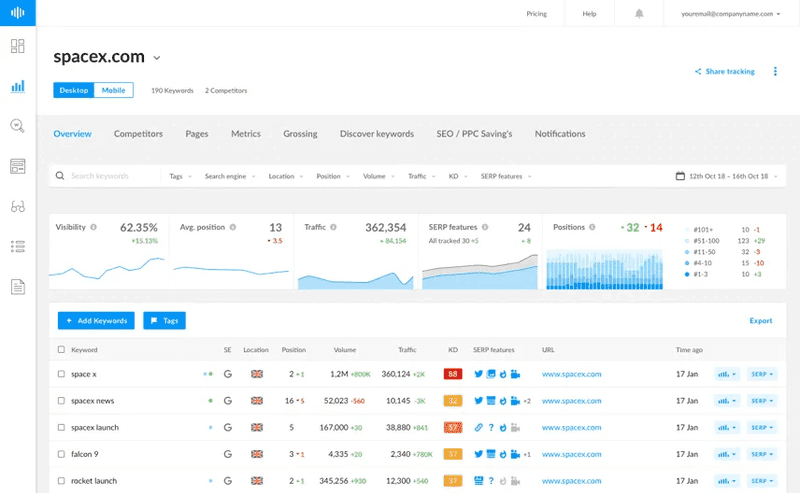 (Screenshot taken on the official Ranktracker website)
Product page optimization entails more visitors. And the more visitors you have, the higher your chances of converting them into customers and boosting the AOV.
7. Provide quick and efficient service via chatbots and AI
Supporting buyers during the buying journey is key to answering how to improve user experience on an eCommerce website. By addressing any issues they may encounter before, during, and after purchasing, you can demonstrate that you value their trust and loyalty. As a result, it can lead to better AOV.
Even the most convenient website isn't immune to problems. But shoppers expect fast responses, as well as support 24/7. So being available to address any issues is necessary. To deal with this in the digital age, employ chatbots and other AI-enabled tools to boost customer service and support effectiveness.
With the help of these new technologies, you can anticipate clients' questions and respond in real time with accurate information. It will amplify your chances of retaining clients and prevent negative reviews from impacting sales.
Chatbots can answer basic questions about products or services. AI-enabled chatbots are more efficient than customer service representatives because they don't experience fatigue or make mistakes. They can handle simple, repetitive tasks like taking orders, booking tables and rooms, or informing about the order status.
The All-in-One Platform for Effective SEO
Behind every successful business is a strong SEO campaign. But with countless optimization tools and techniques out there to choose from, it can be hard to know where to start. Well, fear no more, cause I've got just the thing to help. Presenting the Ranktracker all-in-one platform for effective SEO
Chatbots can also give recommendations based on previous purchases and inquiries. Take a look at the screenshot below. Angara offers a chatbot to assist visitors with placing, managing existing orders, and connecting with a jewelry expert.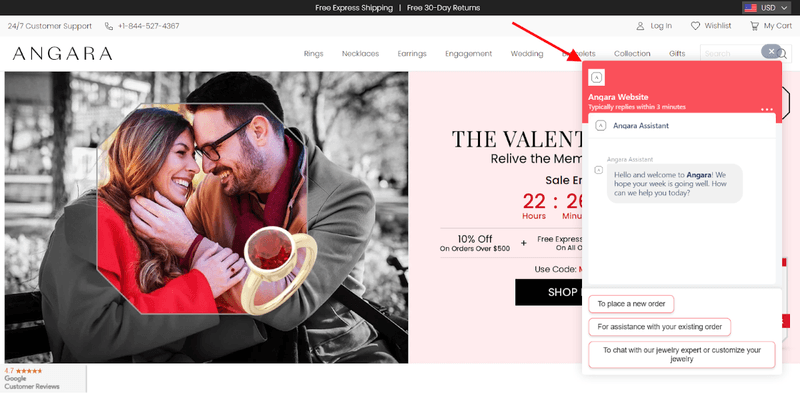 (Screenshot taken on the official Angara website)
To Sum Up
Are you curious how much money your store's visitors are leaving behind? The average order value (AOV) is a critical metric that can tell you just that. A higher AOV means more revenue for your business, but how can you increase it?
First things first, you need to calculate your starting point. Once you know where you stand, it's time to put some strategies into action. From cross-selling to offering free shipping, there are many ways to improve the overall shopping experience for your customers, boosting their satisfaction and loyalty.
So why wait? Start generating more income for your store today by optimizing your AOV. With a little effort, you'll be well on your way to increasing your sales and growing your business.