Intro
YouTube is one of the most popular search engines, ranking high with giants like Google. And this means competition in this space is also fierce.
As of the 4th quarter of 2022, YouTube had an advertising revenue of over $7.9 billion.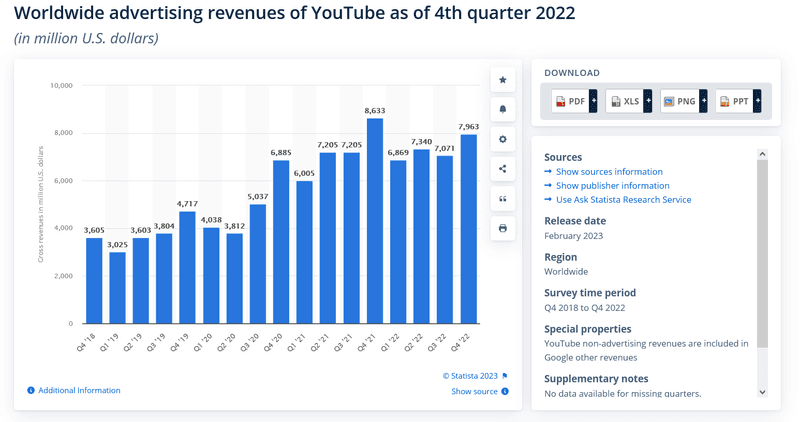 (Image via Statista)
It goes to show the potential of YouTube. Optimizing your videos has the potential to bring in an impressive ROI.
But you need top-of-the-market YouTube SEO tools to expand your reach on the platform.
These tools can help you can identify the words that users type in the YouTube search bar when finding content related to your industry.
The All-in-One Platform for Effective SEO
Behind every successful business is a strong SEO campaign. But with countless optimization tools and techniques out there to choose from, it can be hard to know where to start. Well, fear no more, cause I've got just the thing to help. Presenting the Ranktracker all-in-one platform for effective SEO
These YouTube SEO tools will shed light on what your competitors are doing to rank high. They'll also help you identify the marketing strategies you're applying that are working toward boosting your YouTube ranking, and you can build upon them.
But investing in these best YouTube SEO tools should only complement your YouTube marketing strategy. You still need to put the effort in:
Creating captivating video content that targets the right audience and matches their preferences
Having a great YouTube channel layout
Posting great videos regularly, but with a focus on quality over quantity
Leveraging effective social media marketing strategies like influencer marketing
But you need to outrank your competitors by investing in the right YouTube SEO tools and that's what this post is all about.
Let's get started with my list of top YouTube SEO tools.
7 YouTube SEO Tools That Deliver Solid Results
Consider investing in these effective YouTube SEO tools to make your YouTube marketing strategy more effective. Consider your requirements and then choose one or more of these best YouTube SEO tools that serve your purpose.
Photo and Video Creation Tools
Let's start this list of top YouTube SEO tools with some photo and video creation tools.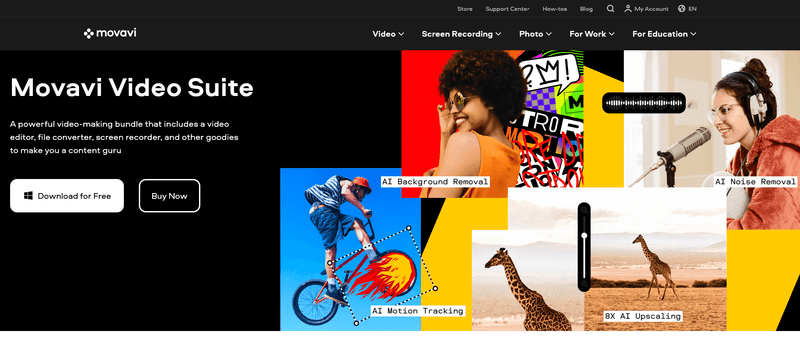 (Image via Movavi)
Audience retention is a major factor affecting YouTube SEO.
It measures the amount of watch time your audience spends watching your YouTube videos. High audience retention makes you rank higher on YouTube SERP.
One of the best ways to boost your retention rates and achieve YouTube optimization is with high video quality.
The All-in-One Platform for Effective SEO
Behind every successful business is a strong SEO campaign. But with countless optimization tools and techniques out there to choose from, it can be hard to know where to start. Well, fear no more, cause I've got just the thing to help. Presenting the Ranktracker all-in-one platform for effective SEO
Movavi Video Editor is one of the most essential YouTube SEO tool for this purpose.
With Movavi, you can use a theme-specific template like family, memories, and love story to define the transitions, titles, and music to use in the video.
You could also customize your template by choosing the 'No Transitions' theme.
This video editing tool helps you adjust sound and music, add stickers and artistic effects, and use color filters.
You can have multiple clips in your video and still have it flow smoothly by using dynamic or elegant fades. You can conceal or highlight parts of the video as necessary without affecting the viewing experience.
Want to know the best part?
It offers two video editing modes—Quick and Manual—for beginners and advanced users, so it suits every need perfectly.
Features
AI-powered motion tracking
Chroma key and background removal
Advanced color adjustment feature
Scene detection
Pros
Includes audio editing tools
Plenty of formats and quality options when exporting
Easy-to-use, drag-and-drop interface
Cons
Exporting large files can get slow
Pricing
Video editor: $49.95
Video editor plus effect packs: $69.95
Video suite plus effect packs: $94.95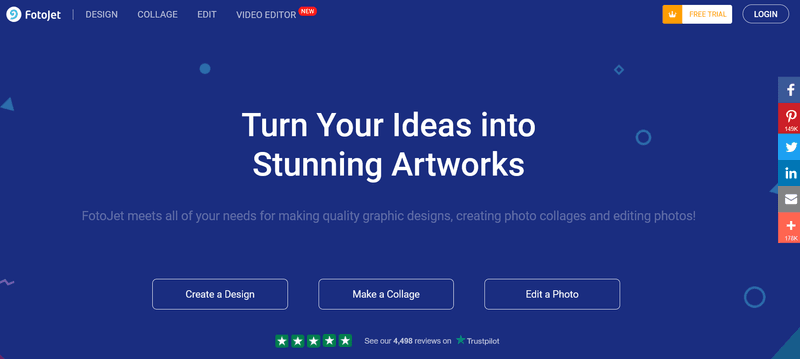 (Image via FotoJet)
FotoJet is a web-based graphic designing tool.
What makes it one of the best YouTube SEO tool you can use?
As I've explained earlier, the click-through rate is one of the factors that affect your video rankings.
FotoJet lets you create a superb thumbnail that'll make YouTube viewers curious about your videos, making them click on them.
This YouTube SEO tool has plenty of professional templates you can customize to create thumbnails that match your videos.
You can edit your thumbnails by adding filters like a vignette or black and white filters.
You can add overlays and crop or resize your thumbnail. You can also create an impressive collage and use it to make your YouTube video more engaging.
Features
Hundreds of templates to create thumbnails
Powerful collage maker
Photo editing capabilities
Rich library of clipart images and a variety of shapes, overlays, and frames
Pros
Beginner-friendly drag-and-drop interface
Very affordable
Over 800 premium templates
Cons
Can't handle complex projects
Pricing
Unlike most other YouTube SEO tools, FotoJet doesn't offer multiple plans, only one with monthly and yearly billing options.
$39.99 per year - If you choose to be billed yearly
$6.99 per month - If you choose to be billed monthly
SEO and Ranking Tools
Next on this list of best YouTube SEO tools are some tools that will help you optimize your YouTube content and profile to rank higher for search queries.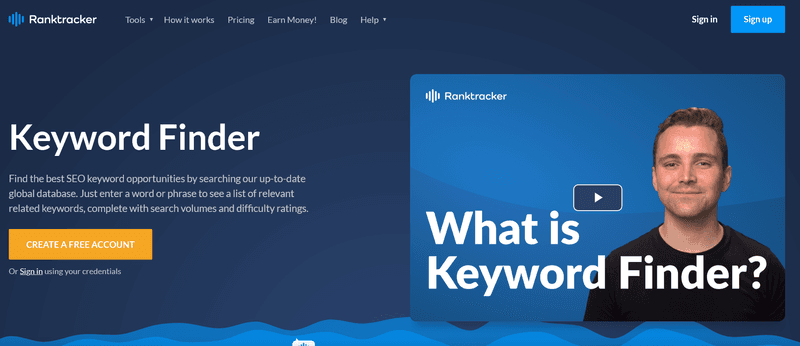 (Image via Ranktracker)
Keywords are an important part of YouTube SEO. They determine how high your YouTube video ranks and for which topics.
If you rank high on YouTube search results for users who don't represent your target market, it'll not be of much help to your brand.
You need to research keywords that your target market is using to search for YouTube videos. And YouTube SEO tools like the Ranktracker Keyword Finder can help you find the right keywords.
By entering a broad target keyword in the Ranktracker Keyword Finder, you'll get YouTube keywords that you can use, including related keywords and long-tail keywords.
This YouTube SEO tool will also show the search volume and difficulty rating of each keyword. You can do competitor research and find the keywords your competitors are ranking for.
Use your target keywords in the title, description, and tags of your YouTube videos.
Features
Keyword difficulty score, rated from 1-100
Capability to search by location or language
Keyword history to identify seasonal trends
Competitor keyword research
Pros
Sources the keywords from a rich, up-to-date global database
Supports location-specific keyword research
You can save your researched keywords and create custom lists of your keywords
Cons
To get the keyword tool, you need to buy a complete SEO plan
Pricing
Starter: $13.50 per month
Double Data: $44.25 per month
Quad Data: $81.75 per month
Hex Data: $156.75 per month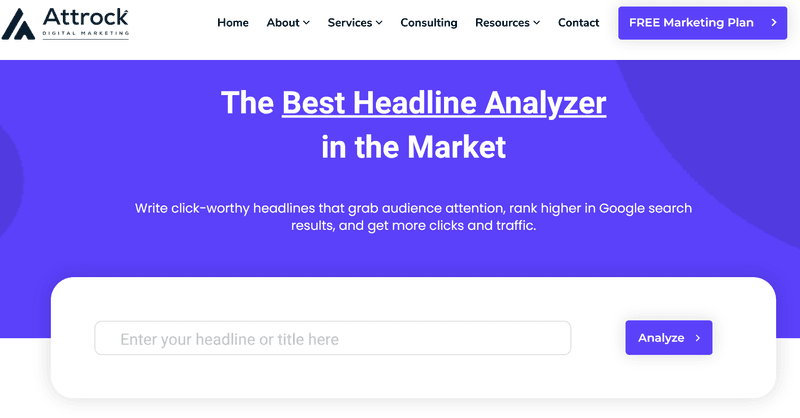 (Image via Attrock)
Click-through rate is another important factor that affects YouTube SEO.
YouTube click-through rate is the percentage of users who click on your video after seeing it in the search results. It's an indication of the relevance a user sees in your video title and thumbnail.
This makes it important to use YouTube SEO tools like the Attrock Headline Analyzer to create titles that captivate viewers' attention and help you capture more leads.
You'll get a score for your headline. You can then make adjustments and test your headline again until you get your score to the green zone-which is an indication that it's excellent.
This YouTube SEO tool will help you create compelling titles, with a good mix of common and uncommon words, power words, and emotional words in your titles.
Features
Color-coded results let you know how bad or good your headline is
The tool provides guidance on the right word balance for your headline
It gives your headline a score based on length, readability, and sentiment
Provides access to a word bank that you can use to improve your word balance
Pros
A detailed analysis of your headline
Completely free
Suitable for beginners as well as advanced users
Cons
Can offer more personalized recommendations
Pricing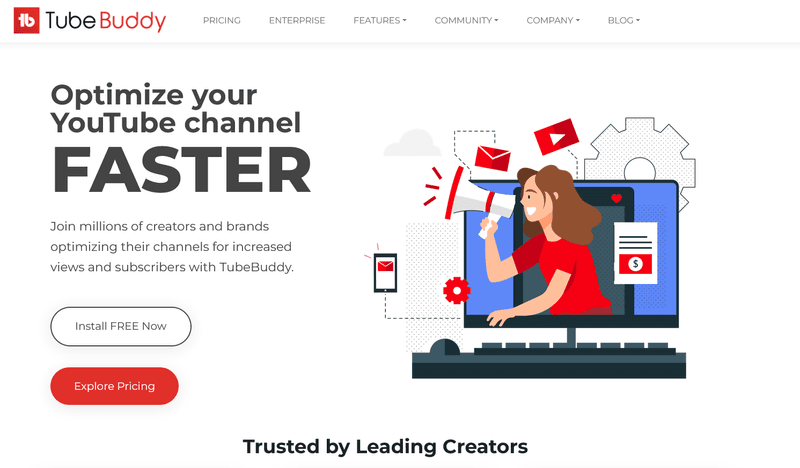 (Image via TubeBuddy)
TubeBuddy is one of the best all-in-one YouTube SEO tool. It comes as an Edge, Firefox, or Chrome browser extension.
You can carry out A/B testing on elements of your YouTube channel like titles, video descriptions, video tags, thumbnails, etc. You also get an AI-powered title generator.
TubeBuddy will carry out automated checks to ensure there are no broken links in your video descriptions that can affect user experience and your video SEO results.
You also get real-time tag suggestions that match relevant keywords and search terms. You can use TubeBuddy to get keyword ideas to optimize your video.
You can also see your YouTube rankings, including the search results for your tags. This makes it one of the important YouTube SEO tool you should have in your arsenal.
Features
SEO studio for YouTube optimization
Search and keywords explorer
AI-powered title gener ator and thumbnail generator
Search insights, such as tags, engagement rates, and subscriber counts of videos that are ranking in YouTube SERP
Pros
Loaded with lots of powerful features to boost your YouTube SEO
Recommendations to improve your YouTube performance
Plenty of YouTube SEO research tools
Cons
You can experience glitches as you switch between channels
Pricing
Free
Pro: $2.80/month
Legend: $21.20/month
Enterprise: Custom pricing
Social Media Monitoring and Analytics Tools
The last set of YouTube SEO tools deal with social listening and analytics to boost your YouTube SEO strategy.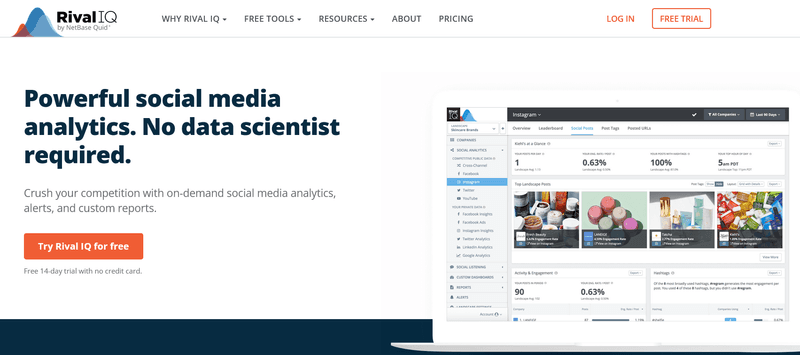 (Image via Rival IQ)
Keeping track of your competitors is essential to know what they're doing to rank high.
And Rival IQ is one of the best YouTube SEO tool that feature a rank tracker to track rankings.
You'll get real-time data on the performance of your competitors' YouTube videos. You'll identify the YouTube tags, target keywords, and strategies that are working for them.
You can then compare your performance against the entire industry or a specific competitor. You can use this data to benchmark your metrics and uncover opportunities to boost your YouTube SEO efforts.
The best part is that it doesn't only provide competitive analysis of YouTube but other social media platforms as well, such as Twitter, Instagram, TikTok, and Facebook
Features
Data visualizations of statistics like engagement rates and views
Details on popular topics in your area of interest to keep you on-trend
Competitive data that shows where you stand compared to them
Custom alerts of competitors' moves, such as a channel change or a tweak in a video description
Pros
Option to access data history that's up to 2 years old
Customizable reporting
Scheduled report exports delivered to your email
Cons
Pricing is on the higher side, but it's a valuable SEO tool
Pricing
Drive: $239/month
Engage: $329/month
Engage Pro: $519/month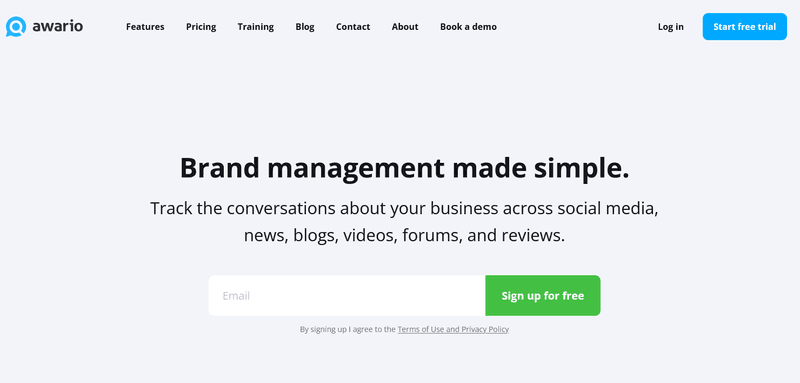 (Image via Awario)
Audience engagement is one of the critical factors in the success of your YouTube SEO efforts.
If YouTube users are active in your comments and are actively looking for other videos on your channel, YouTube will start recommending your videos to more people.
You can use Awario to monitor your engagement and find opportunities to boost it. This and other powerful features make it one of the best YouTube SEO tool in the market.
The All-in-One Platform for Effective SEO
Behind every successful business is a strong SEO campaign. But with countless optimization tools and techniques out there to choose from, it can be hard to know where to start. Well, fear no more, cause I've got just the thing to help. Presenting the Ranktracker all-in-one platform for effective SEO
You can keep track of conversations around your keywords by monitoring their mentions in real-time. And you can respond by creating YouTube videos around these conversations to boost engagement.
Awario also lets you track important YouTube performance metrics that can power your YouTube SEO campaign, such as which videos gathered the most comments and views.
You can track the locations and languages of your mentions, so you know where you're most popular and leverage this popularity.
Features
Sentiment analysis to understand what people think of your brand
Alert comparison. You can compare the performance of your campaigns against each other or compare your performance with that of a competitor
Boolean search to customize your search queries
White-label reporting
Pros
A dashboard and handy folders that keep information organized and easily available
You can reply to a YouTube comment directly from Awario
Real-time updates help keep you updated on your performance
Cons
Data export is only available in the higher-priced plans
Pricing
Starter: $24/month billed annually
Pro: $74/month billed annually
Enterprise: $249/month billed annually
Start Investing in the Best YouTube SEO Tools
There you have it, 7 top YouTube SEO tools to boost your reach and performance on the platform.
We've provided you with the best SEO tools that'll help you with YouTube optimization through:
Creating high-quality content that your audience is likely to show interest in
Finding the right keywords and tags that will make your YouTube content show up in YouTube search results and YouTube's suggestions
Developing the right strategies to build YouTube engagement
Use these best YouTube SEO tools alongside your other video marketing tools to boost your reach and meet your goals. All the best!