Intro
Want to entice your audience, make your customer experience more pleasant, convert potential customers, and ultimately boost your bottom line? Of course, you do. You need to make your small business more approachable.
Here's the ultimate truth: Your customer base is your business's cornerstone, but expanding it is pretty challenging.
Just as people have their personalities, businesses also have their characteristics. An unapproachable leader can be perceived as distant, uncaring, and ineffective.
It's hard to get people to follow a leader who seems unwilling to be approached. Leaders of businesses stand as a representative of the business itself. A business that comes across as aloof or arrogant will struggle to connect with its customers.
To succeed, you must be approachable to expand your reach and build strong customer relationships.
In this article, you'll learn how to make your customers feel they can interact with, buy from, or connect with your business effortlessly.
The All-in-One Platform for Effective SEO
Behind every successful business is a strong SEO campaign. But with countless optimization tools and techniques out there to choose from, it can be hard to know where to start. Well, fear no more, cause I've got just the thing to help. Presenting the Ranktracker all-in-one platform for effective SEO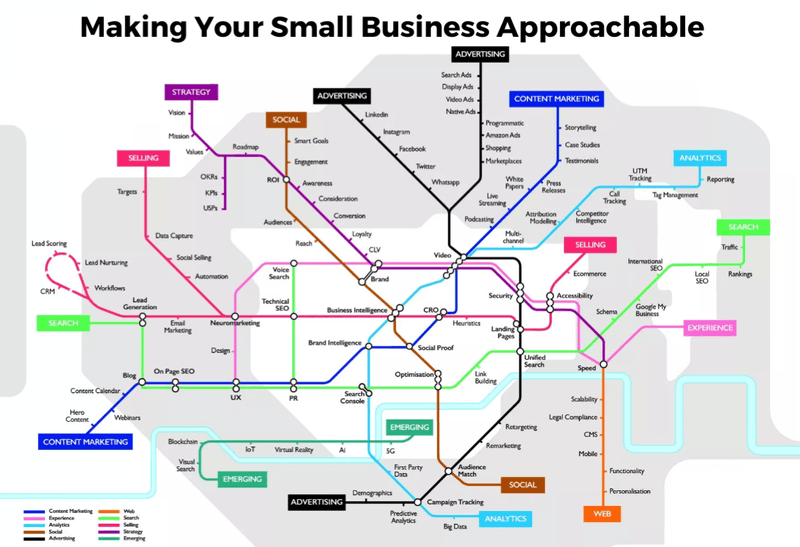 1. Stick To One Specialty
A common mistake among budding entrepreneurs is to offer a full catalog of different services or products. These newbies think if you offer more, you'll attract more customers. But in reality, this approach often backfires.
If you offer a mishmash of products or services, it can make people question your authority over your niche—people don't like confusion.
They may even go elsewhere, looking for someone who specializes in their needs.
Keep things simple and focused. Instead of trying to offer everything to everyone, hone in on one service or product you excel at. Specialize in one area to attract customers looking for exactly what you offer.
And they'll be more likely to choose your business over the competition because they consider you an expert at what you do.
Say you're in the food business. Start with one type of food, such as fast, street, vegan, or vegetarian. Later, add more types of food as you grow.
The All-in-One Platform for Effective SEO
Behind every successful business is a strong SEO campaign. But with countless optimization tools and techniques out there to choose from, it can be hard to know where to start. Well, fear no more, cause I've got just the thing to help. Presenting the Ranktracker all-in-one platform for effective SEO
Establish trust and a positive reputation with one type of product or service. That's how customers will trust your new offerings when you introduce them.
2. Produce Positive Content
In today's era of content-driven marketing, your business needs to produce substantive, in-depth, and authoritative articles.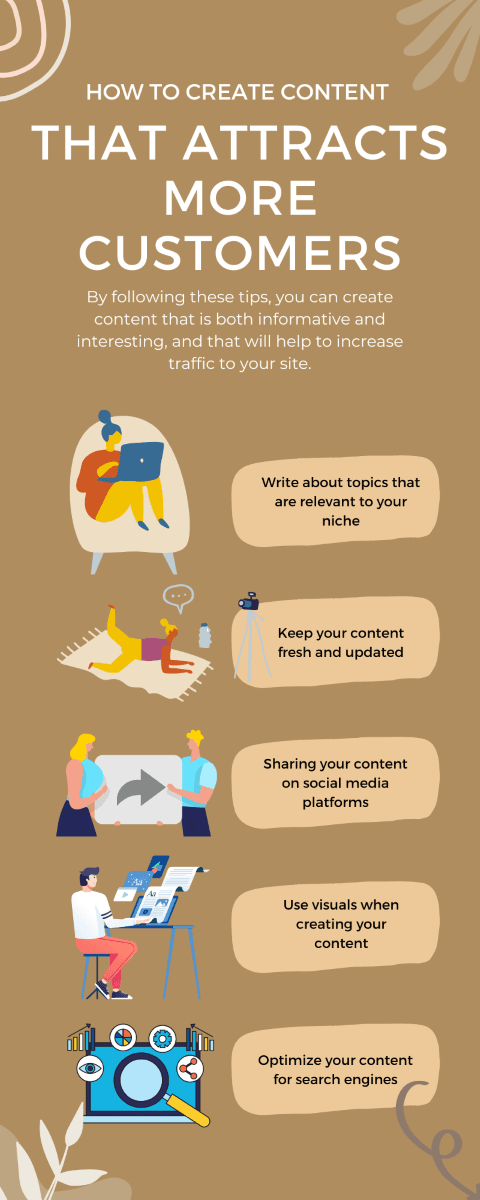 Brands have become the new publishers, pushing out thousands of articles, syndicating their content, and embracing myriad new forms of marketing through information.
But it's not just about churning out tons of content. It's about producing the right kind of content. The tone is crucial in content marketing, as it establishes authority, builds trust, and attracts customers.
Here are some super actionable tips for setting the right tone:
Avoid zealous self-promotion: Don't overdo it. Your content should be informative and useful to your audience, not just a sales pitch—you risk coming across as pushy or untrustworthy.
Don't bash the competition: Speaking negatively about your competitors is another no-no. It's unprofessional and makes your brand look petty and insecure. Instead, highlight your unique selling points and what makes your brand stand out.
Encourage people: Positivity is infectious and can go a long way in building goodwill with your audience. Be a source of encouragement and inspiration through your content and your interactions on social media.
Be inspirational, not just informational: While informative content is essential, it's also important to inspire and motivate your audience. Share success stories, case studies, and examples of how your products or services have helped others. This will make your brand more relatable and approachable.
In terms of the types of content that exude this approachable positivism, there are many options. Some of the best include how-tos, in-depth guides, white papers, and problem-solving posts.
These types of content demonstrate your expertise and provide value to your audience while establishing a positive, helpful tone that encourages engagement and trust.
3. Be Competitive, Not Cutthroat
Competition is a fundamental aspect of the business. if you're not competitive enough, you may struggle to succeed in a crowded market. There are different ways to approach competition.
Some businesses choose to be annoyingly competitive by engaging in negative tactics. These tactics include badmouthing their competition, using deception, or meddling with their competitors' honest efforts.
Customers don't like it when businesses badmouth their competitors or use unethical tactics to get ahead. But there's a better way to approach competition: healthy competition.
This is focused on outperforming your competitors by being the best version of your business without resorting to negative tactics. Find ways to outrank and outsmart your competitors while maintaining integrity and respect.
With this approach, you manifest trust among your customers. They see that you can succeed without stooping to the level of dirty tactics. Be appropriately competitive to become the go-to choice for your customers.
Invest in traditional and digital marketing strategies that set you apart and showcase your unique strengths. That way, your business can thrive in a way that's sustainable and positive for everyone involved.
4. Be More Involved In the Local Community
Engage in non-profit ventures to establish a friendly and approachable image. Instead of solely focusing on profit-making, the aim is to showcase your business's interest in people's lives.
Sponsor events like charity drives, fundraising events, or community events to demonstrate your community involvement and empathy toward the people.
Even for large businesses, national events can be sponsored to achieve the same goal.
Not only does this portray your business as trustworthy, but it also highlights the human aspect of your company.
Get a large number of people to notice that your business is investing in non-profit ventures.
Take photos of you, your employees, and your customers during the event. Use these images to further advertise your business on social media.
This creates a positive image of your business as more caring and human, which can also be highlighted in the press to reach potential new clients.
Network with potential customers and interact with existing ones, advertising your business.
Set up portable counters with your business logo, web address, and social media names, allowing people to see and interact with your business. It's like having a giant business card out in the open—a win-win situation for everyone involved.
5. Focus On Going Local
If you are a business that operates locally, you need to increase your online visibility to be more approachable.
Your Google Business Profile is the key to getting your business more visibility.
With an optimized Google Business Profile, when someone searches for your business name and location, you'll show up in:
Google Maps results
The local section of Google Search results
The right-side Knowledge Panel in Search results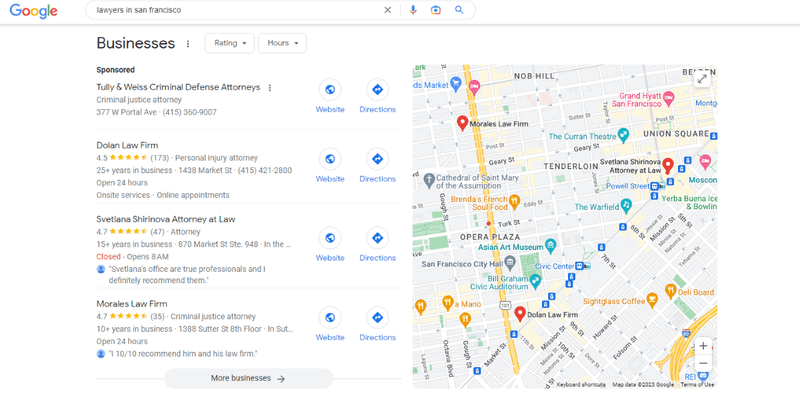 As Google becomes better at personalizing its results to the searcher's location, having a free directory listing on Google should be a top priority for your business.
The key to promoting your business through your Business Profile is to verify ownership of your listing through your free Google My Business account. Optimize your listing to appear higher in search results and for more relevant searches.
If your business ranks on Google Maps or shows up in the Local Pack of regular results pages, you're essentially promoting your business 24/7.
Publish posts directly to your Google listing, putting attractive promotions in front of your audience when they have high intent. You'll need to conduct in-depth keyword research to find high-intent commercial keywords.
While at it, offer your customers the same or better value and customer experience than your competitors in the area you want to rank in.
Customer experience can make all the difference. A customer tells nine people about a positive experience with a brand. In case of a negative experience, they tend to share it with around 16 people on average.
To get an edge over your competitors, see what businesses similar to yours in the more competitive areas are up to.
The more competitive a market is, the more companies focus on developing strategies to give their customers the best experience possible.
To do that, install a VPN on your Mac or whatever operating system you use.
Use that VPN to change your location to a more competitive one (like San Francisco for legal niche) to explore businesses like yours and copy their strategy in your low-competition market.
That way, you'll crush your competition with established businesses' seasoned and influential tactics.
6. Provide Exceptional Customer Service
Exceptional customer service can be a key differentiator for your business. 95 percent of consumers consider customer service essential for brand loyalty.
Build a strong foundation for your business with a loyal customer base, and establish a reputation as a brand that cares about its customers with flawless customer service.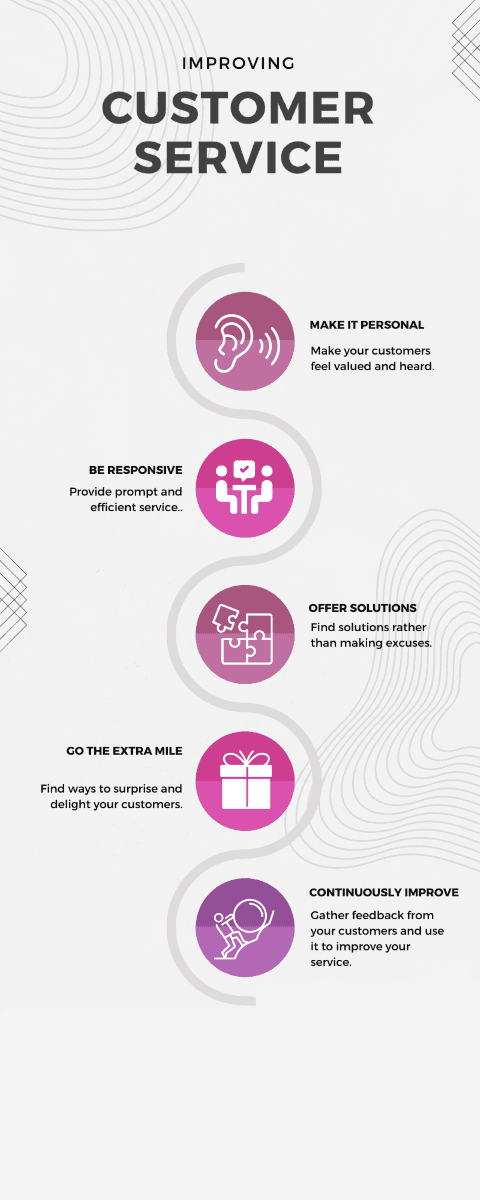 But what exactly does it take to provide exceptional customer service? Here are some actionable tips to help you get started:
Make it personal:
Customers want to feel valued and heard. Know your customers, their needs, and their preferences better. Use their names in your interactions to show them that you care about their unique situation.
Say a customer is calling to inquire about a product. Ask them about their intended use and provide personalized recommendations.
Be responsive:
Respond to customer inquiries and concerns promptly, and ensure they feel heard. Set up automated responses or chatbots to help you quickly respond to customer queries, even outside regular business hours.
Offer solutions, not excuses:
When a customer has an issue, focus on finding a solution rather than making excuses. Take ownership of the problem and work with the customer to find a solution for everyone.
Say a customer receives a damaged product. Don't blame it on the shipping company; instead, offer to replace the product or provide a refund.
Go the extra mile:
Exceptional customer service goes beyond just meeting expectations. Find ways to surprise and delight your customers.
For instance, offer free samples with every purchase, provide handwritten thank-you notes, or offer personalized product recommendations based on a customer's purchase history.
Continuously improve:
Customer service is not a one-time effort but an ongoing process. Gather feedback from your customers and use it to improve your service.
Consider conducting surveys, hosting focus groups, or using social media to solicit customer feedback.
7. Be More Active Online
The internet is the primary source of information for people worldwide, and it's where they're most likely to look for more information about your business. Invest in a well-designed website that accurately reflects your brand image.
Also, social media has become a powerful tool for advertising businesses—it provides a direct and effective way to reach potential customers.
Leverage social media to give your company a voice and shape your brand personality, whether that be through humor, satire, politeness, or humility.
Post pictures of your events, staff, new products, or completed business plans and pair them with catchy captions to create engaging ads.
Encourage free advertising from your customers through retweets, shares, and reposts. Offer rewards for the most successful posts.
Actively engage with your customers through questions, quizzes, and other fun activities on social media.
8. Be Generous
Generosity is a characteristic that is highly attractive in both the business and personal worlds. But what does it really mean to be a generous company? The following are some ways to show your generosity:
Create free software:
This is a great way to attract new audiences while providing immense value to your existing customers.
For example, insurance companies can offer financial calculators on their websites, which benefit their customers and act as backlink bait, boosting their website's SEO with minimal effort.
Offer free resources:
Provide free resources to establish your company as a respected industry leader. Look at companies like HBR, IBM, and Google, which publish articles and white papers, and collate helpful information for web searchers, respectively.
Regardless of the format or content, offering valuable resources to your customers can be done at no cost and with no strings attached. Even food companies can give away free samples to show their generosity.
Offer consulting Services for free:
Your expertise and insights can be invaluable to those who need them. Provide consulting to select individuals free of charge to establish your company as a thought leader in your industry.
9. Value Your Customers' Feedback
Your customers are your best advertising tools; to make the most of them, you need to hear what they say.
Be prepared to receive positive and negative feedback, as the latter is always present—there will always be room for improvement.
Don't try to sweep the negative feedback under the rug and solve it behind closed doors. Instead, use it to solve the problem publicly, such as through your website or social media.
This shows your customers that you value their opinions and care about resolving any issues quickly and to their satisfaction. Create lifelong customers who will keep your business booming.
The All-in-One Platform for Effective SEO
Behind every successful business is a strong SEO campaign. But with countless optimization tools and techniques out there to choose from, it can be hard to know where to start. Well, fear no more, cause I've got just the thing to help. Presenting the Ranktracker all-in-one platform for effective SEO
Remember, any feedback is good feedback. Take the time to ask your customers why they approached your business.
Ask them what they are fond of and hate about their experience with you. Let them be your judges and use their feedback to see what works and what needs changing.
Wrapping Up
You may consider embracing approachability a secondary goal, especially if you are a highly profit-driven business. But it can be a stepping stone to your success.
Cultivate a welcoming and accessible image to build stronger customer connections, inspire loyalty, and foster positive word-of-mouth marketing.
Of course, building an approachable brand takes effort and commitment—you need a genuine desire to connect with customers and a willingness to listen to feedback and adapt to their needs. But the rewards are worth it.