Intro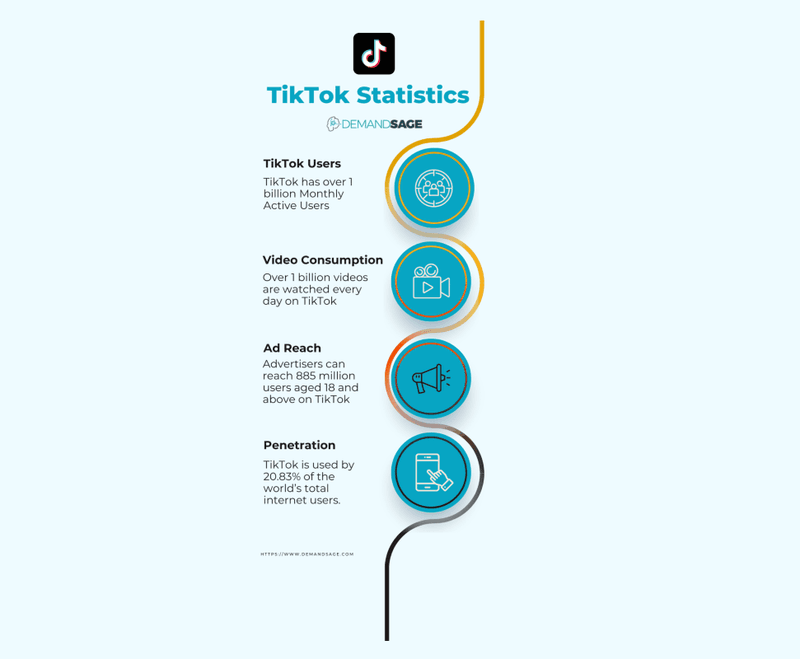 TikTok is one of the most popular social media channels today, with more than a billion followers globally. This platform is a hub for Gen Z users — making up 60 percent of its user base. By the end of 2022, TikTok became the world's most downloaded app, catapulting it as a major force in social media.
Of course, marketers are grabbing every chance to reach TikTok's younger demographics. As ripe as these opportunities are, marketing on the channel also comes with unique fundamentals for success. But for businesses to truly leverage the platform, they must begin by understanding its significance and all the things that make it different from the others.
The importance and uniqueness of TikTok marketing
As one of the most influential social media platforms, TikTok provides several benefits to brands and marketers. It is famous for making content go viral quickly. Its algorithm does that exactly, promoting engaging and relevant videos to users. Moreover, it allows even small businesses with minimal budgets to witness substantial growth on the channel.
Another essential advantage of TikTok marketing is the range of innovative features marketers can use for their videos. Businesses can experiment with various formats, from filters to soundtracks, until they find the best fit for their needs. All these make it easier to create absorbing and informative content, helping businesses make a mark in a saturated market.
When it comes to the benefits of TikTok marketing, nothing can be more outstanding than the channel's quick and massive reach.
Businesses putting their money on TikTok marketing have great potential to connect with larger audiences, leading to greater brand awareness, higher engagement, and, eventually, more conversions. Again, this potential rests on the business's commitment to the fundamentals of TikTok marketing.
9 TikTok marketing basics that drive success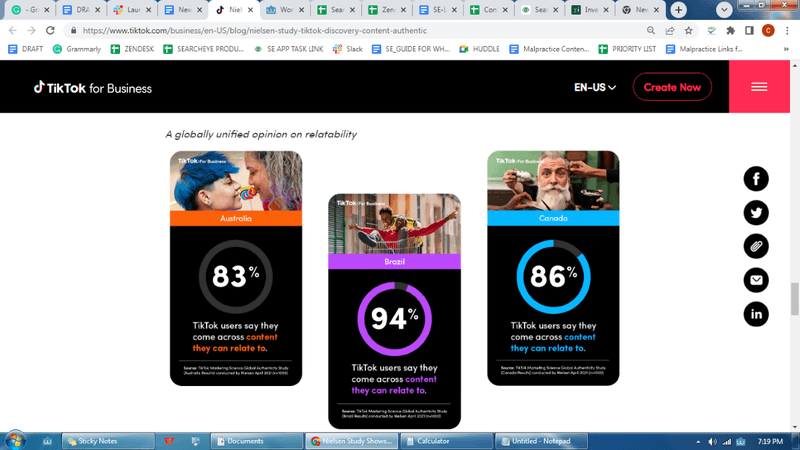 (Image from TikTok)
The All-in-One Platform for Effective SEO
Behind every successful business is a strong SEO campaign. But with countless optimization tools and techniques out there to choose from, it can be hard to know where to start. Well, fear no more, cause I've got just the thing to help. Presenting the Ranktracker all-in-one platform for effective SEO
To the uninitiated, TikTok can be overwhelming because of its fast pace compared to other social media channels. By mastering the following fundamentals, any business can successfully build its brand on the platform.
1. Know the audience
The first and most crucial task for any TikTok marketer is understanding their audience. This way, they can create content that truly makes an impact and increases engagement.
As mentioned, TikTok's user base is mainly composed of Gen Z, and they have their defining qualities. For example, the age group, as well as millennials, are associated with shorter attention spans. Thus, bite-sized pieces, such as 15- to 30-second videos, appeal to them more than long-form content.
Audience analysis also matters in deciding on the best types of content for a brand. For example, Gen Zs tend to look for a spirit of fun and creativity in the videos they watch. Thus, marketers must keep this in mind when brainstorming content.
Also vital to audience analysis is knowing the key influencers and trends affecting the target demographic. It gives brands a good picture of the direction they want to go on TikTok.
2. Keep it real
Keeping TikTok content authentic is essential for marketers looking to boost user engagement. According to a joint study by TikTok and Nielsen, users and brands find authenticity as one of the most irresistible qualities of TikTok content.
In short, marketers must keep their content true to their brand values and personality.
Authenticity also helps to humanize the brand, allowing you to connect better with your audience than traditional, overly polished branding content.
The All-in-One Platform for Effective SEO
Behind every successful business is a strong SEO campaign. But with countless optimization tools and techniques out there to choose from, it can be hard to know where to start. Well, fear no more, cause I've got just the thing to help. Presenting the Ranktracker all-in-one platform for effective SEO
Of course, creating authentic content goes back to the first rule of TikTok marketing: knowing the audience. When marketers understand their target users, customizing content and increasing engagement become easier.
3. Post unique content
It's hard to post unique content all the time, but it's always worth the time and effort. After all, TikTok is famous for its trendsetting culture, where everyone is always looking for new, creative content. This makes unique content a magnet for engagement, while anything old or generic can only fade unnoticed.
Still, not all unique content is suitable for marketing. Uniqueness cannot exist for its own sake, meaning your content must be relevant to the user. The whole point is connecting with the audience, which requires more than being different or novel. There has to be meaning in that connection before it can work for marketing.
4. Post consistently
The most crucial reason to post consistently on TikTok is the platform's algorithm, which favors fresh content. It means marketers must post regularly to help increase the visibility of their videos.
Frequent posting also helps build a brand's TikTok presence and familiarity among target users. With content that reflects their brands' values, marketers can cement their business identity on the platform and attract loyal followers.
On top of that, frequent posting helps a business stay top of mind with the target audience, possibly leading to a sale. The phenomenon is known as the mere exposure effect, in which people respond more positively to stimuli they experience more often. Additionally, a brand that posts consistently builds anticipation and potentially increases user engagement.
Then again, balancing consistency and quality is critical to successful TikTok marketing. Low-quality videos posted purely for visibility can turn users off and tarnish the brand's reputation on the channel.
5. Use hashtags reasonably
Hashtags play a crucial role in TikTok marketing. They help put content before a bigger audience and boost its discoverability. Hashtags also guide TikTok in categorizing the content so it's easier to find the video when users come looking.
While helpful, you should use hashtags strategically to avoid confusing the algorithm. Using too many hashtags diminishes the content's visibility and undermines the marketer's strategy. Also, while TikTok allows up to a hundred hashtags per post, it's best to avoid using them all at once, especially when irrelevant.
Of course, the worst thing that can result from hashtag abuse is getting shadowbanned by the platform. It happens when TikTok starts viewing the content as spammy, which even users don't like.
For an effective hashtag strategy on TikTok, marketers must stick to popular hashtags well-aligned with their content and brand. Niche or branded hashtags are also advisable when zeroing in on specific audiences and establishing trust and loyalty.
That said, the reasonable use of hashtags is a powerful technique for increasing content visibility and engagement on TikTok.
6. Prioritize user-generated content (UGC)
User-generated content, or UGC, is any content — photos, videos, texts— coming straight from consumers instead of brands.
Nowadays, people generally trust authentic, unpaid reviews or testimonials more than anything intentionally created by brands for marketing. This consumer behavior makes UGC incredibly powerful in establishing brand awareness, increasing engagement, and driving conversions.
Leveraging UGC also allows brands to build on the environment of authenticity that the platform is known for. Marketers can present their products in a more personal, relatable way. To top it off, UGC is a cost-effective way to publish content that connects with its audience, increases engagement, and fosters loyalty among followers.
7. Join TikTok challenges
TikTok challenges have been widely successful for marketers looking to engage with their audience and establish their brands. They're also central to the platform's culture and perfect for showing relevance and oneness with the TikTok community.
Through challenges, businesses can engage with their audiences in a fun way and attract opportunities for user-generated content (UGC). By joining the latest TikTok trends, brands can tap into the platform's vibrant community and increase their reach and engagement.
Then again, not all challenges are appropriate for brands, so marketers must be careful. Some can even be dangerous or controversial, such as the Blackout or Pass Out Challenge, which caused 15 child deaths in 2021. Thus, businesses should be cautious about taking on challenges that could jeopardize their audience's safety for the sake of popularity.
8. Collab with influencers
TikTok collaborations, or collabs, are partnerships between popular TikTok creators seeking bigger audiences and more opportunities to go viral. Besides allowing brands to tap into new audiences and build a sense of community, collaborations also attract user-generated content that resonates with their people..
However, like TikTok challenges, collabs should be taken with a grain of salt. Just because an influencer is popular doesn't mean they are right for brands. Some businesses even work with influencer marketing professionals to ensure their collabs align with their values and objectives.
9. Watch and learn from the competitor
Competitor analysis is a classic requirement of effective marketing. It reveals the competitors' strategies, strengths, and weaknesses, allowing a brand to position itself at a greater advantage in its market.
The All-in-One Platform for Effective SEO
Behind every successful business is a strong SEO campaign. But with countless optimization tools and techniques out there to choose from, it can be hard to know where to start. Well, fear no more, cause I've got just the thing to help. Presenting the Ranktracker all-in-one platform for effective SEO
Competitor analysis works for TikTok marketing too. It can include tracking when the competitor posts during the day or week, what they usually post, and how engaged their audiences are. With this information, a brand can pinpoint and bridge any gaps in its market by offering something unique. The more a business can differentiate itself from competitors, the more it can attract new customers.
Identifying and averting potential threats is another benefit of competitor analysis. Picture Brand A planning to give Brand B negative, misleading publicity. With competitor analysis, Brand B can quickly intercept Brand A's agenda, prevent it from succeeding, and protect itself from damage.
Be guided by the no-fail fundamentals of TikTok marketing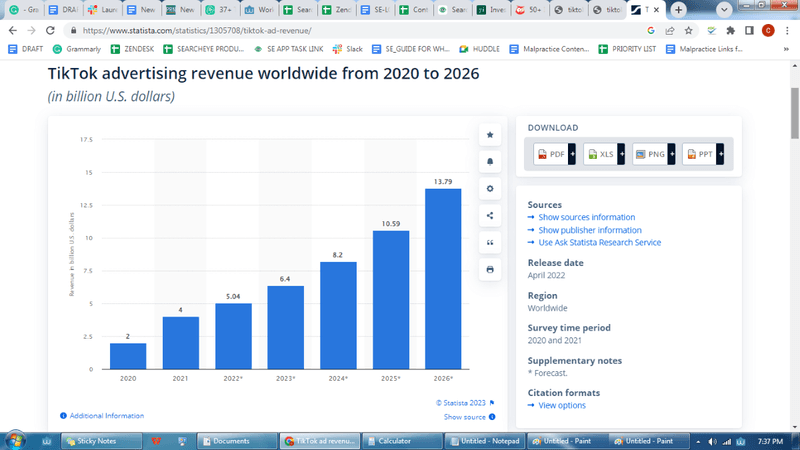 (Image from Statista)
TikTok has undeniably proven to be a mighty tool for marketers aiming for younger audiences and heightened brand awareness. However, marketing success on the channel can only come from a combination of classic and distinct techniques, all boiling down to the nine fundamentals discussed above.
By combining these tips, marketers can tap into the full potential of TikTok and reach their desired audience with highly engaging and compelling content. Ultimately, succeeding on TikTok means being creative, creative, authentic, and strategic while remaining responsive to the platform's ever-evolving landscape.