Intro
Artificial intelligence (AI) has emerged as a powerful tool for businesses in a variety of ways, automating processes to reduce costs, analyzing data to provide financial insights, and much more.
But according to McKinsey, marketing is the area where the impact of AI will be the largest, automating tasks, but more importantly, analyzing data to provide insights to create more effective marketing strategies.
But the use of AI comes with some risks, so companies have to strike the right balance between human marketing efforts and the use of AI to enhance their efforts.
Here we'll discuss how that can be done most effectively.
The Role of AI in Marketing
AI's role in marketing is growing exponentially. Revenues of AI in marketing in 2023 are projected to be more than $27 billion globally in 2023, and that number is projected to grow to more than $107 billion by 2028. The top 28% of all businesses are already actively using AI marketing tools.
So, what role does AI play in marketing? Its largest impact comes from its ability to analyze vast amounts of data quickly to provide customer insights. It can find out what customers like, where they go online, their buying patterns, and what types of messaging they respond to.
Then it can automatically create targeted and personalized ads on sites a customer visits. It can also analyze data across customer segments to determine the types of messages that segment responds to, and what channels are most effective in reaching them. This allows marketers to create targeted marketing campaigns for each customer segment.
The All-in-One Platform for Effective SEO
Behind every successful business is a strong SEO campaign. But with countless optimization tools and techniques out there to choose from, it can be hard to know where to start. Well, fear no more, cause I've got just the thing to help. Presenting the Ranktracker all-in-one platform for effective SEO
Additionally, AI-powered chatbots and virtual assistants on a company's website can be used to enhance the customer experience on the site by answering questions and making personalized recommendations based on the customer's data.
It can also assist with simple tasks. For example, a new business can even use AI to create unique business names. For SEO, AI can help to find key words and to do a SERP analysis.
In terms of your website's overall performance, it can assist with a website audit so that you can identify issues and take measures to better optimize your site.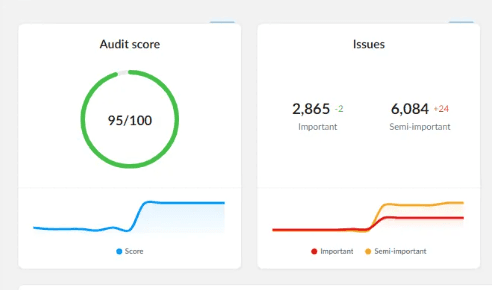 (Website audit 👓– SEO health check tool | Ranktracker)
It can also automate social media posts and email campaigns, and assist with content marketing strategies. It can even create content, although this comes with issues that we'll discuss later. A better use of AI is to generate relevant content topics and to create article or post outlines that the writer can use as a foundation.
One last interesting use of AI is in retail stores. Lowe's, the home improvement store, created an AI-powered app that customers can use in-store. It offers the customer personalized product recommendations and information as they shop.
The All-in-One Platform for Effective SEO
Behind every successful business is a strong SEO campaign. But with countless optimization tools and techniques out there to choose from, it can be hard to know where to start. Well, fear no more, cause I've got just the thing to help. Presenting the Ranktracker all-in-one platform for effective SEO
It also tracks inventory in real-time, which gives marketers insights into shopping trends at any given time. Then they can focus their marketing efforts on trending products.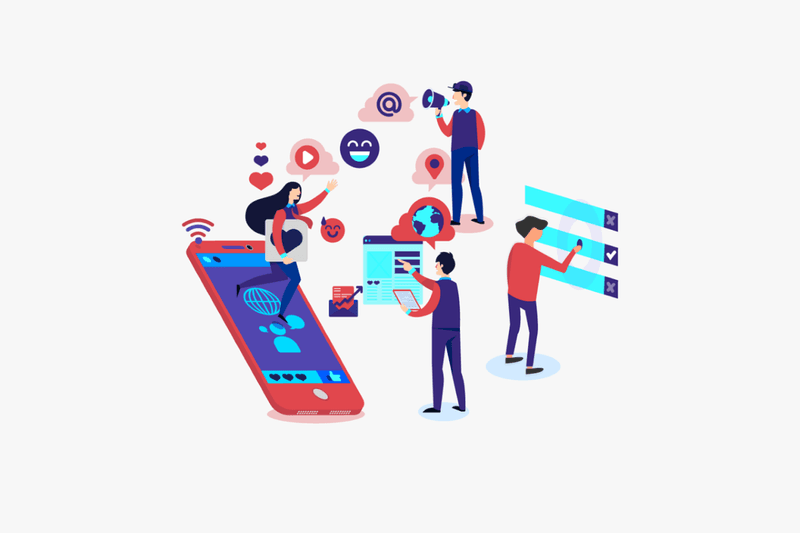 Benefits of AI in Marketing
The use of AI in marketing has a multitude of benefits, one of which is improved efficiency and cost reduction. By automating tasks, marketing costs can be reduced by about 10% to 20%. The chart below illustrates how much AI adoption can reduce costs across various business functions.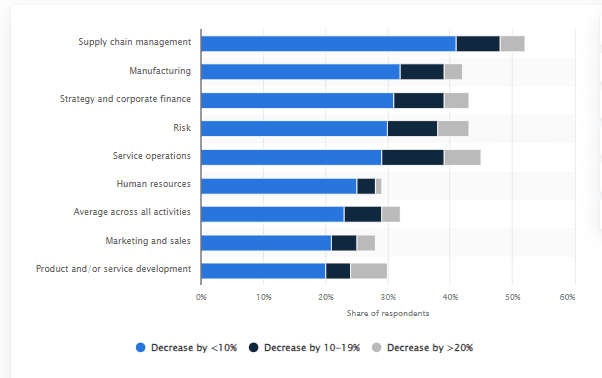 (AI adoption cost decrease by function 2021 | Statista)
It also saves time, as AI can perform tasks quickly, enabling marketing efforts to reach the target audience faster.
AI can also significantly enhance the customer experience and increase engagement because of its ability to offer personalization on and off your website. Personalization then builds a connection between the customer and your brand, which, of course, increases their likelihood of making purchases.
AI also increases a company's ability to find qualified leads, with some data indicating an increase in leads of up to 450% when AI tools are used.
But the largest benefits come from its ability to enable data driven decision making for marketing strategies, and to provide real time insights and perform predictive analytics. By gathering vast amounts of information about your customers in real time and predicting their behavior, your marketing strategy will be continuously optimized without the need for a human to perform hours of research.
Netflix is an example of a company that has successfully used AI to personalize its customer experience. They use it to collect customer preferences for content and make personalized recommendations. Over 80% of what customers now watch on Netflix are based on those recommendations. That's a great testament to the power of AI insights.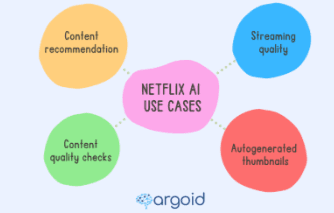 (How Netflix Uses Artificial Intelligence - Argoid)
Potential Risks in AI and Marketing Integration
Everything has its drawbacks and risks, and the use of AI in marketing is no exception.
Data privacy and security concerns are one of the key risks associated with the use of AI. AI-powered marketing systems require large volumes of data to function, and storing and processing such vast amounts of sensitive customer information increases the risk of data breaches.
Another risk comes from flaws that may be present in AI algorithms. AI algorithms can inherit biases from the data they are trained on, which can lead to unintentional discrimination in marketing campaigns. They can also inadvertently create customer profiles based on demographic data and behavior, which can lead to targeted advertising that excludes or marginalizes specific groups of people.
Additionally, over-reliance on AI-driven personalization might result in invasive and persistent targeting. When customers feel that their privacy is invaded, it can lead to negative brand perceptions and decreased trust. This highlights the need for human intervention – only a human has empathy for and sensitivity to the feelings of others.
Finally, as mentioned, using AI to create content for marketing comes with potential issues. In content, empathy and human insights are critical for the content to connect with readers. A company that uses AI generated content thus risks their connection with their audience.
Strategies to Successfully Combine AI and Marketing
Ensuring Ethical AI Practices
First of all, companies need to implement strong data security measures to protect customer information from breaches.
It's also necessary to regularly audit AI algorithms for bias and take corrective action to ensure fair and ethical marketing practices.
Finally, they must comply with data protection laws and regulations governing the use of personal data.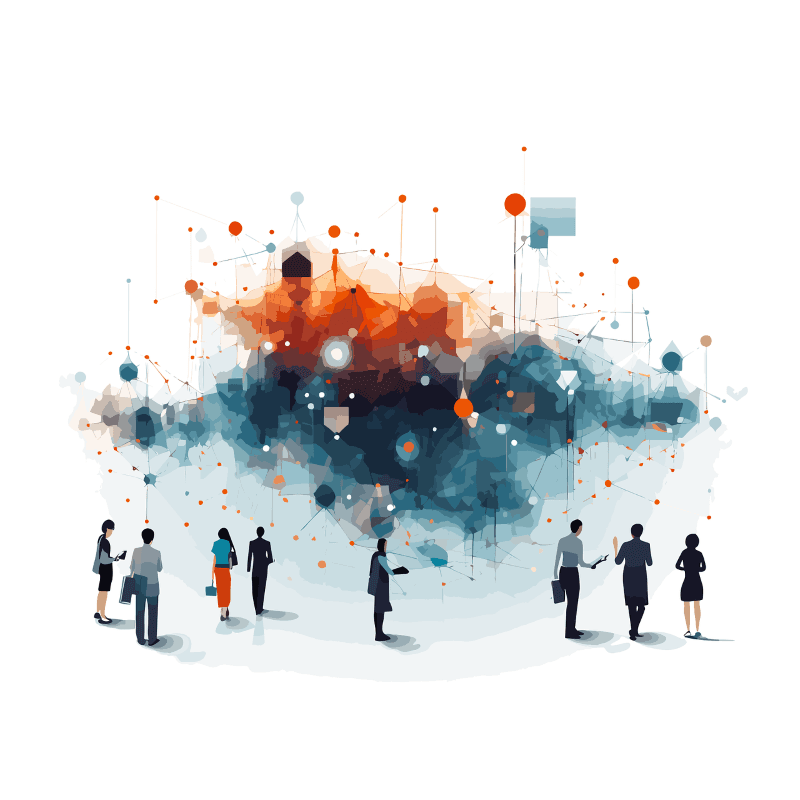 Human Oversight and Collaboration
Companies must find a balance between AI-driven marketing insights with human expertise. While AI can provide valuable data-driven guidance, it cannot replace the intuitive understanding and creative vision that humans bring. Human expertise allows for a deeper understanding of customer emotions, cultural nuances, and context, enabling marketers to craft narratives that will resonate with their audience.
In other words, AI should enhance human marketing efforts, not replace them.
Data Collection and Analysis
The first step in utilizing AI for marketing is to identify and select data sources that are relevant to the specific marketing objectives. The data must be accurate, reliable, and representative of the target audience to avoid bias. By carefully considering the data sources, marketers can ensure that the AI algorithms receive the right information, which will lead to more accurate predictions and insights.
Additionally, before feeding the data into AI algorithms, thorough data cleaning and validation are essential to eliminate errors. This can improve the effectiveness of AI-driven analysis, thus resulting in more accurate results.
Finally, while AI can analyze historical data to identify patterns and trends, it is vital to consider market dynamics and external factors that might impact the accuracy of predictions. Market trends, competitor activities, and the economy in general, are variables that can influence consumer behavior. Again, humans are invaluable in integrating these variables with the data.
Continuous Learning and Adaptation
AI models need to be trained with updated data regularly in order to be accurate. Additionally, it's critical to monitor the performance of AI tools and adjust the algorithms on a regular basis. As market conditions, consumer behavior, and even business goals evolve, it's important to keep AI algorithms up-to-date to ensure their effectiveness.
AI is also still rapidly evolving, so it's important to keep up by adopting new tools that come to market in order to stay competitive.
The All-in-One Platform for Effective SEO
Behind every successful business is a strong SEO campaign. But with countless optimization tools and techniques out there to choose from, it can be hard to know where to start. Well, fear no more, cause I've got just the thing to help. Presenting the Ranktracker all-in-one platform for effective SEO
Regulations regarding the use of AI are also inevitably going to evolve. Marketers need to keep up with these regulations as well as AI best practices so that they're using AI responsibly and ethically.
Companies need to have solid policies about the use of AI in marketing and in other areas to ensure that this occurs.
Conclusion
Clearly AI has the potential to improve a company's overall performance and to help them grow with more effective marketing campaigns. Remarkably, the technology is still relatively early in development, so if it's having such a massive impact now, imagine what it will be able to do in the future.
However, it's important to be aware of its potential risks, and set clear company policies about its use. It's also critical to pay attention to the emerging regulations regarding its ethical and responsible use to stay in compliance.
AI will never replace the unique elements that humans can bring to a marketing strategy, but it's an incredible tool that can enhance what humans do. When used the right way, AI can be a part of a winning partnership between human expertise and technology.