Intro
If you don't live under a rock and have been around the internet, you probably know what TikTok is. This Chinese social media that was only launched outside of China in 2017 has been growing tremendously since then.
The app is fun to use and has attracted hundreds of millions of users around the world.
What Is TikTok?
Tiktok is an Android and iOS platform used by individuals and businesses to make short videos and share them within and outside the app.
TikTok was launched in September 2016 in China under the name of Douyin. Both Douyin and TikTok use identical software.
After that, in November 2017, and for $1 billion, ByteDance, TikTok's parent company, purchased Musical.ly, another Chinese social media company whose principle was similar to the one of TikTok.
Now, due to the restriction in China and its great firewall, both apps provide different information available. The results on TikTok might not even show up on Douyin, and vice versa.
It has enabled content creators to express their creativity and passion through videos. TikTok is more of an entertainment app than a lifestyle. The simplicity in using it has helped it become one of the most popular social media worldwide.
What Is The Purpose Of TikTok
TikTok was initially created as a video platform that allows users to create short videos of up to 60 seconds. Many TikTok users have fun on the platform recording themselves lip-syncing, dancing, or acting out sketches.
The All-in-One Platform for Effective SEO
Behind every successful business is a strong SEO campaign. But with countless optimization tools and techniques out there to choose from, it can be hard to know where to start. Well, fear no more, cause I've got just the thing to help. Presenting the Ranktracker all-in-one platform for effective SEO
Many people remained skeptical when it first came out. Just by looking at its social media logo, people all over the world can easily recognize the app and its purpose of entertainment and claim that the platform offers no value to its users.
Surprisingly, TikTok is one of the most rapidly growing social media platforms in recent years. In fact, according to the most recent social media stats from 2021, there are over 130 million daily active users on the platform! Now, many people are migrating to TikTok from other platforms, as it offers a dynamic way of creating and sharing engaging content that goes beyond dancing or lip-syncing videos.
Why Businesses Use TikTok
TikTok's rapidly growing popularity has convinced many brands and businesses to join the platform. Thanks to the fact that TikTok videos can reach a vast audience in a matter of a couple of hours or days, brands and businesses have realized how much potential there is in marketing their products or services on this extremely popular platform. What's more, the main percentage of TikTok's audience are Millennials and Generation Z members, who are also the most avid online shoppers and brand supporters.
With that said, there are several more reasons why businesses are starting to use TikTok. So let's go further into it.
TikTok Is Relatively New
As mentioned previously, TikTok launched its international version in 2017. As a result, the competition there is much less powerful than on other more established social media such as Facebook, Instagram, or Twitter.
With over 800 million users, TikTok is a powerful social media that can easily get you more sales and more leads.
For this reason, TikTok is an excellent platform for businesses to get new leads and reach out to a broader audience.
TikTok offers a new and dynamic way for businesses to market their products or services. According to recent video marketing stats, videos are now the preferred content form of the majority of social media users.
In fact, advertising products and services on TikTok has proved to be much more effective than traditional advertising. This is because younger generations are generally bothered by advertisements. According to CNBC, 69% of the surveyed participants aged 16 to 49 are most likely to skip advertisements online.
The All-in-One Platform for Effective SEO
Behind every successful business is a strong SEO campaign. But with countless optimization tools and techniques out there to choose from, it can be hard to know where to start. Well, fear no more, cause I've got just the thing to help. Presenting the Ranktracker all-in-one platform for effective SEO
For this reason, publishing funny and engaging videos on TikTok is a clever and more subtle way to advertise your services and products while keeping your viewers interested in the content.
Different Costs For Influencer Marketing
Reaching out to influencers to advertise your products and your brand is one of the best marketing strategies to adopt.
Working with influencers is sometimes not cheap, especially on well-established social media platforms.
However, influencers on Tik Tok tend to be much cheaper than on their other social media profiles.
According to Influencer Marketing Hub, the cost to work with a TikTok influencer can vary from $5-$25 per post to $2500+ per post, depending on the creator's fanbase.
On the other hand, the same service on YouTube will cost businesses at least $20-$200 to as much as $20,000 per video. The same goes for Facebook, with nano-influencers charging $25-$250 to mega-influencers charging $25,000 or more per post.
To sum up, influencer marketing on TikTok allows businesses to get more for their money while reaching out to a younger audience which is better in some cases.
Ads On TikTok
Advertising on social media is one of the most important ways to boost your marketing campaign, but why on TikTok?
According to the State Of Digital 2020 by HootSuite, as of January 2020, TikTok was the 7th most-used social media across the world, with 800 million users.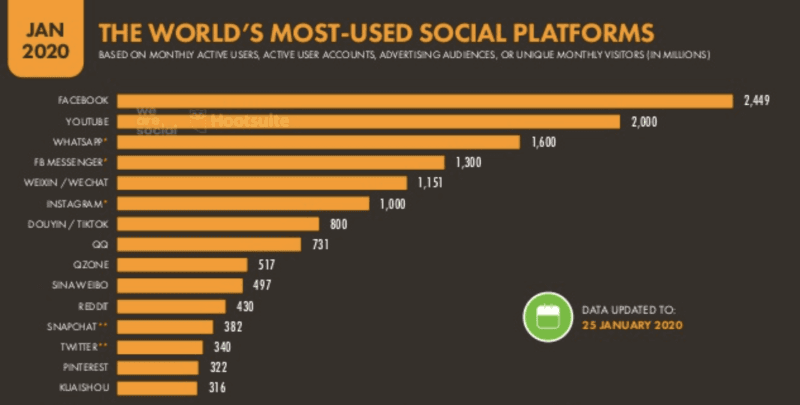 In addition, TikTok is available in 150 countries around the globe, and it's likely going to span even more in the future.
For this reason, TikTok is an incredibly powerful platform to run ads and elevate your business online.
Important Facts About TikTok
TikTok has become an important social platform for many users, creators, and businesses in a short period. So, what is there to know about it? Let's go through the most significant TikTok stats.
TikTok Has 800 Million Users Around The World
TikTok was only launched in 2017, and it still attracts millions of new users. As of January 2020, TikTok has 800 million users around the world.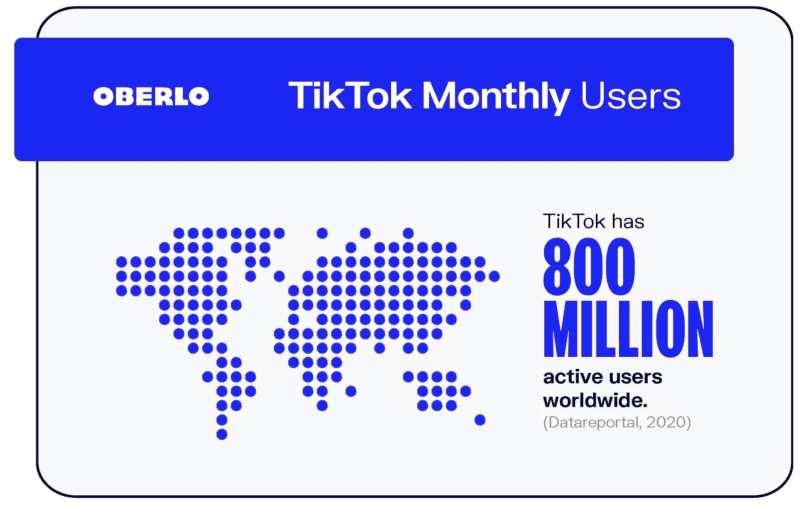 TikTok Is Technically The Third Most-Searched Term On YouTube
While TikTok is officially the 17th most-searched query on YouTube, it is technically higher than that because of the actual term searched by users.
The State of Digital 2021 of Hootsuite reported that TikTok would have been the third most-searched term on YouTube if both "Tik Tok" and "TikTok" queries were treated as the same.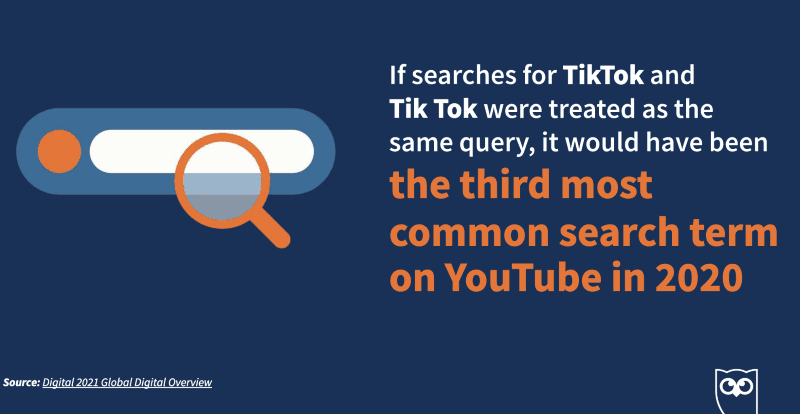 TikTok Was Banned In India For Trust And Political Issues
Following a ban of 59 mobile apps for both Android and iOS, including WeChat and Baidu, TikTok was banned from the Indian market on June 29, 2020.
This ban occurred because of user privacy and data collection issues and political tensions over a border dispute between India and TikTok's country of origin, China.
Significant Stats About TikTok
23% Of Internet Users Came Across A TikTok Video
When 23% of all American internet users come across a TikTok video, we know for sure that they're doing something right.
If we look at Statista's data, 23% of American internet users saw a TikTok, while 44% didn't, and 33% haven't heard of the mobile app.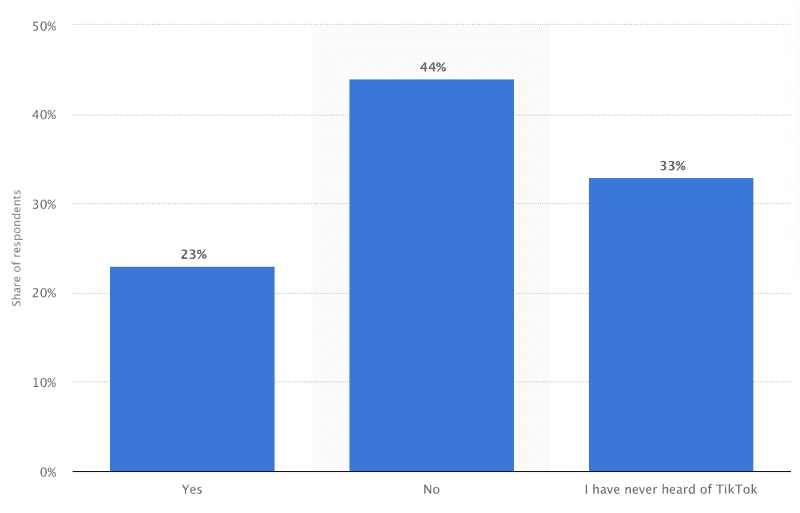 As of June 2020, Teenagers Make Up 32 Percent Of TikTok's user accounts
Going through the report by Statista, we can see the different age range that uses TikTok as follow:
32.5% of TikTok users are between 10 and 19 years old
29.5% of the mobile app users are aged 20 to 29 years of age
16.4% of TikTok users are 30 to 39 years old
And 13.9% are between 40 and 49 years of age
Finally, the 50+ years constitute 7.1% of the userbase.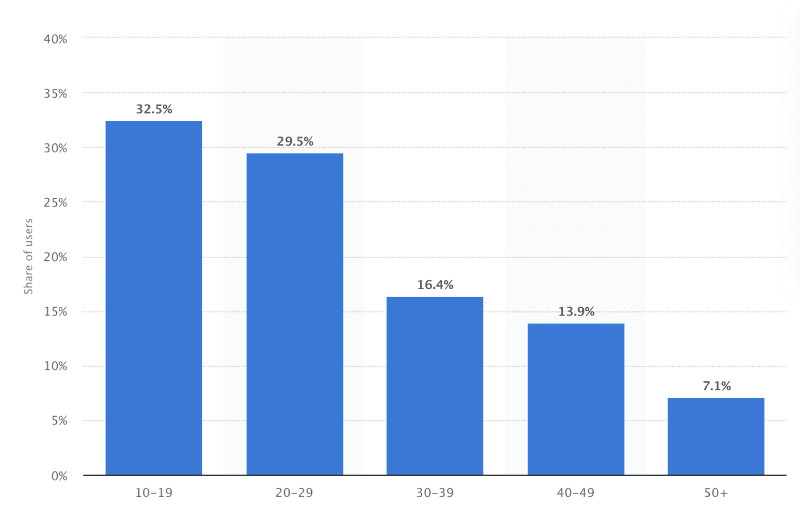 How to make Money on TikTok
People are looking for new streams of income. And TikTok has become an avenue where creators can earn a significant amount of money.
For instance, Addison Rae, Tiktok content creator, earned $5 million from TikTok. With people normalizing working from home and others losing their jobs because of the COVID-19 pandemic, it is undoubtedly a great way to make money if done the right way.
So, these are the various ways to make money on TikTok.
Influencer Marketing
When it comes to businesses, if you have a wide fanbase on TikTok, you can charge other creators or companies to advertise your brand.
Hiring a TikTok influencer for a post will cost businesses at least $5-$25 but up to $2500 and more per post, depending on the creator's fanbase.
While getting your content viral on TikTok is certainly not the easiest task, it is definitely possible and is a great way to charge customers and make money out of it eventually.
Here, the company acquires social influencer's services to promote their brand, services, or product using their short videos. A company may decide to work with several influencers to do so.
Branded Merchandise
After users establish themselves on TikTok, they may decide to create their product line and advertise it on social media.
For example, the successful TikTok influencer Zach King, with over 55 million followers, launched his product line selling sweaters, beanies, stickers sets, and much more on his website.
Make Money On TikTok With Ads
Much the same as Facebook and Instagram ads, TikTok ones are an easy way to make money out of your content.
Ads natively appear on every user's feed on TikTok and are definitely a great way for both creators to make money and businesses to attract new businesses.
On TikTok, ads also appear on the Discovery page, where you'll find new creators.
To sum up, creating ads on TikTok is an excellent way to earn some cash, get discovered, and drive more traffic to your channel.
Become a TikTok Consultant
If you've understood the principle of SEO on TikTok and know how to quickly grow an audience, becoming a consultant is an easy way to make money without dancing.
Whether you start publishing videos on YouTube or Facebook, giving tips to get viral on TikTok, or work as a freelance consultant, there are endless possibilities.
Best Ways to Optimize Your TikTok Profile
Like on any other social media platform, there are specific ways to optimize your TikTok profile that you should consider.
Of course, you can have the best videos one can find, but if your content isn't discoverable, there's simply no point to it.
Use An Appealing Username That Is Easy To Remember
One of the first elements users will see on your profile is your username. For this reason, it should be appealing and easy to remember. May it be your name, company name, or an inspirational name, the choice is all yours.
TikTok name is the first name on your TikTok profile, so choosing the easy-to-remember username is fundamental.
Your Profile Picture Must Stand Out
Make sure that you upload a profile picture that will stand out. It should be high-quality, represent your business or personality, and match one of your other social profiles.
While a profile picture doesn't directly drive traffic to your channel, it makes your channel more appealing, and people are more likely to click on it.
Remember that 62% of TikTok users are between 10 and 29 years old. Thus, you'll want to choose a funny yet pro picture that will clearly tell your audience about your business or yourself.
Write An Amazing Bio
Writing a good bio is a compelling way to optimize your TikTok profile. Make sure it's clear, engaging, that it explains who you are and what you do, and keep it short!
Don't forget to add links to your other social media accounts or blog. This will not only drive more traffic to your profiles, but it will also make your bio look complete and professional.
The All-in-One Platform for Effective SEO
Behind every successful business is a strong SEO campaign. But with countless optimization tools and techniques out there to choose from, it can be hard to know where to start. Well, fear no more, cause I've got just the thing to help. Presenting the Ranktracker all-in-one platform for effective SEO
The more viewers read about you, the more they feel connected with you. Therefore, ensure that the bio quotes work great to attract your audience's attention.
Conclusion
TikTok is set to become one of the world's most used and popular apps. Launched only a few years ago and with millions of users across the globe, it's here to stay.
Whether you're a business owner, an influencer that wants to reach a whole new market, or if you simply want to have fun with your friends, TikTok is the right place for you.
This was everything you needed to know about TikTok, the important facts, significant stats, and how to make money online with TikTok.
To conclude, optimize your profile, create awesome videos, work with other creators, and you'll be able to start making money on one of the best social media on planet Earth.