Intro
Do you own a site you want to boost the visibility of in the search engine results? Investing in rank tracker software is the best way to get the results you want. Whether you are launching a new online store or simply want to attract more visitors to your site, using a rank tracker for your content goes a long way.
The right rank tracker software packs an all-in-one solution that lets you track keywords and receive SEO reports. This, in turn, gives you the guidance you need on how to alter or improve your content and improve your site's visibility.
It can be difficult to find the right tool with so many rank tracker tools available on the market, especially if you're a beginner. So, here are 10 expert-prescribed rank tracker software options to try out for your site this year.
Criteria for Evaluating Rank Tracker Software
You can examine a handful of essential features when choosing the right rank tracker software. You want to focus on realistic features that actually affect your site's performance. In fact, the following are the features we used to evaluate and narrow down our best rank tracker recommendation list.
Features for Choosing the Right Rank Tracker
Software Type
You should first ask yourself the type of SEO tool you need based on your site. Do you need a dedicated keyword tracking tool or a complete SEO tool? These tools come in three common types. These include web browser plugins, desktop applications, and web-based SaaS applications.
Web browser plugins come with the advantage of circumventing Google's limits on keyword trackers. Desktop applications are installed into the computer and don't require a web browser. They come with the advantage of running a larger keyword list without getting blocked by Google.
On the other hand, web-based SaaS tools run on subscription-based servers. Unlike other ranker types, SaaS solutions help you handle the more cumbersome tasks, like maintaining multiple IP addresses to avoid Google's blockage. Web SaaS solutions are also simple, automated, and easy to use, even for those with minimal tech know-how.
Ever-updating Ranking Results
A good ranking tool offers up-to-date ranking results more consistently. This means that the tool should offer fresh data daily or at least weekly to keep your site up-to-date and competitive. A good ranker should also pull its data from various resources, including search engines and multiple locations.
Geo-Location Tracking
Among the biggest problems with Google and other search engine rankings is that they are done based on location. For instance, a person in Bremen, Germany searching for a drugstore or dentist's office will get completely different results from a person in Buenos Aires, Argentina.
Understandably, even the best tracker cannot bypass this setting. However, a good rank tracker should at least offer optimized local tracking for a specific city or enclave of your choice. It should also pull data from various resources, including different search engines and various specific devices, like computers and mobile devices.
Flexible Pricing
The best rank trackers offer flexible pricing and subscription plans. In addition to free plans or reasonable free trial periods, a good tracker should also offer a range of valuable plans for individual site owners as well as larger organizations.
The All-in-One Platform for Effective SEO
Behind every successful business is a strong SEO campaign. But with countless optimization tools and techniques out there to choose from, it can be hard to know where to start. Well, fear no more, cause I've got just the thing to help. Presenting the Ranktracker all-in-one platform for effective SEO
These include agencies, marketing teams, enterprises, and even particular niche business sites. Along with the customized pricing, these plans are usually pre-designed to suit respective needs.
Rank trackers that offer pricing plan suites significantly aid with the monetary management part of your site. For example, each plan can be tailored to offer a certain number of search plans.
So, a smaller site with minimal content requirements doesn't have to pay big bucks for search frequencies they will never reach in a month, and vice versa. Similarly, the plans can also cover a certain number of sites, search engines, and devices to track.
Additional Features
The best-designed rank trackers offer excellent value for your money. In addition to their standard service of keyword tracking, a good tracker should offer extra features to add value to your site. Some of the best trackers offer additional features such as keyword search and suggestions, SEO content suggestions, and even page optimizations, to mention a few.
Choosing the Top 10 Recommended Rank Tracker Software
We evaluated a dozen of the market's top-rated software solutions, examining these key features. After months of careful evaluation and site performance tests, we've narrowed down the list to the 5 best rank tracker software tools guaranteed to transform your site's performance.
Top 10 Rank Tracker Software of 2023

The award-winning Ranktracker is designed as an all-in-one SEO tool – a much-needed gift to marketing teams. Ultimately, this is a tool to invest in if you want to optimize your site's visibility to potential clients using SEO.
Using this tool, you can transform your site's experience and performance, allowing you to track every action you take. In addition to keyword tracking, Ranktracker offers a wide range of add-on features, such as a keyword finder, web audits, SERP checkers, and backlink checkers and monitors, among others.
Rank tracker is also one of the most customizable sites among those we studied. It lets you enjoy its services by setting a myriad of useful parameters. You can use the tool to scan the top 10 to 1,000 search results, track positions on Google SERPs, and even track local and global keyword rankings.
The All-in-One Platform for Effective SEO
Behind every successful business is a strong SEO campaign. But with countless optimization tools and techniques out there to choose from, it can be hard to know where to start. Well, fear no more, cause I've got just the thing to help. Presenting the Ranktracker all-in-one platform for effective SEO
On the other hand, its web-based SaaS solution design means you don't have to worry about Google's limiting blockades or cumbersome manual work that comes with other types of rank-tracking tool.
Pricing
Ranktracker offers a 7-day free trial and doesn't require you to share payment details for the trial. However, it doesn't offer any free plans. Instead, Ranktracker offers various paid plans with varying access limitations.
But no matter the plan you go for, you will still enjoy the tool's rich features, including rank tracking, keyword finder, SERP checker, backlink checker, SEO checklist, and web audit. Plus, annual subscribers enjoy up to 20% off each month's pricing.
So, you pay $19.20 per month (paid annually) for the beginner-friendly Starter plan that offers up to 100 daily tracked keywords. Alternatively, you can go for the Double Data plan for $47.20 per month with 500 daily tracked keywords or Quad Data for $87.20 per month and 1,000 daily tracked keywords.
The highest pre-calculated plan is the Hex Data plan, which goes for $167.20 per month for 2,000 daily tracked keywords. If you want to enjoy more access to tracking and other features, you can contact the customer support team for customized pricing.
Key Ranktracker Features
Great for affiliate marketers, marketing teams, and businesses of all sizes
Local and global keyword rank tracking
Daily keyword ranking reports
Add-on tools, such as SERP checker, backlink checker, SEO checklist, and web audit
Pros
Works for beginners and experts alike
All-in-one solution with comprehensive site-improving SEO tools
Allows for competitor analysis and keyword tracking
SaaS application design protects you from possible Google blockades
Cons
No free plan and a limited trial period
2. Ahrefs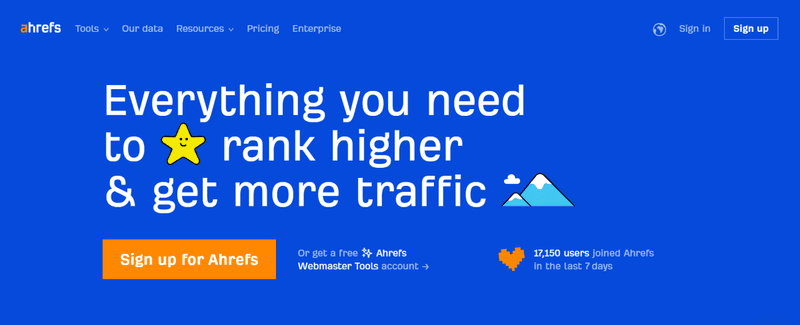 Ahrefs is a comprehensive rank tracker popular among SEO specialists and marketers for its keyword research and backlink analysis features. What makes Ahrefs stand out among other rank trackers is that it offers reasonable SEO analysis for not just search engines like Google.
It also works for YouTube and Amazon, making it great for creators and marketers alike. You can choose to use Ahrefs as a web-based SaaS tool or a web browser plugin. Either way, you will still enjoy the tool's automated design.
For instance, once you install the plugin or web-based SaaS tool, most of the features are automatically set up. For the keyword tracking, all you have to do manually is add the keyword of choice.
The only downside to Ahrefs is its less frequent ranking update. Ahrefs only offers keyword tracking updates after every 3 days. You will only enjoy daily updates if you choose higher-priced plans.
Further, while Ahrefs offers a selection of four pricing plans, it may not be the best option for smaller or personal sites due to the high monthly costs and a number of keywords to track per month.
Pricing
Ahrefs offers a 7-day free trial, but you need to share your financial information during sign-up. If you are satisfied with the trial, you can then pick the plan you want. The lowest plan, Lite, starts at $99 per month and allows you to track up to 500 keywords per month.
However, this plan only gives you access to the basics, like the SEO dashboard, site and keyword explorer, site audit, rank tracker, and alerts. If you do freelance SEO or marketing consultancy, go for the next plan, the Standard.
This plan starts at $199 per month and offers more features, like competitive analysis, batch analysis, and content advice. However, if you want to enjoy more comprehensive tools for in-house marketing teams, agencies, or enterprise-level companies, go for the Advanced or Enterprise plans, respectively.
The Advanced plan costs $399 per month while the Enterprise plan starts at $999. You can customize the Enterprise plan to your needs at an additional cost.
Key Ahrefs Features
Local and global geolocation tracking
Local and global keyword rank tracking
Global competitor top-performing pages
Daily granularity on backlink growth or decline over time
Pros
Offers rich SEO analysis for Google search engine, YouTube, and Amazon
Generous keyword tracking threshold even with the lowest plan
Can be used as a full SaaS solution or plugin
Superior data filtering
Cons
Lower frequency of keyword tracker updates
3. Semrush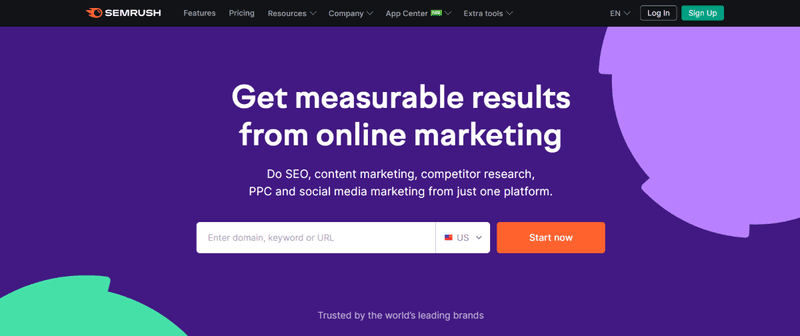 Among the most popular SEO rank trackers on the market, Semrush is a complete SEO suite. However, it is a particular gift for people who want the best Google keyword tracker. Nonetheless, it also offers superior SEO tools for various online tasks.
These include market research, online ads, social media, and content marketing. Furthermore, Semrush excels at keyword research, site audits, and competitor and backlink analysis, along with white-label reporting.
Pricing
Semrush is a little more forgiving when it comes to free trials and free plans. You can enjoy a free trial anywhere between 7 and 30 days based on the plan you choose. You can also go for the free plan, although it offers limited features.
Along with basic tools, the free plan only gives you access to 10 searches per day compared to the minimum of 3,000 searches for the lowest plan. The free plan also accommodates only one project and 10 keywords in position tracking.
On the other hand, Semrush's paid plans cost slightly higher than average rank trackers. The lowest plan, the Pro plan, costs a minimum of $119.50 per month and allows 5 projects, 3,000 searches, 500 tracked keywords, and 1,000 results per report.
The Guru plan, designed for agencies and mid-sized businesses, costs $229.95 per month and allows 15 projects, 5,000 searches, 1,500 keywords, and 30,000 results per report.
Bigger businesses can opt for the Business plan for a minimum of $449.95 per month, with 40 projects, 10,000 searches, 5,000 keywords, and 50,000 results per report. However, you can also customize your plan at an extra cost.
Key Semrush Features
All-in-one SEO full-suite kit
Mobile index support
Superior Google keyword ranking
Multiple location local rank tracking
Pros
Daily tracking update
Offers a full suite of digital marketing SEO tools
Offers one the largest keyword research databases
Works for marketing, SEO content marketing, market research, ads, and social media
Cons
Not the best for other search engine rankings than Google and Baidu
4. SE Ranking

SE Ranking offers a comprehensive cloud-based SEO toolkit at a reasonable price. But SE Ranking mostly stands out for its best-in-class rank tracking functionality. It particularly does a fantastic job at tracking keywords on search engines, such as Google, Google Maps, YouTube, Bing, Yahoo, and Yandex.
So, if you want to boost your site, brand, channel, or business visibility online, SE Ranking is the perfect tool for you. However, while SE ranking works impressively well for improving your SEO efforts, it is not the best option for competitor analysis and ranking. It doesn't offer a very comprehensive analytical report and comparison of competitors.
Pricing
SE Ranking offers a slightly longer free trial period of up to 14 days, no matter the plan you choose. When it comes to paid plans, SE Ranking lets you pay as low as $31.20 per month (when paid annually) for its Essential plan. This plan lets you enjoy up to 250 tracked keywords with up to 37,500 total monthly keyword checks (i.e. checking those 250 words across different search engines, languages, locations, etc.).
The Pro plan extends to 1,000 keywords and 150,000 monthly keyword checks at just $71.20 per month (paid annually). Larger enterprise-level businesses and agencies can enjoy up to 2,500 keywords and 375,000 monthly checks with the Business plan, at just $151.20 per month.
Key SE Ranking Features
All-in-one SEO and PPC tool
Keyword research, competitor research, and backlink analysis
Built-in WP integration
Robust reference resource library
Pros
Excellent value for money
Flexible account threshold and no extra charge for extra members
Powerful backlink monitoring and analysis tools
Superior keyword tracking for various search engines and YouTube
Cons
Limited local SEO ranking database
5. Serpstat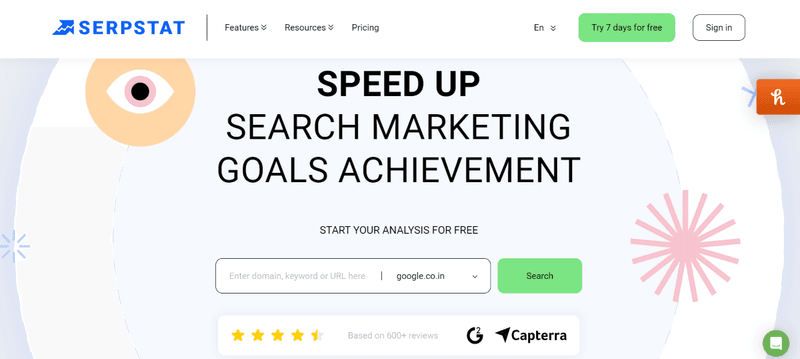 Serpstat is a reliable all-in-one SEO software and rank tracking tool with over 30 add-on features. Using this tool, you enjoy built-in tracker tool access, keyword research, site auditing, and competitor and backlink analysis.
You can also track global and local SEO rankings for various tools, including mobile and desktop devices. Further, Serpstat lets you set a wide range of parameters for the searches to give you more accurate and qualitative data. However, this software rank tracker is limited to Google and Yandex.
Pricing
Serpstat offers up to 5 different subscription plan options. However, what makes this rank tracker software unique is its subscription plan flexibility. you can choose to pay monthly or every 3, 6, 12, 24, 26, or 60 months.
Going for longer term subscriptions not only eliminates the monthly payment hassles, it also comes with major discounts. The longer you commit to a plan, the less you pay. For instance, the 3-month plan comes with a 5% discount, 6 months comes with 10%, and 12 months comes with 20%, while longer plans offer 30% off.
Along with its 7-day free trial, you can choose the Lite plan for $69 per month or the Standard plan for a base fee of $149 per month. On the other hand, the Advanced plan, built for big market agencies and in-house teams, costs at least $299 per month.
Additionally, the Enterprise plan built for industry leaders costs at least $499 per month.
While the plans appear to be costly, you want to remember that you can enjoy up to a 30% discount if you commit to your plan for longer.
Moreover, each plan comes with generous access to tools. For instance, the Lite plan alone gives you access to up to 4,000 daily keyword searches across 230 Google databases.
Key Serpstat Features
Rich SEO, SEM, and PPC tools
Keyword research, competitor research, and backlink analysis
Built-in WP integration
Robust reference resource library
Pros
More flexibility and discounts on long term pricing plans
Highly functional site ranking suite with more than 30 SEO tools
Facilitates organic and paid keyword rank tracking
Multiple users for most plans (apart from the Lite plan)
Cons
Only ranks Google and Yandex search engines
Other Rank Tracker Software to Consider
While they don't make the list, you can still take advantage of these additional rank tracker software options. Making up the top 10 list, these 5 remaining tools don't offer a comprehensive all-in-one SEO tool solution. However, each option comes with its perks and adds value to your site improvement, based on your needs.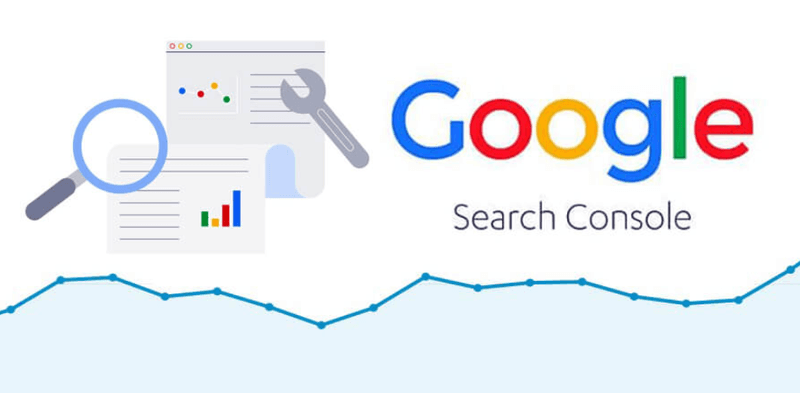 A free, basic rank tracker by Google for the Google search engine, the Google Search Console is designed for users who want the most basic tracking. This rank tracker is specially designed to work for the Google search engine.
It also offers tools to allow for easier site accessibility, visibility, and indexing by crawlers. It also helps you monitor, improve, and troubleshoot the presence of your site on the Google search engine.
7. SerpWatcher by Mangools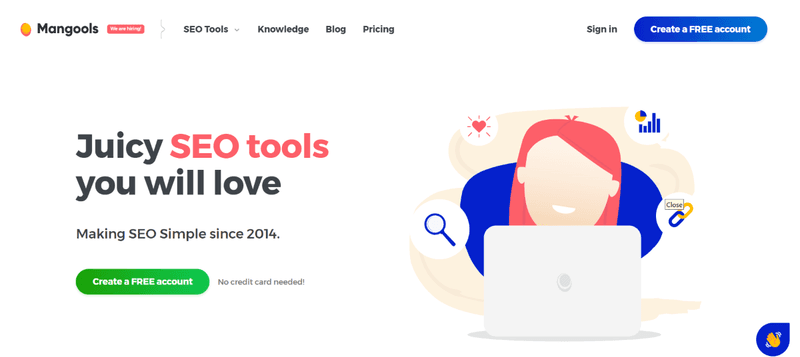 If you are just getting started, this user friendly rank tracker SaaS solution is a great tool. The simple rank tracker tool lets you monitor pages and keywords. Its simple and intuitive design makes it great, particularly for bloggers and affiliate marketers getting started.
8. Nightwatch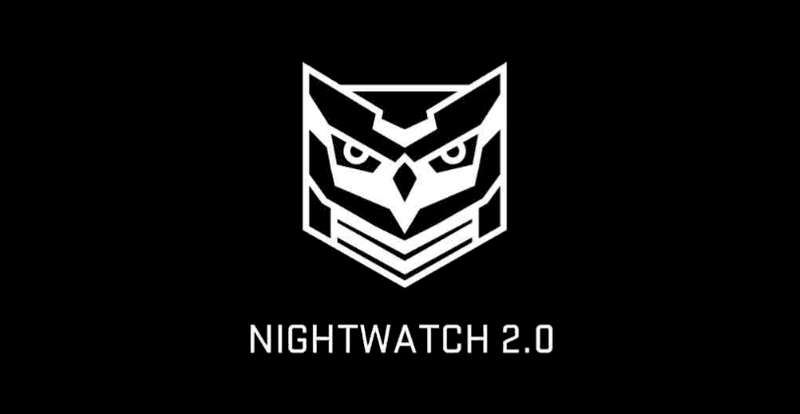 If your SEO efforts are focused on your locality, the Nightwatch tracker tool is a perfect option. Whether you have a small blog or local business to advertise, this tool works just fine. Nightwatch is specially designed with local rank tracking features to track critical keywords and sites.
9. AccuRanker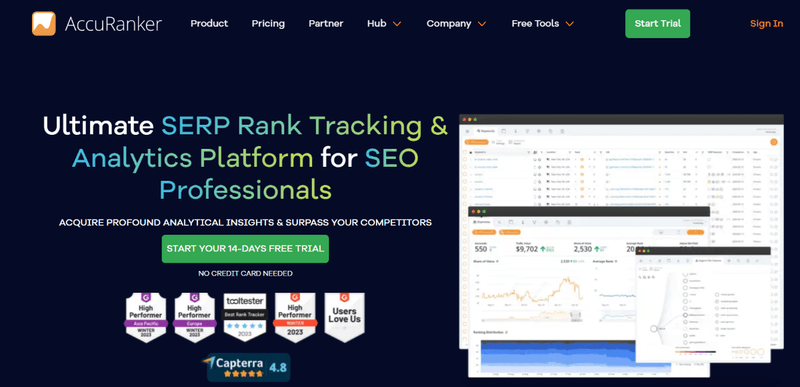 The AccuRanker tool is specially built for large volume needs offering an advanced all-in-one tool. This rank tracker is built for large teams of SEO agencies or enterprise rank tracking. Even the tracker's lowest pricing plan starts with a daily search threshold of 1,000 keywords.
The tracker lets bigger sites even search for over one million daily keywords. So, you certainly want to stay away if you have a smaller site or business. It also does an incredible job at competitor tracking and analysis.
10. SEO PowerSuite by Windows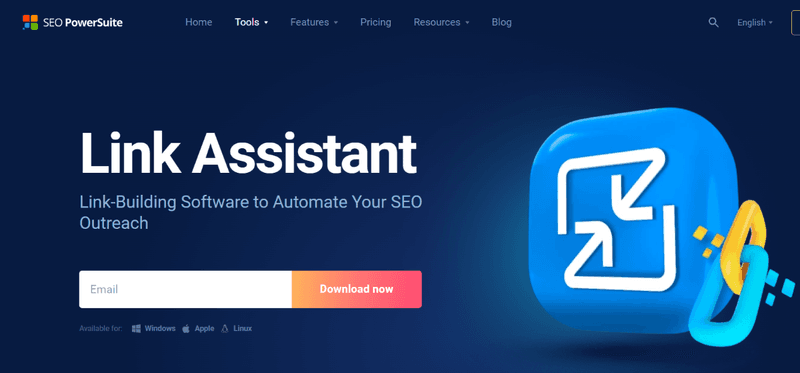 The All-in-One Platform for Effective SEO
Behind every successful business is a strong SEO campaign. But with countless optimization tools and techniques out there to choose from, it can be hard to know where to start. Well, fear no more, cause I've got just the thing to help. Presenting the Ranktracker all-in-one platform for effective SEO
If you want to enjoy a more manual full suite of SEO tools, SEO PowerSuite is an outstanding option. Unlike your regular top-rated SaaS rank-tracking software, SEO PowerSuite works as a desktop rank tracker.
Yet, it packs 4 useful and airtight SEO tools. This desktop design comes with a centralized design and gives you the freedom to control all aspects of SEO for businesses of any size. You get access to keyword research, rank monitoring, and backlink analysis.
Conclusion
The top 10 rank tracker software tools of 2023 are a guaranteed solution to your SEO and site visibility boosting needs this year. With each tool offering a comprehensive all-in-one SEO solution and designed to offer particular features, simply choose one that resonates with your business.
Nonetheless, no matter your business size or needs, Ranktracker seems to never disappoint. In addition to its rich SEO features, this software works equally great for businesses of all sizes. Plus, it offers reasonably priced subscription plans with just the right-sized service threshold. You won't be getting too much or too little – just enough for your site needs.
Contrary to what you may think, any business or site that depends on visitors most certainly requires a rank tracker. These tools don't only help build visibility. They also monitor and track how your site performs, based on organic traffic for keywords and pages. This, in turn, lets you know if your efforts are paying off.
Additional Resources
Are you curious to learn more about Ranktracker and how it can help your business? Check out this complete resource.