Intro
Online marketing campaigns are as much an art as they are science. The art is in crafting compelling content and engaging designs; the science is in the numbers. This is where KPIs come in. They are the heartbeat of any online marketing campaign.
In the evolving landscape of digital marketing, Key Performance Indicators (KPIs) play a critical role in tracking the success of online campaigns.
As a marketing professional, you're likely to be navigating this complex terrain, seeking to understand the most vital KPIs, the tools required to decode them, and how to approach the often overlooked aspects of user privacy and AI involvement. But as the digital landscape changes rapidly, so do the KPIs that marketers need to focus on.
This article aims to decode the essential KPIs for 2023, with a special emphasis on privacy and the role of AI. It's a comprehensive guide to help you stay ahead in the game.
Understanding KPIs
Picture Key Performance Indicators (KPIs) as interpreters of data that monitor how effectively a company is hitting its targets. In the digital marketing universe, KPIs can act as the detective's magnifying glass, unveiling the nitty-gritty of everything from website traffic to conversion rates, shedding light on your campaign's performance, and steering your future strategies.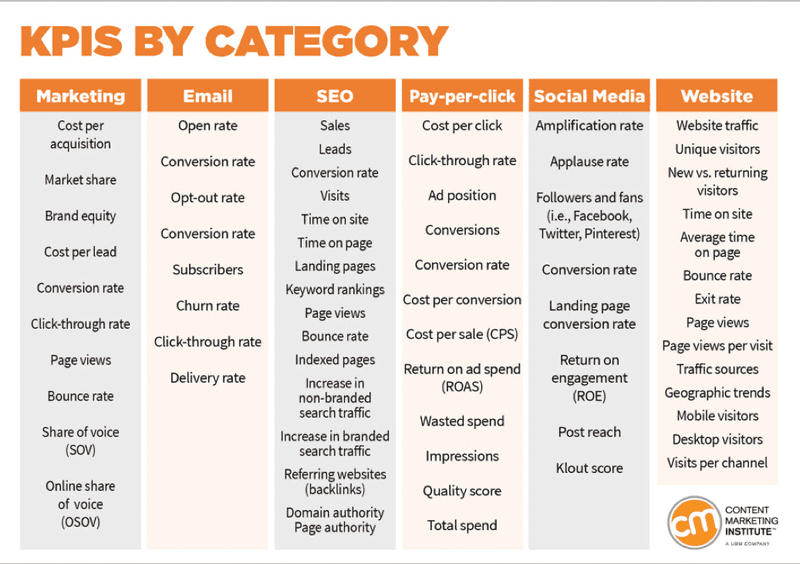 (Source)
Remember when website visits were the trophy marketers were chasing? A perfect instance of this is when businesses in the late '90s and early 2000s often considered 'website hits' as the holy grail of success. The more the hits, the better they thought they were doing.
The All-in-One Platform for Effective SEO
Behind every successful business is a strong SEO campaign. But with countless optimization tools and techniques out there to choose from, it can be hard to know where to start. Well, fear no more, cause I've got just the thing to help. Presenting the Ranktracker all-in-one platform for effective SEO
Today's scenario is vastly different. Take the case of a modern small business, let's say, a boutique eCommerce store. For them, KPIs like conversion rates and customer lifetime value have taken the limelight. Instead of obsessing over how many people visited their website, they focus on how many visitors actually made a purchase or how often they return to buy again. They've realized it's not just about attracting customers anymore, it's about retaining them and maximizing their value over time.
Another telling example is how marketing agencies now prioritize social media engagement over mere follower counts: engagement rates provide a more genuine picture of how actively audiences are interacting with the content.
This shift in perspective emphasizes the need for marketers to stay tuned to the changing rhythm of KPIs and adjust their strategies accordingly. As the digital world rapidly evolves, it's paramount to stay in sync with the evolving KPIs and continually fine-tune our strategies.
Essential KPIs for 2023
Let's anchor our discussion by diving into the metrics that are set to be instrumental in 2023. These KPIs serve as beacons, guiding our marketing ship through the choppy seas of the digital realm.
User engagement
Think of this as a heart-to-heart chat with your online audience. It gauges the intensity of interaction between users and your brand, through indicators like page views, dwell time, and bounce rates. When engagement rates soar, it's a sign that your content is striking the right chord with your audience.
Conversion rates
The applause after your performance. This KPI reveals the proportion of users who act on your digital call-to-action, whether it's making a purchase or subscribing to a newsletter. High conversion rates mean your marketing tactics are hitting the bullseye.

(Source)
Customer Acquisition Cost (CAC)
The price tag attached to earning a new customer. It's your aim to keep this cost low, but the value and profitability delivered by the customer high.
Return on Investment (ROI)
The fruit of your marketing labor. By dividing the net profit from a campaign by its total cost, ROI paints a clear picture of the profitability of your marketing endeavors.

(Source)
Customer Lifetime Value (CLV)
The golden goose. This is the total profit you expect to net from a customer throughout your relationship. The more generous the CLV, the more valuable and profitable the customer is to your business.

(Source)
Social media engagement
The digital round of applause. It quantifies interactions like likes, shares, and comments on social media platforms. When this engagement climbs, it's a sign that your brand is gaining visibility and loyalty.
Website traffic and behavior
The footprints left by your visitors. Metrics like the number of visitors, pages visited, and time spent on the site offer valuable insights into user behavior and preferences, helping you to tailor your approach accordingly.
The role of web analytics tools in decoding KPIs
Web analytics tools are aiding us in the quest to decipher KPIs. Equipped with the power to track and analyze these key performance indicators, they grant us access to invaluable real-time data, trends, and deep-dive insights into user behavior.
The All-in-One Platform for Effective SEO
Behind every successful business is a strong SEO campaign. But with countless optimization tools and techniques out there to choose from, it can be hard to know where to start. Well, fear no more, cause I've got just the thing to help. Presenting the Ranktracker all-in-one platform for effective SEO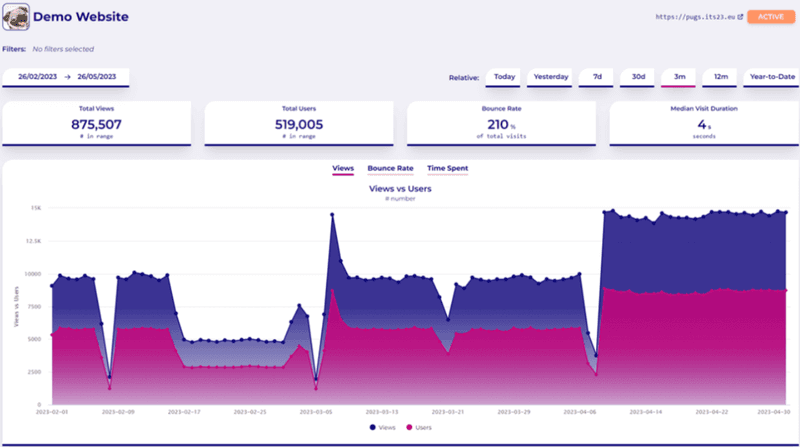 (Source)
These tools aren't just a means to measure KPIs. They're a potent arsenal for marketers, serving up insights, aiding decision-making, and helping to chart the course for your digital marketing strategy. However, the successful application of these tools isn't simply a plug-and-play affair.
Begin by setting a clear target — a defined goal acts as a lighthouse guiding your analysis. Without a specific objective, you risk drowning in a sea of data that doesn't serve a meaningful purpose. Whether your aim is to increase conversions, enhance user engagement, or reduce customer acquisition cost, the goal needs to be crystal clear.
Next up, select your KPIs wisely. They are the litmus tests that provide you with critical performance data. Remember, relevance is key here. Your chosen KPIs should directly reflect on your stated goals. If you're looking to boost conversions, your relevant KPI could be conversion rates. If it's about understanding your audience better, user engagement metrics might be your go-to.
Lastly, don't forget the mantra of 'review and refine.' Keeping up in the marketing arena means regularly reviewing your strategy based on the evidence — your data. Witnessing a surge in user engagement? Dig into what's working and do more of it. Conversion rates taking a hit? Analyze and adjust your tactics.
Privacy concerns in tracking KPIs
Privacy — its importance is continually amplifying with each passing day. Privacy concerns may pose challenges, but they also offer opportunities for businesses to demonstrate their commitment to ethical data practices. As we strive to interpret and utilize KPIs effectively, it's imperative to address the potential privacy concerns that crop up.
The digital age's privacy paradigm
Concern: The digital era is often seen as a vast, open database, with a newfound ability to reach into personal information like never before. As marketers, while we yearn for insightful data, we must also be mindful of this intensifying focus on privacy.
Remedy: Striking a balance is key. Use data responsibly, collect only what's necessary, and always ensure transparency in your data collection and usage practices. This approach not only mitigates privacy concerns but also builds trust with your audience.
The influence of privacy laws and regulations
Concern: As privacy takes center stage, laws and regulations are evolving rapidly. This changing landscape can significantly impact how we track and interpret KPIs. Non-compliance isn't just risky — it can be costly.
Remedy: Stay updated on privacy laws relevant to your business and geography. Ensure your data tracking and handling practices are compliant. When in doubt, consult a legal expert to help navigate these waters.
Effective KPI tracking with respect for user privacy
Concern: As privacy-awareness increases, so does the challenge of effectively tracking KPIs without infringing on user privacy.
Remedy: Respect user choices and rights. Offer clear options for data sharing and opt-outs. Use anonymization or pseudonymization techniques where possible to protect user identity. Remember, effective KPI tracking and respect for user privacy aren't mutually exclusive — they can, and should, go hand in hand.
The future of KPIs: AI and machine learning
The realm of KPI tracking and analysis is set for a revolutionary change, and the catalysts are none other than Artificial Intelligence (AI) and Machine Learning (ML).
AI and ML are not just buzzwords; they're the dynamic duo reshaping KPI tracking and analysis. They bring a new level of sophistication to data analysis, parsing through colossal data volumes at lightning speed. This capacity allows marketers to swiftly identify patterns and trends that could have otherwise gone unnoticed, enabling more accurate, timely, and data-driven decision-making.
AI algorithms can effectively decode KPIs by identifying underlying patterns and correlations. For instance, an AI tool could analyze user behavior and predict conversion rates, or assess customer interactions and forecast churn rates. It's about predicting future trends and preemptively addressing potential challenges as much as it is about the past.
The All-in-One Platform for Effective SEO
Behind every successful business is a strong SEO campaign. But with countless optimization tools and techniques out there to choose from, it can be hard to know where to start. Well, fear no more, cause I've got just the thing to help. Presenting the Ranktracker all-in-one platform for effective SEO
It's evident that AI and ML will continue to redefine KPI tracking. We foresee AI tools becoming even more intelligent and intuitive, providing real-time KPI updates and predictive insights. As these tools evolve, we might witness the rise of predictive KPIs, enabling businesses not just to react to their current performance, but to proactively shape their future performance.
Conclusion
In the ever-evolving landscape of digital marketing KPIs stand tall, helping us measure our effectiveness, steer our strategies, and propel our businesses forward.
Yet, as we strive for insight and success, we must never lose sight of the value of user privacy. It's a fine balance we, as marketers, need to master — treading the line between effective KPI tracking and the sanctity of user privacy. Ensuring transparency and ethical practices in data handling will not just keep us compliant, but also help us earn the trust and loyalty of our audience.
As we step into the future of KPI analysis, transformative technologies offer us a chance to turn data into wisdom — to not just understand but predict; to not merely react but proactively shape our business narrative.
The realm of KPIs is as challenging as it is rewarding. It's a journey of continuous learning, adaptation, and growth. So let's remain curious, stay ethical, and keep innovating, because that's the true spirit of a marketer — embracing the adventure, celebrating the learnings, and always, always moving forward.