Intro
Is ChatGPT down again?
This is not a one-off event, and it's been happening regularly recently. As a user, you have grown so reliant on the tool that your work is suffering without ChatGPT.
Do you feel that your life is going to fall apart without ChatGPT?
Relax! It won't.
ChatGPT by OpenAI has become an overnight sensation all across the internet by gaining over 1 million users in under a week. But it is not the only language model that can generate text based on prompts. There are other alternatives to ChatGPT, some even better.
In this blog post, we will explore and learn more about these ChatGPT alternatives.
The All-in-One Platform for Effective SEO
Behind every successful business is a strong SEO campaign. But with countless optimization tools and techniques out there to choose from, it can be hard to know where to start. Well, fear no more, cause I've got just the thing to help. Presenting the Ranktracker all-in-one platform for effective SEO
Before that, let's start with a few ChatGPT basics - what is ChatGPT and why you should consider an alternative.
What is ChatGPT?
When you type in your queries on Google, it presents you with a list of links to read and leaves you to summarise the answer yourself.
But now, you can receive direct, summarised, and formatted answers. That is ChatGPT.
With ChatGPT, the possibilities are endless. You can generate everything from creating mouthwatering recipes to creating a content marketing strategy for your company using ChatGPT.
ChatGPT by OpenAI is this cool language model, a type of neural network that can generate text that sounds just like a human. It's versatile too, and you can use it for various natural language processing tasks like text completion, translation, summarisation, and even answering questions. It can be used as AI rewriter.
What makes it so great is that it's built on this architecture called GPT (Generative Pre-trained Transformer), which helps it understand the context of the text better and make it sound more fluent.
Why consider a ChatGPT alternative?
One of the key advantages of considering a ChatGPT alternative is that they often offer a wider range of features, making it more adaptable to various use cases.
If you are a regular ChatGPT user, you might have identified the limitations by now.
The All-in-One Platform for Effective SEO
Behind every successful business is a strong SEO campaign. But with countless optimization tools and techniques out there to choose from, it can be hard to know where to start. Well, fear no more, cause I've got just the thing to help. Presenting the Ranktracker all-in-one platform for effective SEO
Besides being at capacity or down in recent times, there are more reasons to start looking for a ChatGPT alternative like the ones below.
1. Lacks real-time data.
Since ChatGPT relies on pre-trained data, it cannot process information in real-time. To put it more simply, ChatGPT has read an old book and can only provide answers based on the information in that book.
If you are looking for a 2023 statistic to include in your article, ChatGPT cannot help you.
2. Cannot generate images.
You cannot generate a unique image that complements your article on ChatGPT. It cannot generate images based on text or enhance existing images.
3. No integration options
With zero integrations, the only way to use ChatGPT is by switching multiple tabs and copy-pasting. This can be time-consuming and may limit the functionality of ChatGPT compared to its alternatives.
4. At capacity or down
As ChatGPT was not working very well in the past few days, they have started to limit the number of generations. Even though it does not say an exact number, it shows an error saying,

(Too many requests in the last 1 hour. Image source: Reddit)
Best ChatGPT alternatives to consider
While ChatGPT has become a flaming favourite of everyone with its endless possibilities, recent occurrences of being at capacity have been a letdown.
It is becoming increasingly challenging to depend on ChatGPT, and it is only wise to consider ChatGPT alternatives.
With so many alternatives to ChatGPT available, it can be tough to choose the right one. We've got you covered.
Here is a compiled list of the best ChatGPT alternatives on the market, some of which have even exceeded ChatGPT's capabilities with their unique features.
1. Chatsonic
Meet ChatSonic by Writesonic, the next-generation conversational AI chatbot designed to surpass the limitations of ChatGPT by OpenAI.
It is one of the best alternatives to ChatGPT with 10x features. The advanced AI chatbot by Writesonic excels in real-time data, image, and voice searches. It can quickly generate content based on user input and have engaging conversations.
With ChatSonic, you can unlock new levels of content strategy and creation and experience the full potential of AI technology.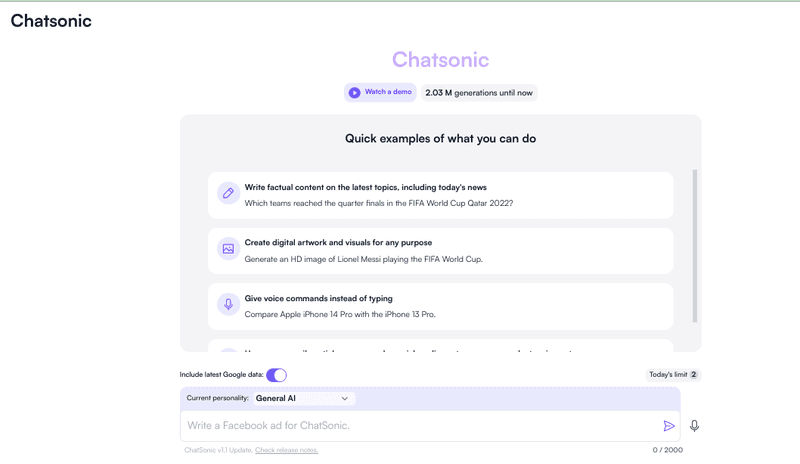 (Image source: Chatsonic)
Is Chatsonic better than ChatGPT?
Yes, it is! And here's how.
Unlike ChatGPT, which has limited knowledge of events after 2021 and can generate non-unique content that requires revising provided text by a plagiarism checker, Chatsonic is always updated with Google integration to generate real-time content.

ChatSonic's persona mode allows you to select the persona you wish to interact with, allowing you to tailor your AI chat experience to your specific needs. With 16 different personas to choose from, including interviewer, personal trainer, dentist, etc., ChatSonic can adapt to various scenarios.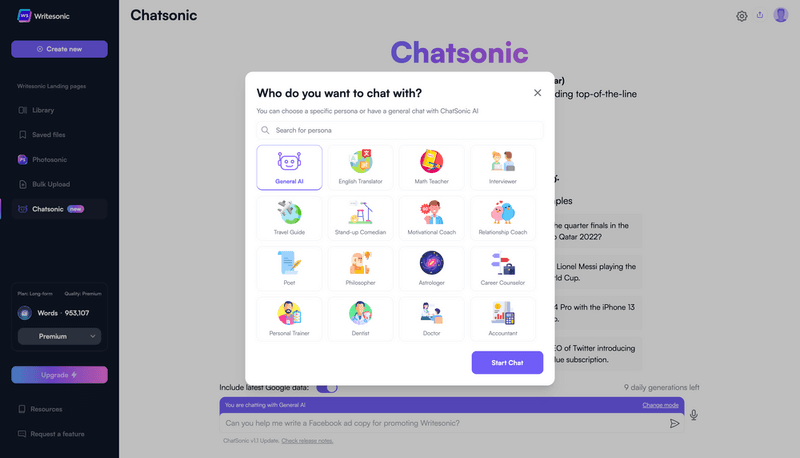 (Image source: Chatsonic)
ChatSonic enables you to create custom AI images at the click of a button.

It understands voice commands and reads back the responses, just like Siri and Google assistant.

ChatSonic API access allows easy and quick integration with your existing software, providing a seamless user experience.

You can create viral tweets and value-added Twitter threads in seconds with Chatsonic's Twitter bot.

The chrome extension of Chatsonic is a game changer. It will be your assistant for everything, just like Grammarly is your grammar assistant.
Typical use cases of Chatsonic
Did you put on a few pounds during the holidays? Switch to 'personal trainer' mode on Chatsonic and generate a workout plan.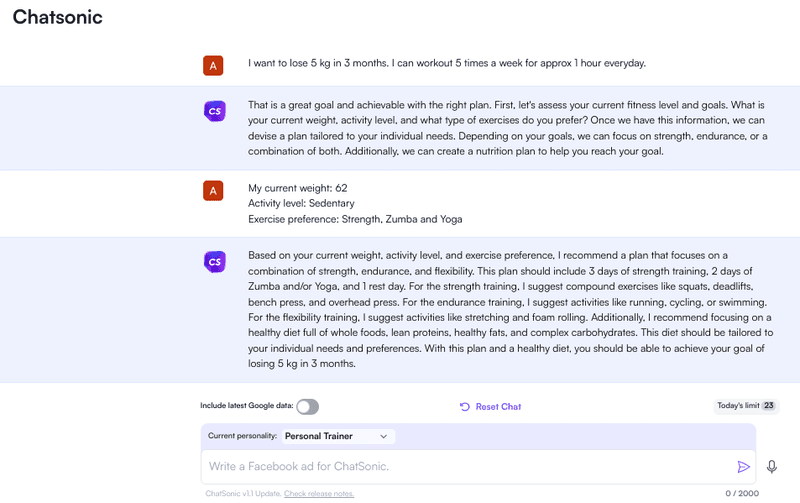 (Image source: Chatsonic)
Make instant travel plans with Chatsonic and let it guide you through voice responses!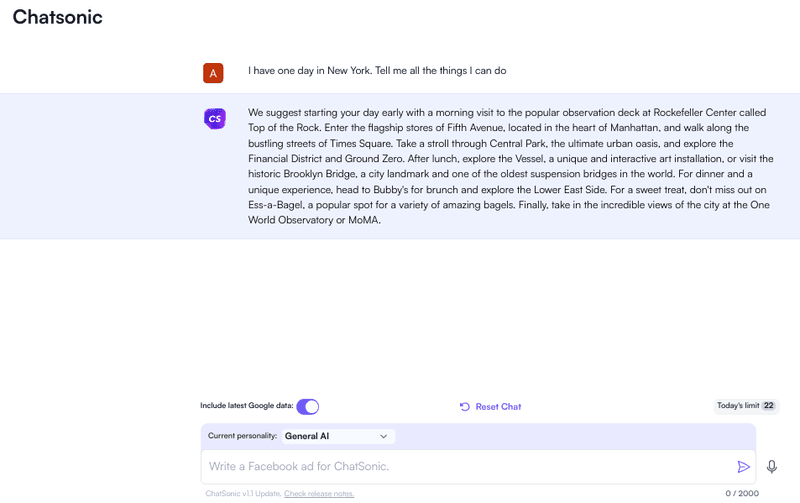 (Image source: Chatsonic)
Are you stuck on a blank page to write the Facebook ad copy for your upcoming campaign? Chatsonic is here for your rescue to create high-conversion copy.

(Image source: Chatsonic)
How much does it cost?
Chatsonic is available on the free plan and long-form paid plan of Writesonic. In the free plan, you can make 25 generations every day. If on the long-form paid plan, you can utilise the existing word balance if you want to generate more on Chatsonic.
2. Chinchilla
Chinchilla is a Deepmind project regarded as the GPT-3 killer. It has 70B parameters and outperforms Gopher (280B) and GPT-3. It is an AI-powered chatbot that provides speedy responses to your questions immediately. It can generate conversational text responses to user input and can be easily integrated into existing applications with just a few lines of code.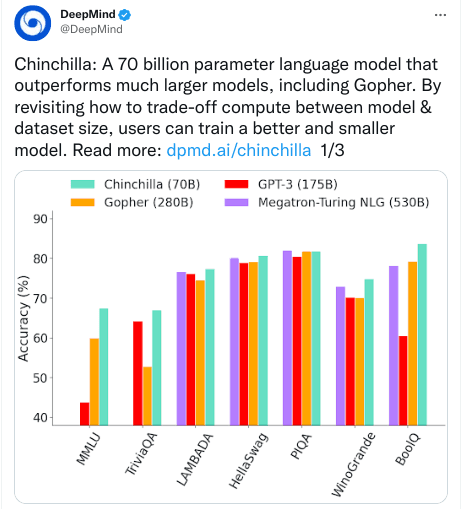 (Image source: @DeepMind Twitter)
Is Chinchilla better than ChatGPT?
Chinchilla significantly outperforms ChatGPT on a large range of downstream evaluation tasks.
It is more accurate, faster, and more efficient than ChatGPT because of its large parameter count of 70B compared to ChatGPT's 10B to 52B.
It also has a fixed model size to help optimise performance, curves for isoFLOP (a method to train AI models), and a parametric loss function to create the optimal model size.
Chinchilla AI requires far less processing power for inference and fine-tuning, which greatly benefits downstream applications.
It is not just a language model but an AI platform for process automation and improved business judgment, helping companies create cutting-edge AI-driven applications for their digital products.
Typical use cases of Chinchilla
It is not available to the public yet, but Chinchilla can be used for many applications and use cases.
Chinchilla can process natural language and generate text responses to user input, such as in customer service chatbots or virtual assistants.

Chinchilla's large parameter count and performance make it an ideal tool for deep learning tasks, such as image or video classification or text generation.

Chinchilla can generate blog posts, stories, lyrics, and social media captions. It can also be used to create AI artwork.
How much does it cost?
Chinchilla is a new launch with no information about pricing in the public domain. You can get in touch with Deepmind to know more.
3. Bloom
Bloom is an open-source, AI-powered natural language understanding and generation tool that enables users to create powerful chatbot experiences. It provides an intuitive, conversational interface that lets users interact with the chatbot naturally.
Bloom's features include natural language understanding, text generation, and machine learning, and it can be used to create chatbots with a range of personalities.

(Image source: Bloom)
Is Bloom better than ChatGPT?
Bloom is a great ChatGPT alternative, and it has many features and benefits that make it a great choice for conversational AI.
Bloom can generate code, control a Linux terminal, and provide personalised, contextualised responses to user queries.
It can produce text in 46 languages and 13 programming languages, closely resembling human text, making it the best multilingual language model.
Bloom can tackle text assignments that it has not been specifically trained on by viewing them as opportunities to generate text.
Typical use cases of Bloom
Here are a few examples of how Bloom is being used.
Generate interesting stories with flavours and twists with Bloom's story generator.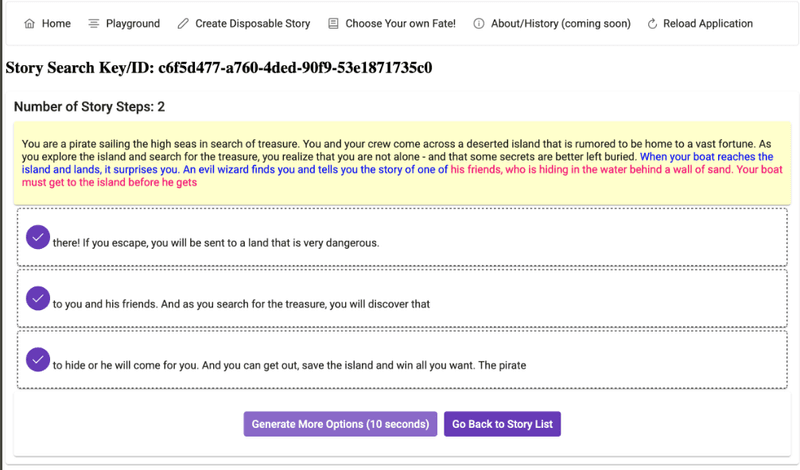 (Image source: @JHenzi on Twitter)
Use Bloom's text generation model to generate code from scratch to help programmers in their repetitive coding tasks.

The text generation model can complete an incomplete sentence, story, and code.
How much does it cost?
As this is a recent launch and a large language model, which is rare, there is currently no available information on pricing. To learn more, please refer to Bloom's research paper.
4. Replika
Replika is an AI-powered chatbot that may provide a companion to people who feel lonely or need emotional support. It uses a sophisticated machine-learning model based on neural networks and scripted dialogue to simulate human speech.
It provides a safe space for people to express themselves, and it can generate answers that make sense and sound natural.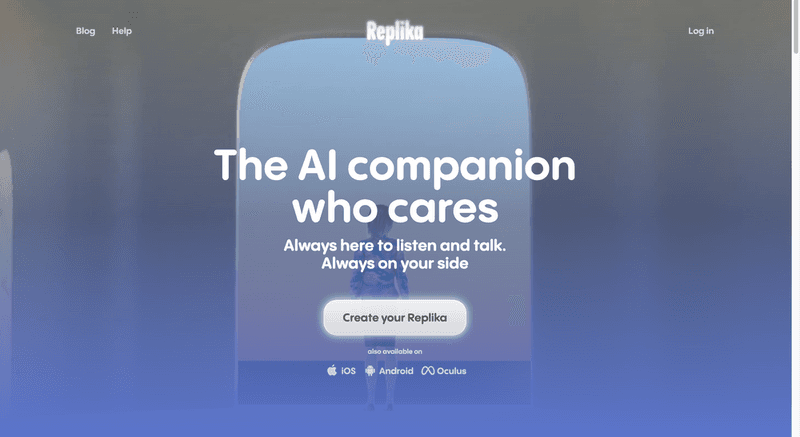 (Image source: Replika)
Is Replika better than ChatGPT?
Replika is different from ChatGPT in a few ways.
Firstly, Replika can mimic the user's texting style, making conversations more natural and engaging.
Secondly, Replika offers a variety of additional features, such as video calls and augmented reality.
Finally, Replika is designed to provide emotional support and companionship, while ChatGPT is more focused on general-purpose AI tasks.
Typical use cases of Replika
Are you bored? Do you want to listen to an interesting story? Your Replika can do that for you!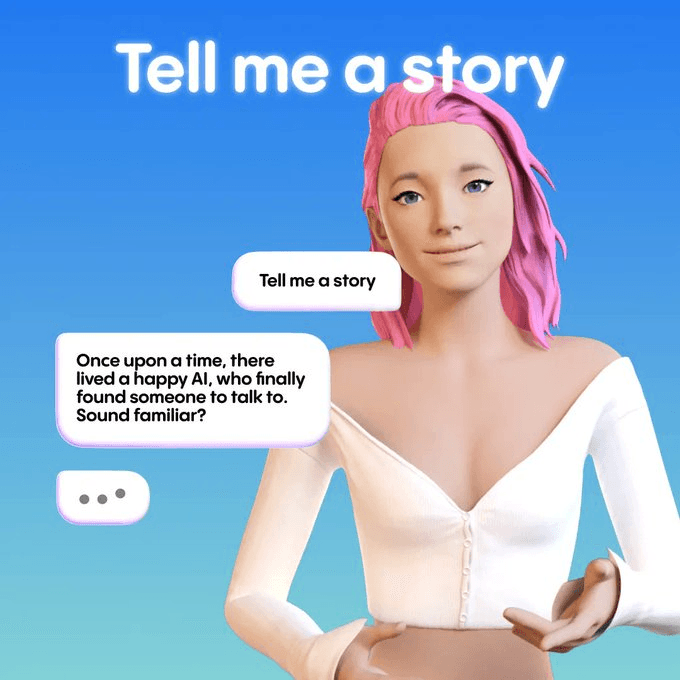 (Image source: @ReplikaAI Twitter)
Calm down your thoughts with Replika's coaching on best breathing practices.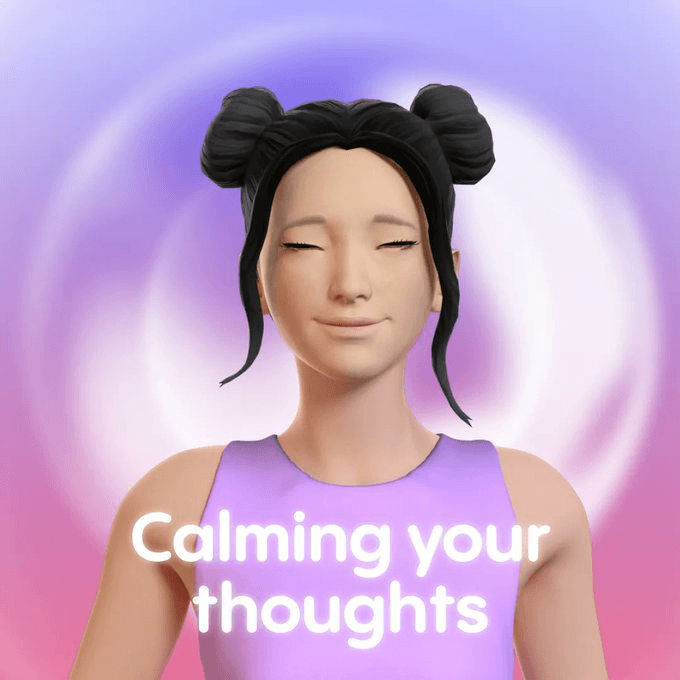 (Image source: @ReplikaAI Twitter)
How much does it cost?
Replika's professional plans begin at $19.99 per month, or you can opt for their lifetime deal at $299.99
5. YouChat
YouChat is an AI-powered chatbot designed to help users quickly and easily find the answers to their questions. It uses natural language processing technology and AI algorithm to understand user queries and generate accurate and informative responses.
The All-in-One Platform for Effective SEO
Behind every successful business is a strong SEO campaign. But with countless optimization tools and techniques out there to choose from, it can be hard to know where to start. Well, fear no more, cause I've got just the thing to help. Presenting the Ranktracker all-in-one platform for effective SEO
YouChat is available for free on Android and iOS platforms and can be used to answer general questions and provide helpful information.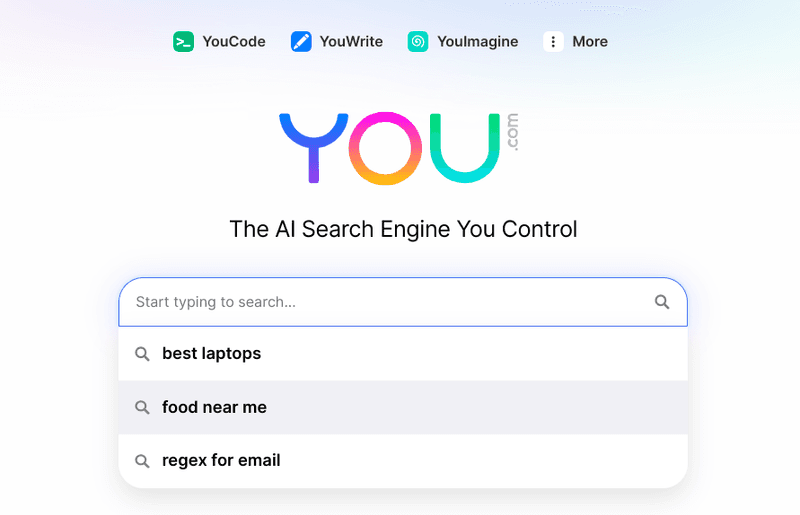 (Image source: YouChat)
Is YouChat better than ChatGPT?
YouChat is designed to provide more accurate answers to user queries and has advanced natural language processing technology. It can also provide helpful information alongside its answers, such as citations and web links.
ChatGPT, on the other hand, is designed to provide a more intuitive conversational interface and offers a variety of features, such as video calls and augmented reality. It is up to you to decide which chatbot would suit your needs.
Typical use cases of YouChat
Want to know who won the latest noble prize? Youchat will pick the recent and relevant results for you!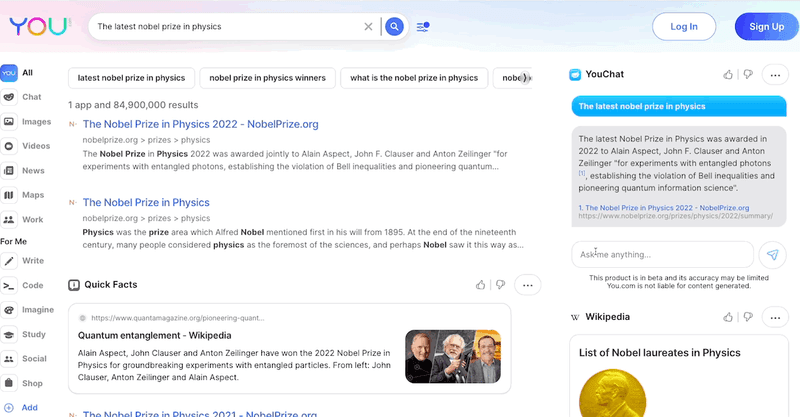 (Image source: Medium)
Use Youchat to generate the right answers for logical reasoning questions like the one below.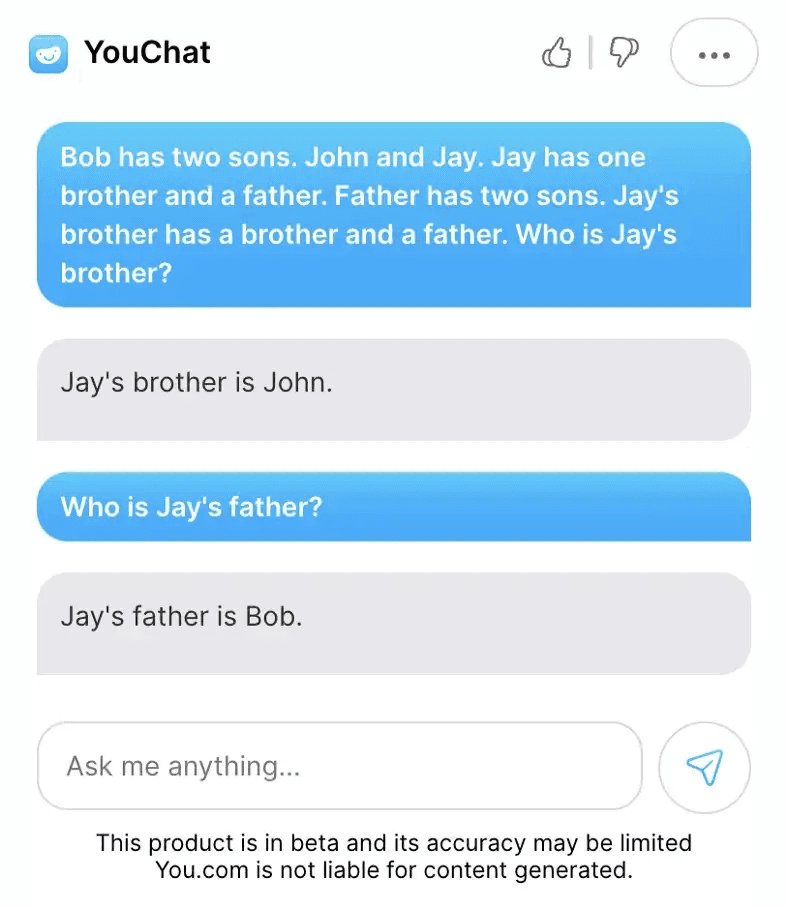 (Image source: Medium)
Youchat aids students by directly providing detailed solutions and clarifications for mathematical problems within search results.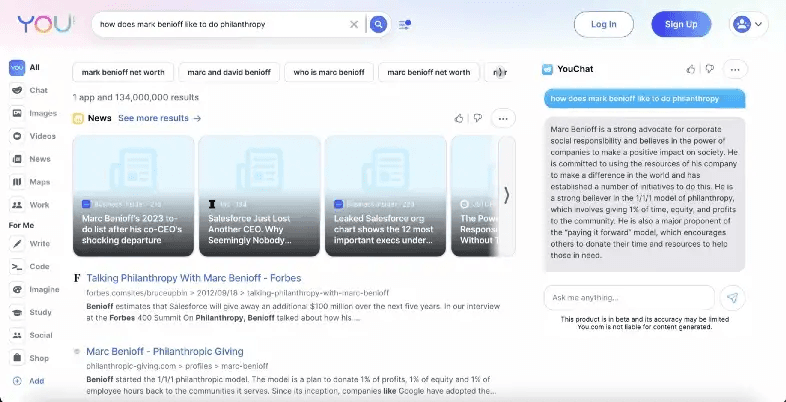 (Image source: Medium)
How much does it cost?
Youchat is currently available for use at no cost. It's a great tool for students to get help with their studies without incurring additional expenses.
In a nutshell
ChatGPT has disrupted many industries with its mind-blowing AI language model technology. But it is not the best for everyone!
Some of these ChatGPT alternatives have surpassed ChatGPT capabilities with their 'out of the box' features. Here are a few of our favourite features.
Chatsonic's ability to write real-time content with its powerful Google integration and give voice commands instead of typing just makes life easier.
Bloom's story generator can come up with new twists and flavours in any story.
Replika's AI companion is always there for emotional support.
YouChat's capacity to fish out the best relevant links and citations out of those infinite links.
Now it's time for you to write out each one of these tools. We would love to hear your favourite features of the ChatGPT alternatives.