Intro
Let us start this post by asking a very basic question. What was the last television advertisement you recall seeing? What about ads in newspapers or magazines? Due to the overwhelming amount of promo we are exposed to, it may be impossible to answer right away. In fact, we might even stop paying attention to them. It happens because such advertisements are mass-targeted and do not cater to the particular requirements of each viewer.
It is also possible to come across advertisements you would readily remember. As a consequence, they can encourage you to make a purchase. This is a result of advertisers' and marketers' attempts to match their objectives with the behaviors and areas of interest of the target audience. It enables them to identify a specific market and focus on it, which eventually results in more suitable clients and more earnings. Does it mean that traditional marketing will be gone shortly?
Today we will try to find the answer to this question with you. What will win in the battle of digital marketing vs traditional marketing?
Digital Marketing vs Traditional Marketing: Epic Battle of the Century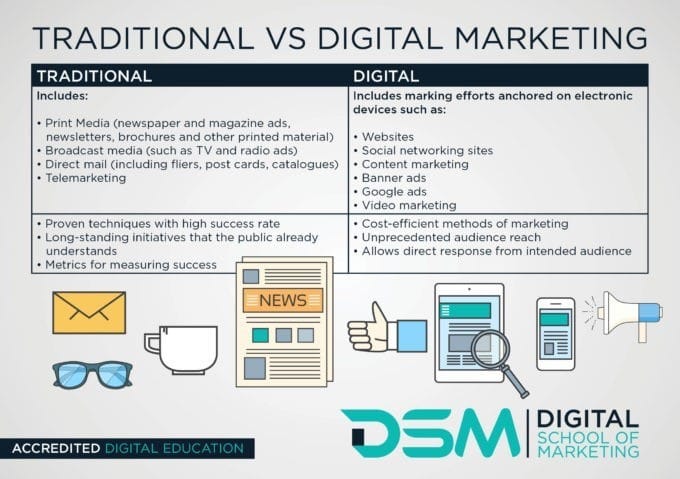 (Source)
What Is Traditional Marketing?
Any form of marketing that was used before the advent of the Internet is typically referred to as "traditional marketing."
Its strategies turn to the readership of print media, such as magazines and newspapers. They can offer readers multi-page print advertising spreads, smaller ads placed strategically within the main text, and other forms of promo.
Others involve radio or television broadcast advertising. What is more, brands frequently use such options as direct mail marketing, telephone marketing, and outdoor marketing (such as billboards or signs). Their purpose is all about connecting with their target markets.
Traditional Marketing Methods
Businesses are still employing these marketing strategies these days. However, each of them has advantages and disadvantages.
As long as people continue to read newspapers and magazines, print advertising may remain successful. Nonetheless, the price of running commercials or forking out money for product placement may be high.
The All-in-One Platform for Effective SEO
Behind every successful business is a strong SEO campaign. But with countless optimization tools and techniques out there to choose from, it can be hard to know where to start. Well, fear no more, cause I've got just the thing to help. Presenting the Ranktracker all-in-one platform for effective SEO
Broadcast marketing used to be a successful strategy for reaching a wide audience. Nowadays, viewers tend to skip TV commercials, and online streaming has almost replaced traditional network television. So, it is no longer as efficient financially as one may expect it to be.
Many consumers are wary of cold callers, so telephone marketing is getting less successful. You can still employ telephone marketing when a customer connection has previously been established. Anyway, it is not the best strategy when trying to attract new clients for the first time.
Using direct mail marketing is a successful strategy for reaching elderly consumers who are not familiar with the Internet. On the other hand, businesses that consistently send mail may irritate those consumers who are averse to junk mail. In addition to this, it is not the most environmentally friendly marketing method.
Another form of the earliest type of marketing that is still successful today is outdoor marketing. Businesses still have several ways to promote, such as installing billboards along the side of the road or sharing posters in bus terminals. Nonetheless, the locations may be pricey, so business owners will need to assess their budget. However, flyers and posters are also quite inexpensive to print.
Main Benefits of Traditional Marketing
These are several justifications for why traditional marketing is still effective.
1. It easily reaches the local audience.
Print media (newspapers), broadcast (FM radio and television), mail (postcards), outdoor (billboards), and telephone are all examples of traditional marketing. These platforms can appear antiquated but they continue to draw a lot of users.
2. It is easier to fully appreciate an advertisement.
Traditional marketing makes sure that customers who are not familiar with digital marketing are not left out. As the advertised material is straightforward, no in-depth explanation is necessary for this type of marketing. Flyers or billboards effectively and succinctly communicate the message.
3. Advertising may be preserved.
Printing or broadcasting is not necessary for online material. As a result, traditional marketing tools may be saved and accessed later. You can save and repurpose the resources to make new products.
What to say at this point in our digital marketing vs traditional marketing battle? Generally speaking, traditional marketing is gone. Anyway, people may consider it pricey, and some forms of it are not as efficient as they once were. As a result, business owners may want to concentrate more on digital marketing when coming up with their promotional strategy.
What Is Digital Marketing?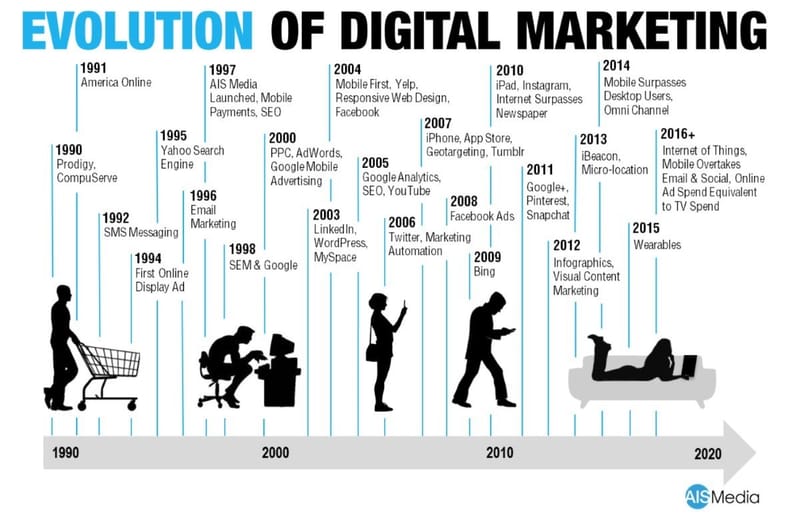 (Source)
Digital marketing, as opposed to traditional marketing, makes use of the Internet's reach and accessibility to target consumers and draw in new clients. It is about reaching out to contemporary consumers where they are most likely to be found. These include social media, search engines, numerous websites, and more.
The All-in-One Platform for Effective SEO
Behind every successful business is a strong SEO campaign. But with countless optimization tools and techniques out there to choose from, it can be hard to know where to start. Well, fear no more, cause I've got just the thing to help. Presenting the Ranktracker all-in-one platform for effective SEO
Certain digital marketing strategies, including email marketing, search engine optimization, and organic social media marketing, aim to increase a brand's organic reach. Others include payment, such as PPC advertising, social media promotions, and sponsored collaborations. To attract the target audience, many firms in the digital era combine paid and organic techniques.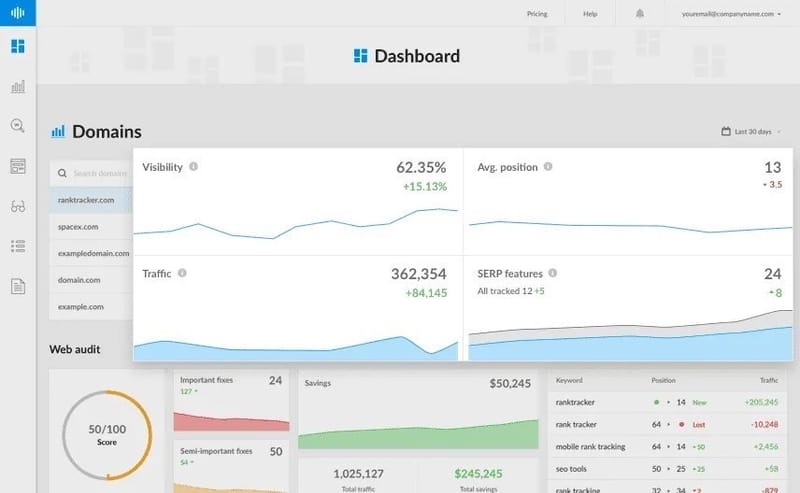 What Can Your Digital Marketing Strategy Include?
Social media marketing is the use of social media platforms to promote goods and services. It allows you to enhance brand recognition and increase website traffic.
Increasing a website's exposure on search engines is the practice of SEO.
An efficient technique to contact clients who use search engines like Google or Bing is through paid search advertising.
Email marketing is an affordable approach to connecting with both present and potential clients.
Affiliate marketing is the practice of cooperating with your clients to advertise your company on their resources and social media platforms.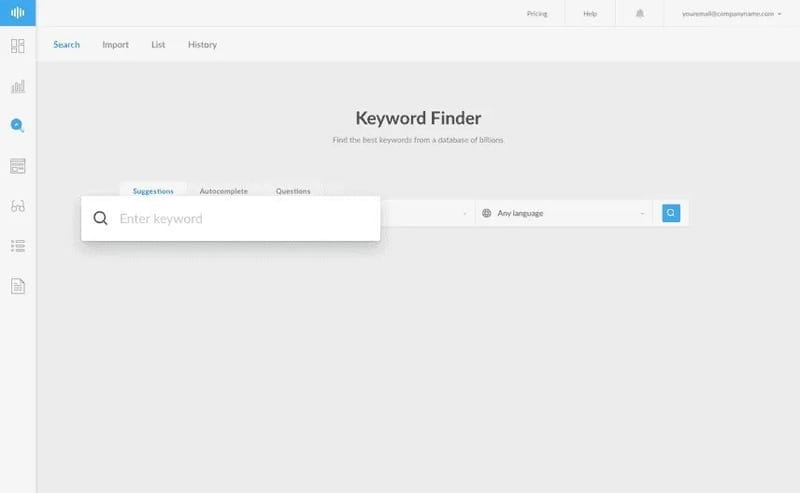 There are other additional digital marketing tools (for example, at TemplateMonster digital Marketplace) and strategies that your company may choose to utilize. In other words, this list is not complete. No matter what digital path you choose, you will get some significant advantages over conventional marketing strategies.
Why Is It Worth Turning to Digital Marketing Trends?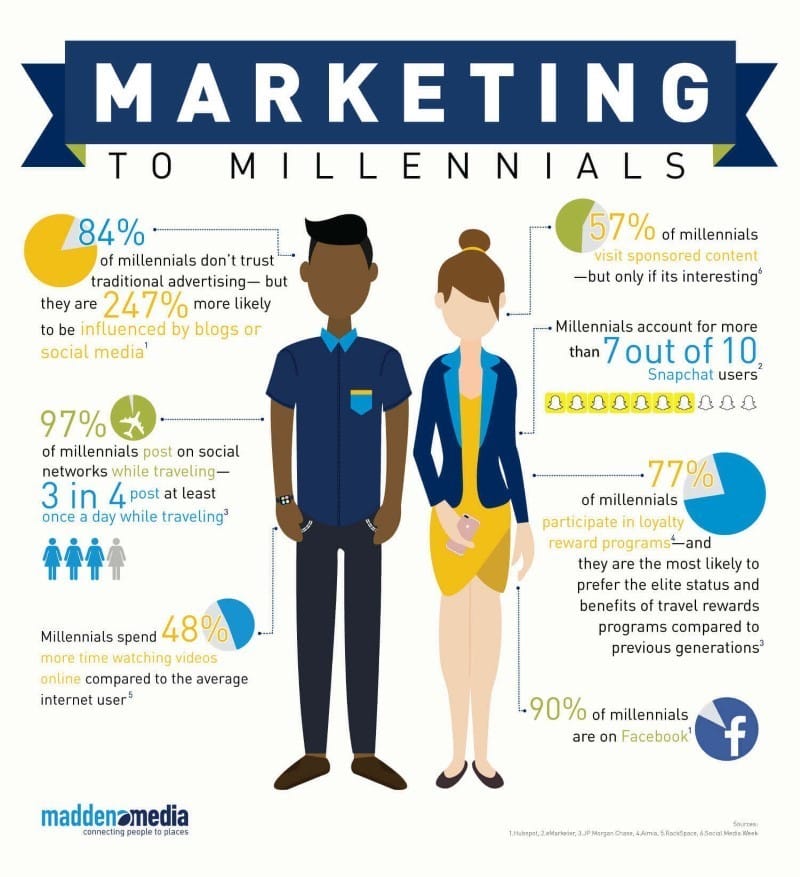 (Source)
1. Internet marketing is affordable.
Due to the fact that many digital marketing strategies are free to use, you may significantly lower your advertising expenses. As a result, you will see a significant return on investment since you have a higher possibility of attracting new clients. In this case, you just need to employ more online channels that may reach a wide audience online.
2. It is possible to measure your results easily.
With a variety of valuable web tools available, you may quickly determine the effectiveness of your digital marketing strategy.
3. You are free to reach out to a global audience.
You are not constrained by physical limits when multiple digital advertising strategies are at your fingertips. You may promote your company for little to no money all around the world.
4. There are more opportunities for customer involvement with digital marketing.
You can keep the client's focus longer by making the necessary improvements to your site. For instance, you can interact with your audience and address any issues they may have by employing several interaction options. It will help you manage your digital reputation and inspire more trust. These include web chat, chatbots, and Facebook messaging.
5. Digital marketing benefits the image of your company.
The use of junk mail and cold phoning are two conventional marketing strategies that may damage the reputation of your company. In this case, it would be better to turn to digital marketing. A well-designed website, a compelling blog post, and a few favorable reviews can strengthen a brand and increase your appeal to potential clients.
Digital Marketing vs Traditional Marketing: What Has Changed?
Some claim that digital marketing is meant to displace conventional advertising. Traditional marketing practices have already altered as a result of tech development. So, it is not surprising that many people think that the results of digital marketing vs traditional marketing are clear.
Anyway, the idea of the Internet appeared in the 1950s, but its widespread use did not start until the 1990s. Since then, it has compelled constant change in the marketing industry, and many changes have actually made promo simpler. Here are a few illustrations of how
1. Research has advanced significantly since the Internet became widely used. Each of us can get quick answers to various questions, learn more about celebrities, get access to scientific bases, and so on.
The All-in-One Platform for Effective SEO
Behind every successful business is a strong SEO campaign. But with countless optimization tools and techniques out there to choose from, it can be hard to know where to start. Well, fear no more, cause I've got just the thing to help. Presenting the Ranktracker all-in-one platform for effective SEO
So, people are now free to search for something independently and interact with different companies. Furthermore, marketers can use surveys, polls, and other methods to learn more about what makes their target audience interested. It is also possible to have regular contact with clients through channels like social media.
2. Web-based media is more convenient and affordable than once-essential forms of media. Many people forgot about print magazines, conventional newspapers, radio, and cable television. For instance, slightly more than half of Americans claim to routinely watch TV on cable or satellite. In contrast, more than 78% of people subscribe to at least one popular streaming service.
In other words, customers are more inclined to turn to social media or online copies of papers they used to read for news and cultural information. Going digital is a particularly popular trend among the highly sought-after younger population.
That being mentioned, marketers that previously focused on print advertisements or television commercials have had to modify their strategies. These days, it is crucial to reach viewers through these more recent and well-liked media possibilities. Nonetheless, observing improved analytics frequently makes it easier to target advertising to the precise audience you wish to attract.
A Few Words in Conclusion
So, what are the results of the digital marketing vs traditional marketing battle? You should not completely disregard traditional marketing because it still has value in today's society. Anyway, professionals with a digital marketing portfolio get more attention and more chances to get a massive number of clients. They employ this kind of marketing because there are more individuals online than ever before. Figures also show that more than half of all Internet users browse the web via mobile devices. We hope that you will find the right balance between digital marketing vs traditional marketing. Thanks for reading!