Intro
Ad rank is at the core of Google ads.
It determines where your ad will appear on the search engine results page (SERP) and how often potential customers will see it.
It's calculated based on the six Google ads ranking factors and heavily depends on five ad rank thresholds.
The better your ad rank, the better your position.
So in this blog post, we'll discuss the following:
What ad rank is
How ad rank is calculated
The six Google ad ranking factors (including the ad rank thresholds)
What you can do to improve your ad rank
What Is Ad Rank?
Ad rank is a number Google assigns to every ad in an auction. It's based on many factors, such as your bid amount, ad quality at the time of the auction, and five ad thresholds.
Your ad is more likely to win the auction and get shown on the SERP (Search Engine Results Page) with a high ad rank.
The All-in-One Platform for Effective SEO
Behind every successful business is a strong SEO campaign. But with countless optimization tools and techniques out there to choose from, it can be hard to know where to start. Well, fear no more, cause I've got just the thing to help. Presenting the Ranktracker all-in-one platform for effective SEO
Your ad rank also determines the page position of your ad, and in some cases, it might not appear at all.
Here's an example of ads that show up for the search term "QR code generator":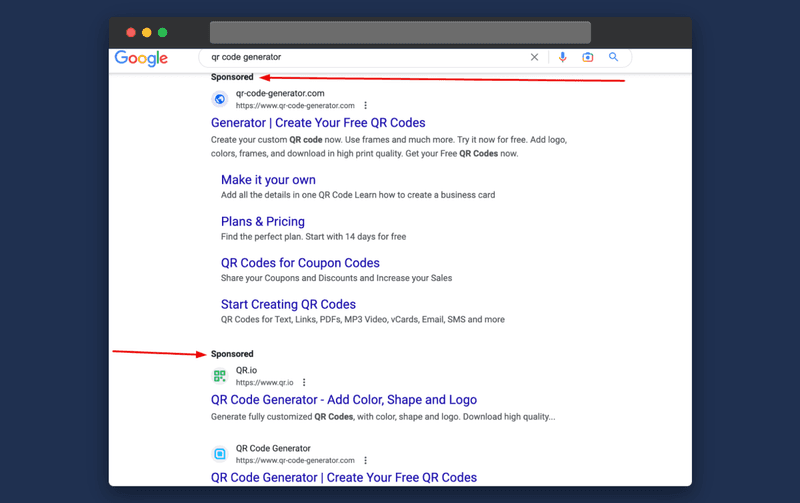 The Google ads appear after a bolded "Sponsored" label to differentiate between the organic search results and pay-per-click (PPC) ads. But each has a different ad rank that determines which ad is seen at the top.
How Does Google Rank Ads?
According to Google Ads Help, ads are ranked based on these six factors:
Bid Amount
Auction-time ad quality
Ad rank thresholds
The competitiveness of an auction
The context of the person's search
The expected impact of assets and other ad formats
It's important to note that Google recalculates your ad every time it competes in an auction. This means your ad can be in a different position each time, moving up or down.
As such, position fluctuations are normal and depend on various factors, such as the competitiveness of a specific auction.
The 6 Google Ads Ranking Factors and How to Use Them to Improve Your Ad Rank
1. Bid Amount
The bid is the amount you're willing to pay each time someone clicks on your ad. The higher the bid, the more likely it is that Google will show your ad higher on the SERPs than someone else's.
Your bid will become your cost-per-click, abbreviated as CPC.
The All-in-One Platform for Effective SEO
Behind every successful business is a strong SEO campaign. But with countless optimization tools and techniques out there to choose from, it can be hard to know where to start. Well, fear no more, cause I've got just the thing to help. Presenting the Ranktracker all-in-one platform for effective SEO
You can change your bid any time you wish, which would then lower your highest CPC. But just because you bid a certain amount doesn't mean you will always pay it every time someone clicks on your ad.
Google even states that you'll often pay less than your bid.
2. Ad Quality
Your ad's ranking position heavily depends on the quality of the landing page users are taken to when they click it.
Google performs an assessment of your ad's landing page and assigns it a Quality Score.
The quality score depends on several factors: relevance of keywords used in an ad group, relevancy of landing pages associated with those keywords, historical performance data from previous campaigns, etc.
You can easily find and monitor your Quality Score on your Google Ads account, which makes improving it a cinch.
Your ad quality also helps determine how much money you pay per click, so don't hide from it.
Here's a graph from Metricool that demonstrates how improving your Quality Score can save you up to 50% per click: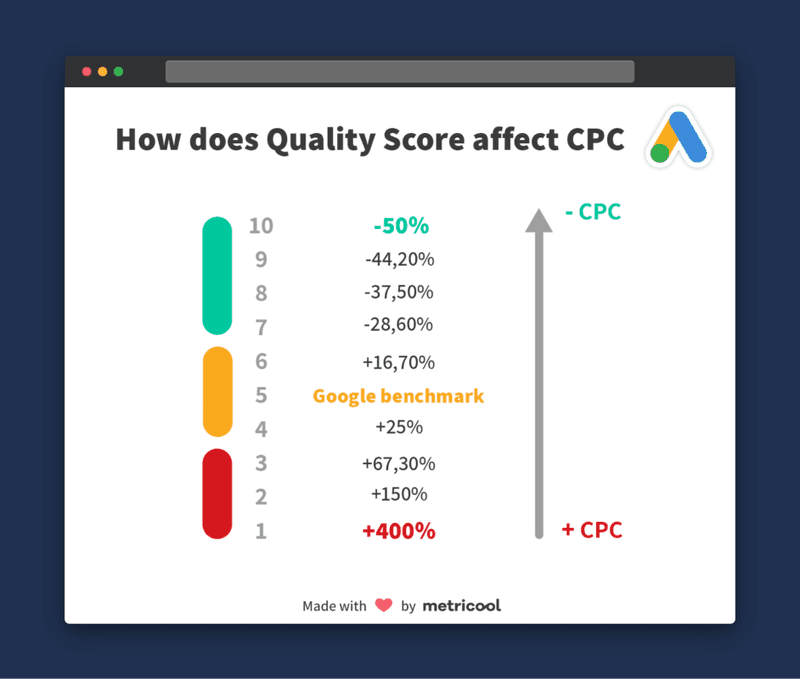 (Source)
3. Ad Rank Thresholds
Five ad rank thresholds affect how competitive your ad will be in an auction while ensuring that user experience is not compromised.
These include:
Ad quality. This is where Google uses its Quality Score system to determine how well your ad will perform. This score is based on factors like your expected click-through rate (CTR) and ad relevance.
Ad position. This is where your ad appears on the SERP. The goal is to achieve the first spot, as it receives the highest CTR, as people see it first and are less likely to keep scrolling. As a result, the higher your ad position, the higher your threshold.
The context of the user. Depending on certain attributes of the person making the search query, your ad can rank higher or lower. Such attributes include things like location and the device they're using.
The context of the search. Each person making a search query on Google has a user intent, which is why they came to Google in the first place. Over the years, Google has become extremely apt at understanding the context behind a search query and suggesting different ads based on that underlying context. For example, The Patel Firm Injury Accident Lawyers might run an ad for the keyword "whiplash vs concussion " but also rank for similar keywords like "whiplash concussion" or "can whiplash cause a concussion". \
This is because Google has grown enough to understand how certain keywords can be used to mean the same thing.
Related auctions. Just because you placed a bid for your ad to appear for a certain search term auction doesn't mean it won't or can't appear in others. Your ad's position can also be affected by other auctions it's placing in. For example, what satisfies user intent for a search term like "SEO classes" might also rank highly for "digital marketing classes."
4. The Competitiveness of an Auction
Two ads that compete against each other for the top position of the same auction will have an equal opportunity to win the position if they already have similar ranks.
The only time an ad is more likely to win the top position is when there's a bigger gap between the two ads' positions. For example, an ad with the third position will be more likely to rank higher than an ad in the sixth.
Returning to our "personal injury lawyers" example, let's say that two law firms are bidding for the keyword "personal injury lawyer."
If the first law firm (Law Firm A) already holds the #2 position for the keyword, whereas the second law firm (Law Firm B) hasn't ranked yet, Law Firm A is more likely to place #1.
But if neither law firm has ranked yet, or their positions are #2 and #3, their likeliness of getting #1 is the same.
However, this increased probability of winning the auction might require the higher-ranking ad to pay a higher cost per click.
Don't be fooled into thinking that whoever pays the most or has already secured the most wins will always have the advantage, though. Google is adamant that ad quality will always trump bid amount and previous auction wins.
Google Ads Help states that even if your competitor has a higher bid, you can still beat them to the top position if your content is highly keyword-relevant and maintains an excellent click-through rate. And as we know, high click-through rates stem from user-friendly landing pages, trustworthy content, and the like.
5. The Context of the Person's Search
Many advertisers fail to consider the impact that the context of a person's search can have on ad rank.
Context is everything when it comes to online searches. Google's algorithms consider various contextual factors, such as the user's location, device, time of day, and even previous search history.
All of these elements play a key role in determining the relevance of your ad to the user's search query, which in turn affects your ad rank.
To improve your ad rank and increase the chances of your ad being seen by the right people, it's essential to consider these contextual factors when designing your ad campaigns.
This means tailoring your ad copy and targeting strategies to align with the specific needs and behaviors of your target audience.
This specially comes into play when you are creating ad content.
**A very common behavior pattern that Google has noticed is most users tend to be in a hurry to get their answer. **A quick tip is to always include a paragraph that includes the answer to the search query in short. This short answer is often used by Google to create a blurb.
Here is a good example of a blurb that was extrapolated from an article by Shaked Law: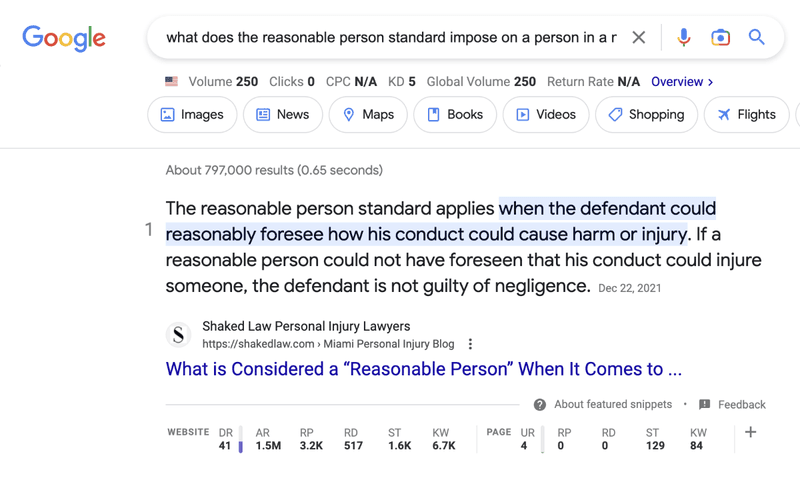 By creating a sentence that answers the search query in short, they are at a higher likelihood of being the top search result on Google since they provide the search engine with a blurb they can use to answer the question.
6. The Expected Impact of Assets and Other Ad Formats
The expected impact of your ad's assets and format plays a key role in determining your ad rank and ultimately, the success of your ad campaign.
Assets refer to additional information you include in your ads, such as phone numbers, pricing pages, links to other pages on your website, locations, etc. (also known as "extensions").
For example, see how the current ranking #1 ad for the search term "flower delivery San Diego California" includes links to their category pages within their advertisement: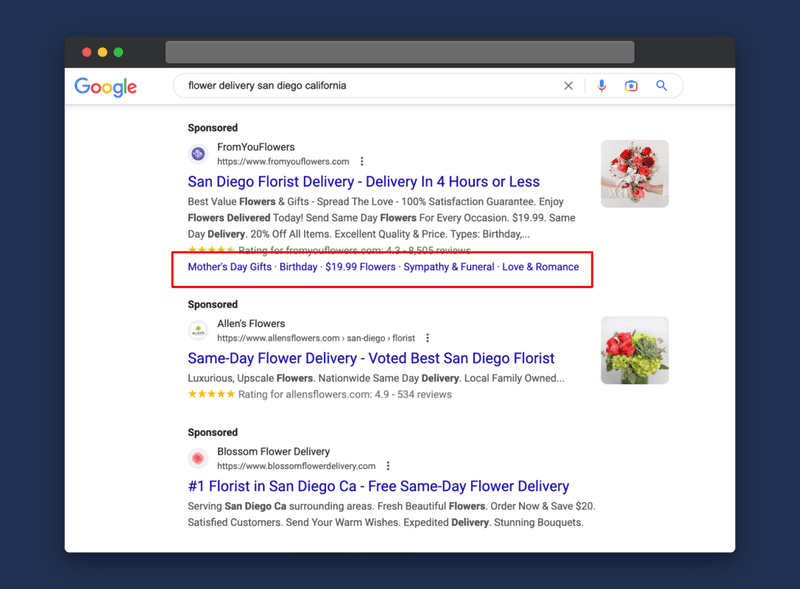 If you were a law firm or a doctor's office, it would be an ideal place to include a link to further information like your list of attorneys or your contact page.
Google does this for organic rankings as well which is why it is so important to have more than just a landing page or homepage. Here is what M&Y Personal Injury Lawyer's law firm looks like on Google: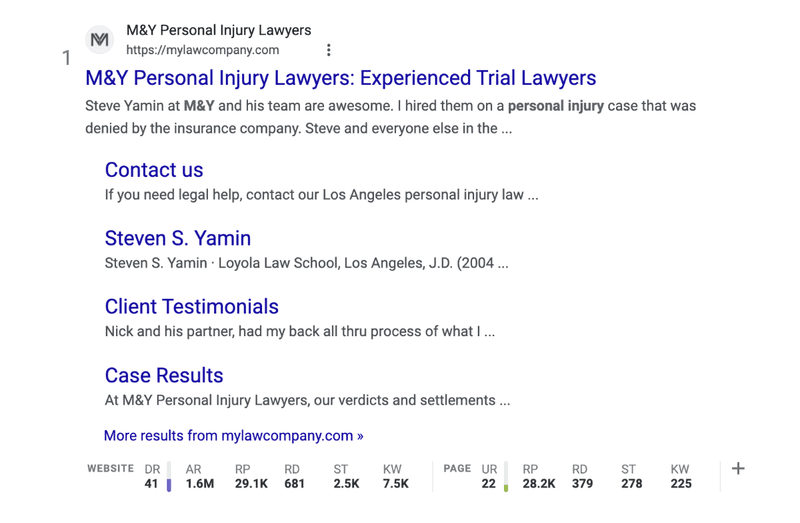 Their contact us page, list of client testimonials, and case results make it that much more probable that a potential client will reach out to them.
Coming back to ads, Google then uses these assets when examining your ad to determine how relevant it will be to certain search queries, thus affecting your ad rank.
For example, a local flower delivery business with a store address and phone number in its ad might rank higher than a competitor that doesn't display additional information, instead requiring the searcher to visit their landing page first.
On the other hand, ad formats are the types of ads you use when creating your ad.
This is different from ad campaigns, which reflect the overall goal of your ads (for example, search ads, display ads, video ads, local ads, etc.)
Various ad formats are available after you've specified which campaign type your ad will fall under. Thus, if you choose the "local" ad campaign, you'll have different options for ad formats than if you had chosen the "search" ad campaign.
To improve your expected impact and increase your ad rank, it's essential that you choose the right mix of assets and ad formats for your campaign.
The All-in-One Platform for Effective SEO
Behind every successful business is a strong SEO campaign. But with countless optimization tools and techniques out there to choose from, it can be hard to know where to start. Well, fear no more, cause I've got just the thing to help. Presenting the Ranktracker all-in-one platform for effective SEO
Currently, Google lists seven available ad formats:
Text
Responsive
Image
App promotion ads
Video
Product Shopping ads
Call-only ads
Google also has a page dedicated to helping you choose the right ad format here if you need additional help.
How to Improve Your Google Ad Rank in 5 Steps
Now that you know the six Google ads ranking factors, here are some actionable steps you can take to improve your ranking and increase your chances of winning ad auctions.
By implementing these tips, you can improve the relevance and impact of your ad campaigns and achieve greater success in reaching your advertising goals.
1. Refine Your Keywords
Ensure your keywords are highly relevant to your ad campaign and target audience. Use keyword research tools to identify the most effective keywords, and regularly update your keyword lists to ensure they remain relevant.
2. Optimize Your Ad Copy
Your ad copy must be highly relevant to the user's search query. And of course, use compelling language and highlight what makes your product or service stand out.
3. Improve Your Landing Page Experience
Your landing page should provide a seamless user experience and be highly relevant to your ad copy. Optimize your landing pages for speed, mobile responsiveness, and clear calls-to-action (CTAs).
4. Utilize Ad Extensions
As we discussed earlier, ad extensions ("assets") are additional information like phone numbers, physical locations, links to website pages, ratings and reviews, etc. that your ad displays. Use the appropriate extensions to increase the relevance and impact of your ads.
5. Monitor and Adjust Your Campaigns
Regularly monitor your ad campaigns to identify areas for improvement. Test different ad formats, keywords, and targeting strategies to optimize your campaigns and improve your ad rank over time. Remember, you can easily do this by reviewing your Quality Score.
Final Thoughts on Google Ads Ranking Factors
In conclusion, achieving a high ad rank on Google requires strategic planning, effective targeting, and ongoing optimization.
By understanding the ranking factors that Google uses to determine ad rank, you can create more effective ad campaigns that resonate with your target audience, drive greater engagement, and increase conversions.
Remember to focus on relevance and expected impact when designing your ads and to regularly monitor and adjust your campaigns based on performance data. By refining your keywords, optimizing your ad copy and landing pages, utilizing ad extensions, and testing different strategies, you can improve your ad rank in no time.