Intro
Although Google cache is often ignored as an SEO feature, there are several ways it can be leveraged to make the most out of SEO.
This article covers how Google cache can be used to complement SEO efforts, provides step-by-step guides on how to view google cache, how to use it for link building, improved SEO visibility, and more.
This can be helpful for SEOs and website owners to take advantage of the feature.
What is Google Cache?
Google's cache is a snapshot, a stored copy of a web page, that Google saves on its servers.
This feature allows searchers to see a copy of a page made at a given point in time, regardless of the status of the live page.
The cache feature is significant for search engine results pages (SERPs) as it stores the content of all websites that could be useful to users' search queries.
How Does Google Cache Work?
Google stores web pages in its cache by first scanning the page, keeping its HTML in a database, and then displaying that HTML as the cached version when someone requests it.
As a rule, Google saves a version of every web page in its cache if the page is crawlable by Google and can be added to its search index. If set up properly, most of the pages will be cached.
How to View the Cached Version of a Website on Google
The cached version of the page can be viewed by two different methods.
The All-in-One Platform for Effective SEO
Behind every successful business is a strong SEO campaign. But with countless optimization tools and techniques out there to choose from, it can be hard to know where to start. Well, fear no more, cause I've got just the thing to help. Presenting the Ranktracker all-in-one platform for effective SEO
The first method is just adding the word "cache" before any URL.
For example, cache:https://domain.com while using the Google Chrome Browser.
The second method is demonstrated in the screenshot below, together with the step-by-step process.
To view the cached version of a website on Google, go to Google and search for the website you want to view:
Click on the three dots (⋮) on the upper right side of the search results page.
Click on "Cached" in the drop-down menu.
You'll see a banner at the top of the page which shows the date and time the snapshot was taken, as well as a link to access the current page.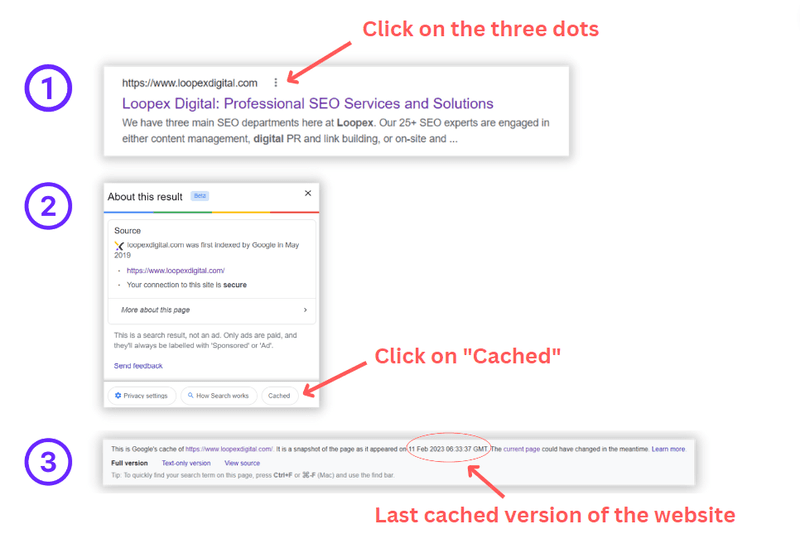 Pro Tip: You can also use this Google Cache Viewer extension to view the cached version of a page quickly
Why is Google Cache Important for SEO?
Google cache provides important insights into how Google is indexing and displaying your web pages, which can help you optimize your SEO strategy and troubleshoot any issues that may be affecting your rankings.
To ensure you are on top of your rankings, use Rank Tracker to monitor your SEO progress.
Because the Internet is constantly changing, tweaks to your own and competitors' web pages may go unnoticed.
The All-in-One Platform for Effective SEO
Behind every successful business is a strong SEO campaign. But with countless optimization tools and techniques out there to choose from, it can be hard to know where to start. Well, fear no more, cause I've got just the thing to help. Presenting the Ranktracker all-in-one platform for effective SEO
Google Cache allows you to have an insight into what changes happened and gives you an opportunity to measure, improve and complement your SEO efforts.
You can utilize Google cache to get an idea of what content Google sees and crawls when discovering a webpage. This is useful in determining if certain elements on a site are visible to Google for indexation purposes.
How to Use Google's Cached Pages to Improve SEO?
By using Google's cached pages, website owners and companies can improve their SEO efforts and increase their online visibility and accessibility to users.
Monitor content
Here are ways to monitor content with the help of Google cache:
Analyze Competitor's Websites
Use Google Cache to see what changes your competitors are making to their content that result in a boost in rankings. When you notice they have an improvement for a given page, go to the cached version of that page and compare it with the current one.
The changes you notice are likely to have caused the boost in rankings.
This gives you good data without you having to test a content tactic or strategy yourself.
Measure Content Performance
You can use Google cache to track the performance of a page after your updates.
Let's say you made content changes a month ago and see tangible SEO improvements now.
You might want to go back and see what tweaks those were to implement on other pages as well. The cached version of the page will show you those! However, when using this method, you need to be very quick. Otherwise, you'll need the web archive to be able to view the before/after changes.
Ensure you have your website info in case it goes down.
Google cache is an additional feature that serves as a backup in case the live website goes down. With Google cache, you can access and retrieve important data from the website even if the live version is unavailable.
Monitor technical SEO
Here are ways to monitor technical SEO with the help of Google cache:
Use Google cache in SEO to detect JavaScript or CSS issues. For example, a messy Google Cache version of your site may be a sign that the bot isn't allowed to crawl your CSS/JS. While most of the time, it's only the cache, and everything is fine with the Live version, you may still want to check it using GSC, just in case.
If you have added a piece of content to your existing article, you can check if Google is reading and indexing the newly added content by checking the HTML text variant (text-only variant) in Google Cache.
If you have made technical changes to the source code, you can view those changes in the "Source" tab of the Google Cached version. Let's say, you have changed the meta description of a page, you can see if the changes have taken effect to show in the SERP.
Google Cache for Niche Edits & Tiered Link Building
Google Cache can be well utilized for link building as well.
Specifically, it has a good use for 2 link-building types - niche edits and tiered link-building.
Niche edits or link insertion is when you edit existing content on someone's site to add a link pointing to your target page. Check this guide, where I describe the niche edits strategy in detail.
Because of Google Cache, freshly-done niche edits take some time to be noticed by Google and start passing link juice.
It's because Google can't crawl the source URL straight after you've made the link insertion.
Google cache helps us identify whether Google has already noticed the link insertion or not.
This is how you can use it:
Wait a day or 2 after doing link building. Then use the instructions above to view the cached version of the page.
When you open the cached version and see the link you have added isn't there yet, it means Google has not yet updated its cache.
In other words, the last time it crawled the page was before you built the link.
There are 2 things you can do:
Ask the webmaster to submit the article for crawling in Search Console.
Find a URL indexation tool and submit the linking page there.
Within a day, you'll see Google update its cache and show your link.
This exact same hack can be used for tiered link building. If you're unfamiliar with tired link-building, you can check out my tiered link-building guide here.
You can use Google Cache to verify the presence and functionality of the links in your tier 2 or lower tiers.
This can help you determine if your tiered link-building efforts have been successful.
By searching for the cached version of the pages in your lower tiers, you can check if the links are in place and direct to the intended target page.
Misconceptions About Google Cache
Although Google Cache is a useful feature that can be leveraged by webmasters and SEOs for different purposes, it has its drawbacks.
The All-in-One Platform for Effective SEO
Behind every successful business is a strong SEO campaign. But with countless optimization tools and techniques out there to choose from, it can be hard to know where to start. Well, fear no more, cause I've got just the thing to help. Presenting the Ranktracker all-in-one platform for effective SEO
We clarified what Google Cache can do, let's now debunk some common misconceptions about its functions:
"In general, we do not always update the cached page every time that we crawl a page. Especially when the page does not significantly change, we may opt to just keeping (sic) the old date on it." said John Mueller
Google Cache isn't updated every time a page is crawled. For this reason, it isn't always reflective of the changes made on a web page.
With Google cache, you may not always be able to see what Google has seen because of different factors like your Chrome version or use of a different browser.
Google may not cache your page. If it hasn't cached it, it doesn't necessarily mean that the page has an issue or isn't indexed. In such instances, if no issues show when inspecting the URL, there is nothing to worry about.
How to Remove a Page from Google Cache
Log in to your Google Search Console account.
In the "Index" menu on the left, click Removal and go to Temporary Removals.
Click the "New Request" button in the right corner.
A small window will pop up. In the "Temporarily Remove URL" tool, insert the URL you want to remove from Google cache and search results.
Select "Remove this URL only" and submit your request. It will take Google a day or two to process the request.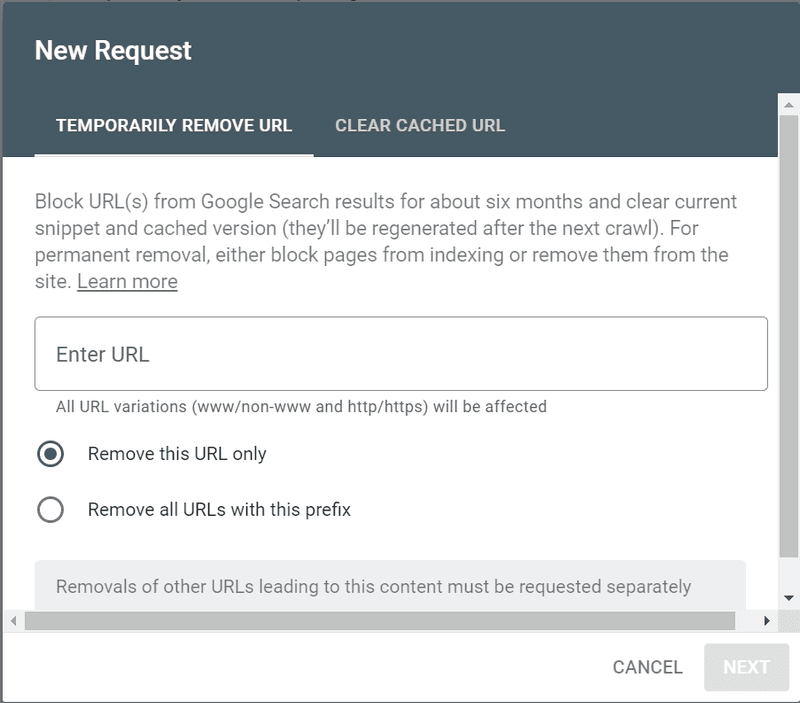 Helpful Notes
When you select the "Temporary removals" option, your page URL won't appear in Google search results for 6 months. Though when you set it live, Google with both index and cache it again.
If you just want to clear the cache, select the "_Clear Cached UR_L" tab. After Google's next crawl, the webpage will be cached.
"Remove all URLs with this prefix" deletes an entire folder or directory from search results.
FAQs
Are All Pages That Are Crawled Also Cached?
No. Not all pages that are crawled are also cached. As mentioned above, as long as your URL doesn't have any crawling/indexing issues when you check on Google Search Console, you are good to go, even if the page doesn't have a cached version.
Does Google Caching Affect Website Ranking?
No, caching does not directly affect the rankings of a page. However, frequent caching can signal to Google that a website refreshes content often, potentially boosting its ranking.
Does Google Update The Cached Page When It Crawls A Page?
It depends. Google may or may not update the cache with crawl. Note that the cache date you see on the banner at the top of the cached version is not necessarily the last crawl date.
Can The Cached Version Of A Page Be Different From The Live Version?
Yes, the cached version of a page can be different from the live version. This happens if the website has been changed since the last time Google crawled and cached the page.
The Takeaway
Google Cache is a very helpful tool for SEO when implemented correctly.
It can help to track technical issues, improve the content and have the upper hand on what your competitors are doing.
That being said, you should always remember that while caching can have a positive impact on a website's SEO, it is_ just _a feature with its limitations and can't replace specialized SEO tools.