Intro
Having an online peer-to-peer lending business gives you the freedom to bypass all the geographical limitations to scalability. Also, when compared to traditional brick-and-mortar businesses, an online peer-to-peer lending store requires comparatively fewer resources to establish its operations. The core features of a peer-to-peer lending platform include mobile friendliness, an insightful dashboard, multiple payment options, features to promote products, and the security of the users.
This article guides readers through the step-by-step process to start a feature-rich peer-to-peer lending marketplace.
Steps Involved In Peer-To-Peer Rental Marketplace Development
Performing a Detailed Market Research
Market research plays a vital role in laying a foundation for the peer-to-peer lending marketplace. Target audiences, location, competitor research, and surveys are some major elements of market research. Since P2P lending can be a multicategory business, you need to narrow down your products and services for enhanced attention to the business.
Some widely used methods for market research include:
Surveys
Interviews
Field Trials
Competitive Analysis
Focus Groups
Define a Business Model
Based on data collected during market research, you can proceed with defining a business model that helps your P2P lending business operate profitably in a target market. Value proposition, business costs, financing sources, and revenue streams are some of the major elements of a healthy business model. When defining a business model for a P2P lending marketplace, you need to pay equal attention to revenue projections, marketing strategy, business partnerships, and market demands to have a competitive edge over other players in the market.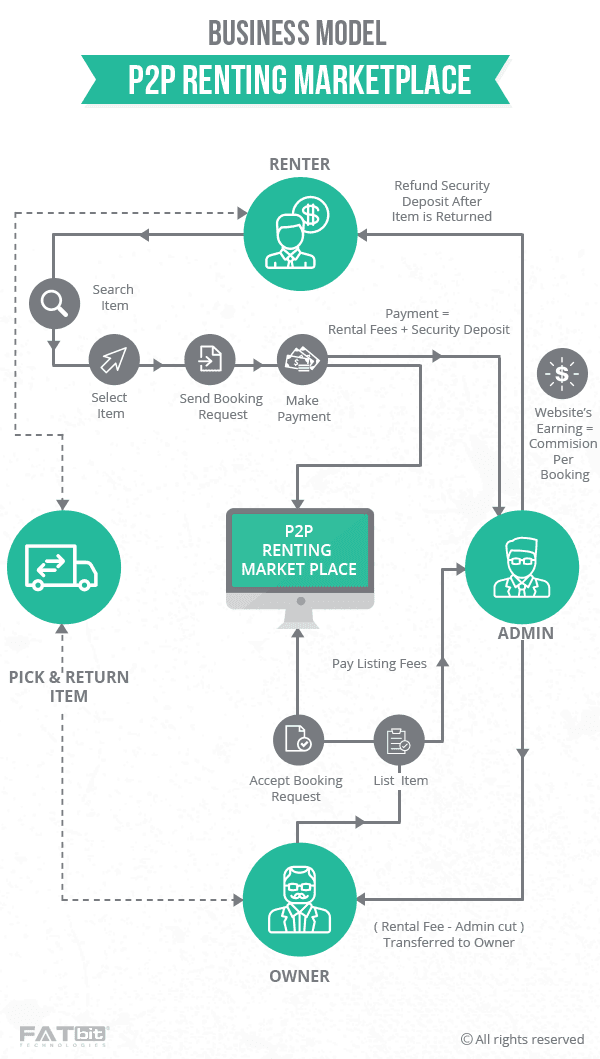 (Image source: www.fatbit.com)
Type Of Marketplace You Want To Build
The peer-to-peer lending marketplaces are also classified on the level of monitoring on operations by the admin. Based on the management approach, the peer-to-peer lending marketplaces are classified as fully managed marketplaces, unmanaged marketplaces, and lightly managed marketplaces. Here's what you need to know:
Unmanaged Marketplaces
Unmanaged lending marketplaces generally have no limitations on operations and stakeholders manage the deals under their own responsibility. Here, the buyers have to show faith in the seller as there is no regulation from the marketplace owner. User-generated reviews and background checks are major sources to identify potential sellers on unmanaged marketplaces. Etsy, eBay, and Fiverr are popular examples of unmanaged P2P marketplaces.
Lightly Managed MarketPlaces
In lightly managed peer-to-peer lending marketplaces, the owners of the marketplace manage the authenticity of services to a certain extent. The owner is responsible to verify the details of the users and handle the return & money-back policies along with the terms & conditions of the platform. For example, Uber is a lightly managed P2P marketplace.
Fully Managed Marketplaces
A fully managed peer-to-peer lending marketplace is the most trustworthy marketplace of all. Here the marketplace owner regulates the buying and selling of the commodities. Only the most reliable sellers are allowed to sell the products, and the marketplace charges higher commissions from the sellers as compared to Unmanaged and Lightly managed marketplaces. Customer service is paid major attention in fully managed P2P marketplaces. Opendoor, Turo, and Luxe are examples of fully-managed P2P marketplaces.
Select An Efficient Technology Partner For Your Rental Marketplace
An intelligent and cost-effective solution to build an online P2P rental marketplace helps in gaining the trust of the users by providing them with a seamless experience throughout the platform. Multiple options to build a viable solution can include a custom build website, a platform built by drag & drop builder, SaaS solutions, and a complete white-label solution.
While checking such options online, you can filter out the best one as per your business requirements. To have an idea here's what you need to know:
A custom-built website would require you to have enough technical knowledge to manage the marketplace and its day-to-day operations. In case you don't have knowledge in the development domain, you can hire a team of experts to maintain and manage the website.
A drag-and-drop builder can help you in launching a quick website within a few hours and is also easy to manage. However, platforms created using website builders face issues in scalability with time, making it an inappropriate option for longer terms.
Similarly, SaaS solutions can also help you with marketplace platforms but they have recurring payment systems and are subjective to the scalability of your platform. The more you grow your business, the more you pay.
Selecting a white label and self-hosted rental software for the rental marketplace can be an effective way to launch your platform. These solutions usually require minimum technical knowledge, come at a one-time cost for a lifetime license, and are loaded with several features. Since online selling and renting both are on the scale these days, you can go with YoRent. It is a complete rental software with rent-centric features that enable businesses to sell and rent products in a simultaneous manner.
Reasons To Start a Peer-To-Peer Rental Marketplace
1. Cost-Effective Solution For Renters
Since the prices of utilities are getting higher amid the recession, peer-to-peer rentals provide cost-effective alternatives to consumers. Also, business owners get a chance to earn good rental commissions over the products rented out.
2. Experience flexibility and convenience
Peer-to-Peer renting platforms are easy and simple to navigate for most users. Customers can easily filter out the possibilities and make decisions. Also, the online platform makes it easier for you to avoid any payment matters and customers & vendors finalize the deals on their own offering flexibility at all stages of renting.
3. Reduce Waste
Peer-to-Peer lending helps in reducing waste, which contributes to a greener environment in the longer term. With a major fraction of the global population inclining towards reuse and recycling, a peer-to-peer renting business can easily scale in a shorter span of time.
4. Boosting Sharing Economy
The Sharing Economy is experiencing tremendous growth and rental businesses across the globe have experienced a continuous surge in growth in the past few years. Starting a peer-to-peer rental marketplace helps people share their resources at affordable prices and flexible terms. This enables sellers in making most of their products and customers to consume resources at easy costs.
Wrapping Up
The peer-to-peer rental business is a diverse field and products can be from any industry, including construction, medical, farming, transport, etc. To ensure strategic success in the Peer-to-Peer rental business you should narrow down your target industry, location, and audiences. This helps in defining the business models more precisely with fewer chances of loss in business. The role of a technology solution is crucial to smooth user experience and rental operations that take place through the platform. So you need to be very selective about your technology partner when you launch your Peer-to-Peer rental business.