Intro
Do you want to rank on the first page? If so, hiring a link-building agency is essential unless you have an in-house link-building team.
But finding the right link-building agency to implement your SEO strategy is not easy. Link-building is a sketchy area with spammy, ghosting, broken or no-follow links.
Backlinking is a dual-edged sword. It can authorize your content and optimize your website for a higher search ranking. According to Backlinko's SEO ranking factors report, links are the most crucial factor to rank on Google.
But if links are poor quality or spammy, it can ravage your SEO rankings. Therefore, it is essential to build your links campaign effectively.
And that's only possible when you partner with the best link-building company. This guide will walk you through simple 8 steps to hire a suitable link-building agency to grow your business online. So, let's scroll down to build some high-quality links.
Why Link-Building Matters to Your Business?
Link-building is the process of connecting another website link with your content. Attaching a high-authority website link to your website will build your brand authority and credibility. This, in return, helps to improve your search engine rankings.
Besides search engine ranking, quality link-building helps to:
Generate organic web traffic
It is not easy to generate constant organic traffic on your website. It takes constant effort and marketing to bring organic traffic your way.
The All-in-One Platform for Effective SEO
Behind every successful business is a strong SEO campaign. But with countless optimization tools and techniques out there to choose from, it can be hard to know where to start. Well, fear no more, cause I've got just the thing to help. Presenting the Ranktracker all-in-one platform for effective SEO
Fortunately, link-building has made it easy to generate traffic and ranks your website higher on search results. According to a report from Backlinko, websites with 2-3 high-quality links rank 3.8X higher on search engines. And, it is common knowledge that a website that ranks higher generates more organic clicks.
Better lead generation
Link-building is the best lead nourishment tool. It helps to establish your brand reputation. When people see your website on the first page, it automatically sends them a positive sign.
In addition, your website gains high domain authority by connecting with a high DA site. For instance, when your website name or link is published on a leading website in your industry, it will help to build trust and brand reputation.
Boost sales and revenue
Obviously, when more people visit your website, you get a better chance to convert them into your paying customers. As a result, you can expand your audience base and build personalized marketing strategies to convert your leads. Eventually, it will lead to improved sales and revenue numbers.
Better relationships
Link building is all about relationships. To publish your links on top websites, you must build relationships with editors, website owners, publication houses, etc. This may also help you to build a strong network to grow your business and connect with potential customers.
Why Hire a Dedicated Link-Building Agency?
Now that you know, link-building is a website ranking factor. So you must be wondering why I should hire a link-building agency where I can build links on my own?
Well, people, link-building is not a simple process. You have to network, check link quality, and regularly manage links. One broken or poor-quality link can tarnish your user experience and business reputation.
Besides this, a professional link-building company can help you with:
Find the right linking partners
Not all high DA websites are good for your business. You cannot connect with any website and expect to reach your targeted audience.
You must first understand your business needs and industry to find the best partners for link creation.
Suppose you have call center automation software. Then, partnering with Vogue fashion magazine will do you no good as your targeted audience is not fashion people. On the other hand, your people are present on websites like Entrepreneur, Forbes, etc.
The All-in-One Platform for Effective SEO
Behind every successful business is a strong SEO campaign. But with countless optimization tools and techniques out there to choose from, it can be hard to know where to start. Well, fear no more, cause I've got just the thing to help. Presenting the Ranktracker all-in-one platform for effective SEO
Professional link-building companies can generate links from the websites that boost your SEO ranking and target relevant leads.
Well-established networks
Network building takes time. You cannot create a network of authors, editors and publication houses overnight. It takes time to build relationships with potential users in your industry.
Link-building companies already have a network built in different niches. So, they can generate high-quality links faster in various business domains. This will also save your team's networking time and speed up your marketing efforts.
Cost-effective solution
Outsourcing link-building services is more cost-effective than setting up an in-house team. For link-building, you need to hire SEO experts, content writers and set up a separate marketing budget for paid sponsorship.
On the contrary, link-building companies only charge for what service they provide. So there is no need to worry about paying content writers or different sponsors. Your link-building agency will handle everything at one cost.
Besides this, you don't have to worry about employee management. Therefore, hiring link-building agencies is helpful for small companies to save their operational cost.
Here's How to Find the Best Link-Building Agency in 8 Steps
Do you want to improve your search engine ranking? Do you want to generate organic traffic and leads? Then, link-building is your best solution.
According to uSERP State of Link Building, 58.1% of SEO professionals stated that link-building is the best strategy to improve search engine rankings.
So, without any ado, let's check out a step-by-step guide to find the best link-building partner today:
Step 1. Alignment with your goals
Alignment is one of the important factors that you should consider while hiring a link-building agency. The agency should understand your marketing goals and objectives to design a link-building strategy accordingly.
If the agency doesn't understand your need to build quality links, it cannot provide the right solution. Therefore, you should select agencies based on your business goals.
You should ask agencies basic questions like:
Does the agency plan suit your SEO strategy?
Can the agency deliver work within your given timeframe?
Do they have a competent communication system to provide real-time assistance?
Can they monitor success metrics based on your company rules like organic traffic, number of leads, etc.?
Step 2. Do they provide content creation service
If link-building is Batman to optimize your website, content creation is its Robin. Without high-quality content, link-building is not possible.
Whether you are targeting guest blogging or simply inserting links to your blog posts, you need the right content to connect the outbound linking. Based on the uSERP report, the highest Alexa ranking websites have natural link contexts like a branded anchor, exact match, or random anchor text.
Thus, ensure that your selected link-building agency offers in-house content creation services. Simply inserting links anywhere in your content will not improve your SEO score. You have to insert proper anchor text to drive maximum results from your link-building efforts.
And that's only possible when your link-building agency provides a content creation service. This way, they can customize content so that it will not look forced on the content.
For instance, Marveta is a leading digital marketing company offering content creation and linking creation services. This enables them to insert natural links to improve their client's SEO efforts.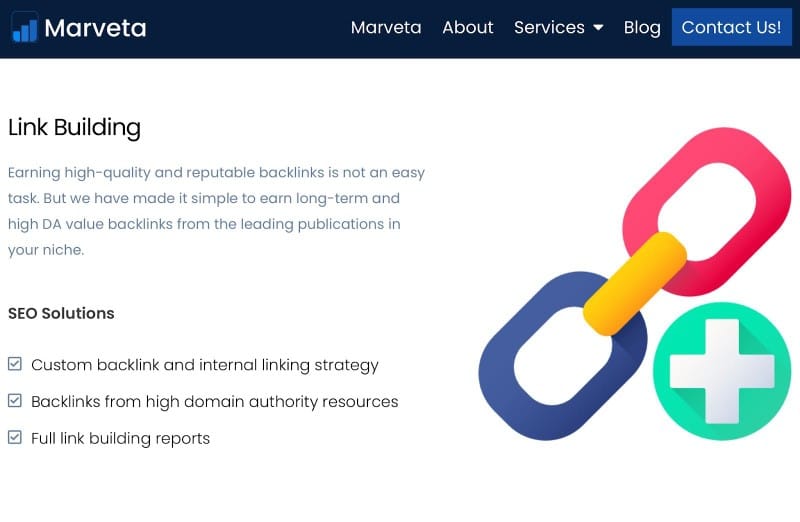 (Image source: Marveta )
Marveta co-founder Yash Chawlani stated that they could generate over 2000% ROI with content creation and link-building for B2B and SaaS companies.
Step 3. Demand a full plan of action
After checking the link-building agency services list, ask for a complete action plan in advance. As already mentioned, link-building is a shady business.
Often agencies use the wrong ways to build links, leading to bigger troubles. Thus, ensure that the company uses all the legitimate ways to create links.
Here's the list of good and bad link-building strategies:
Right Link-Building Strategies
Skyscraper technique
This is a straightforward technique. First, pick a topic based on your services and search for it on Google. Then, open the 3 top search results and create content better than those sites. Also, target more high-performing and reputable links than top searches.
In addition, if you have mentioned people or websites in your article, reach out to them and request them to reciprocate the gesture. Again, don't push, as it is up to them whether they want to link your website to their content.
Help A Reporter Out
Help A Reporter Out, or HARO, is a popular link-building technique. You must contact journalists on a specific topic and give them a bite or statement for their articles.
For instance, look at this Forbes article "Energy Billionaire Sarath Ratanavadi's Wealth Rockets As His Telecoms Bet Pays Off".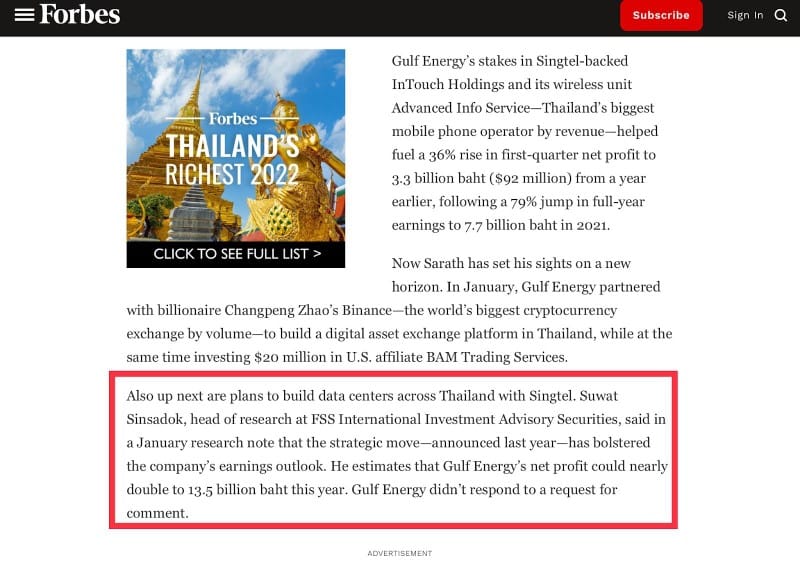 (Image source: Forbes )
In the article, the journalist quoted the head of research at FSS International Investment Advisory Securities to justify the information.
Similarly, if you have an insightful scoop on your industry-specific news, reach out to journalists and share it with them. When you help out with reports, you can earn a reputable backlink.
Broken Links
This is a popular link-building technique where you find broken links on other websites and suggest your link as the replacement. It is a bit time-consuming but a highly legitimate way to generate links.
**Create Guides or Reports **
You can create an ultimate guide on a specific topic or research reports on your website. This way, people can backlink your guide to report to their articles without your efforts.
For instance, HubSpot publishes several reports, research papers and e-books on their website. This strategy helps to build brand authority and generate backlinks in one go.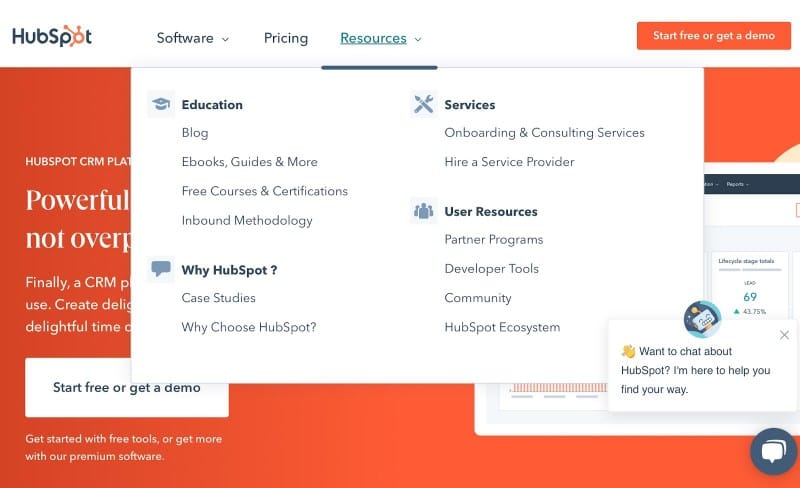 (Image source: HubSpot )
Content syndication
Content syndication is an economical way to generate links. This method can repurpose your old content on third-party websites like Medium, LinkedIn, etc.
You can simply share a snippet of your article or repurpose your written content into other formats like infographics, videos, etc. After that, you can mention your article link to direct viewers to your website.
For example, Branticles published an email marketing guide. Later, they syndicated it on multiple portals, including Site Pro News, Agility PR and others.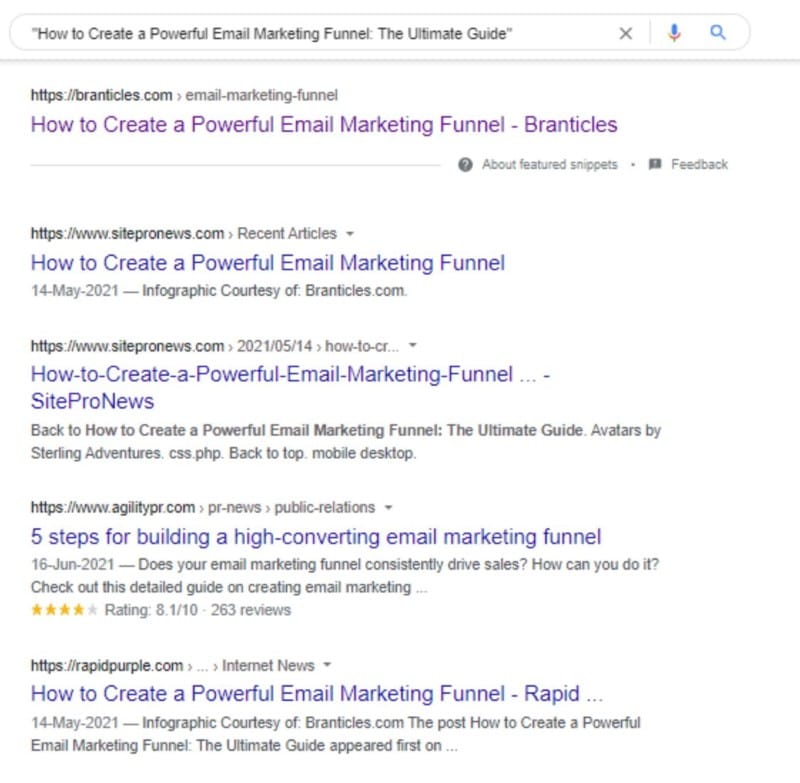 (Image source: contentmarketinginstitute.com )
Wrong Link-Building Strategies
Never Buy Links
It is not 2000 anymore. You can't just buy random backlinks today and dump them on your website.
Buying links doesn't guarantee that the link is relevant or helpful to your site. A large block of irrelevant links will not budge Google from ranking your site higher.
Avoid Automatic Link Generation
This spammy technique will generate limited responses. Everyone today knows how link-building works. Thus, automated emails asking for backlinks will likely end up in the spam folder.
Don't Make Random Comments
Don't just comment on other people's blogs or social media posts for the sake of doing it. Algorithms are way too smart these days. They can easily find differences between genuine or robotic comments.
Never Link Your Homepage
You should backlink a specific web page or post to show relevance and authority to search engines. If you get links for the homepage only, Google might consider it spam and will not evaluate these backlinks while ranking your website.
Step 4. Check tech stack
Several tools are required for link-building. You need tools to check link quality, management, email marketing, etc.
Thus, make sure that the link-building agency has a powerful tech stack to build better links.
There are various link-building tools available in the market, such as:
Semrush Backlink Gap tool to compare your own link profile with your competitors.
Salespanel is a lead score tool that helps you analyze leads or visitors attracted by link-building marketing efforts.
Scrapebox is a tool to harvest results from the SERPs in seconds.
Google Alerts is the free platform that alerts you every time someone mentions you online, publishes content related to your targeted keywords or when your competitors are mentioned online.
Hunter and Snov.io are tools for finding an email address for potential link-building opportunities.
Step 5. Monthly link review reports
A reputable link-building agency always offers a monthly report on the quality of your links. They are transparent in their approach and offer smooth communication flow.
Therefore, always ask link-building companies how often and detailed link-building reports they provide.
If an agency has no policy to share link performance reports or stall your questions, it is better to work with another agency.
In addition, when you start working with a new agency, check all the links in their first batch. You should be 100% sure before connecting your brand image to other websites. Thus, check every link's quality and reputation before letting the agency work on them.
Step 6. Examine the agency's backlink profile
If an agency states that it can produce high DA links for you in a month, it must have a diverse backlink of its own.
So, you can use tools to check the backlink profiles of the agency. If they have a poor backlink profile, this puts a big question mark on their ability.
However, if the agency has a diverse and rich backlink profile, this verifies their abilities to produce a good quality backlink profile for you.
Step 7. Go through reviews
Reviews are essential to understand the abilities and proficiency of the link-building agency. In addition, checking reviews and testimonials will help you understand the agency's workflow, experience and knowledge.
Today, most websites have a testimonial section about the previous customer's experiences. However, website content is regulated by the agency itself; therefore, you cannot fully trust the credibility of reviews.
So, the best way to check authentic customer reviews is through third-party review websites like Clutch.
Besides this, you can use social media to learn more about the agency and its previous customers. For example, you can explore the comments section to get raw information from previous customers. Google reviews are also a good place to start.
In addition, you can request the agency to share information about their previous clients. This way, you can personally contact them via email or phone to get specific details.
No matter which method you adopt to gather reviews. Make sure to collect as much information as possible before hiring a link-building agency.
Step 8. Cost comparison
The final destination is comparing the cost of different link-building services. Link-building is a part of digital marketing. Therefore, you must pre-set a budget for link-building in your overall digital marketing budget.
The All-in-One Platform for Effective SEO
Behind every successful business is a strong SEO campaign. But with countless optimization tools and techniques out there to choose from, it can be hard to know where to start. Well, fear no more, cause I've got just the thing to help. Presenting the Ranktracker all-in-one platform for effective SEO
Once you have defined your link-building budget, you should get quotations from all the shortlisted agencies. After that, you should add all the numbers to an Excel sheet.
Now that you have all the pricing numbers on a sheet. You can start comparing them with one another and select the agency that offers high-quality services within your budget.
Ready to Hire a Link-Building Agency?
Whether you want to improve your search engine ranking or generate more leads, link-building is the best marketing strategy to make your website visible online. This strategy connects you with potential customers, builds your network and exposes your business in front of a new audience base.
However, link-building takes time and loads of effort. So, while running your successful business, you might not get sufficient time to work on link creation. Thus, you can look for the best link-building agency to understand your SEO goals.
We have already shared a step-by-step procedure to shortlist the suitable link-building company to grow your business. So, let's not waste more time and start finding your link-building partner today.