Intro
SEO is the most crucial aspect of any digital marketing campaign. Using SEO, you can gain valuable insights into the wants and needs of your target users. This knowledge can then be implemented across your digital marketing campaigns on social media profiles, website, and more. By using the correct SEO techniques, you can get a greater return on investment for your marketing efforts.
So, after much deliberation and thought, you have decided to go with in-house SEO management. You strongly believe this decision will help your growing business scale the heights. And there are many benefits of going with in-house SEO management too.
SEO team is fully immersed in your brand. To run successful digital marketing campaigns, you need people who know your business and brand from the inside out. In-house SEO management helps in keeping everything consistent.

Greater control over your efforts. When you decide to go with in-house SEO management, you get greater transparency and almost full control over the operations and practices to implement.

Better and faster results. When you have an in-house SEO team, it becomes easier for them to get together with other teams to discuss the marketing goals. This helps in achieving the desired results quickly and efficiently.

Cost-efficient option. The biggest benefit of managing your SEO in-house is cost-efficiency. However, it also helps in maximizing the value of your SEO investments, as the in-house SEO team gets to collaborate with other teams to come up with innovative solutions.
It is evident that going with in-house SEO management can be a great idea. But the question remains – How do you manage in-house SEO efficiently? According to some SEO stats, only 25% of the users reach the second page of the search results while performing a query. In the face of this immense competition, you need an SEO team that works harmoniously to achieve your marketing goals. In the following sections, we will discuss some tips and tools that will help you manage your in-house SEO like a pro. Let's dive in.
Tips for Managing Your SEO In-House
When you are dealing with an in-house SEO team, it's impractical to expect them to know everything about search engine optimization. However, there are some simple ways to ensure your in-house team understands the basics of increasing search visibility, especially when it comes to writing content for a website.
Focus on SEO from the start
If you want to create content that ranks well for both the search engine and humans, it is important to focus on SEO from the beginning. Before your team starts with the process of content creation, they need to have the focus keyword and other elements like internal and external link building in mind. If this part is ignored, it becomes harder for the content to rank. Without proper direction, your content team might end up ranking for words that the users never really search for. Focusing on SEO from the start is important to bring organic traffic to a page. Here are some important questions you should ask yourself before planning content –
What information is the target audience searching for actively?
Which words and phrases are being used by the target audience to search for this information?
Are there any other pages ranking for such words and phrases?
How can you provide better information as compared to the others?
What should be your focus keyword?
What are some relevant external links that can be included?
What are some relevant internal links that can be included?
With this information in hand, your team would be able to create content that is optimized for search engines, while attracting the target audience to your site.
Make the content audience-centric
The problem with most digital marketing campaigns is that the brands end up writing about things they want to share, rather than what the audience wants to know. If you want to craft good content that targets the audience, you need to ensure that there is a balance between –
What you want to convey.
What the user is actively searching for.
Keyword research is the best technique at your disposal for increasing website traffic organically with all your in-house SEO content.
Checklists for publishing content
In-house SEO best practices are not limited to the content topics and how you write them. How you upload the content to your website or page is just as important. Here is a checklist of things to ensure before publishing your SEO content –
Content is structured correctly.
Headers are formatted correctly.
Images come with alt text.
Image file names are descriptive.
There is a good ratio of image/text.
Internal and external links are included.
Top 6 SEO Management Tools
The right SEO tools and software can save you from hours of effort that usually goes into tedious data analysis and keyword research. Here is a list of 6 great SEO tools to help you understand which parts of your marketing strategy are working efficiently and which ones require some tweaking.
1. Narrato – Content Planning Tool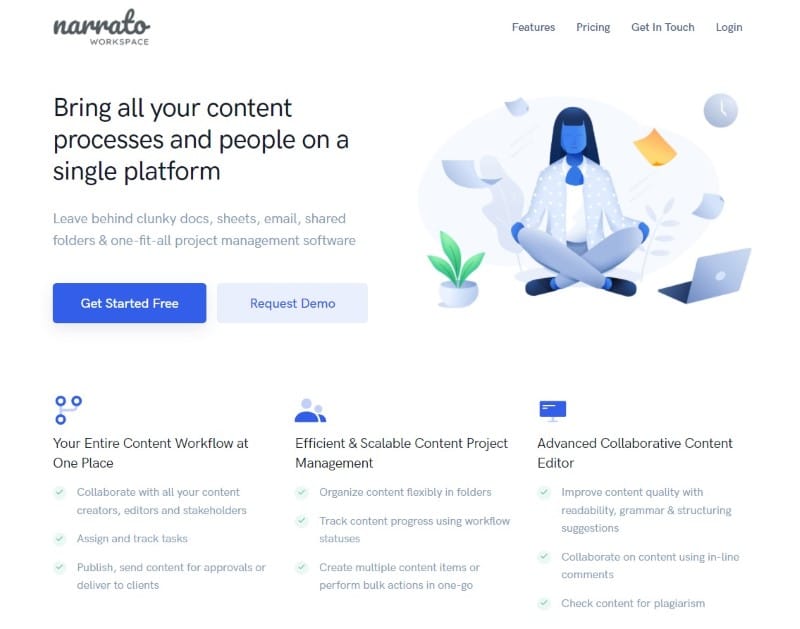 Narrato is a content planning tool and workflow management platform that brings all the processes of content management to one place. It essentially replaces the need of using multiple tools for content operations, which can be especially useful for in-house SEO teams. Narrato's powerful content editor comes with some excellent collaboration features which make it easier for your SEO team to create quality content and share feedback.
The Narrato content editor comes with great content planning tools like the AI Writing Assistant, which can help in generating new topics for your blog posts and articles. It can also be used to generate an SEO content brief, with suggestions on topics, keywords, references, and other important SEO parameters. To help you organize and plan your content efforts better, there is a content calendar and kanban boards as well.
Another great service offered by this platform is the content marketplace. If you want to hire expert freelance writers who can help create SEO-friendly content, this is the place for you. Narrato will match you with the best-suited writer for your needs, and your content order will be delivered within 24 to 48 hours.
Pricing: Narrato is free to use for teams just getting started. The paid plans, which come with additional features, start at $8 per user per month. Narrato also offers customized plans to meet the specific needs of the clients.
2. Ranktracker – All-In-One Platform for Effective SEO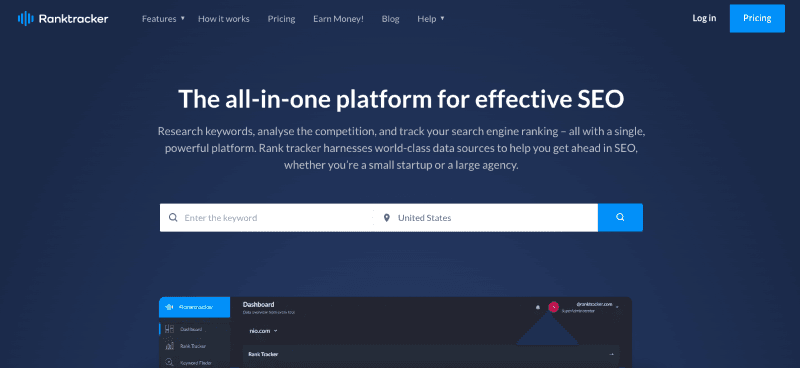 The All-in-One Platform for Effective SEO
Behind every successful business is a strong SEO campaign. But with countless optimization tools and techniques out there to choose from, it can be hard to know where to start. Well, fear no more, cause I've got just the thing to help. Presenting the Ranktracker all-in-one platform for effective SEO
Ranktracker is an SEO management platform that provides a range of tools for gaining valuable insights into every stage of the optimization process. It essentially harnesses world-class data sources to help businesses and start-ups in getting ahead in their SEO efforts. Here is a list of tools provided by Ranktracker –
Pricing: The paid plans for using Rank Tracker start from $9 per user per month.
3. TinyImage - Image Compression Tool By Attrock
Images are an integral part of any content. But if the images you add to your blog or website are not optimized, they could affect the loading speed and your site's search rankings too. Slow loading images and websites are also one of the major reasons behind poor user engagement and website traffic. But then again, image optimization cannot take up a lot of valuable time in your content process. You need to have the right tools in place to ensure that your content team can quickly and easily compress images before adding them to the content.
A powerful image compressor like TinyImage could be useful to boost loading speed by optimizing your Joomla, WordPress, or other website images.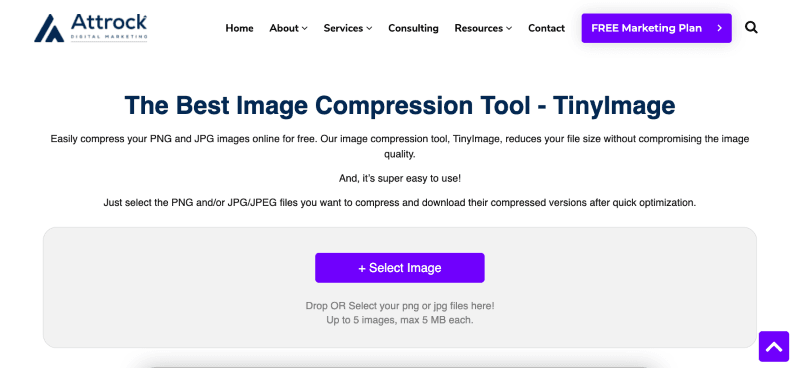 TinyImage lets you shrink your JPG and PNG images without sacrificing quality. It's easy to use and you can compress images with just a click - no expertise required. Once you drag and drop the images to be optimized into TinyImage, the tool automatically compresses them.
It also displays key information about the images including their original size, compression level, the new size, and the space saved.
Pricing: The tool is free for 5 files of 5 KB each, in popular formats like JPG, PNG, and JPEG. Currently, there are no paid plans on the platform but you can contact the team with an unlimited, bulk image compression request if you need to.
4. Exploding Topics

The All-in-One Platform for Effective SEO
Behind every successful business is a strong SEO campaign. But with countless optimization tools and techniques out there to choose from, it can be hard to know where to start. Well, fear no more, cause I've got just the thing to help. Presenting the Ranktracker all-in-one platform for effective SEO
Exploding topics is a trend discovery tool that helps you discover rapidly growing trends and topics before your competitors get to them. The tool analyzes millions of online searches and conversations to identify what people are talking about. The algorithm narrows down trends or topics in different industries at least 6 months before they take off to help you build your SEO strategy around these upcoming trends.
Because these topics are not yet popular but have a promising future, your chances of ranking for these search terms increase, giving you a competitive advantage in terms of SEO.
Pricing: The Pro plan on Exploding Topics starts at $47 per month, billed annually.
5. Google Mobile-Friendly Test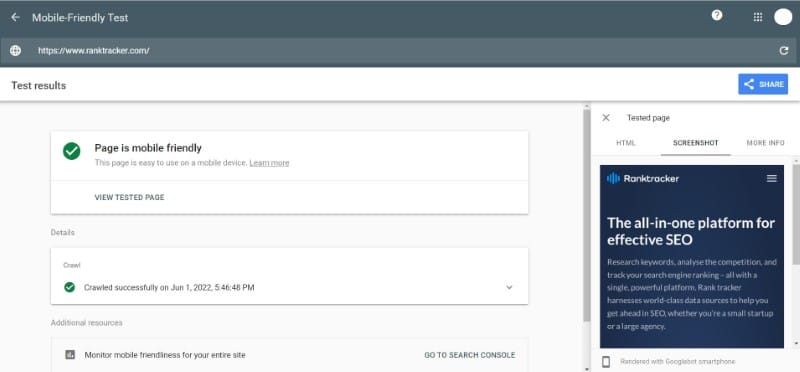 The All-in-One Platform for Effective SEO
Behind every successful business is a strong SEO campaign. But with countless optimization tools and techniques out there to choose from, it can be hard to know where to start. Well, fear no more, cause I've got just the thing to help. Presenting the Ranktracker all-in-one platform for effective SEO
A key aspect of ranking in search is a website's adaptability to different devices. With Google shifting to a mobile-first indexing policy, it has become all the more important to ensure that your site is mobile-friendly in every way. Google offers a Mobile-Friendly Test tool that gives you a comprehensive report on how your website appears on a mobile device.
You just have to enter the URL and run the test. The tool takes a minute or two to generate the report. It also tells you what issues exist in the site and how to improve it, if the site is not found to be mobile-friendly.
Pricing: The Google Mobile-Friendly Test is free to use.
6. Screaming Frog – Web Scraping and Custom Extraction Tools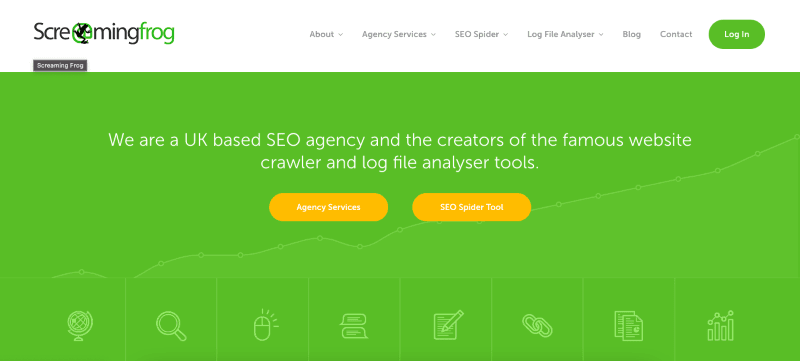 This is a popular freemium SEO tool that can be used for identifying technical SEO issues with your website. With the comprehensive website crawling and site auditing solutions, you can use Screaming Frog to manage your –
Crawl depth
Redirects
Broken links
Inefficient meta titles and descriptions
Image issues (missing alt text, incorrect resolution, etc.)
Pricing: Teams that are just starting out can use Screaming Frog tools for free. The paid plans start with $149 per license per year, which removes the URL crawl limit and also comes with additional features.
Conclusion
With this, we have covered some of the best tools and tips for managing your in-house SEO team like a pro. The tools listed in this article can provide you with valuable insights into your SEO process that would have otherwise taken ages to generate. However, it is important to remember that you need to put in consistent effort if you want to achieve the desired results with your SEO efforts. This means writing SEO-friendly content and incorporating everything you have learned from these SEO tools to make adjustments to your strategy.