Intro
The holiday season is a major milestone in the calendar year. Yet, somehow it always sneaks up faster than expected.
And with holiday spending expected to reach the $1 trillion mark for the first time in 2022, you don't want to miss out on capturing a piece of the pie.
Content planning can take months to brainstorm topics, perform keyword research, and write engaging, high-quality content. Oh, and don't forget the time it takes for search engines to index it and then (hopefully) bump it to the top of the results.
If you didn't start this process back in July, you might think you're already too late to enter the game.
But don't worry. You might not have the time to create brand-new content from scratch, but what's to say you can't leverage what you already have?
By repurposing past holiday content, you can save time and money and turn this holiday season into a fruitful one for your business.
The All-in-One Platform for Effective SEO
Behind every successful business is a strong SEO campaign. But with countless optimization tools and techniques out there to choose from, it can be hard to know where to start. Well, fear no more, cause I've got just the thing to help. Presenting the Ranktracker all-in-one platform for effective SEO
While many think that holiday marketing is exclusively a retailer's game, any business can benefit during the holiday-buying frenzy.
So if you're looking to take advantage of this opportunity, it's time to repurpose your existing holiday content for maximum impact.
Here are some ideas on how to do just that.
Why is a holiday content strategy important?
The holidays are a busy time for everyone. There's a lot of pressure to find the best deals while also securing the perfect gifts for family and friends.
Most holiday shoppers find it difficult to know what to buy for others. Consumers are now turning to discover gift ideas by checking social media on their smartphones or searching for information on search engines.
Preparing the appropriate holiday content helps your business capture the changes in consumer behaviors.
People are also searching for holiday-related terms more often during this time, so it's essential to have optimized holiday-themed content on your website and social media channels to capture this higher than average search volume.
The All-in-One Platform for Effective SEO
Behind every successful business is a strong SEO campaign. But with countless optimization tools and techniques out there to choose from, it can be hard to know where to start. Well, fear no more, cause I've got just the thing to help. Presenting the Ranktracker all-in-one platform for effective SEO
Creating relevant and festive content also shows your customers that you embrace the holiday spirit and care about their shopping experience. You'll be surprised at how many people love holiday content, and it can be a great way to connect with customers and build brand loyalty.
Finally, boost your sales during the busiest shopping season of the year by promoting special deals and promotions. If you have a product or service that'd make a great holiday gift, make sure your customers know about it by creating dedicated holiday content.
Benefits of repurposing content
Content is essential for SEO success. And with more than 90% of online sessions beginning with a search, this is one area where you don't want to skimp on resources.
Not only does quality content help to attract organic traffic, but it also signals to search engines that your site is relevant and trustworthy. However, creating quality content can be time-consuming and expensive.
Repurposing content is a great way to get the most bang for your buck.
Why? Because it means that you can create one piece of content and then use it in numerous ways.
You can repurpose it as an infographic, create social media updates, turn it into a podcast, use parts in videos, or even create an email newsletter. It's like having multiple versions of the same thing — but with different packaging.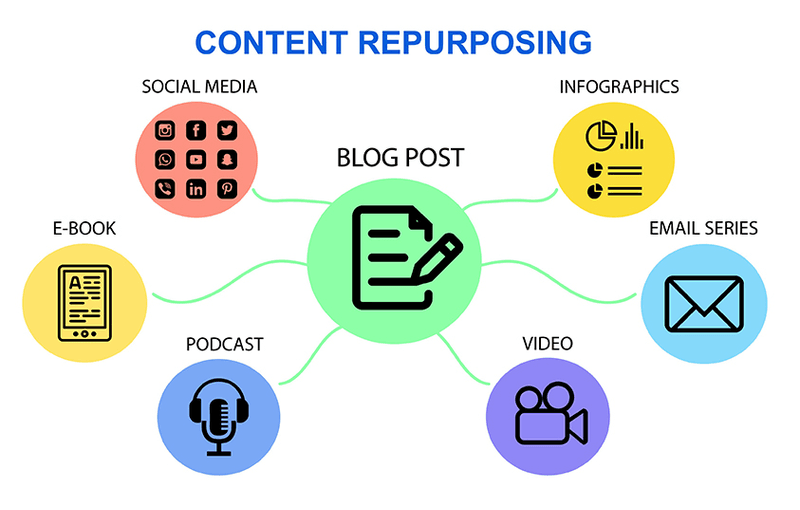 (Image source)
Taking existing content and repurposing it for a new audience (or format) is a quick and easy way to create fresh content that'll help boost your SEO and reach a wider audience.
It's also a great way to breathe new life into older pieces of content, making sure that your site remains relevant and up-to-date. So if you're looking to improve your SEO, content repurposing is a strategy you shouldn't ignore.
Plus, it's cost-effective. If you've already invested time and money into creating content for the holiday season, why not get as much out of it as possible?
3 ways to repurpose holiday content
The holidays only come around once per year. So don't let your past content go to waste.
Here are three simple ways to repurpose your content to capitalize on holiday cheer.
1. Update your evergreen content
Let's start with the basics.
The odds are that you already have a landing page for last year's gift guide or Black Friday sale. Instead of creating a whole new landing page for the 2022 season, repurpose your existing one by adding new images and some fresh copy.
This practice saves you time and money and helps your SEO.
Creating evergreen landing pages with the same URL each year for your holiday gift guides and sale events can gain authority over time and rank higher in Google search results.
Take Nordstrom's "Gifts For Her" landing page as a prime example. As of October 21, the landing page features images with bright festive holiday colors and a little polka dot garland.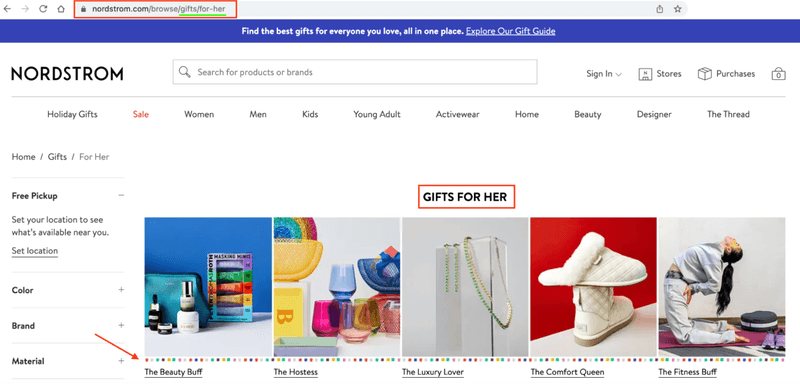 (Image source)
If you run the same URL through the Wayback Machine, you can see that on October 3, the same landing page featured completely different images with neutral colors that gave off an autumn vibe.
But notice that the URL remains consistent across both dates.
The takeaway? You don't have to recreate everything from scratch. Make a few minor tweaks, and you're good to go.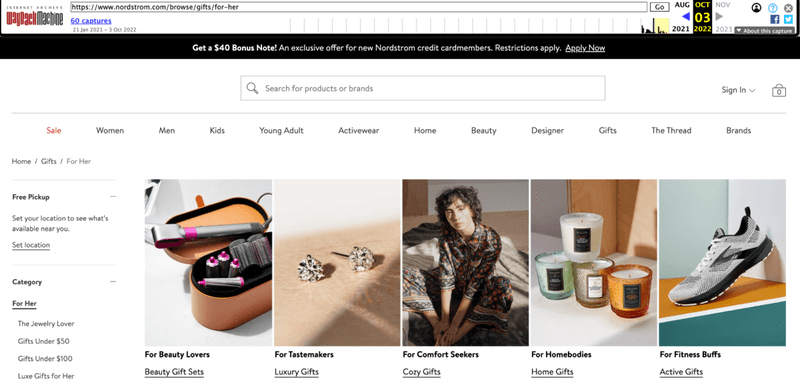 (Image source)
Google also shares some excellent recommendations for optimizing your website landing pages for the holiday season.
Here are some of the highlights:
Add internal links - Adding links from your home page to the landing page will help users (and Google) find the landing page faster.
Use a recurring URL - Leverage a short, meaningful URL that reflects your page and can be reused annually — for instance, www.example.com/gifts/for-her instead of www.example.com/gifts/2022/for-her.
Add images - Use a high-quality image that represents the season and has the appropriate alt text.
Apply for a recrawl - Use the Google Search Console to recrawl the landing page to ensure the updated content reflects correctly (given the URL is repurposed).
Once you update your landing pages, switch gears to your evergreen blog posts.
Evergreen content is the kind of timeless content that remains relevant no matter what. It could be a guide to your product or service or a helpful blog post about a relevant industry topic.
If you have any evergreen content on your site, it's the perfect place to focus your energy on content repurposing.
2. Turn listicle blog posts into TikToks
TikTok is changing the way consumers discover, consider, and make purchases.
According to TikTok's 2022 Holiday Guide, 50% of users discover a new brand or product while using TikTok and are 1.2 times more likely to make impulse purchases.
With a personalized feed that runs on hyper-relevant content — all based on users' preferences and interests — TikTok is an exciting way for brands to build engaging shopping experiences that make commerce fun.
So if you haven't added TikTok to your content strategy, it's time to give it a whirl this holiday season.
To capitalize on brand discovery and impulse buys, turn your listicle blogs into TikTok videos.
Let's take a look at a blog post from InfinityDish, for example.
As a provider of TV packages, they published a blog post titled "The 7 Best TVs For 2022" to share their expert opinion about the best TVs on the market.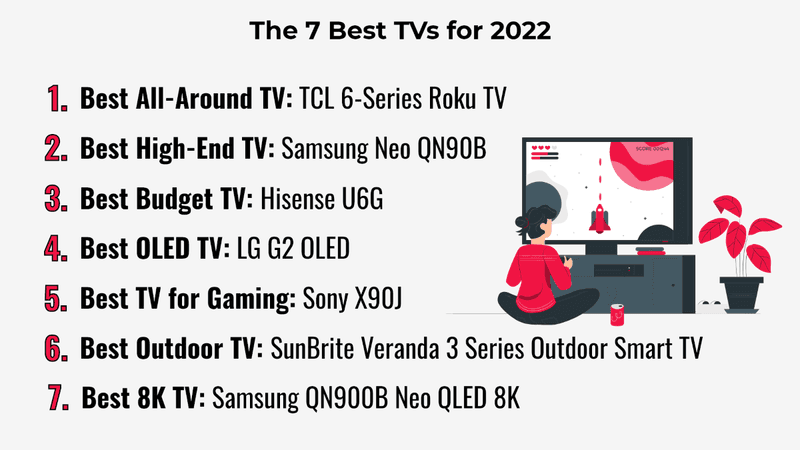 (Image source)
To increase the reach of their carefully curated TV list, they can turn a one-dimensional blog post into a powerful short-form TikTok video to reach an entirely new audience, build brand awareness, create word of mouth referrals, and drive sales.
And the best part of all, it doesn't matter how many followers they have. TikTok will place the video in front of consumers that are likely to engage with it and convert. Doesn't that sound idyllic?
TikTok also offers easy-to-use holiday templates to keep the holiday spirit high.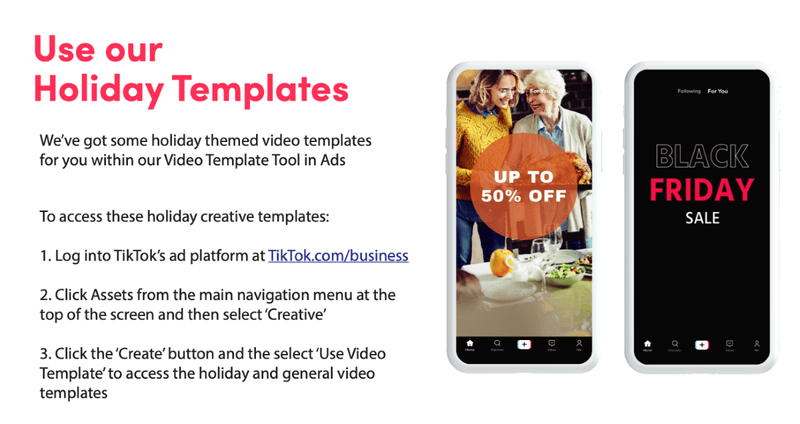 (Image source)
3. Spruce up non-holiday photos
To create holiday content for the hectic season, spruce up some of your older content with festive graphics, borders, backgrounds, and other playful photo edits.
You don't have to be a graphic designer to add some pizzazz to your visual content.
It can be as simple as using a background remover to swap your product photos from a white to a red background, as Olipop does.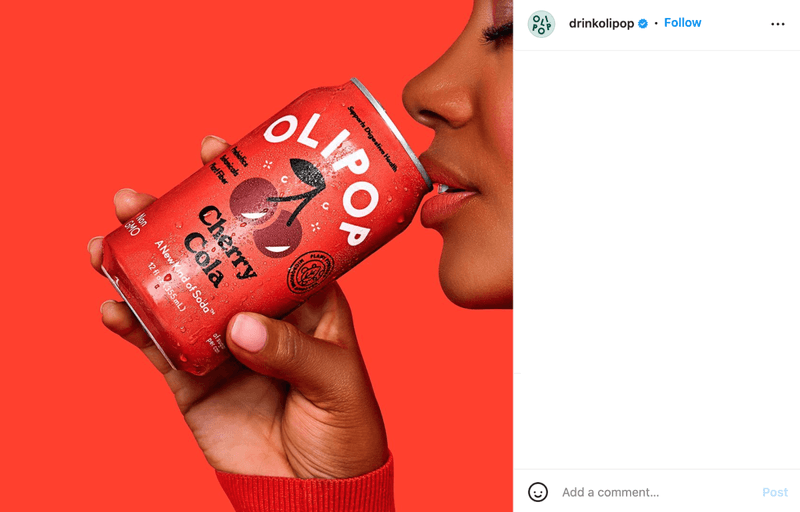 (Image source)
Or you can take it one step further by adding in a garland border, and some present graphics like Starbucks does to emphasize their holiday drinks.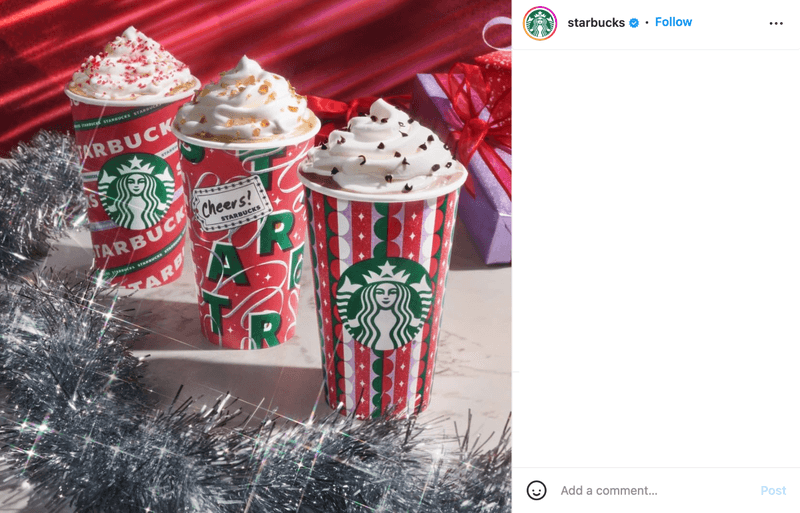 (Image source)
Creating a seasonal logo is another fantastic way to add holiday flair to your website or social media profile. You could use a free logo maker to do this. You can slightly modify your existing logo to make it festive. Some of the biggest bands have followed this trend for years.
For example, Target turns its signature bullseye logo into an ornament around the holidays, and Lowe's adds a Santa hat to theirs.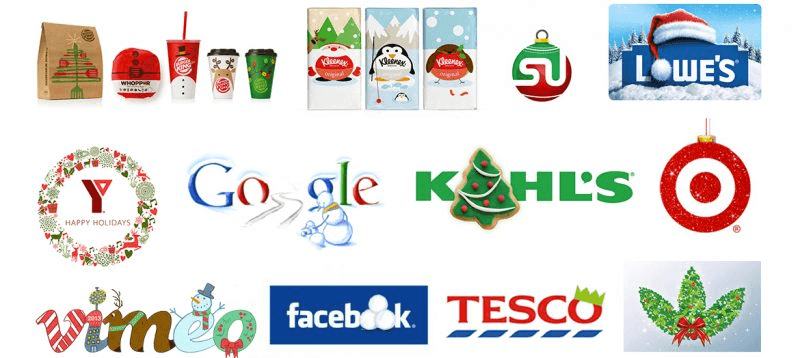 (Image source)
The All-in-One Platform for Effective SEO
Behind every successful business is a strong SEO campaign. But with countless optimization tools and techniques out there to choose from, it can be hard to know where to start. Well, fear no more, cause I've got just the thing to help. Presenting the Ranktracker all-in-one platform for effective SEO
Adding a few small touches to your images is a surefire way to match the holiday season vibe, excite your customers, and boost your engagement online.
Voila. Now your brand is ready for the holidays (and you don't have to break the bank to do so).
Wrapping up
The holidays are a busy time for businesses, but that doesn't mean you have to start from scratch with your holiday content creation every year.
By repurposing existing evergreen content, posting on new social media platforms, and sprucing up old content, you can save time and money while still delivering fresh, festive content that resonates with customers and gets them in the spirit of the season.
Avoid the pressures of trying to create new, festive holiday content six months in advance. Instead, leverage your existing content, build on its authority, and sit back, relax and watch the sales roll in.