Intro
Do you ever wish you could gather large numbers of interested potential customers and just tell them about the service your business offers? Well, you can with webinars!
Webinars are quickly becoming an integral part of how businesses and brands communicate with their audience. More and more marketers are introducing them to their content strategy, and it's not hard to work out why. The global market for webinars is estimated to reach $4.44 billion in 2025—tripling in size from 2020.
Whether you're expanding to new audiences or engaging more with existing customers, webinars could be a powerful tool for achieving that goal. What's more, they're easy, affordable, and hugely adaptable.
So, if you want to learn how to make the most of the content-marketing wonder tool that is webinars, read on!
What are webinars?
Webinars are seminars that are hosted on the internet, usually via online video call.
Often expert-led webinars can take the form of presentations, training programs, panel discussions, and more. In short, they're a flexible, personal, interactive way for companies to engage with large numbers of participants in online discussions.
Why are webinars so popular as a content marketing strategy?
Put simply, they're a fantastic way for brands to reach out directly, engage with their audience, and share expertise.
For a long while, webinars have been underestimated. Data favored the efficacy of video content as a means of marketing. So, webinars were often overlooked. However, in recent years, webinars have been proven again and again to be a great way to generate leads, increase conversion rates, and establish brand expertise.
The All-in-One Platform for Effective SEO
Behind every successful business is a strong SEO campaign. But with countless optimization tools and techniques out there to choose from, it can be hard to know where to start. Well, fear no more, cause I've got just the thing to help. Presenting the Ranktracker all-in-one platform for effective SEO
So, before getting into how to implement webinars as part of a successful content marketing strategy, we'll outline the benefits. (For those who are just skimming, the answer to all the questions below is 'yes.')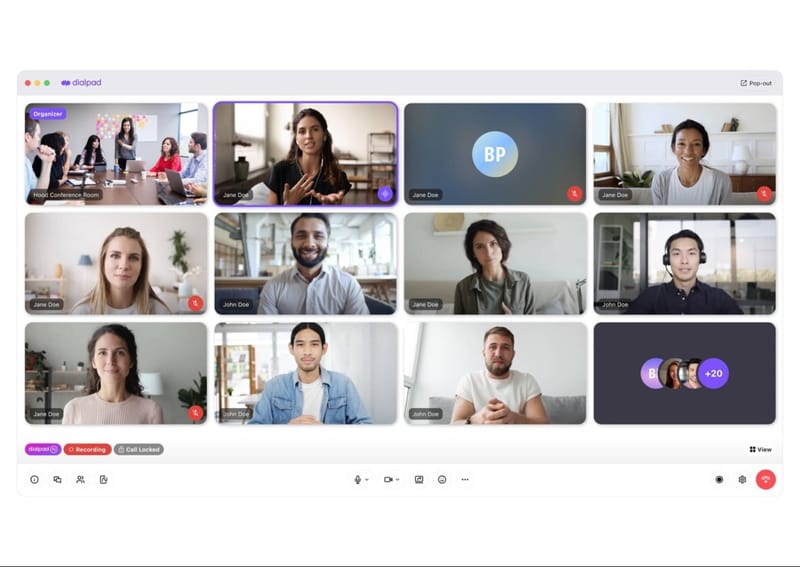 (Image sourced from dialpad.com)
Can webinars help with lead generation?
How do participants join a webinar? They add their email to a subscriber's list to receive a link for the call. In this way, before even starting, webinars generate leads.
Webinars are also more likely to attract high-quality leads. Someone who's taken the time to seek out, register, and attend your event is already interested in your business. It's for this reason that webinars are fast becoming known as the best kind of top-of-the-funnel marketing for generating high-quality leads.
What's more, a successful webinar event reaches audiences around the world. As opposed to the time-consuming, costly alternative of in-person events, webinars can achieve global engagement. As such, they're a great way of approaching international markets.
Webinars can also generate great info for content marketing strategies. Keep hold of CRM data for targeting audiences with personalised offers later on. And use a backlink monitor to see whose eye your webinar is catching.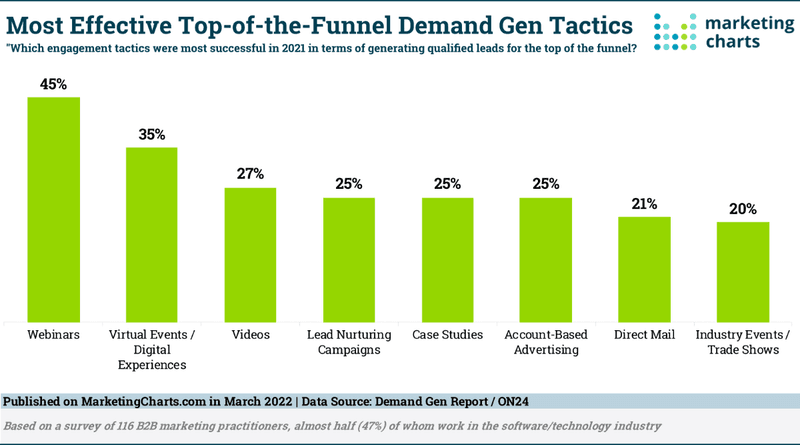 (Image sourced from marketingcharts.com)
Can webinars help with conversion rates?
Very much so. On average, 55% of webinar registrants convert to attendees, and, as mentioned, webinars attract many high-quality potential customers. Not only this, but they also facilitate meaningful conversation with them. It's an open goal!
The All-in-One Platform for Effective SEO
Behind every successful business is a strong SEO campaign. But with countless optimization tools and techniques out there to choose from, it can be hard to know where to start. Well, fear no more, cause I've got just the thing to help. Presenting the Ranktracker all-in-one platform for effective SEO
The interactivity and engagement that webinars offer really distinguish them from other forms of content. They're a chance to talk to customers directly, flaunt your expertise, and promote your product personally. So, make the most of it.
Moreover, unlike pretty much any other marketing strategy, webinars are both a means of promoting products and a product in itself. If your webinar provides expert advice, then you can charge for it. And let's not forget that webinars are cheap to run. So, you could be getting a huge return for little more than the cost of a video call service and some presentation tools.
Can webinars help with brand-building?
Sharing your expertise helps build your brand's reputation, and webinars are a great way to do just that.
When you host an informative, professionally run webinar, you showcase your industry knowledge. You also offer a personal touch by conversing with your customers directly. Additionally, webinars are great for mining testimonials and social proofs for your business.
On top of all of this, webinars can help build industry relationships. By teaming up with other experts in your niche, you're tapping into their audience, making money from the event, and further building your brand's credibility and authority. A backlink checker can be a great way of finding experts in similar niches to approach for joint ventures.
Are webinars cost-efficient?
Webinars are the definition of cost-efficient! Compared to in-person events, webinars are incredibly cheap. And, with the business they generate, they're definitely a worthwhile investment.
What's more, content produced for webinars is reusable. Simply record the webinar, then sell it. Or repackage the content for an ebook, blog post, or social media campaign. If you're able to invest in online course platforms, a webinar could provide the building blocks for a serialized training program. These are all great forms of passive income.
How to integrate webinars into your content marketing strategy
By this point, you're surely convinced of the efficacy of webinars. Now, you'll want to know how to implement them in your own content marketing strategy.
One thing about webinars is that they work best as the focal point of a marketing campaign. You should see other kinds of content marketing (emails, blogs, and social media) as supporting your webinar as opposed to vice versa.
Another key tip is to choose your platform wisely and check the specs! You wouldn't choose a business call system without checking whether it could transfer calls, so don't make the same mistake here. If your webinar requires certain presentation tools, interactive features, or funnel analytics, find software that facilitates that.
Other than this, webinars are hugely adaptable. There's no one way to do them. However, here are some of our best practice tips for each stage of the process.
Designing a webinar
If you've ever designed the content for an in-person seminar, it's much the same. The great thing about webinars is their flexibility. A webinar can take whatever form suits your brand.
To give you an idea, a presentation-based webinar should last around 60-90 minutes. A basic outline could look like this:
Introduction and history of a topic
A personal story relating to the topic to offer context and establish authority
A list of problems and solutions relating to your topic
Present any offers or sales attached to your webinar
Questions and answers
Something worth remembering is that a webinar's greatest boon is its interactivity and engagement. So get your audience involved and encourage plenty of questions.
Also, make sure that the content aligns with your audience's needs. This might be teaching grandmas to suck eggs for many marketers, but a webinar's success depends on the demand for the content it provides. So, use a SERP checker, see what questions are being asked, and answer them.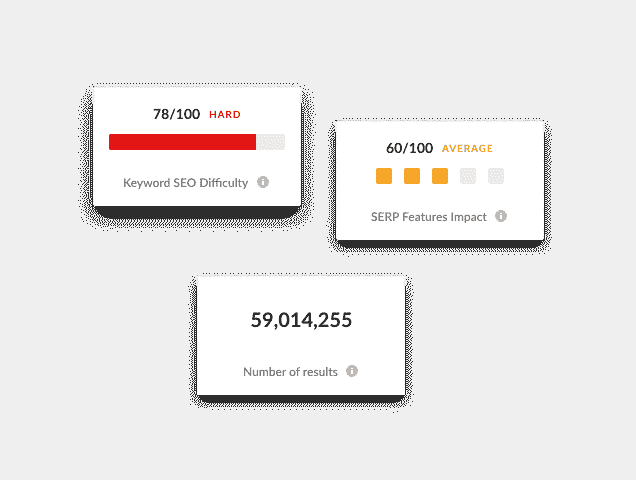 (Image sourced from ranktracker.com)
Marketing a webinar
Yes, you must market your marketing. Even the best webinar won't do much if no one turns up, and you don't want all the hard work you've put into creating the webinar to be a waste of time.
Unpaid promotional tactics are the wisest strategy. Emails, specifically, are the go-to for webinar promotion. We recommend setting up an email chain with introductions, reminders, and follow-ups.
It's recommended that you start promotion for your webinar around four weeks prior to the event. You should promote early and often, but be sure to put some extra effort in over the week leading up to the webinar.
Running a webinar
Talk slow, smile, and imagine your audience in their underwear. We all have our tricks for public speaking, but here's some specific advice on how to run a webinar smoothly:
Invest in your equipment; a decent microphone can make the world of difference.
Know your equipment! You should be prepared for every possibility.
Rehearse before going live.
Stand for your presentation, if possible, with your desk set up.
Cater your content to both live and pre-recorded consumption.
Have someone manage the chat for you while you give the presentation.
Include plenty of exercises and questions to boost engagement.
If you're integrating sales into your webinar, it's best to offer time-specific deals to encourage fast decisions while you have the audience's attention.
Provide resources for download.
Try interactive tools like a virtual photo booth to engage your audience while producing user-generated content.
Obviously, how you conduct a webinar will vary hugely on its contents and design, but remember, a webinar should be informative and useful. As long as you provide this value, you won't go far wrong.
Following up a webinar
Perhaps the most important part of any webinar is what happens after. A webinar is a chance to gather interested potential customers and turn them into loyal followers. A crucial part of this is keeping in touch.
The All-in-One Platform for Effective SEO
Behind every successful business is a strong SEO campaign. But with countless optimization tools and techniques out there to choose from, it can be hard to know where to start. Well, fear no more, cause I've got just the thing to help. Presenting the Ranktracker all-in-one platform for effective SEO
The obvious way to do this would be to continue to contact attendees via email (which they'll have provided when registering). Follow-up emails pushing people to rewatch the recording, buy your product, or attend your next event can be a great way to keep customers engaged.
However, another effective method could be creating a social media group. This allows attendees to form a community, therefore adding more value to your webinar and building a loyal and dedicated customer base.
Reviewing a webinar
Another important part of the follow-up is data analytics. As already mentioned, webinars are an excellent opportunity to gather information on customers' likes and dislikes. This means you have a wealth of data to help provide customers with better, more personalised content in the future.
Also, track the ranking of pages that attendees were directed to. This helps to see how much traffic your webinar generated.
It's also worth reviewing the analytics for the webinar itself; how many registered and didn't attend? Which customers were most engaged? Were any questions raised you couldn't answer? etc. This could help you improve for your next webinar or even find potential affiliates to enter a joint-venture webinar with.
Introduce webinars to your content marketing strategy
The audience for webinars continues to rise, and more and more marketers are catching on. There are potential customers eager for you to reach out and share your expertise—and if you don't, someone else will. So, don't miss the wave and add webinars to your content marketing arsenal.