Intro
Voice search removes a layer of effort when looking up things online. This new technology enables consumers to ask questions on devices to find out more information about a certain topic.
Voice search translates spoken words into text and uses search engines like Google to get relevant search results.
As more and more people use voice search, the technology's machine learning capabilities work to better understand natural human language. It also compiles data to understand consumer intent. These capabilities help voice search users get the best results possible.
If your marketing team isn't focusing on voice search optimization, you might miss out on sales. Today, marketers cannot ignore voice search's dominance in the search engine landscape.
The technology provides a level of convenience the consumers crave. It is changing the search marketing landscape, and entrepreneurs need to know how to take full advantage.
How voice search is changing online search
It is obvious how voice technology is changing our interactions with artificial intelligence (AI) and the internet. However, what impact does it have on digital marketers and search engine optimization (SEO)?
The increased popularity of voice assistants
Voice search increased the use of voice assistants, which are special programs that use speech recognition and natural language processing technologies. These capabilities enable the programs to translate words into digital commands, then perform the corresponding tasks.
Its machine-learning capabilities also mean it gets smarter with time. The more people interact and use a voice assistant, the better the technology can understand user preferences. This advantage allows the program to match its actions to user expectations.
The All-in-One Platform for Effective SEO
Behind every successful business is a strong SEO campaign. But with countless optimization tools and techniques out there to choose from, it can be hard to know where to start. Well, fear no more, cause I've got just the thing to help. Presenting the Ranktracker all-in-one platform for effective SEO
Forecasters expect more people to use voice assistants in the future. By 2024, they expect the number of voice assistants to grow to 8.4 billion units.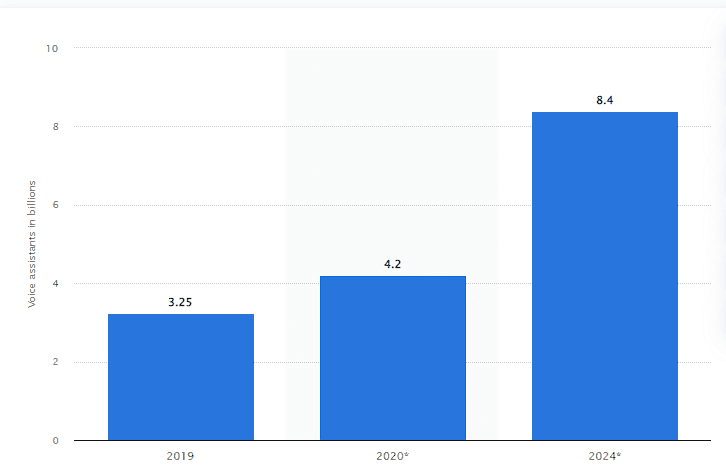 (Screenshot from Statista)
Marketers should take advantage of this growth and optimize their voice search content. Otherwise, they could miss out on a crucial source of leads.
Differences in keywords and search queries
When people use voice search, they do not always use the same keywords digital marketers are used to seeing. The introduction of voice search changed the way people seek answers online. People talk more casually and ask straightforward questions.
People using voice assistants rely on a lot of questions. Advertisers who want to optimize their content for voice search use more interrogatory statements.
Moreover, remember that when voice search answers a question, it provides users with a single answer instead of giving a page full of search results. Content marketers need more thorough research into their target audience and the questions they usually ask. This way, when the voice assistant offers an answer, their content will be a valuable source.
Additionally, when people use voice search, they talk to their virtual assistant as if they are another person. People use more than two to three words for their queries. They use longer sentences in a conversational, casual tone.
The All-in-One Platform for Effective SEO
Behind every successful business is a strong SEO campaign. But with countless optimization tools and techniques out there to choose from, it can be hard to know where to start. Well, fear no more, cause I've got just the thing to help. Presenting the Ranktracker all-in-one platform for effective SEO
Roughly 70 percent of requests to Google Assistant are expressed in natural language, not the usual keywords people type in a search bar. This means marketers avoid overcomplicated words that people will never use in conversations.
Improved accessibility through local search
The effect of voice-enabled technologies on local search is undeniable. Often, voice search users look online for something close to their location.
For example, a voice search user might ask for the best Italian restaurant near them. Google will suggest local businesses with websites optimized for voice search.
How to optimize content for voice search
Voice search is becoming a crucial element of web search. In 2021, over 20 percent of people from western countries said they use voice technology several times a day.
Marketers should be taking advantage of this technology to boost their sales. In this section, you will discover simple ways to optimize your content for voice search.
Produce voice search-friendly content
When optimizing for voice search, there are three points to remember: brevity, relevance, and context. Change your SEO strategy and pay special attention to the following factors, too:
Answering simple queries concisely
Creating detailed answers to questions
Write rich and relevant content that addresses your users' most common concerns
Have content that solves the pain points of your users
You should also try the following examples of SEO strategies:
Use a headline that asks a common question for content or a webpage
Answer the question immediately below the headline
Use the rest of the webpage or content to elaborate on the topic
Marketers use this strategy to appeal to the ranking algorithm of search engines. Additionally, the short but relevant data at the top of the web page is optimized for voice SEO.
You should also ensure that your website is voice search-friendly. Today, our phones are our first source of crucial information.
Businesses and entrepreneurs need to be aware of the increasing use of mobile internet searches. They have to optimize their sites for mobile use and pay attention to voice search. The following steps can help in this effort:
Anticipate at which stage a user is most likely to need their services
Predict the nature of information consumers need to make a decision
Provide relevant information to help consumers make a decision
Leave users with clear further guidance
Your website must be mobile-friendly and optimized for voice search. Make sure it is user-friendly and has high-quality content relevant to your customers. It should also have a fast loading speed for a better user experience.
These suggestions maximize the chances of a site visitor paying for your product or service.
Optimize content for long-tail keywords and natural language
Keywords relevant to voice search are longer than the usual two to four words that digital markets use for content optimization. The search focus has changed from awkward keywords to long-tail phrases, sometimes even sentences.
Voice searches make use of natural and conversational language. It is evident that the way we talk is different from how we type.
For example, if you want to know the weather in Los Angeles, you will type "weather LA." However, if you are using voice search, you will say, "What is the weather like in Los Angeles today?"
This means optimizing your content for voice SEO would need to focus on this crucial aspect. Keep in mind that voice search might use entire sentences, but the sentences are specific. People do not ask vague questions when talking to a digital assistant. They ask specific questions because they want accurate answers.
Set a space for FAQs
Having an FAQ section on your site can be great for your SEO. Site visitors come with questions, and an FAQ section allows you to answer their queries.
Answering common questions plays a crucial role in your website: it addresses the users' needs. Make a list of questions that you think your customers will ask. Then, answer them using short, concise sentences.
Remember to give detailed answers, but do not ramble for too long. People prefer quick answers that are to the point. Keep in mind that answers to voice search queries tend to be on the shorter side, too.
Make a Google Business Profile
(Screenshot from Google)
Most users of voice search look for information on local businesses every day. To take advantage of this trend, you will need to claim a Google Business Profile.
A Google Business Profile is a must if you have a brick-and-mortar store for your business. Setting up your profile is also easy and free, which should encourage you to build your profile as soon as possible.
Whether you want web traffic or foot traffic, Google is the ultimate product or business referrer. With a Google Business Profile, people can find your brand when looking for services or products like yours in their area.
Your profile improves local SEO and shows people how to get to your business. Additionally, your profile allows you to control and change your information whenever you want. You can update information about your business hours and other essential company data.
Your Google Business Profile allows you to post important updates that your customers need to know. If your business expanded services or was temporarily closed, you can let people know through your profile.
The All-in-One Platform for Effective SEO
Behind every successful business is a strong SEO campaign. But with countless optimization tools and techniques out there to choose from, it can be hard to know where to start. Well, fear no more, cause I've got just the thing to help. Presenting the Ranktracker all-in-one platform for effective SEO
Another advantage of having a Google Business Profile is that your customers can write public feedback. Today, online reviews are a crucial element of social proof and a meaningful way to establish trust and credibility.
Google has space for detailed reviews, which lets customers share as much or as little information about their experience with your company as they like. This feature helps potential customers decide which brands to try and which businesses to visit.
Hire SEO experts
If you do not have time to optimize your website and content for voice search, you can get experts to do it for you.
Today, several SEO agencies can do the following tasks for their clients:
For example, SamBlogs is a digital marketing company in India that offers link-building, content marketing, and keyword analysis. The SEO company also has expert marketing consultants who provide online reputation management services.
Conclusion
The way customers search for and get information will continue to evolve over the years. However, it is clear that voice search will continue to have a crucial and significant impact on how people access information in the digital landscape.
While digital marketers must change to take advantage of these technologies, their goal should be to find ways to connect with searchers. They need to provide them with the answers to queries to fully meet their needs.