Intro
Link building refers to a range of methods used to acquire backlinks from other pages to your website. The point of doing this is to associate your website with as many other high-authority sites as possible. This builds your authority while also improving SEO and SERP rankings.
However, when it comes to backlinks from other websites, there are some considerations that impact how effective they are. Backlinks only help your rankings when trusted, high-quality websites link back to your site. Having links from dodgy or unrelated sites doesn't help your rankings and can negatively impact them.
In this article we'll explore how search engines rank your content and what role link building plays in the process. We'll also look at the importance of link building strategies for non-English websites and how they can benefit your SEO and rankings.
Search Engine Optimization
When we say 'search engine optimization,' we might as well say 'Google optimization,' and have done with it. Google has way more influence than any of the other search engines. Over the years, Google has slowly but surely been improving the way it ranks pages in searches. Now the algorithm is advanced and no one really knows everything that impacts how Google ranks web pages. However, there are some things we know make a difference to your SEO.
Google Penguin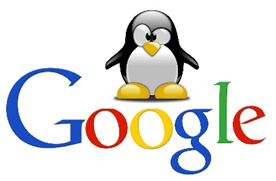 In 2012, Google Penguin appeared on the scene. This algorithm functions by decreasing the rankings of pages using keyword stuffing and manipulative link-building practices.
As far as domain authority, it's not just the DA (by Moz) value that counts. Google takes a holistic overview of factors like backlinks and traffic patterns to determine the authority of a site.
But relevance and search intent was still a difficult one for Google's algorithms to understand. Despite many improvements, unrelated web pages were still a common occurrence when making a search.
RankBrain
Around 2016, Google made great strides towards distinguishing relevant from irrelevant content when it introduced RankBrain. This component of Google's algorithm takes into account users' locations, search language and the context of their search query.
The All-in-One Platform for Effective SEO
Behind every successful business is a strong SEO campaign. But with countless optimization tools and techniques out there to choose from, it can be hard to know where to start. Well, fear no more, cause I've got just the thing to help. Presenting the Ranktracker all-in-one platform for effective SEO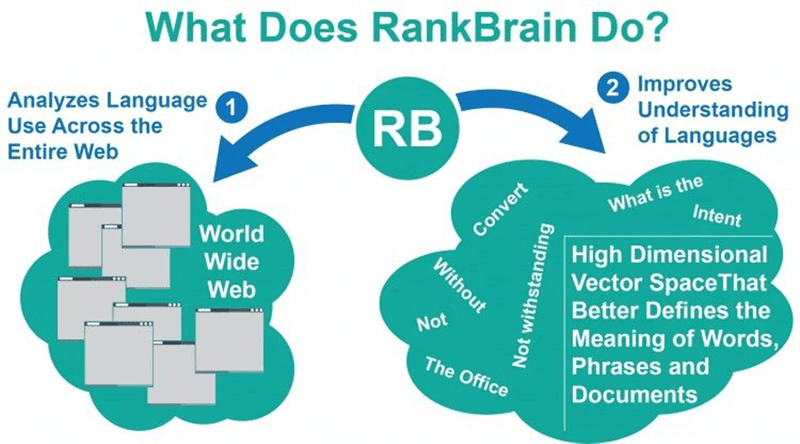 (Source: https://445.media/guide-to-optimize-your-site-for-googles-rankbrain/)
BERT
RankBrain allowed Google to become even better at evaluating backlinks than it already was. Five years later, the introduction of BERT (Bidirectional Encoder Representations from Transformers) gave Google some new tools to help it understand natural language even better.
BERT helps Google understand the context of queries by analyzing the language used and determining the likely intent of the query. It's just another way to enable Google to better identify which websites will provide the most value to the user.
Expertise, Authoritativeness, and Trustworthiness
In academic books and journals, one of the main criteria people use to evaluate the impact of a piece of work is the number and quality of other pieces of work that refer to it. Google co-founder, Larry Page, was responsible for borrowing this idea from academia and putting it to work in SEO.
In academia, being cited by reputable researchers increases the credibility of academic books and papers. Likewise, websites must reflect a similar EAT: Expertise, Authoritativeness, and Trustworthiness.
When you publish links to high EAT sites on your page, that is like a stamp of approval from those sites to your site. Since EAT is now one of the most important marks of quality for websites, placing authoritative links on your site is one of the most powerful methods of reaching a higher position in the SERPs. Even better is getting other high authority sites to link back to your content. A successful linking strategy relies on internal, external and backlinks for the best results.
But that's not to say you can just forget about keywords. In fact, it's so important to include the appropriate density of the main keywords on your site that you'll find that almost all the top providers of SEO management solutions have developed their own keyword finder tools to help you with your SEO strategy. It's just that keyword density on its own is no longer enough to put you at the top of the SERPs without EAT.
The Hegemony of English
A lingua franca is a language which is widely used by almost everyone across a large geographical area. Some of the speakers of a lingua franca may be _native _speakers – but the great thing about it is that, because it is so widely recognized, it allows both native and non-native speakers to communicate easily. Today, English is the main lingua franca all over the world. Experts estimate that more than two billion people – as much as one-third of the world's population – know at least some English.
Non-English SERPs
What does the global hegemony of English mean for websites in other languages? That is a very important question. Nowadays, business success often boils down to coming out at the top of the SERPs. The trick is to be able to differentiate between a page that commits keyword stuffing, and a page with meaningful content related to the keyword, that will provide maximum value to visitors.
Since 2013, as outlined above, English web search technology has come a long way, largely thanks to Google. However, the algorithms haven't kept pace with non-English-speaking countries. Google is way ahead of other search engines in terms of relevance and personalization, but Google is largely available in English. Therefore, non-English search engines provide less relevant and lower-quality results.
The All-in-One Platform for Effective SEO
Behind every successful business is a strong SEO campaign. But with countless optimization tools and techniques out there to choose from, it can be hard to know where to start. Well, fear no more, cause I've got just the thing to help. Presenting the Ranktracker all-in-one platform for effective SEO
While this is frustrating for foreign internet users, it creates a unique opportunity for link builders. Whereas BERT is now able to analyze users' context (e.g., location, intent of query), with non-English SEO, the only relevant criterion is the quality and authority of the backlinking website.
There is no analysis of location or intent because foreign search engines are unable to 'understand' the language well enough to assess this.
Multilingual Link-Building
One of the most important factors that determine SERP rankings is the number of backlinks to a certain page. SERP rankings are negatively affected when the backlinks and the page being linked to are not in the same language – so it's essential that pages contain high-quality links in the same language as the content being linked to.
The All-in-One Platform for Effective SEO
Behind every successful business is a strong SEO campaign. But with countless optimization tools and techniques out there to choose from, it can be hard to know where to start. Well, fear no more, cause I've got just the thing to help. Presenting the Ranktracker all-in-one platform for effective SEO
If you don't feel confident about doing your own non-English link-building, don't stress! The Buzznberry experts are always ready and waiting to advise you on how to implement the right link building strategy for your needs. They can find you DR50+ links in any language you choose.
The Right Way to Leverage Non-English Link-Building
Google being Google, there's a good chance that, sometime in the future, it will build additional capacity for optimizing non-English searches. However, only time will tell. Non-English pages may be able to get away with some dodgy tactics for some time to come.
But whether or not you can get away with keyword stuffing or other questionable link-building tactics, using such tactics may harm you in the long term. Therefore, it's best to get a jump on good link building strategies to set your website up for success.
Tips for Successful International Link Building
Building links for foreign language pages may be a little trickier than for English ones – but it is totally doable if you keep a few core principles in mind.
1. Create Great Content
When the main aim of your page is to get people to click a certain link (often called link bait), make sure that the link takes people to something worthwhile. Virtually everybody ignores adverts as much as possible, but if you write something interesting and fun, and present it in an appealing way, you are much more likely to get clicks. Make sure it is also user-friendly on different devices such as PC, tablets and mobiles.
2. Concentrate on Quality
When writing for guest posts, target only the highest quality sites that are relevant to your niche. Offer them only the highest quality content in return. Top-quality sites won't accept content that's not up to their high standards. One or two well-chosen images can add a lot of value to your post, as can a few well-chosen links – but if you have too many images, the page will take longer to load. Less than half of all users are likely to wait for an image that takes more than three seconds to load.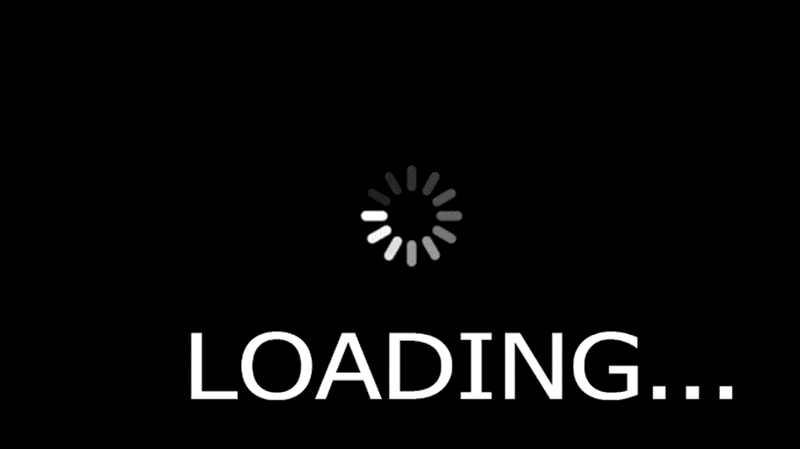 3. Build Guest Blogs in Your Target Languages
If you write good quality, engaging blog posts, other high-ranking blogs will usually be glad to publish your content. If you include your link in your article, both parties are winning: the blog acquires superior content, while you acquire a high-quality backlink. Depending on how well you write your article, you can even boost the rankings of your main keywords on Google.
Try this nifty backlink checker to show you what backlinks your competitors are using, and help you develop improved content strategies to get ahead. Just enter the URL, and you'll be able to see its URL rating, Domain rating, number of backlinks, and plenty of other useful stats.
4. Translate All Content into Target Language
If you want to put a link to your English page onto a page in a different language, you'll have to translate your content first. English may be more widely spoken in different countries than any other language, but that doesn't mean that overseas users want to read English if they don't have to. Localizing your content is a great way to improve SEO, and it provides you with opportunities for backlinks in different languages.
5. Use Google to Find Keyword Ranking Opportunities
A quick and easy way to boost your rankings is to find something like a directory of businesses in your target location. These sites typically rank quite high, and by submitting your details for inclusion in their database, you may be able to promote your site and boost your rankings at the same time.
Conclusion
If you need to reach an international audience or market, you can't avoid the necessity of building links for non-English websites. By having a good international link building strategy in place you can optimize your content for non-English websites and create more opportunities for international linking.