Intro
The recruitment landscape has changed significantly over the last couple of decades. As the online marketplace has risen to prominence, so too have the ways candidates find and apply for positions moved toward digital methods. Therefore, no matter what size your company is, you're likely to be focusing your hiring efforts on online job sites, your website's recruitment pages, and social media.
This digital approach to hiring certainly offers some benefits. You have the potential to reach a far greater number of candidates than ever before. This could result in a more diverse and dynamic workforce. Yet, there are also some clear challenges. The greater accessibility of online applications could mean that you attract a large number of unsuitable applicants. Not to mention that the vast online competition can mean you fail to draw the attention of the best quality candidates.
The good news is that there are some well-established ways to overcome these hurdles. We're going to explore how you can optimize your company's web presence to attract high-quality job candidates.
Perform Market Research
Any solid marketing process begins with excellent research. Make no mistake, optimizing your website to attract the best possible candidates is just as much a marketing activity as developing your brand to reach consumers. You can't just utilize generally good actions to reach your audience, you need to be specific. Your website has to be designed to meet the needs, preferences, and ambitions of your target candidates. These are certainly subjective elements.
Start by having clarity on what makes a good quality candidate for your business. Does it involve a specific set of skills or characteristics? Are your priorities around key qualifications or experience levels? Perhaps candidates must possess traits for innovation or creativity. Build personas for a range of candidate demographics. This allows you to perform more targeted market research to learn about what these candidates value about the roles they apply for and what elements of application websites they find off-putting.
In some instances, it can be wise to utilize experienced outside consultants on this task. Data or business analysts specializing in recruitment often have access to solid sources of research and software platforms that you can utilize. It may be wise to pair them with your website growth consultant to be certain that the outcomes are more relevant to your overall online presence goals.
Commit to a Full Audit
One of the most important things to understand about optimizing your website for great candidates is that success tends not to come from superficial additions. You'll usually find the greatest benefits come from a holistic approach. On the most basic level, this enables you to ensure you incorporate the most relevant features in every area of your website. But the consistency throughout your materials also suggests to candidates that you have an authentic commitment to finding and supporting the best employees. It is, therefore, vital to perform a full website audit.
An efficient way to approach this is through utilizing automated resources wherever possible. Ranktracker's Website Audit 2.0 tool scans the entire website to establish how effectively it is meeting search engine optimization (SEO) standards. You can review all your pages at once or the individual recruitment pages for how effectively they perform for relevant search terms and where the areas for urgent action are.
The All-in-One Platform for Effective SEO
Behind every successful business is a strong SEO campaign. But with countless optimization tools and techniques out there to choose from, it can be hard to know where to start. Well, fear no more, cause I've got just the thing to help. Presenting the Ranktracker all-in-one platform for effective SEO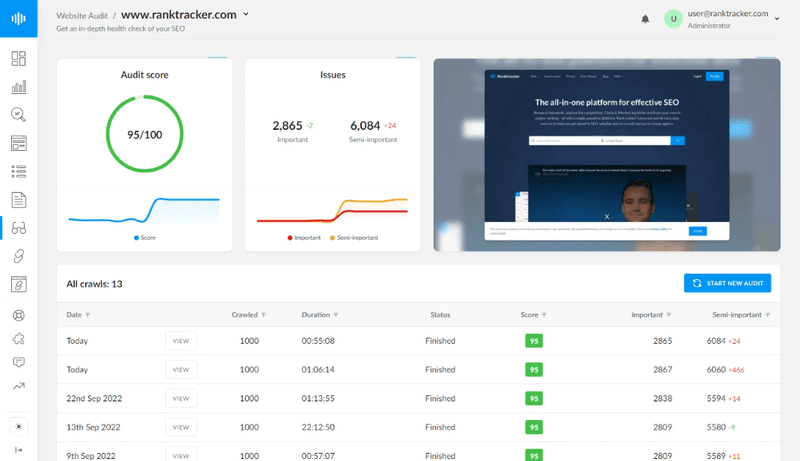 Another important audit consideration for your website in relation to recruitment is its accessibility. From a legal perspective, meeting the Web Content Accessibility Guidelines (WCAG) 2.1 AA standard helps keep your business compliant with the Americans with disabilities act (ADA). This also both ensures a diverse range of people can use your online recruitment materials and serves your ethical duty to hiring equality. There is software that automatically scans sites for accessibility. But it's also worth working with a web design team that has experience in building inclusive websites. You'll find this mitigates the potential to miss important elements of access.
Utilize Relevant Keywords
Keywords still play an important role in helping capture your target audience. This is as applicable to your recruitment efforts as it is to your other marketing activities. Just as you would identify keywords to filter applicants in a candidate management system (CMS), selecting specific words and phrases for use on your website can draw applicants. After all, when high-quality candidates are searching for vacancies, they are likely to use specific terms to identify these.
There are some effective areas you can focus on here, including:
Technical skills keywords
Soft skills keywords
Qualification or certification keywords
Geographical keywords
Professional experience keywords
Industry-specific keywords
Ranktracker's keyword finder can be a valuable source in narrowing down the most relevant keywords for your recruitment marketing. Not only can it help you to establish how difficult it is to rank for each term, but you can also see how the keyword's ranking has changed over time. This enables you to better understand how relevant certain phrases are to your target audience when searching for roles.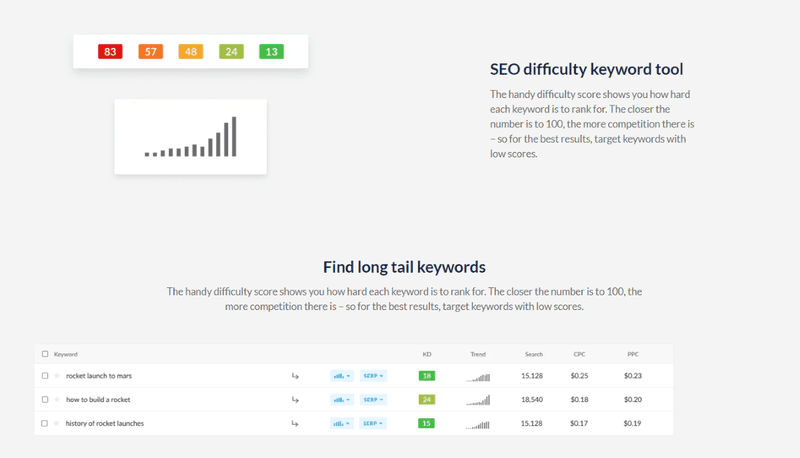 Remember, though, not to simply stuff your website and recruitment pages with these keywords. You'll find they're more effective at drawing candidates when you use them naturally and relevantly. Consider the context in which candidates will be searching for these terms and create text and content to reflect this.
Consider Remote Workers
The employment landscape has changed significantly over the past few years. Specifically, remote operations are becoming both more practical for businesses and in greater demand for quality candidates. Many employees are prioritizing the flexibility and better work-life balance distanced working can offer. Not to mention that your company could benefit from a more diverse talent pool.
However, attracting high-quality remote candidates requires some additional strategizing of your web materials. Some businesses find it effective to utilize cluster hiring protocols when recruiting for remote roles. This involves focusing on specific geographical regions with an aim to build teams that are close enough to support one another. In such cases, your online job descriptions and recruitment pages will need to use localized keywords and salary ranges that are applicable for the region. Create content that is reflective of the culture of the area you're hiring in, too.
The All-in-One Platform for Effective SEO
Behind every successful business is a strong SEO campaign. But with countless optimization tools and techniques out there to choose from, it can be hard to know where to start. Well, fear no more, cause I've got just the thing to help. Presenting the Ranktracker all-in-one platform for effective SEO
Another aspect to consider is how you can reassure candidates that you have a supportive remote work culture. You're unlikely to attract the highest quality virtual candidates if they can't see that their employment experience will be positive. It is wise, then, to showcase the resources you provide your remote teams, such as equipment allowance and telemedical care access. Be sure to communicate that virtual workers are valued as highly as any in-office staff.
Communicate Your Values
The best candidates aren't only going to be attracted to your business for the salaries and benefits you offer. One recent World Economic Forum (WEF) report found that around 60% of workers are changing jobs to find employers that are a better fit for their values. This may include everything from environmental responsibility to the company's diversity, equity, and inclusion (DEI) policies. It is vital to communicate your values clearly on your recruitment web materials.
Take the time to establish precisely what your genuine company values are. You can then start to build web materials that reflect these. For instance, your general careers pages could outline the ethical values you look for in your candidates in order to mesh well with the company's approach. You could also produce online content, such as videos and blog posts, that give behind-the-scenes looks at how your environmental values factor into day-to-day working practices.
Wherever possible, include your current employees in communicating your company values. This can tend to feel more genuine to candidates than mission statements on the business' website. Have your workers create guest posts for your social media channels about their experiences of applying and witnessing your company values. Invite employees to review the company on sites such as Glassdoor, Indeed, and Google Reviews, specifically focusing on how they feel the company represents the core values.
Conclusion
Attracting high-quality candidates in the digital recruitment landscape can be a challenging process. However, many of the approaches that are effective are similar in nature to other online marketing strategies. It's important to perform effective market research on what your ideal candidates look for when job searching online. Committing to a full audit of your website can help you identify areas for SEO and accessibility improvement that are meaningful for potential workers.
It's also vital to establish the most impactful keywords in relation to your hiring targets. Bear in mind, too, that great workers are increasingly prioritizing shared values, so you must clearly communicate your ethical and social standards across your channels. It's rarely easy to attract the best possible candidates, However, with some strategy and focus, you can adapt your online presence to give your company the best chance at success.