Intro
Social Media is not only a fun and interesting way to communicate in the world, but it has become a way of life.
Facebook, Instagram, and Twitter have even taken the place of news in many ways and are as normal to us as the daily newspaper was to generations past.
Social media also impacts SEO and business growth, and you definitely have to pay attention to that.
As a highly productive feature that is often overlooked, comment auto reply is super effective in engaging and expanding your target audience. Tied closely with the Facebook and Instagram algorithms, comment replies signify positive engagement as they push for more organic impressions and reach when the post is found to be popular.
When it comes to SEO, there are some super effective strategies to optimise your social media accounts for SEO. In this article, you can find out how to achieve that.
Let's see how popular these mediums are through social media stats.
General Social Media Stats and Facts
Social media is used by 4.14 billion people. This is over half the world's population.
The internet is used by 4.66 billion people worldwide, this means that about 90% of internet users use social media.
Active users on social media spend about 2.5 hours a day on these platforms.
Of those individuals aged 16-64 that use the internet, 98% have used social media in the past month.
Although they may not use all of them, the average person is known to have an average of 8.3 active social media accounts.
In America, 78% of women are active on social media, compared to 69% of men. This is not true in places like Western Europe or Western Africa, where men make up most social media users.
Social Media Usage Stats
There are many social media platforms, but we have listed here 6 of the most popular with some information and statistics.
Facebook Stats
Still a leading social media platform, Facebook has around 2.7 billion active users.
Daily visits to Facebook are made by 73% of its users.
Facebook is most popular with millennials, that is, people aged 24-35. Nearly 25% of individuals in that age bracket use Facebook, while only 18.1% of 35 to 44-year-olds use it, 13.6% of those aged 45-54, 11% of those aged 55-64, and 10.6% of those over 65.
The platform's future is a little rocky, with only 2.9% of those in the age bracket of 13-17 using Facebook.
Instagram Stats
Also a very popular platform for millennials, with the majority of users being between the ages of 24 and 35. 32% of its users are aged 25-30.
Nearly 30% of Instagram's demography is between the ages of 18 and 25.
Ever since its inception, Instagram has been a very popular platform and is now ranked 4th in most popular social media platforms.
Twitter Stats
The most popular demographic is between 18-29 at 42%. This is followed by 30-49, which saw 27% of that demographic using the platform, 50-64 at 18%, and 7% of those 65 and older using it.
42% of users hold a college degree
The vast majority of tweets are made by a small percentage. Only 10% of users make up 92% of all tweets.
Pinterest Stats
Pinterest is a growing social media platform with 444 million active users globally. Less than ¼ live within the U.S.
Women are far more dominant on the app, with 78.1 million, while only 21.9 million men use the app. That's over 75%!
Millennials (24-35) make up the largest chunk of users at 38.8%
TikTok Stats
With over 315 million downloads at the beginning of 2020, TikTok became a very popular social media platform on the eve of the pandemic.
Although it saw a lot of growth, it's still towards the bottom in popularity, ranking 7th.
In the US, it's composed chiefly of young people. About 25% of users are between the ages of 10 and 19.
LinkedIn Stats
LinkedIn has over 800 million users, 180 million of which are from the U.S., and the rest spread across 200 countries.
India comes in second-most behind the U.S. with 81 million users and then followed by China and Brazil.
LinkedIn gets 172,800 new users every day, seeing 3 new people joining every second.
Social Media Business Stats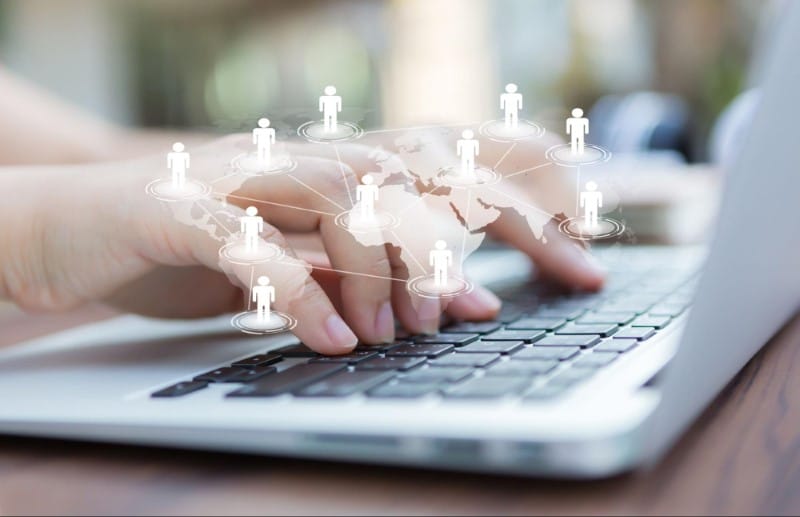 About 66% of workers communicate with their coworkers on social media.
With at least one social media account, of all the Fortune 500 companies, 97% rely on social media.
Social Media Marketing Stats
In 2020 social media marketing exploded, growing by 27.6%.
Product research is a popular activity on social media, with 50% of users aged 16-24 using social media for just that.
Social media is the most effective way to reach a target audience, and social media marketers focus a lot of their energy on that particular aspect.
Building brand awareness is crucial, which is why 69% of marketers utilize social media to build their brand and some attention surrounding it.
Social Media Advertising Stats
90% of users on Instagram say that they follow at least one business account.
81% of users say they research services and products on Instagram. This makes it a very viable option for businesses.
In 2020 over $40 billion was spent on social media advertising across all platforms.
Social Media Engagement Stats
For marketing, a good engagement rate is between 1% and 5%.
In terms of the most engagement, Instagram is at the top, taking 81%, which is especially high when you consider Facebook is only 8%.
Social Media Trends
AR, or augmented reality, is on the rise seeing over 48 million users in 2022 alone.
Pinterest is a social media platform on the rise and may be a good investment for marketing in the future.
With the rise of alternate platforms such as Gab, MeWe, and Parler, we should expect to see even more successful niche platforms in the future in defiance of social media regulation and platform policy changes.
Conclusion
Social media has dominated the landscape in the past ten years and has certainly surged more in the past two as it allows people to communicate in a locked-down world.
The All-in-One Platform for Effective SEO
Behind every successful business is a strong SEO campaign. But with countless optimization tools and techniques out there to choose from, it can be hard to know where to start. Well, fear no more, cause I've got just the thing to help. Presenting the Ranktracker all-in-one platform for effective SEO
It's a continuing battle for popularity, and we'll see who dominates it in the future.