Intro
Link building is an indispensable part of optimizing a website's SEO. It is necessary for maximizing the number and caliber of external links that redirect to a website, which search engines like Google take into account when deciding how to rank the website in SERPs.
Moreover, link building can assist with building up trustworthiness, augmenting referral traffic, and, most importantly, ameliorating visibility--essential aspects for a successful SEO strategy. To put it simply, link building is fundamental for any SEO plan.
It is often said that links are the currency of the web. Any website that has a substantial amount of quality links, will be respected by search engines and rewarded with organic traffic. When you add this to your SEO strategy, you will be shocked at your progress.
In this article, you will get to know why link building is necessary for your website and how to become relevant by building quality links that will rank you higher than your competitors.
What Is Link Building in SEO?
Link building is seen as the process of having a link to your website or pages placed on other similar web pages in strategic positions. Link building aims to boost the "authority" of your pages on search engines.
Gaining organic traffic is directly proportional to your web page's relevance in the eyes of search engines. To boost rankings, SEO requires a network of backlinks that link to your page. Make sure to write engagingly and with purpose to drive more visitors in the long run.
The Importance Of Link Building In SEO
According to the rules that drive ranking on search engines, a web page that has more high-quality backlinks will rank higher than its competitor that has fewer. You can say backlinks are one of the most important ranking factors in SEO.
The more websites point to a web page, the more that web page is considered valuable or credible. Any web page that has more links will be placed at the top of the search result because it is deemed credible and relevant.
The All-in-One Platform for Effective SEO
Behind every successful business is a strong SEO campaign. But with countless optimization tools and techniques out there to choose from, it can be hard to know where to start. Well, fear no more, cause I've got just the thing to help. Presenting the Ranktracker all-in-one platform for effective SEO
Now that you know the importance of link building, you should make sure you get backlinks from relevant websites.
How Is Link Building Done?
There are some strategies to employ when it comes to link building. You will use one of the below strategies or all of them.
Some ways you can build links are:
Request for links
Use a link-building service
Manually create links
Earn links naturally
Request For Links
You can contact a website administrator privately and ask them to link their page to yours if it is of relevance.
The following can be linked to:
Blog posts
Ebooks
Visual information
Research
Now, note that not all websites will accept your request. However, if your web page provides helpful information, you are less likely to be rejected.
Use a Link Building Service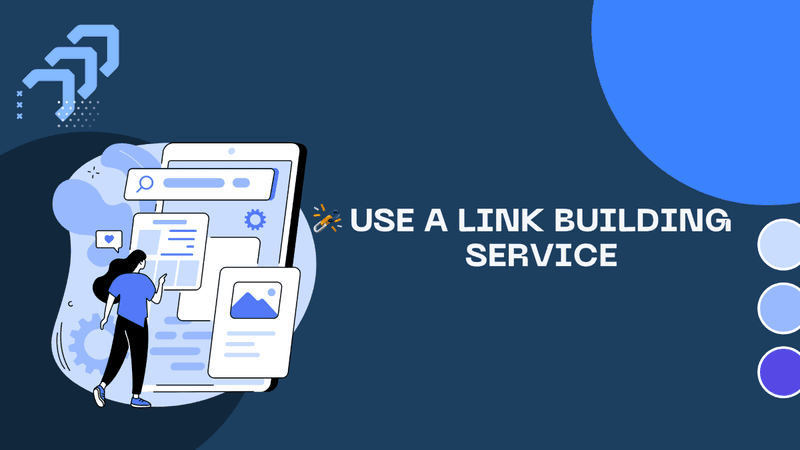 You can use a link-building agency to help you build backlinks if you find the process too tedious for you. Getting quality link-building services from a dedicated and ethical agency is important if you want to optimize your SEO and improve your website ranking. The reason is that they will not build low-quality links but rather, you will get good-quality organic link building.
A good link-building consultant will only provide white-hat link-building services. This is to help your web page to get quality links and rank higher instead of building spammy links with zero impact. This can be so sad.
Any SEO link-building service that has the interest of the customer at heart will always play by the rules of search engines. When hiring a link-building consultant, do well to ensure the quality of service to be rendered. Search engines may permanently ban your web page from showing up on search results if you go against their rules.
Manually Create Links
This strategy simply means going to another website and adding your link manually or by using a link-building tool.
The All-in-One Platform for Effective SEO
Behind every successful business is a strong SEO campaign. But with countless optimization tools and techniques out there to choose from, it can be hard to know where to start. Well, fear no more, cause I've got just the thing to help. Presenting the Ranktracker all-in-one platform for effective SEO
You can manually add links to the below sites:
Social media profiles
Directories
Forums
Blog comments
This strategy is easy to use but has proven to be less effective in SEO link building and that is because most of the websites you will link to are of low quality. One reason why it is less effective is that search engines believe you should earn your links and not make them yourselves.
Earn Links Naturally
If you do not want to pay for a white hat link-building service, you can earn links naturally. This is the most effective way of link-building in SEO. Search engines respect web pages that have earned their links, especially through editorials. If your web page provides valuable content, other websites will willingly link your web page to theirs, and as a result give you an edge.
This is also called organic link building because you did not influence the decision of the website directly. The best way to earn quality links is by putting out good content that people will find helpful A website can link to your web page if they find your content helpful to its readers.
You can naturally build links if your web page contains:
Original research
Tutorials
An important data
What Makes a Good Backlink?
It is necessary to know what makes a quality backlink to avoid building low-quality ones that can deter your search rankings.
A good quality backlink would have:
A good authority score
Relevance
Link position
Anchor text description
A Good Authority Score
Sometimes the difference between your sales and your competitors is not price-rate, it may be the authority of the site that backlinks to them. When a website is said to have authority, it means the overall quality of the site is rated high. The higher the authority score, the more valuable a backlink from it would be.
Getting a link from a high-authority website is very valuable and would help you rank higher in search results.
For example, if your website niche is Sports, having a link from a credible sports website will impact your ranking more than a link from any other website that is not relevant.
This simple point can change your business drastically.
Relevance
Beyond the authority of a website, the relevance of your web page matters a lot. According to search engines, like Google, they first determine if the content is relevant to a search query before deciding on how to rank it.
So when engaging in quality link-building, make sure most of your links are from websites relevant to yours. Having a technology website pointing to a sports blog seems off because they provide different content.
You should endeavor to get links from websites that are relevant to yours. Avoid getting links from every and just any kind of website. Although this may not have any major effect on your ranking, it is not a proper practice in SEO.
Link Position
It is good to having a link from an authoritative website. However, having that link in a well-placed position is also equally important. A good backlink should be placed on the main body of a web page.
Search engines also look for link placement when ranking a web page. For example, Google does not hide this information from the public.
When a link is placed at the main body of a web page, it is considered to be a valuable link because it is likely to be visited by a reader.
Having your link placed in the sidebar or footer of a website is not worth as much as when it is placed in the main body of the page.
Anchor Text Description
An anchor text is a clickable text that is used to describe a link. Having an anchor text that is relevant to the link it is pointing to is very important. Illustrated below for better understanding is an example of how an anchor text looks.
Search engines use the anchor text to determine what the linked page is all about. The more descriptive the anchor text is, the more it will be taken seriously by search engines.
The All-in-One Platform for Effective SEO
Behind every successful business is a strong SEO campaign. But with countless optimization tools and techniques out there to choose from, it can be hard to know where to start. Well, fear no more, cause I've got just the thing to help. Presenting the Ranktracker all-in-one platform for effective SEO
Using an anchor text like "Food and healthy living" for a link that contains real estate is very wrong because they share no relevance whatsoever.
Hiring a Link-Building Consultant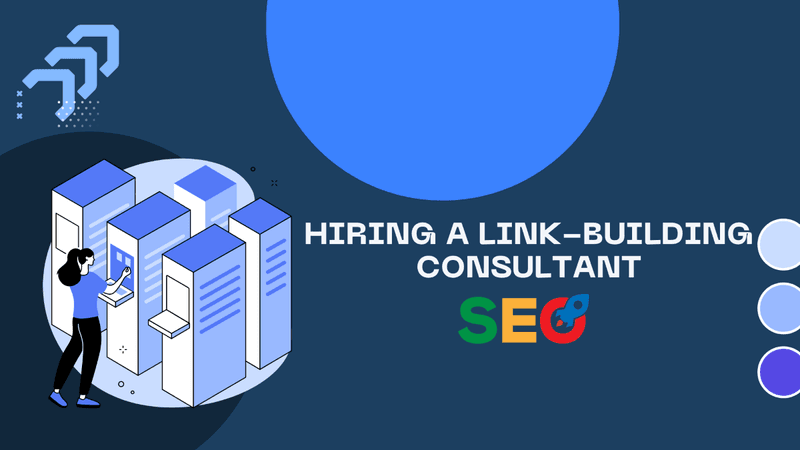 We talked a bit about this in one of the previous sections of this post. However, it is important that we look into this in more detail. When hiring a link-building consultant, it's important to keep a few key things in mind to ensure you choose the right professional for the job. A few pivotal factors to consider are listed below:
Experience and Expertise: Look for a link-building consultant who has a proven track record of success and experience in the field. Check their portfolio and ask for references to verify their skills and expertise.
Strategies and Techniques: Inquire about the strategies and techniques the consultant uses for link building. Make sure they follow white-hat SEO practices and avoid any black-hat techniques that could harm your website's reputation with search engines
Knowledge of Industry and Niche: A link-building consultant should have a solid understanding of your industry or niche. They should be familiar with your target audience, competitors, and relevant keywords to effectively build links that are relevant and valuable for your website.
Communication and Reporting: Clear communication is crucial in any consulting relationship. Ensure that the link-building consultant provides regular progress reports, communicates openly and transparently, and is responsive to your questions and concerns.
Customized Strategies: Avoid consultants who offer generic or cookie-cutter strategies. Link-building should be tailored to your specific website and business goals. Look for a consultant who takes the time to understand your unique needs and provides customized link-building strategies accordingly.
**Ethical Practices: **It's important to work with a link-building consultant who follows ethical practices and adheres to industry guidelines. Avoid consultants who engage in spammy or unethical practices, as it could result in penalties from search engines and harm your website's reputation.
Budget and Pricing: Link-building can be a long-term investment, so consider your budget when hiring a consultant. Be clear about their pricing structure, payment terms, and what you can expect in terms of results within your budget.
Reporting and Analytics: A good link-building consultant should provide regular reports on the progress and results of their efforts. They should also be proficient in using analytics tools to measure the impact of their link-building strategies on your website's performance.
Communication and Collaboration: Link-building is a collaborative effort, and it's important to work with a consultant who is willing to collaborate with your team, understand your goals, and communicate effectively. It is imperative that they are open to feedback and course corrections as needed to adjust their strategies.
Long-term Approach: Link-building is not a one-time activity, but an ongoing process. Look for a consultant who has a long-term approach and is committed to building sustainable, high-quality links that will benefit your website's SEO and online visibility in the long run.
Conclusion
With all that has been said in the article, you should now understand how link-building works. If you still find the process difficult, it is advisable to pay for a quality backlinks service. However, one of the smartest ways to earn links naturally is if you become a source of information for reporters, students, etc.
Link building is an important part of SEO (Search Engine Optimization) and the process of acquiring quality links from other relevant websites to your own. In general, search engine algorithms favor websites with more links from other quality sources, thus increasing organic traffic to your website and enhancing your brand visibility.
Link building helps to build credibility and trust for your brand, helping search engine robots to recognize the relevance and importance of your website. Link building should be a continual, ongoing process that continually adds high quality links from relevant websites to your site.