Intro
Affiliate marketing has emerged as a popular way for companies to generate revenue online, without having to sink their marketing budgets into expensive old-school advertising channels. However, the financial services industry is notoriously difficult to navigate due to its competitive nature and the strict regulations that often come with promoting capital investments. With cost-per-click rates reaching up to $10, it takes a thorough understanding of this industry's intricacies and a good keyword finder to be successful in it.
As a seasoned professional with over a decade of experience in financial services marketing, having led my own company in this field for seven years, I have some solid firsthand knowledge of how this sector has evolved over time. In this article, I will provide a comprehensive overview of affiliate marketing for financial services, including crucial insights into pay rates, progress, and factors that need to be considered before entering it.
Why is affiliate marketing for the financial sector so difficult?
The "credit card" keyword is notorious for its exorbitant cost-per-click (CPC) cost which lingers at around the $15 mark and comes with a sky-high SEO difficulty score of 90, earning it the title of "super hard" by Ahrefs standards. But why is this the case and what are the factors contributing to the staggering CPC and SEO score of this highly sought-after keyword?
Level of competition
The financial services industry has been around for decades and the key players in this lucrative field have deep pockets with which to keep the ball rolling. Just a glance at the first page of a Google search with the highly coveted "credit card" keyword will show the kind of companies that are putting money into getting to the top. The likes of Bank of America (market cap $221B), JP Morgan Chase (market cap $375B), and Visa (market cap $470B) all boast market caps that reach into the hundreds of billions of dollars.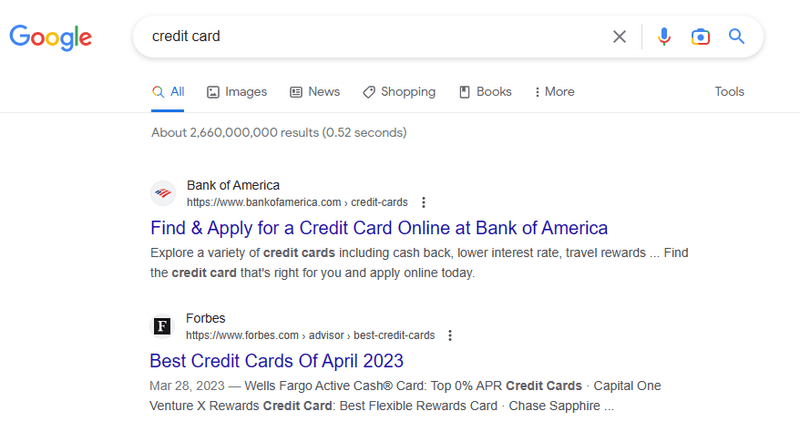 Along with these, there are sites of a very high authority like Forbes, or governmental institutions like the Consumer Finance Protection Bureau, taking up the remaining results. With all these established giants with their enormous resources in the mix, it is obvious that the competition is not against a couple of guys working out of their living room.
Regulation
The financial services industry is no stranger to regulation, with some countries like the US even requiring licensure from local authorities for promoting certain products or receiving certain payouts. A good example of this comes with companies like Gain Capital which are required to have their affiliate websites approved by the National Futures Association (NFA) before they can even think about receiving compensation via referrals. Besides that, regulations in this industry are continually evolving and rarely in favor of those on the marketing side of things, as can be seen by regular visits to the "financial promotions and adverts" section of the UK's Financial Conduct Authority (FCA) website as well as checking in on other regulatory agencies.
One obvious proof of this comes from a few years ago when the Spanish Financial Markets regulator - Comisión Nacional del Mercado de Valores (CNMV) - simply changed their policies seemingly overnight and prohibited financial operators from compensating their affiliates based on client activity.
Expertise
For many of those who are involved in writing or editing financial content, the jargon and scope of the products can be confusing, especially when compared to more down-to-earth sectors like fashion, home improvement, dating, and the like. Financial products and services require a deeper understanding of the industry that is being spoken about, at least if you are attempting to create quality content. While a keyword such as "best mt4 ea" may resemble something compiled by a cat leisurely strolling over the keyboard, it's actually a legitimate search query with a difficulty level of 42 and over 100 monthly searches.
This makes breaking into the financial services industry as an affiliate marketer a tough nut to crack, with the high level of complexity that comes with it creating a barrier to entry that can not be reached without a significant amount of experience in the field, even when using a solid SEO checklist to make sure you have ticked all the boxes.
Why get excited about performance marketing in the financial niche then?
Well, the reason is pretty simple: high payouts. As anyone who has spent just a few hours reading a financial book will quickly come to realize, the greater the risk, the higher the potential returns will be. As such, affiliate marketers promoting financial products can earn a pretty penny, as lending companies, for example, often pay a cost-per-lead (CPL) of as much as $50 per lead to their partners. When dealing with financial trading companies, the cost-per-acquisition is generally in the hundreds of dollars and can easily exceed $1,000 per client, making it well worth the effort for many an affiliate marketer.
The All-in-One Platform for Effective SEO
Behind every successful business is a strong SEO campaign. But with countless optimization tools and techniques out there to choose from, it can be hard to know where to start. Well, fear no more, cause I've got just the thing to help. Presenting the Ranktracker all-in-one platform for effective SEO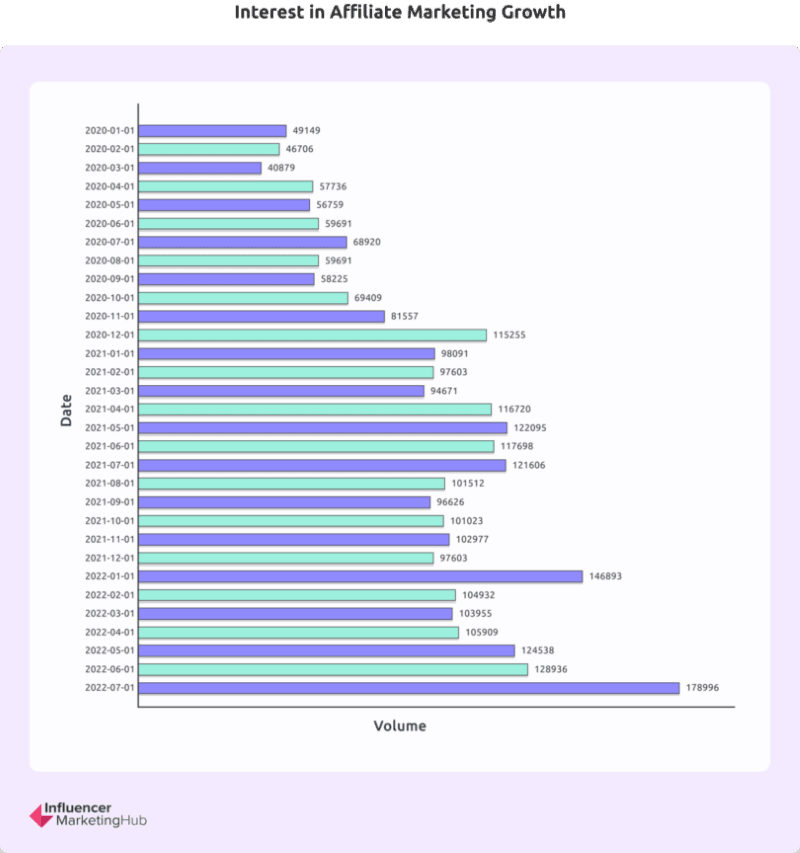 According to a benchmark report that was put forward by the Influencer Marketing Hub, the affiliate marketing industry as a whole is set to surpass the $14.3 billion mark in 2023 and reach $15.7 billion by 2024. The report also shows that searches for "affiliate marketing" skyrocketed between 2020 and 2022, going up more than 264%. With all this in mind, if you're ready to step into affiliate marketing for financial services, be sure to take your overcoat and an umbrella as you are about to make it rain.
How did it look a decade ago?
Before jumping in and digging up the past, let me just clarify that we'll be focusing on SEO-driven traffic to websites in the financial trading niche since it's the area where I have the most experience. Let's now turn back the clock and explore how easy it was, just ten years ago, to launch an affiliate website in this field.
Launching a website that reviews various online trading services, compares them, and provides some useful content was relatively easy some ten years ago. My first website was based on a $50 WordPress theme that was then customized by a friend of mine for another $150. The whole content, about 70,000 words, was written by a Romanian freelancer and myself in around a month, costing me about $500. I did have to commit countless hours to upload all the content, and I still remember that Christmas day when I was uploading from 6 am to around midnight. Luckily I am Jewish, so celebrating Christmas is not really my thing.
Back in those good old days, creating a website that reviewed and compared various online trading services while providing some useful content was a walk in the park. My first website was based on a $50 WordPress theme, some customization was done by a friend for another $150, and around $500 was spent on content, consisting of about 70,000 words written by a Romanian freelancer and myself. It took about a month to get everything together and uploaded. I still remember sitting in front of my laptop on Christmas day uploading non-stop from 6 am to midnight. Luckily I am Jewish, so celebrating Christmas is not really my thing.
As you can imagine from the setup above, it required neither a fat budget nor a deep knowledge of the industry to get started. While the quality of such an affiliate site was far from great, it served well enough to link between Google searches and the actual offer from a financial trading brokerage. The good thing was that even with such a sloppy setup it wasn't too hard to hit the first page of Google in just a few months and see earnings start pouring in.
How did it evolve?
The last decade has seen some significant changes brought about in the online trading industry One of the biggest blows came from Facebook and Google's 2018 ban on FX, CFD, and crypto services advertising on their platforms. This decision quickly shifted the focus of operators towards SEO and almost overnight, made the market way more competitive.
Moreover, the competition has grown by leaps and bounds. At the start of my journey in financial trading, there was only one website dealing with reviews of the promotions offered by trading brokers. Some 4 years later, when I was about to launch my first site dedicated to the same topic, a multitude of review sites committed to trading brokers were already in operation.
The All-in-One Platform for Effective SEO
Behind every successful business is a strong SEO campaign. But with countless optimization tools and techniques out there to choose from, it can be hard to know where to start. Well, fear no more, cause I've got just the thing to help. Presenting the Ranktracker all-in-one platform for effective SEO
As Google's algorithm evolved, low-value sites that offered scant information fell by the wayside, as those with expert authors and comprehensive content speedily began to rise to the top.
To stay ahead of the game, I had to adapt to this evolving market and the changing landscape that surrounded it. My current project, investfox.com, is staffed by a team of four experienced authors who are well-versed in every aspect of the financial markets, be it currencies, stocks, options, or cryptos. We've also invested in a full-time, expensive full-stack developer, along with a social media manager, researcher, and content administrator to make sure that we have all our bases covered. So, what began as a simple side hustle now more closely resembles a full-fledged business that requires a 5 figure sum to keep up.
To give an idea of the kind of value that needs to be added to an affiliate marketing site that focuses on the financial niche, I will give a bit of insight into what we have developed in order to provide quality broker reviews while focusing on SEO.
The All-in-One Platform for Effective SEO
Behind every successful business is a strong SEO campaign. But with countless optimization tools and techniques out there to choose from, it can be hard to know where to start. Well, fear no more, cause I've got just the thing to help. Presenting the Ranktracker all-in-one platform for effective SEO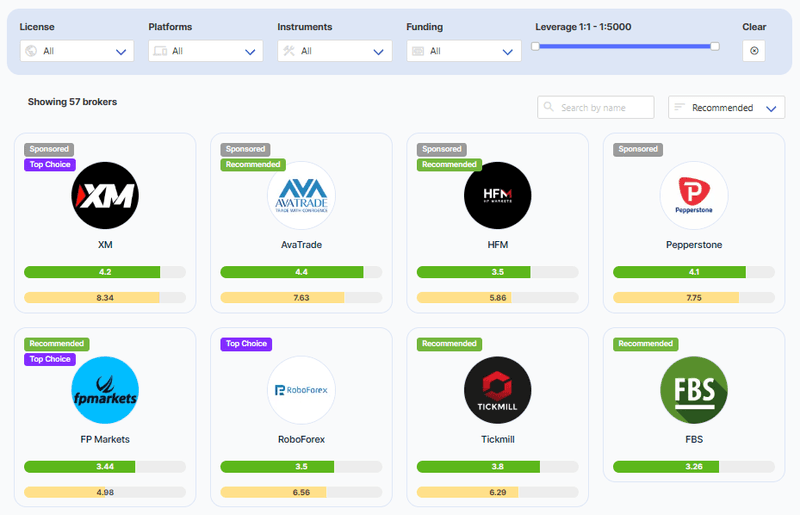 investfox's review process plays a crucial role in this affiliate marketing scheme of things while providing readers with as much value as possible. Our review process is based on a comprehensive rating methodology that ensures all reviews are unbiased and provide a genuine evaluation of the services offered by each different broker. This is done by having our team of experts review the broker without any knowledge of the company's affiliation with that broker.
We then provide comparison pages that allow users to compare various brokers based on specific criteria such as spreads, leverage, minimum deposit, regulatory bodies, and the like. These features are all aimed at providing traders with an easy way to identify the best broker for their specific needs in an unbiased way that is simple to navigate. As can be seen from this example investfox's approach to affiliate marketing focuses on providing value to users through quality content and tools, which is the only way that you can generate SEO content that will come anywhere close to the first page of Google's search results.
Should you get started?
No. Well, the answer to the question is a bit more complicated than that. This is not because I am afraid of additional competition, in fact, I think that competition is healthy, especially in this kind of industry. That being said, I can already see how SEO for the financial services market is becoming a lot more intricate and costly, and will probably become more so in the years to come. Luckily there are resources such as the Ranktracker SEO Blog to help those who are interested in getting started with navigating these complexities. Furthermore, there's a significant worry that AI applications such as ChatGPT could snatch a significant share of Google Search, which will have a significant impact on SEO as a whole.
The real answer, however, is that it depends. It depends on how much you are willing to invest in this endeavor, your team's expertise in the field, and the added value that you can bring to the table will all have to be weighed up and considered. As seen in the aforementioned examples, ordinary doorway websites are no longer viable, making it essential that anyone setting out on this path invests significant amounts of time and money from the outset in order to attract traffic through SEO. Nonetheless, the industry continues to be a lucrative one, and I would encourage more individuals to get involved, especially if you have some ideas for generating traffic via channels other than SEO.