Intro
Achieving maximum web visibility in search engine result pages is often the hallmark of a successful SEO operation. You are on the right path if those are your online business and digital marketing goals. However, you are yet to reach your destination. No, you can't call it a day yet.
In the dynamic world of search engine optimisation, success isn't defined only by your website/online business making top rank and getting easily discovered by organic traffic. It is establishing and maintaining a long-lasting online presence, which can only be achieved by an often overlooked piece: rank tracking.
When you know the keywords that bring organic traffic to your website and those of your competitors, you can be aware of how to improve your strategies and make SEO and marketing goals a reality.
In this article, you will gain a deep understanding of rank tracking and how it can efficiently benefit your digital marketing campaigns.
Come along!
What Is Rank Tracking?
Rank tracking is the process of monitoring and measuring the progress of your website's rank on search engine result pages based on various keyword searches. It involves taking inventory of the performance of each search engine-optimized keyword and phrase you have executed to propel your website or online business in search queries.
Every online business owner desires their website to continue climbing up to the golden mountain top of Google's front page and, when on the first page, to remain there. Yet, more than using the right keywords is required with the ever-changing Google algorithm and fierce competition.
The All-in-One Platform for Effective SEO
Behind every successful business is a strong SEO campaign. But with countless optimization tools and techniques out there to choose from, it can be hard to know where to start. Well, fear no more, cause I've got just the thing to help. Presenting the Ranktracker all-in-one platform for effective SEO
Keeping close tabs on your keywords is more important to ensure that they continually help you maintain or upgrade your website's rank.
How Does Rank Tracking Help Improve Your Organic Search Visibility?
1. Stay on Track with the Volatility of Search Engine Algorithms
A report by SmartBrief shows that Google updates its algorithm between 500 to 600 times per year. Every algorithm change would affect search engine rankings as the search engine places a new priority on specific SEO strategies to enhance the user's search experience.
Rank tracking lets you constantly know each new criteria that search engines prioritise at any period and keep tweaking your SEO campaigns to maintain relevance.
That's why Kyle Fretwell says, "While traffic is the end goal, it's often more helpful to track how keywords are performing that are on pages 2-10 because you can more clearly see patterns of what Google likes or doesn't like. If I move from page 9 to page 6, I know my work is working even if my traffic isn't growing yet."
2. Access Relevant Feedback on the Performance of Your Keywords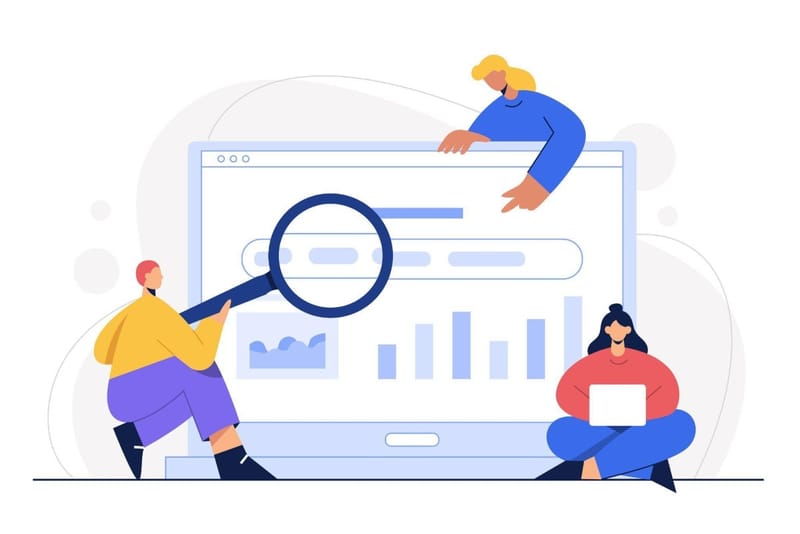 Evaluating the performance of your SEO campaign keywords is the pathway to discovering the effectiveness of your efforts.
Ryan Jones, Marketing Manager at SEOTesting, shares an intriguing insight to reinstate this point.
"By tracking your rankings, you can see without bias where you are ranking in the SERPs, where you are doing well and where needs improvement. Further along the line, you can use this data to inform your marketing decisions. What content must you publish in the next few weeks and months? Where do you need to explore getting backlinks from in the near future and more?"
The All-in-One Platform for Effective SEO
Behind every successful business is a strong SEO campaign. But with countless optimization tools and techniques out there to choose from, it can be hard to know where to start. Well, fear no more, cause I've got just the thing to help. Presenting the Ranktracker all-in-one platform for effective SEO
Rank tracking ensures that you are not working mindlessly or pouring SEO strategies into the wind; it lets you approach your SEO campaigns from a tactical perspective.
3. Gather Insights on Your Competitors' Strengths and Weaknesses
Having a competitive edge with your SEO campaign plays a prominent role in positioning your online visibility top among the multitude.
Thankfully, rank tracking does more than show you how well your website or blog post is fairing. It provides insight into the performances of other websites and the factors that enabled successful websites to achieve higher rankings.
These factors could include keywords, content quality, backlinks, Meta tags, or the technical speed of the website that makes search engines crawl their website better and make them the choicest pick for online visitors. With that knowledge, you can identify patterns and apply those strategies to your SEO campaign.
4. Get Your SEO Predictions Right
Nothing beats being able to forecast the long-term results of an SEO keyword and making data-driven decisions for your website content based on such insight. It's a hack that keeps you ahead of competitors; they wouldn't know why.
Keywords' relevance and popularity over time can be studied and predicted, although not a hundred per cent (100%) accurately. Rank tracking helps you understand how specific keywords would trend or fall and how certain keywords would continually drive traffic in the long run. Armed with that information, you can begin structuring the content of your website in a way that relevance and top visibility goals are achieved seamlessly.
Let's move a bit further!
Rank Tracking Tools for SEO Today
Despite the mind-blowing benefits of rank tracking, it can be challenging.
Imagine you have to manually monitor the position of your keywords on search engine result pages; you will have to visit a doctor before completing half of the task.
However, the evolution of rank trackers has made things easy!
You can sit on your sofa with your coffee and, with one click, instantly track all your keywords.
Rank trackers provide valuable insight into the impact of your SEO tactics and the level of competition for a particular keyword and also help evaluate strategies that can be optimised better.
With access to this information, you can constantly tailor your SEO campaigns to ensure that your website retains a strong position and never has to experience a regression, commonly called a "rank tank".
Let's examine a few of the best rank-tracking software:
1. Ranktracker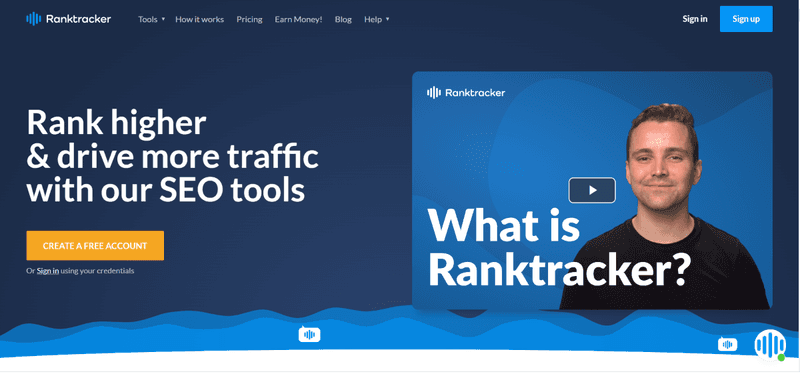 You are searching for a rank-tracking tool tested and trusted to carry out accurate and successful rank tracking. Say goodbye to the long search and say hello to Ranktracker.
Ranktracker is a software trusted by marketers in some of the world's leading companies for accurate and consistent website performance and rankings reports. This all-in-one tool can be banked on to ensure the successful optimisation of your SEO campaign effectively. Rank Tracker has a user-friendly interface that a newbie can navigate. It tracks your website across other search engines besides Google, like Yahoo and Bing.
Why Choose Ranktracker?
1. Solid Reputation from Leading Brands
Rank Tracker has a pedigree of being the number 1 choice of leading worldwide brands for the marketing messages that get to you.
2. Unlimited Tracking
Rank Tracker provides ranking updates from all over the world and across different languages. It doesn't matter where you want your website to be seen or the audience you want your business to reach; Rank Tracker will take you there. Language is not a barrier, as this software would help you narrow information on your website's performance in different local locations across the globe.
3. Make Teamwork a Breeze
Ranktracker helps you present a professional white-label report of website and keyword analysis to your teams and client. It enhances your brand's and organisation's respect and image as it packages data showing that it was created exclusively for your business.
4. Compare Your Progress Against Your Competitors
You can analyse the success of your SEO game compared to your competitors. Just enter your competitor's URLs and track their rankings for your target keyword with yours.
Key Features
Provides ranking progress across different locations
Monitors progress on desktop and mobile
Tracks Google My Business rankings
Language-based tracking
Daily email notifications
White label reports
Compares keyword performance with competitors
Ranktracker has got a lot more intriguing features. Check its How it Works page to learn more.
2. Semrush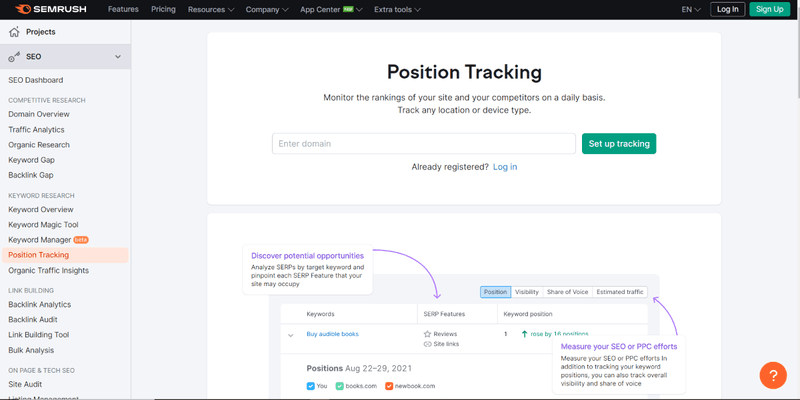 Every online business owner's goal is to see their site reach the highly coveted pages: pages 1 to 10. Of course, page 1 is the prize to have traffic massively driven to your website.
Semrush is one of the fore-rank tracking software that is often utilised in the digital marketing sphere. This rank tracker is loaded with comprehensive tools to monitor your website and improve your website visibility on search engines.
SemRush achieves this feat through three types of machinery:
Keyword Magic Tool for keywords discovery alongside pertinent metrics like cost-per-click, volume, and competition
Keyword manager tool for tracking and organising your keywords, and
Position tracking tool to track keyword performance in your content, monitor websites on various devices, and display SEO opportunities for your website.
Key Features
Tracks multiple keywords
Provides a detailed report of keyword performance
Custom notifications to stay ahead of fluctuations
Compares competitor data
Discovers potential opportunities
3. Serpstat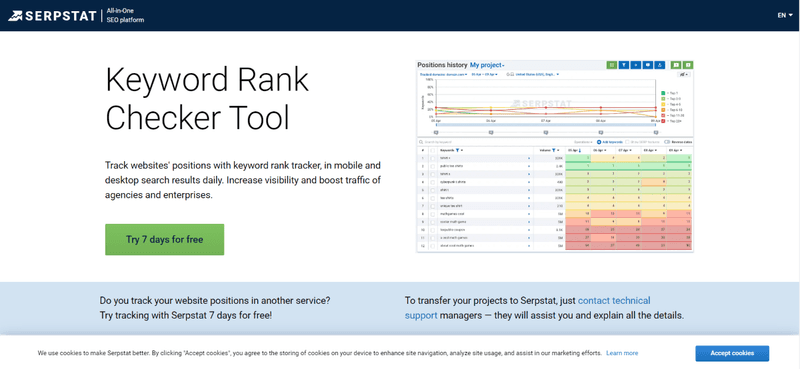 This SEO tracking software tool isn't just listed as one of the best in the market for nothing. Serpstat thrives for its reliability, accuracy, and features that enable the most seamless yet detailed SEO campaign execution.
This rank tracker offers expert-level features enabling you to track your website on about 100 pages daily.
Serpstat also provides users with solid strategies to accelerate digital marketing goals and growth. However, using this rank-tracking software requires ample background knowledge of SEO and how to apply the technique.
A newbie can still navigate Serpstat. This tracking tool is an economical option with a free and paid version. It enables organic and paid rank evaluation on search engines.
Key Features
Keyword position tracker
Multiple pages tracking
ads position tracking
Daily report update
Competitor analysis
4. Wincher
Wincher has proven to be one of the guaranteed rank-tracking tools to help accelerate your website rankings and skyrocket SEO campaign results.
How true is that?
Firstly, this software has a simple user interface that allows easy navigation.
This rank tracker simplifies the complex world of SEO by embodying comprehensive features for its user.
Wincher is outstanding for three unique features, amongst others:
It grants access to a keyword's robust and deep historical data for up to 6 months.
It delivers new keywords opportunities and high-volume keywords with low competition to help gain a competitive advantage, and
It gathers local ranking data from about 180 countries.
Key Features
Quick ranking overview
Free ranking history
Unlimited users
Daily competitor ranking updates
Automatic keyword recommendations
Custom alerts and notifications
Local rank tracking
Detailedkeyword performance reports
5. SEO PowerSuite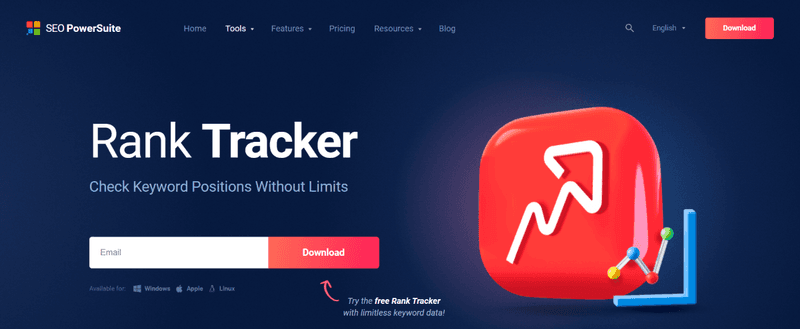 SEO PowerSuite is another all-in-one SEO toolkit that thousands of SEO experts and beginners globally prefer. It is renowned for its affordability and wide range of SEO features that would revolutionise your SEO campaigns and increase your website rankings.
Its unique features include a rank tracker that monitors over 300 global and local search engine rankings, a website auditor, link-building features called Link Assistance, and an SEO SpyGlass to monitor competitors' websites,
This rank tracker software is downloadable and it's free. This rank-tracking software also delivers a personalised, collaborative feature for organisations and freelancers to share white paper reports with their clients seamlessly. SEO PowerSuite offers a free trial and a paid plan.
Key Features
Unlimited desktop and mobile position tracking
Local rankings update
Competition rank tracking
Tracking SERP history
Keyword ranking reports
6. Keyword.com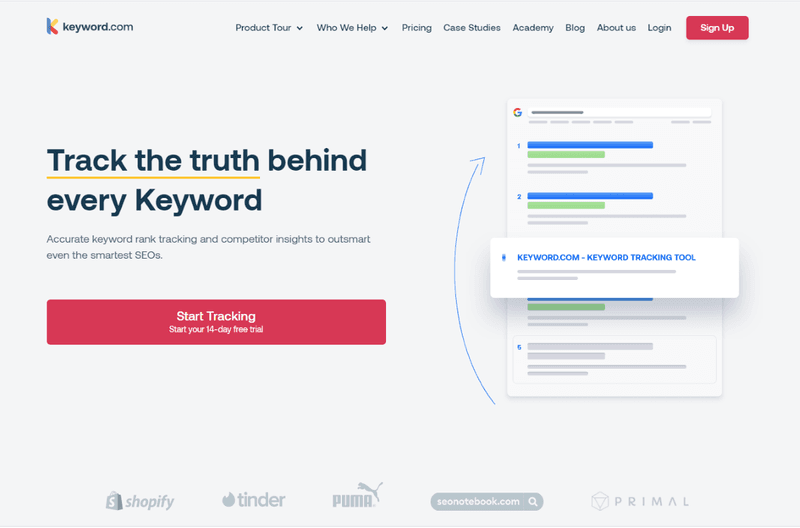 keyword.com is primarily a keyword rank-tracking tool that monitors keyword positions and performance over time.
Most importantly, this software features a rank tracker API that pulls unlimited data to drive decisions and dazzle your clients.
The All-in-One Platform for Effective SEO
Behind every successful business is a strong SEO campaign. But with countless optimization tools and techniques out there to choose from, it can be hard to know where to start. Well, fear no more, cause I've got just the thing to help. Presenting the Ranktracker all-in-one platform for effective SEO
Keyword.com provides daily or weekly white-label reports, giving its users an edge over keyword fluctuations. Its outstanding Share of Voice feature tracks keywords and analyses their performance alongside your competitors, a unique strategy to outsmart your SERP competitors.
Key Features
Daily keyword ranking updates
Tracking SERP features
Keyword suggestions
Google map tracking
White label reports
Unlimited users
rank tracking API
Final Words
Translating your SEO campaign efforts into holistic success goes beyond incorporating the right keywords, using good backlinks, Meta tags, and relevant search engine optimisation strategies for your website.
While these elements are necessary, they can only provide surface-level results. To truly see measurable and long-term success, you need to employ data-driven tactics for your website. This feat is achieved by consistently tracking your website performance, gathering relevant insights, making corrections, and adapting those strategies to your website.
Dawid Zimny, Product Manager at NerdCow, told me, "Keeping an eye on our rankings was one of the key factors that helped us 16X our visibility in Google in Q4 2022, compared to Q4 2021."
Achieving this seems like a lot of work, yet an all-in-one rank-tracking software like Ranktracker can make the success of your SEO campaigns a daily reality.