Intro
If staying connected and competitive in the online world is your goal, then you should be using social media as a tool. It's no secret that it remains one of the most effective platforms for marketing - plus its reach continues to grow! Considering the fact that a high number of online users are using social media as one of their main resources of information. So if you want to really make an impact this year, consider some new tactics when it comes to creating visibility on socials; taking steps like upgrading your strategy can have huge long-term benefits and give those sales numbers a major boost. You can work on building a strong strategy by following these simple steps below:
Conduct a Social Media Audit
A social media audit involves reviewing your current social media presence. You should look at the kind of content you post and how frequent they are, your social media profile, and how you engage with your audience. Be particular about your content because as much as you want to post content related to your brand, it might come off as boring to your audience. Determine what's working and what's not and create new ways to improve and increase your brand awareness. You can even partner with a digital marketing agency to provide you with social media marketing services in New Jersey. They usually consist of a team of professionals that can help you discover what you need to do better and come up with better content for your social media pages. Moreover, they can help you track the performance of your campaigns and identify ways to improve them. Once you have a better understanding of how well your current campaigns are doing, it's time to start planning for new ones. Take into consideration what worked in the past, and what didn't work, and create content based on that analysis.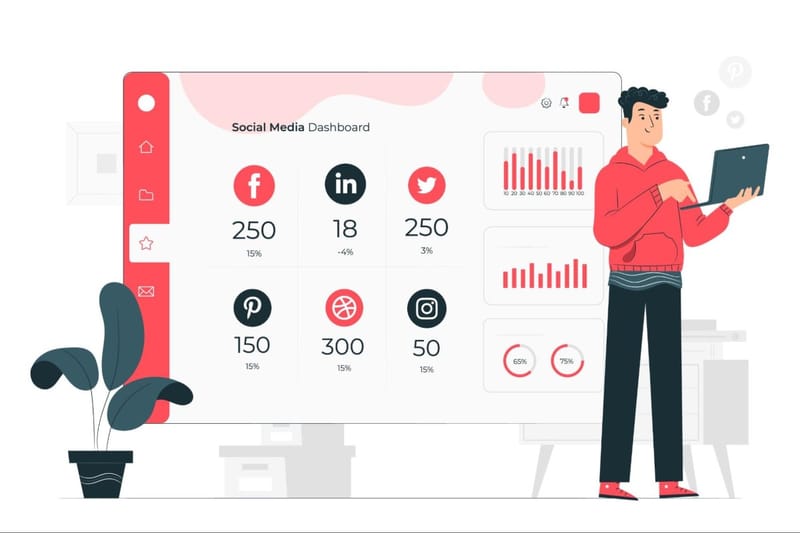 (Site: Freepik)
It's also important to make sure your content is properly optimized for each platform. Different platforms have their own guidelines and recommended formats, so you need to ensure that your content meets these standards. Additionally, it would help if you used relevant hashtags and track the performance of those tags to measure how well your posts perform. Doing a social media audit will allow you to properly strategize your content and ensure that it reaches the right people. With a well-thought-out plan, you can increase brand awareness, acquire new customers, keep existing customers satisfied, and form lasting relationships with them. The key is to create consistent quality content that resonates well with your target audience.
Define Your Target Audience
Your social media marketing strategy can only be effective if you know who you want to reach first. Do you want to sell to a particular gender or social group? Market research and analysis are essential here. You must understand your target audience's demographics, behaviors, interests, and pain points. Having adequate knowledge of all this will help you craft a better strategy for getting them to notice your brand and purchase your goods and services. Once you have identified your target audience, use it to create content that resonates with them. Whether it's a blog post, an infographic, or even an animated video, make sure the message is tailored to what your audience needs and wants.
Review Your Goals and Objectives
Reviewing your marketing goals means you want to consider whether your efforts are helping to achieve these goals and objectives. Do you need to include your targets for reach, engagement, and conversion? If you are not, consider setting new goals to increase brand awareness, drive traffic to your website and boost sales. You can use the SMART formula to help you stay focused and measure your progress. Specific, Measurable, Attainable, Relevant, and Timely are the SMART criteria to use when setting marketing objectives. You should also review your current tactics and campaigns to ensure they align with your goals. Are you using the right tactics to meet your goals and objectives? Are there any changes or additions that need to be made in order to make sure you are on track? You may even want to consider changing your strategy altogether; it is important to remain flexible and open-minded.
Create a new Content Strategy
It's a new year, and you cannot continue with the old content plan. Create a new plan for the types of content you will share on social media, including videos, infographics, articles, and blog posts. You can create a content calendar to not only schedule and organize your content in advance but also help you remember in case you forget something vital in your marketing plans.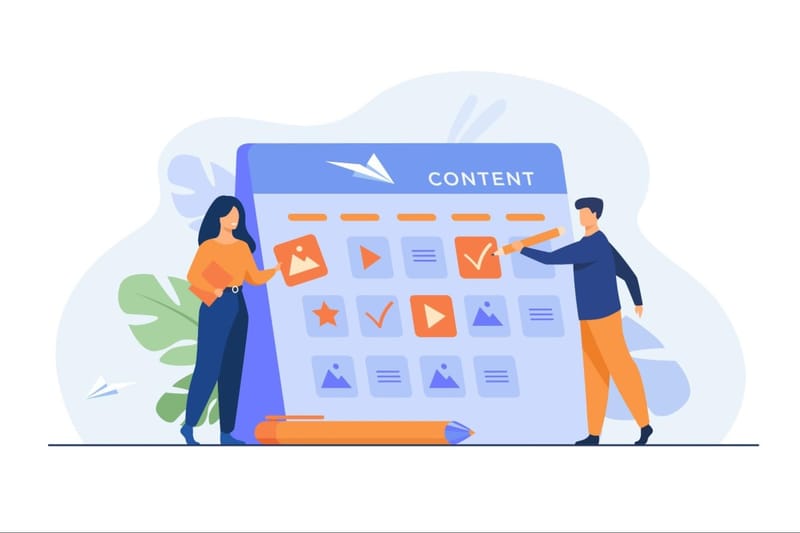 (Site: Freepik)
When creating your content plan, keep in mind that you need to have a mix of types of content. Mixing different kinds of posts will help keep things fresh and engaging for your followers. You could also include polls and surveys as part of your content strategy, as these can be a great way to get feedback from your audience on what they want to see more of.
Use Paid Advertising
As effective as organic reach on social media is, it can be limited. However, paying to advertise will help you reach a more significant, targeted audience with better engagement. You can decide to pay for Facebook or Instagram ads, or other types of paid advertising, to help you promote your products and services to specific demographics. Using paid ads will help you drive traffic and sales to your online store, which ultimately means more profit for your business. Paid advertising also enables you to reach people who may not have seen your content organically, and it can be a great way to get more eyes on your products and services.
Additionally, you can use paid ads to test out different types of messaging or creative elements to see what resonates best with your target audience. Paid advertising is a great way to boost your reach quickly, and it can be very beneficial to your online store. Lastly, consider using retargeting ads to stay top-of-mind with your customers. Retargeting allows you to reach people who have already interacted with your brand in some way.
Monitor and Analyze Your Progress
You might lose out on many improvement opportunities if you need to monitor and analyze results before you draw up a social media marketing strategy. It would help if you used social media analytics tools to track your progress and measure the success or failure of your marketing efforts. Use key metrics such as reach, engagement, and conversion rates to measure the effectiveness of your marketing strategies. Doing these allows you to gain valuable insights into your clients' behaviors, interests, and preferences. This will help you tailor your marketing efforts toward creating more targeted and effective campaigns.
The All-in-One Platform for Effective SEO
Behind every successful business is a strong SEO campaign. But with countless optimization tools and techniques out there to choose from, it can be hard to know where to start. Well, fear no more, cause I've got just the thing to help. Presenting the Ranktracker all-in-one platform for effective SEO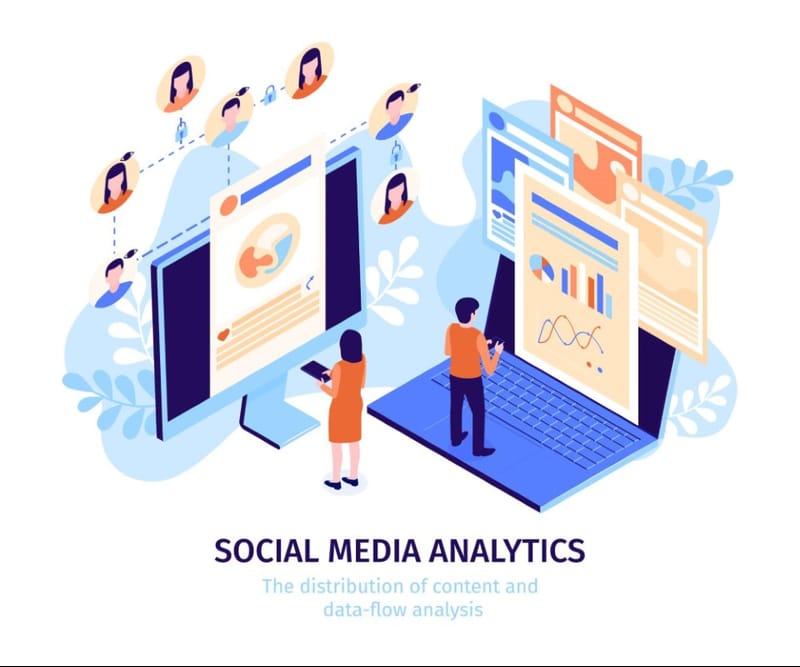 (Site: Freepik )
Additionally, you can use the data to identify areas for improvement and capitalize on opportunities. Finally, don't forget to track your competitors' activities so that you can stay ahead of the game. Doing this will help you gain a competitive edge in the market and create better value for your customers. With regular monitoring and analysis, you will be able to adjust your strategies and ensure that you are always up-to-date with the latest trends and changes in the social media landscape. Furthermore, don't forget to review your campaigns periodically. Make sure you have a good understanding of how well they have been performing so that you can adjust or tweak them accordingly.
Keep up With Trends and Changes
Staying current with the latest marketing trends and changes on social media platforms is essential for businesses looking to upgrade their social media marketing strategy. This can help you stay relevant and effective in your marketing journey. Leverage trends and build your content around them. After all, nobody wants to watch an advert video that looks like it was dug up from the 1920s. If you want to use an old idea or video, find ways to make it appealing to your target audience.
Moreover, you can use various analytics tools to measure the performance of your content and identify what's working and what isn't. This way, you can track trends in real-time, adjust your strategies accordingly, and remain competitive. Lastly, social listening will also help you stay informed about any changes in the algorithm that could affect your content's performance. Adjusting your marketing strategy to the changes and keeping a close eye on the trends will help you stay one step ahead of your competitors. Keeping up with the latest trends and changes is not only important when it comes to content creation, but also for social media marketing in general. Doing so will help you stay ahead of your competition and make sure that your marketing efforts are effective.
Conclusion
Using social media platforms to promote your business and sell your product and services is a great idea. However, it can prove futile if you use bad strategies. Focus on these tips in 2023, and you'll be glad you did. Target your audience correctly, and create content that resonates with them, and appeals to their emotions. Leverage influencers and collaborations, use visuals in your posts, and keep track of the performance of all your campaigns. Stay up-to-date on the latest trends, so you can adapt quickly. With these tips in mind, you'll be well on your way to increasing sales and growing your business.