Intro
Digital marketing trends 2022 confirm that a video is a great opportunity to talk about the company, products, and mission and share useful information with users. In addition, video marketing is an effective tool for promoting a site in search results. Let's take a look at how video content affects SEO optimization.
What effect does video have on SEO website promotion
1. Search engines love diverse content
The algorithms of Google and Yahoo are designed to show the user, in response to his request, the highest quality and valuable resources on the topic. Search bots don't just parse the text on a particular page to determine this. They also scan other types of content, such as images and videos. Their presence tells the search engine that your page is more informative for users and is likely to be more useful.
High-quality and diverse content marketing affects SEO promotion, so using video on your site is definitely worth it.
2. Video brings additional traffic to the site
If an SEO audit says that users come to your site from different sources, and also return to it again and again, this can serve as a signal to search engines that the content on it is interesting and deserves higher positions in the search results.
Users can find an optimized video posted on YouTube in different ways:
through search or recommendations within the video hosting itself;
in the special elements "Video" in the issuance of search engines;
when searching on Google or Yahoo in the "Video" tab;
in social networks or on other sites where it was posted.
A video containing useful content, calls to action, and active links to the site will be a great source of traffic. The more interesting video content you create, the more quality traffic you can drive to your site, which in turn has a positive effect on SEO.
3. Video keeps users on the site longer
Another important thing that affects SEO promotion is behavioral factors. If you have a lot of traffic, but all these users leave the site almost immediately, it is obvious that the posted content is not useful for them or inconvenient for perception.
People are more likely to watch videos than reading text, even if the two types of content convey the same message. The reason is simple: it requires less effort and time.
The video posted on the site keeps users on the page and reduces the bounce rate, which positively affects the search engine rankings and contributes to the growth of positions in the search results.
In this case, it is better to place several short videos, instead of one large one. The chances that users will look at them will be much higher.
4. People are more likely to share videos than just text content
A high-quality link profile has a positive effect on SEO website promotion. The more resources that link to your content, the higher your site ranks and, accordingly, positions in search results.
The All-in-One Platform for Effective SEO
Behind every successful business is a strong SEO campaign. But with countless optimization tools and techniques out there to choose from, it can be hard to know where to start. Well, fear no more, cause I've got just the thing to help. Presenting the Ranktracker all-in-one platform for effective SEO
In addition, external links can attract new users to the site. In other words, we can again get additional traffic, which becomes more diverse. Search engines react positively to such signals, adding points to the site when ranking.
5. Video boosts SEO performance
As we have already found out, video affects the position of the site in search engines, but without sales and profits, SEO promotion does not make any sense.
Users are significantly more likely to make a purchase or order service after watching videos about a product or company. This means that their presence will increase the percentage of conversion and final profit.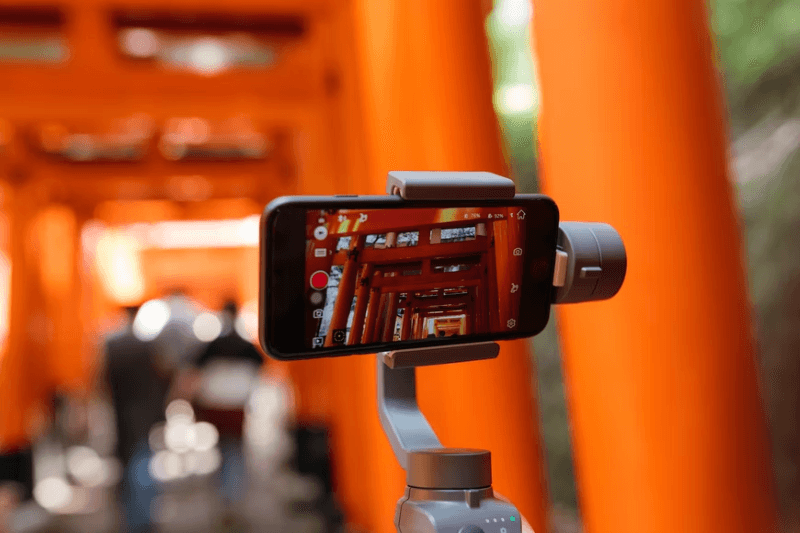 (Image source: Unsplash)
SEO rules: which videos to place on your website
So, from video marketing statistics we know that the impact of videos on website promotion can be very noticeable. Now let's look at what videos should be posted if you want to improve your position in search results.
Optimization is everything
In order for the video to give the effect that we wrote about above, it must be properly optimized. Before posting a video on YouTube, be sure to collect relevant keywords and use them in:
the name of the video;
description;
tags;
subtitles;
And also set a thumbnail icon (cover) that would attract the attention of users and explain the content of the video. Also, choose background music for your videos - only in this case, search engines and users themselves will appreciate your efforts.
Benefit from the useful
For videos to have a positive impact on promotion, you need to focus on their content. The main guideline should be the benefit that content can bring to viewers. Only in this case, your videos will be watched to the end, they will be subscribed to and actively reposted.
Uninteresting videos, the content of which is doubtful, even with the best optimization will not allow you to achieve a positive result.
Video themes for various sites
When preparing material for a video, an important question arises: what to shoot? In fact, choosing a theme for a video is quite simple: show what you have to offer on your site. In this case, visitors will always be interested in watching what they, in fact, came for.
For online stores, videos about products sold are the most relevant: reviews, ratings, comparisons, etc. A short video about what the unpacked product looks like already contains useful information. Demonstration of products during operation or detailed testing can increase website traffic due to reposts.
If your site is about services, we recommend that you describe in detail the process of their provision in videos. For example, on an educational site, you can show how classes are conducted. Small workshops and webinars will allow you to show the "service face", and users to make a choice.
The All-in-One Platform for Effective SEO
Behind every successful business is a strong SEO campaign. But with countless optimization tools and techniques out there to choose from, it can be hard to know where to start. Well, fear no more, cause I've got just the thing to help. Presenting the Ranktracker all-in-one platform for effective SEO
On the pages of the information resource, visitors will be happy to see detailed instructions on a given topic. Videos for information sites are a real find: as we said above, it is easier and faster to watch than to read.
(Image source: Unsplash)
How to start filling the video on the website?
To create a video, use a good technique that ensures that there is no glare, blur, or other signs of poor quality content. Prepare the script, and also adhere to the following placement guidelines:
optimize by embedding keywords in the title, description, tags, and subtitles;
when posting content on YouTube, also use optimization elements, be sure to include a link to the main site, as well as the name of the product, company. Complete the channel with a memorable cover, use a name that is consonant with the name of the store, brand, or company;
create valuable videos that will be actively shared (use special programs like screen recorder and video editing software to make them varied, high quality and attractive);
look for interesting topics to discuss;
create reviews, unboxings, and even humorous videos - all this attracts attention and can secure positions in the "Actual" block when it comes to video hosting.
When preparing content, take into account the theme of the site, the needs, and pains of the target audience, and also analyze the content that collects the maximum number of likes, reposts, and views. It will not be superfluous to make also a content calendar.
Conclusion
Now you know how the video on the site affects SEO promotion. We encourage you to actively use this user-friendly presentation format. Search engines give preference to interesting, visited sites, which are referred to by various sources. Videos will allow you to get all this and move up in the search results.
Your product video production should focus on the practical application of the video, highlighting the difficulties that affect the customer, and showcasing all of the product or seller's capabilities - all of this will assure consistent sales and a good ROI.