Intro
Local Search Engine Optimization, or Local SEO, serves as the digital cornerstone for businesses aiming to reach customers within a specific geographic area.
It's a targeted approach that allows businesses to promote their products and services to local customers at the exact time they're looking for them.
Local SEO ensures that your business appears in local search results when customers search for services or products similar to yours in their vicinity. This approach is crucial in today's digital landscape, where 'near me' searches have skyrocketed, and local businesses compete fiercely for visibility.
Understanding and implementing Local SEO is key to driving organic traffic, boosting local visibility, and ultimately, growing your business in your targeted locale.
And by web scraping, you can scale the process of optimizing for your local SEO. Let's understand what web scraping is and how it can help you in your SEO efforts.
Understanding Web Scraping
Web scraping, at its most basic, is a process used to extract large amounts of data from websites. This data can then be saved to a local file or a database in a structured format, streamlining information acquisition in a way that was previously unattainable.
So how do web scraping can help in Local SEO??
The All-in-One Platform for Effective SEO
Behind every successful business is a strong SEO campaign. But with countless optimization tools and techniques out there to choose from, it can be hard to know where to start. Well, fear no more, cause I've got just the thing to help. Presenting the Ranktracker all-in-one platform for effective SEO
It is an untapped thing in the field of SEO or Local SEO. The rate at which it can give you some important data sets is unimaginable. Let's start kicking off what all you need while doing a local SEO and how web scraping can come in handy.
We'll cover all the local SEO essentials step by step and will see how web scraping works in between.
1. Scraping for Local Intent Keywords
In the world of SEO, and particularly in Local SEO, the importance of keyword research cannot be overstated. Your website's visibility, traffic, and even conversions can significantly depend on your ability to identify and integrate the right keywords — those that your local customers are using in their search queries.
While there are various tools available to aid in keyword research, web scraping offers an innovative approach to this process, allowing for scalability that can be challenging to achieve otherwise.
By using web scraping, you can automatically extract large amounts of data related to keyword usage from various local online platforms such as local directories, forums, competitors' websites, and more. This process not only identifies the high-ranking keywords but also uncovers those 'hidden gem' keywords that are highly relevant to your local audience but may be overlooked by traditional keyword research tools.
Web scraping can also aid in identifying 'local intent' keywords — keywords that include specific geographic qualifiers, such as city or neighborhood names, or 'near me' phrases. These keywords can be instrumental in optimizing your website for local search, as they align closely with the search habits of local customers.
2. Competitor Research for Google My Business
Establishing your Google My Business profile is indeed a crucial starting point in any local SEO campaign. This not only ensures your business's visibility on Google's services, but it also enables customers to find your physical location, hours, and other essential information.
After claiming your business profile, an effective next step involves conducting thorough research into your competitors' profiles. This is where web scraping comes into play. Utilizing web scraping, you can examine the strategies employed by your competition, particularly focusing on how they are optimizing their Google My Business profiles.
The All-in-One Platform for Effective SEO
Behind every successful business is a strong SEO campaign. But with countless optimization tools and techniques out there to choose from, it can be hard to know where to start. Well, fear no more, cause I've got just the thing to help. Presenting the Ranktracker all-in-one platform for effective SEO
Key elements to pay attention to include keyword usage within their profile, the type of content they share, their posting frequency, and the categories they list under. For instance, you can scrape and analyze the frequency and placement of specific keywords within their business description or posts to understand which terms they're targeting. This can provide you with valuable insights into local keyword trends, allowing you to optimize your own profile accordingly.
Further, web scraping can also be leveraged to extract reviews and ratings from competitors' Google My Business profiles. These reviews and ratings can offer a wealth of information not just about your competitors' strengths and weaknesses, but also about local consumer expectations and preferences.
3. Scraping to know local links/citations
A critical, yet often overlooked, component of Local SEO involves optimizing your link strategy, specifically focusing on local links or citations. According to Google's guidelines, relevance is key when it comes to link building, which means local businesses should prioritize links that are contextually relevant to their location and industry.
Web scraping offers a particularly advantageous avenue to identify these potential local links. By deploying web scraping techniques, you can extract data from local websites, directories, and forums to identify where your competitors or other businesses in your industry are getting their backlinks from. This process essentially involves 'scraping' the website coding to find the HTML markers associated with external links, thereby generating a list of potential linking opportunities.
This information empowers you with the knowledge of potential sites, platforms, or local directories where your business could also seek a mention or a backlink.
It not only saves time that would otherwise be spent manually hunting for local link opportunities but also provides you with a strategic advantage, helping you to more efficiently and effectively optimize your local SEO strategy.
4. Reputation & Sentiment Analysis
The landscape of local business is often marked by fierce competition, with constant striving for the top spot in local search rankings. To maintain a leading position, businesses must remain vigilant and proactive, continually seeking ways to improve.
A crucial aspect of this improvement lies in understanding and managing your online reputation and gauging customer sentiment towards your business. This is where web scraping can play a pivotal role.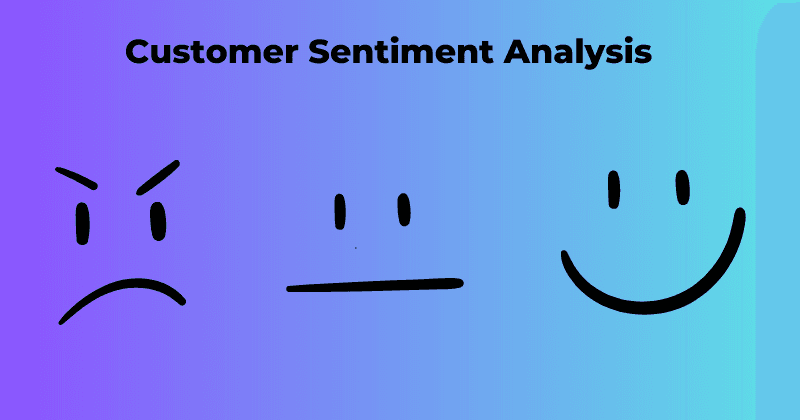 It allows you to monitor and collect data from various online platforms where consumers may express their views about your business, such as review sites, social media networks, and online forums. Through this collected data, you gain direct insight into your customers' experiences, perceptions, and feelings toward your business. This insight is invaluable because it provides real-time feedback on your services or products.
Once this data is gathered, sentiment analysis can be applied. Sentiment analysis, also known as opinion mining, uses natural language processing, text analysis, and computational linguistics to identify and extract subjective information from source materials. It allows you to understand whether the customer sentiment toward your business is positive, negative, or neutral.
By applying sentiment analysis to the scraped data, you can uncover common trends and themes in how customers perceive your business. This might highlight areas of excellence that should be capitalized upon, or it could expose weak points that need addressing to improve customer satisfaction.
For instance, if many negative reviews mention poor customer service, this signals an area for improvement. If you have a basic understanding of Python you can check out this guide on sentiment analysis using Python.
5. Leveraging web scraping for NAP verification
In the landscape of local SEO, the accuracy and consistency of your Name, Address, and Phone Number (NAP) across various online platforms is of paramount importance. This critical trio of information directly influences your ranking in local search results. Therefore, diligent monitoring and regular verification of your NAP details are integral to the successful execution of your local SEO strategy.
Although this can appear to be a daunting task, given the expansive digital terrain to cover, web scraping can serve as a powerful ally in this endeavor. By strategically deploying web scraping, you can automate the process of scouring online directories, social media platforms, and other pertinent sites for mentions of your NAP details. This automated extraction of data allows you to amass all the citations of your NAP information swiftly and efficiently.
The All-in-One Platform for Effective SEO
Behind every successful business is a strong SEO campaign. But with countless optimization tools and techniques out there to choose from, it can be hard to know where to start. Well, fear no more, cause I've got just the thing to help. Presenting the Ranktracker all-in-one platform for effective SEO
Once you've collected this data, you can scrutinize it to identify any inconsistencies or inaccuracies. Web scraping simplifies the often-tedious process of manual verification and allows you to pinpoint errors with increased precision. Moreover, this allows you to rectify inaccuracies promptly, ensuring that your NAP citations across the web remain consistent and accurate, thereby enhancing your local SEO performance.
Ways to do web scraping
There are several ways you can apply web scraping to bolster your local SEO efforts. The following approaches are particularly useful:
1. Utilize Web Scraping Tools:
Several web scraping tools and platforms can help you extract data from various websites efficiently. These tools range from simple browser extensions to more complex software applications and APIs that allow you to conduct scraping at scale.
2. Hire a Data Extraction Service:
If you're not comfortable conducting web scraping on your own, you can hire a data extraction service. These services have the necessary expertise and resources to scrape data responsibly and ethically, ensuring compliance with data privacy regulations.
3. Create Your Own Web Scraper:
If you have the necessary technical knowledge or the resources to hire someone with it, creating your own custom web scraper provides flexibility and control over your data extraction process. Languages such as Python, with its powerful libraries like BeautifulSoup and Scrapy, can be particularly useful for this purpose. You can refer to an informational blog here about creating your own web scraper using Python.
Conclusion
In conclusion, the potential of web scraping in local SEO is vast and still largely untapped. From conducting thorough competitor research to identifying local intent keywords, web scraping provides a data-driven approach to optimize your local SEO strategies. It offers valuable insights into local market trends, consumer behavior, and competitive landscapes, all of which are critical for maintaining a competitive edge in the local business arena.
Moreover, web scraping provides opportunities for reputation management and sentiment analysis, allowing businesses to stay attuned to customer feedback and continually improve to meet local customers' needs. By enabling real-time, in-depth, and scalable data collection, web scraping transforms the way businesses approach local SEO, offering a strategic advantage that can ultimately drive business growth and success.
As we delve deeper into the digital age, the significance of localized, tailored, and data-driven SEO strategies will only continue to grow. Leveraging technologies like web scraping can equip businesses to adapt to this evolving landscape, delivering improved visibility, customer engagement, and performance in local search results.
The possibilities are endless, and the competitive advantage could be substantial. It's an exciting prospect that deserves your attention as you navigate the digital future of your local business.