Intro
Have you decided to start a blog of your own? Great! Once you've decided to get into blogging, you'll need to choose which blogging platform is the best fit for you and your potential blog. In this article, we'll go over the pros and cons of the most popular blogging sites, making your choice easier.
Starting a blog? There are a lot of important choices to make - what you'll write about, what you'll call it - but a key ingredient in blogging is the platform you'll use to blog on.
There are a variety of blogging platforms out there. So how do you know which one is the best fit for you? In this article, we'll cover the pros and cons of the most popular blogging platforms out there.
And if you'd like to take it one step further, go ahead and review this fantastic guide on how to choose the best blogging platform. It comes with an extensive table of contents breaking down blogging platforms into various categories: free, to make money, for affiliate marketing, for SEO etc., you get the idea.
The Most Popular Blogging Platforms:
Blogger
Tumblr
WordPress
Medium
ConstantContact
Gator
Wix
SquareSpace
While this list is not completely exhaustive (there are other blogging platforms out there available), this covers the most well-known.
Blogger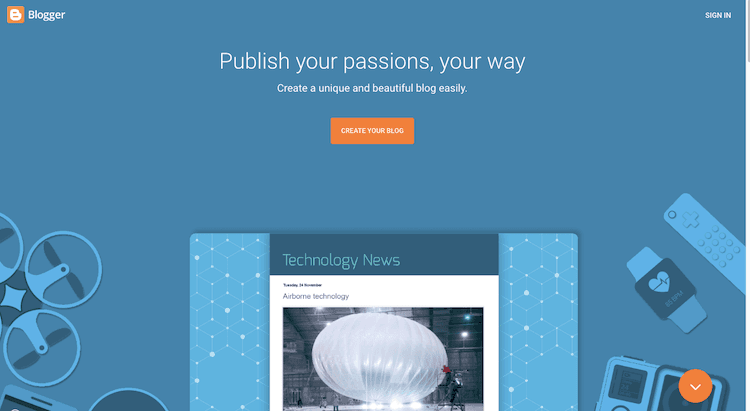 Blogger is Google's free blogging platform. The only requirement for setting up a new blog on Blogger's platform is a Google account, which keeps things fairly simple as far as setup is concerned.
Blogger has been around since the late '90s, launched originally by Pyra Labs. Later purchased and redesigned by Google in 2003, it's a fairly straightforward blogging platform that's good for less tech-savvy users and those looking to launch a blog without much in the way of frills.
Pros:
Free when choosing not to purchase your own domain name
Ease of use and management for bloggers with limited technical skills
Uses Google platforms, which means security is reliable
Cons:
Limited customizable options & tools
Not an ideal setup for blogs that project significant growth
Generally doesn't receive updates or new features
Limited design options, design templates for Blogger are often lower in quality than other platforms
Tumblr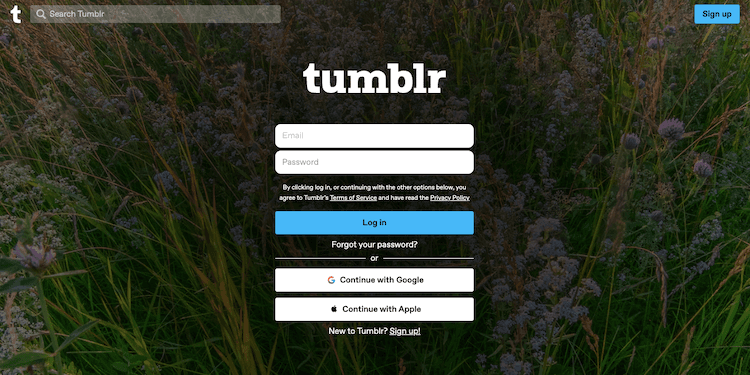 The All-in-One Platform for Effective SEO
Behind every successful business is a strong SEO campaign. But with countless optimization tools and techniques out there to choose from, it can be hard to know where to start. Well, fear no more, cause I've got just the thing to help. Presenting the Ranktracker all-in-one platform for effective SEO
Microblogging platform Tumblr is different from most other blogging platforms for a variety of reasons, and in some ways, functions more like a social media platform than a blogging platform.
Tumblr includes social networking features like reblogging and built-in sharing tools while also making it easy to post visual as well as written content. It also benefits from being easily accessible for mobile users thanks to the Tumblr app.
Pros:
Free when you use their subdomain (https://yourblognamehere.tumblr.com) but also has the ability to be linked with your custom domain name.
Easily allows for the integration of various formats thanks to the social networking component, so .gifs, audio files, videos, and photos are easily shareable.
Simple set up and use.
Audience targeting and sharing content are simplified by built-in tools - following other blogs, allowing blog followers to reblog your content, reblogging other users' content.
A simultaneous social media platform and blogging platform.
Cons:
Once the features of Tumblr aren't enough for your growing blog, there really aren't growth options available. Tumblr doesn't have any plug-ins or additional features you can add to your blog as it grows.
Importing your Tumblr content to another platform is not easy, nor is backing up your Tumblr content.
Tumblr appeals broadly to a variety of subcommunities but doesn't do as well with a larger overall audience.
While there's a broad range of layouts available, none of them include extra features.
WordPress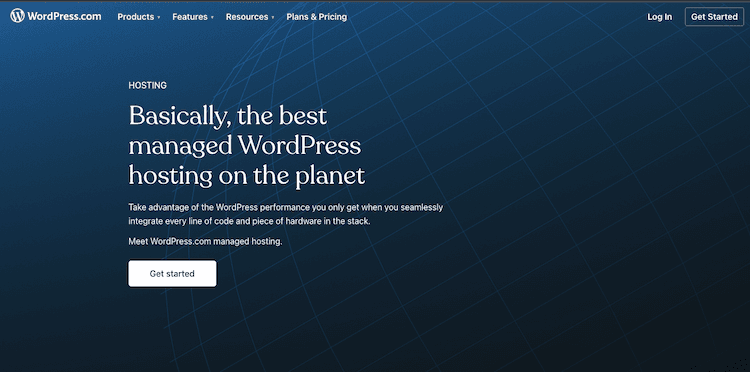 WordPress is the most popular blogging platform currently available - and for good reason. (We're discussing WordPress.org here, not to be confused with WordPress.com, a different blogging platform that has much more limited features.)
WordPress is the gold standard for bloggers seeking to have full control of what their blog will look like, how it will grow, and what it can do. It is infinitely customizable, available in as many layouts and designs as you can imagine, and with hundreds of thousands of experts creating a variety of new customizations all the time.
Pros:
WordPress is highly customizable and can easily be set up on a custom domain.
As your blog grows, a variety of extra features are available through plug-ins, including paid memberships, forums, online stores, and more.
Themes for WordPress are widely available, with thousands of free designs as well as paid custom designs.
The plug-ins available are in the thousands and allow for additional customizable features like contact forms and galleries.
SEO plug-ins are available, and WordPress allows for SEO-friendly URLs, categories, and tags for your posts.
Due to the popularity of this platform, there is a great deal of information available on how to maximize your usage of WordPress further, so troubleshooting is easy.
Cons:
Website management is necessary, and if you're not tech-savvy, you'll need to hire someone to do it or spend the additional time learning the necessary skill set yourself.
Backups and security will also be needed, and you'll have to manage those yourself as well.
Software is free, but you'll need to pay for both your domain name and hosting (this applies to a variety of other platforms as well, but the subdomain is not an option at WordPress.org)
Medium
Medium, a community of writers, bloggers, journalists, and industry experts, is an intuitive and simple to use blogging platform. If your primary aim is to write articles and blog posts on a variety of topics and build an internet presence as a writer, Medium might be the right platform for you.
Medium makes publishing content fairly straightforward.
Pros:
Easy to use, no setup needed, and no coding required. You create a simple profile and can start writing in-platform immediately.
Good for those bloggers who want to focus primarily on writing rather than building a website.
Bloggers who wish to utilize content marketing to grow their own websites can use the Medium platform as an additional place to publish content.
Medium has an existing audience with a variety of subcommunities and online publications, allowing bloggers to gain access to various audiences.
Medium is free to use.
Cons:
Limited features available for brand-building
You can only use the Medium subdomain, not your own domain.
Monetization is minimal. If you join their membership program, you can earn a small commission based on how your content performs, but you cannot run your own ads.
Bloggers have limited control, thanks to the lack of customizable features.
ConstantContact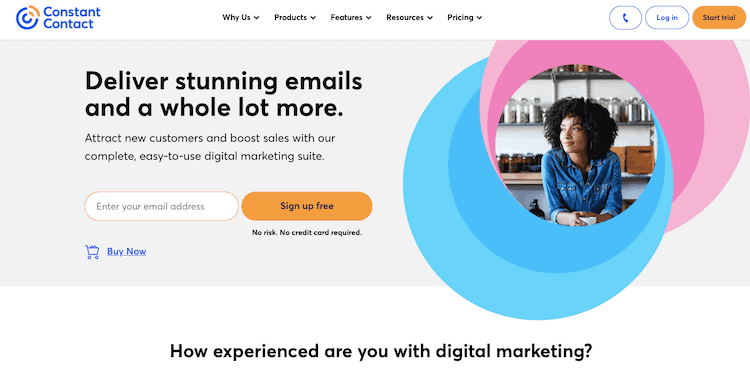 The All-in-One Platform for Effective SEO
Behind every successful business is a strong SEO campaign. But with countless optimization tools and techniques out there to choose from, it can be hard to know where to start. Well, fear no more, cause I've got just the thing to help. Presenting the Ranktracker all-in-one platform for effective SEO
ConstantContact is an all-in-one website builder that includes a blogging platform and a business website builder, online store, and email features. ConstantContact's website builder has a ton of features in its drag and drop interface. There are other bonuses available as well, like stock photos and logo-makers.
Pros:
ConstantContact offers a free 60-day trial, allowing you to try out the service and even build your online store before committing to purchase.
ConstantContact is also a hosting platform, so you'll also have hosting managed when you sign up for their website builder.
Drag and drop setup means no technical skills are needed.
A variety of integrated features means selling merchandise, and other website capabilities are simple to use.
Cons:
ConstantContact doesn't integrate with many other third-party platforms
Difficult to export your site to another platform if needed
There aren't a ton of ConstantContact developers, so the options for customizing layouts are pretty limited.
Gator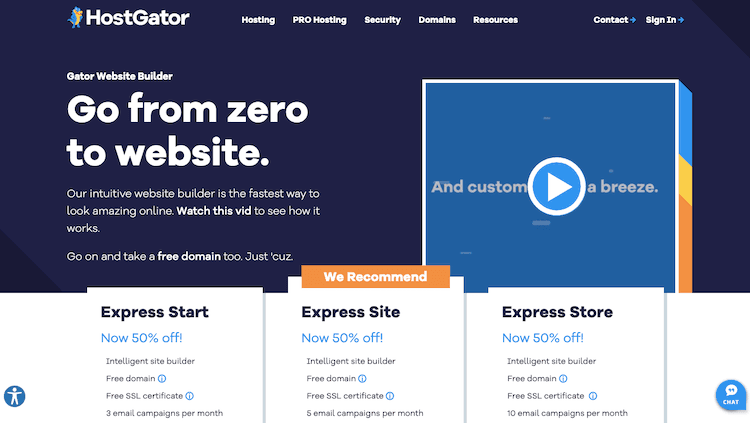 Hostgator, a commonly used web hosting company, has forayed into website building with their platform, Gator. Gator, like ConstantContact, offers a drag and drop tool that makes building a website, blog, business site, or online store fairly simple. Gator is a separate platform from their popular hosting company HostGator.
Pros:
Easy to build, drag and drop features
HostGator manages all backups, security, and performance
An online store can be added simply
Cons:
All accounts are paid only
Ecommerce features are only available through higher paid plans
Apps and extensions are limited
Fewer available customizations
Wix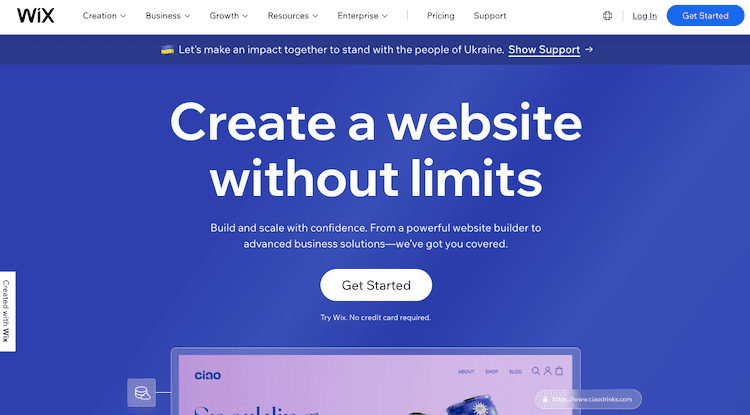 The All-in-One Platform for Effective SEO
Behind every successful business is a strong SEO campaign. But with countless optimization tools and techniques out there to choose from, it can be hard to know where to start. Well, fear no more, cause I've got just the thing to help. Presenting the Ranktracker all-in-one platform for effective SEO
Wix is another popular hosted platform for website building that uses the drag and drop website builder for building a website easily. Wix Blog is an app that works with the Wix website builder to add a blog to your site- so if you're looking to start a blog and website simultaneously, this may be the right fit for you.
Pros:
High popularity and millions of users mean there are various customizable features, templates, and third-party apps that work with Wix.
Drag and drop tools mean setup is easy and requires no coding skills.
The basic website builder is free.
Cons:
Once a template has been selected, it cannot be changed.
A free account has limited features and shows Wix branding and ads on your site.
Free third-party apps are limited.
Ecommerce features are only available through paid plans, but they are also limited.
Squarespace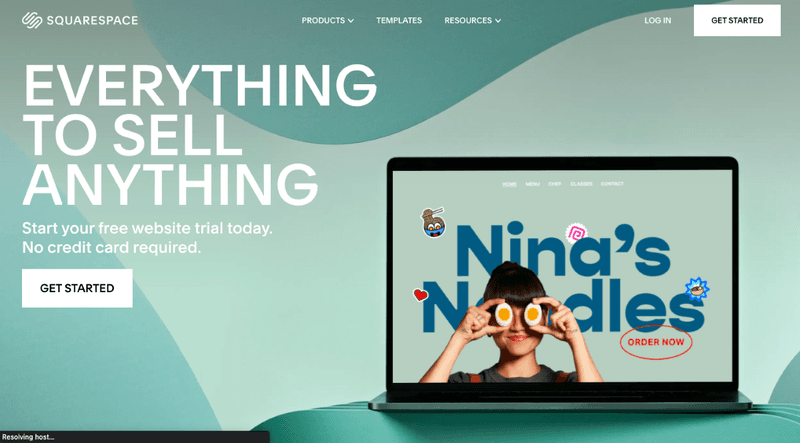 Squarespace focuses primarily on small businesses seeking intuitive ways to build their online brand and presence. Squarespace has a variety of plans and layouts, including their site option, which is a good fit for bloggers looking to use their platform.
Pros:
Squarespace has a large focus on design so that users can choose from a broad range of attractive templates.
Easy to use, so no real tech-savvy or coding skills are required.
Excellent content management system with a range of design options.
Integrates with a variety of other third-party sites smoothly.
Cons:
There's no autosave function. This can be especially troublesome when writing content within the platform.
SquareSpace's blogging functionality doesn't include archives of older versions of posts.
While fine for most users, with limited features and issues when updating posts, professional bloggers are better off using a more customizable platform.
Conclusion
Whatever your needs are when setting out to create your blog, most sites and reviews will tell you that the platform with the most flexibility and ease for blogs that project significant growth or may need to evolve as they grow is WordPress.org.
WordPress certainly has many options, especially if you're looking to capitalize on your blog . And rest assured, there is money to be made in blogging. In this enlightening review on how much do bloggers make, stats, facts and figures back blogging as a very valid career choice!
Think about reducing your risk of failure with your niche in mind before absolutely deciding on a blogging platform. WordPress may be the more popular choice but don't count out the other platforms if you're more interested in plug-and-play, less hands-on management, easy e-commerce functionality, or built-in social network capabilities.