Intro
Digital transformation has become essential in many industries, and logistics is no exception. With the rise of e-commerce, the growth of global supply chains, and the increasing demand for real-time visibility and transparency, logistics companies are facing unprecedented challenges and opportunities. And digital transformation means changing not only the approach to providing services but also the vision of your product and its development.
The global logistics digital transformation spending market has been estimated at more than $52 billion in 2022. According to experts, it will reach $108 billion by 2030, growing at an average annual growth rate of 9.6%. So, as you can see, both large corporations and local startups are investing in technology to keep up with the pace of industry development and take full advantage of the digital world.
In this context, digital transformation is not just a nice-to-have – it is a necessity for survival and growth. In this article, we will explore the key drivers of digital transformation in logistics, the benefits it can provide, and the challenges that logistics companies may face along the way. We will also provide some practical tips and examples of how logistics companies can successfully navigate the digital transformation journey and emerge as leaders in their field.
How to Increase Income in the Logistics Field With Digitalization?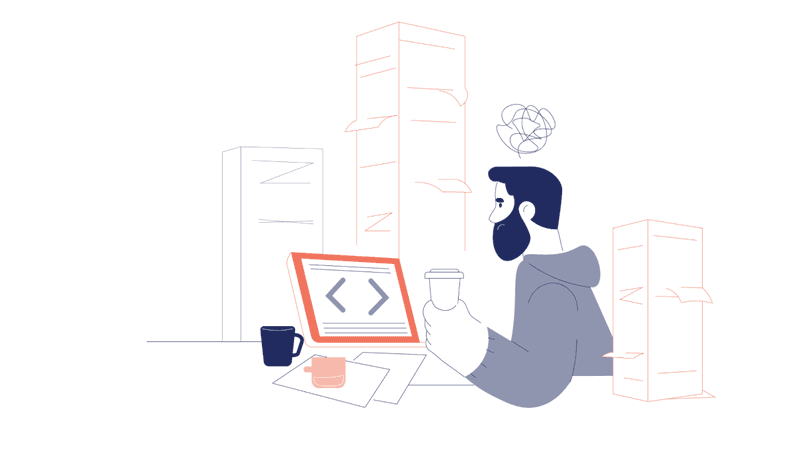 (Cadabra Studio's original image)
In today's fast-paced business environment, logistics organizations must use all possible tools and technologies to improve their services and attract new customers continuously. The competition is really tough, especially if the market is taken over by giants such as Amazon or DHL, which have tremendous resources.
The All-in-One Platform for Effective SEO
Behind every successful business is a strong SEO campaign. But with countless optimization tools and techniques out there to choose from, it can be hard to know where to start. Well, fear no more, cause I've got just the thing to help. Presenting the Ranktracker all-in-one platform for effective SEO
Therefore, digitalization has become a crucial component for companies seeking to remain competitive in the transportation industry. Of course, the search for optimal logistics solutions depends on the specific needs and scale of the company, but there are several versatile options to reduce costs without losing the quality of services. These are real-time data processing and automation.
Real-time Data Processing
Real-time data processing involves using technology to collect, analyze, and respond to data as it is generated. Such tech solutions can be implemented during website development or at any other stage of product evolution.
Real-time data processing can help logistics companies optimize their operations by providing information on inventory levels, shipping routes, and delivery time. Delivery can be supported by delivery route planner. You can also make more informed decisions and increase your efficiency.
This, in turn, leads to cost savings and increased profits. In addition, it allows you to achieve a high level of transparency during route optimization, which is incredibly important for engaging customers and improving their loyalty.
Automation Services
Digital transformation is also about using machine learning and artificial intelligence to automate manual processes. This is one of the main ways logistics companies can increase their revenue by speeding up and automating processes that used to take more time to do manually.
By automating routine tasks such as order processing and shipment tracking, logistics companies can reduce the need for manual labor and increase speed and accuracy. That's a big cost saving, productivity boost, and increased profit by serving more users in less time.
How to Build Trust With a Client Through Business Digitalization?
Trust is the basis of success in any industry, and logistics services are no exception. In a world where there are many offers and risks, potential customers feel confused, and when they find a reliable organization, they remain loyal for many years. This is the guarantee of your constant income and the development of your business, so this issue should be taken very seriously.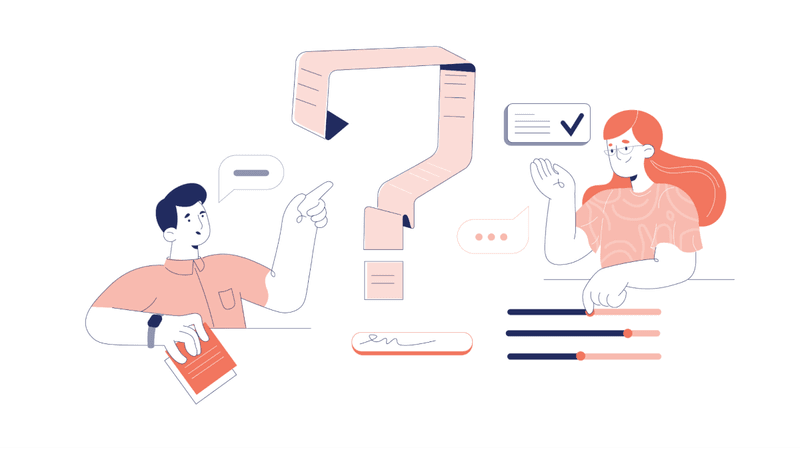 (Cadabra Studio's original image)
Digitalization is a critical component of building trust. It is much easier for clients to entrust their funds and data to those who keep pace with progress, offer convenient and affordable logistics solutions, and are constantly developing. This is not only about the popularity of the company but also about its safety and ability to operate in any difficult circumstances.
The All-in-One Platform for Effective SEO
Behind every successful business is a strong SEO campaign. But with countless optimization tools and techniques out there to choose from, it can be hard to know where to start. Well, fear no more, cause I've got just the thing to help. Presenting the Ranktracker all-in-one platform for effective SEO
So, customer trust and digitalization are inseparable concepts. Let's take a closer look at how digital solutions can be used to strengthen customer relationships, increase client loyalty and improve company service.
Capability & Reliability
Capability is crucial to any business. It is all about the company's ability to provide the exact services that clients require and give them what they are paying for. This includes having the necessary equipment, personnel, and technology to handle different types of shipments and meet clients' needs. By demonstrating their capability, transportation and logistics companies can instill confidence in their clients that they can deliver the desired results.
Reliability, on the other hand, is about consistency and dependability. You need to be reliable in business operations, ensuring users that their shipments are delivered on time, in the right condition, and to the right destination. You may also need proper mobile app optimization to provide customers with real-time data and the best experience to demonstrate the reliability and capability of your business. These are fundamental factors in building that trust.
Simplicity & Ease
First, simplicity makes logistics apps more useful and adaptable to employees. The better the corporate software solution works, the cleaner and more efficient its interface, the more productive the staff, and the more tasks are completed in a particular time. In addition, you will need less training and support, which reduces costs and allows employees to focus on other important tasks. Digitization aims to optimize work processes, so ease of use is a key success factor.
Secondly, this point is significant for interaction with users. Simplicity makes the program more accessible for customers, leading to higher adoption rates and customer satisfaction. Such products engage clients, ensure transparency of interaction with services and provide access to all your offers. Therefore, it is worth thinking about professional UX/UI design.
Transparency
Transparency is the foundation of route optimization and improvement of logistics services through cooperation with partners. Organizations share data about their shipments with other trading partners in the supply chain, helping to coordinate deliveries better and enhance security measures.
Manufacturers and distributors, freight forwarders, motor carriers, regulators, and even service users themselves can access the shared data platform. This concept ensures efficient and, most importantly, smooth operation of all departments of the logistics network. This is a mandatory component of the concept of Industry 4.0, which includes the use of blockchain and IoT. And, of course, it is an indispensable tool for building the trust and reputation of the company.
Communications & Clarity
In conversations about high-quality logistics solutions, the concept of the four Cs comes up very often: completeness, clarity, cooperation, and communication.
This means that a successful and trusted transportation business takes into account all aspects of the complete shipment ecosystem and provides full visibility. In addition, it gives clarity by integrating modern technology solutions and constant monitoring of the supply chain.
Collaboration is about the transparency we mentioned above and the ability to build strong relationships with partners to improve services. And, of course, communication is about direct and transparent communication with users and quality customer support.
Accessibility
Accessibility is a critical factor in building trust with clients through digitization in logistics. Of course, it is formed from many aspects and requires special attention to customer needs, but in general, accessibility includes the following components.
Inclusivity. By ensuring that your digital logistics systems are accessible to everyone, regardless of their abilities or disabilities, you demonstrate that you value inclusivity and diversity. This can help build trust with clients looking for businesses committed to fairness and equality.
Flawless customer experience. When clients can easily and comfortably interact with your digital systems, they are more likely to have a positive experience with your business. It builds trust and loyalty over time as clients rely on your logistics software solution.
Compliance. Accessibility is not just a nice-to-have feature; it is often a legal requirement. By ensuring that your services are accessible, you demonstrate that you are committed to compliance with relevant laws and regulations and take your legal obligations seriously.
In other words, your digital tools should be available for everyone and from everywhere. By demonstrating inclusivity, enhancing customer experience, showing transparency, and ensuring compliance, you can help build strong relationships with your clients and stand out in a competitive market.
Security & Privacy
Security and privacy are also critical factors to consider when it comes to building trust with clients. All modern logistics solutions collect and store users' data, so your approach should be focused on this issue. Here are some points worth paying attention to.
Protecting sensitive data. There is often a lot of sensitive data involved in logistics. These can be delivery addresses, customer information, financial details, etc. By ensuring that this data is stored securely and protected from unauthorized access, you can demonstrate that you take your clients' data safety seriously.
Mitigating risks. Regarding logistics, many risks are involved, such as theft, fraud, and cyber attacks. You can reduce these risks and protect your clients' assets by implementing strong security measures. You can use artificial intelligence and machine learning tools to detect and prevent fraudless activity.
Complying with regulations. Just like with accessibility, compliance with relevant laws and regulations is crucial for the logistics industry and its security. You should ensure that all your systems are compliant with data protection laws and other rules. This way, you can demonstrate that you take your legal obligations seriously.
Communication is also essential in this regard. Open and transparent communication about security and privacy can help build trust with clients. Provide all possible information about your company's security system, as well as any data breaches or other incidents that may occur, to show that you are committed to being honest and accountable.
3 Steps to Digital Transformation in the Logistics Industry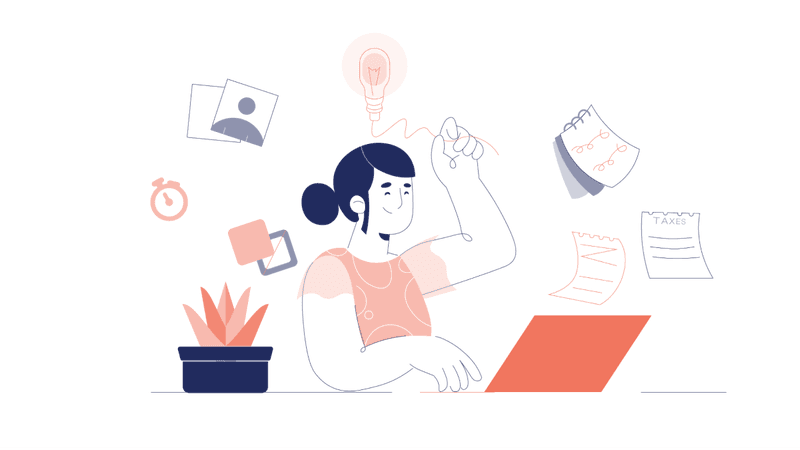 (Cadabra Studio's original image)
Create a Vision
One of the main reasons to form a clear vision is the opportunity to distinguish your business in such a competitive industry as logistics. An innovative vision will set you apart from others in the market. By demonstrating a commitment to digital transformation and a clear understanding of the opportunities it opens up, you can also attract customers and partners who are looking for promising logistics service providers.
The All-in-One Platform for Effective SEO
Behind every successful business is a strong SEO campaign. But with countless optimization tools and techniques out there to choose from, it can be hard to know where to start. Well, fear no more, cause I've got just the thing to help. Presenting the Ranktracker all-in-one platform for effective SEO
So, this is simply a necessary step in digital transformation for the logistics industry, and here are some other reasons why.
Alignment and creating a common goal to follow. A clear and compelling vision helps align everyone in the organization around a common goal, which ensures that everyone is on the same page and working towards the same objectives.
Defining direction. A vision can also provide direction for your company, which is essential for logistics management processes. By setting out a clear path for digital transformation, you can help guide decision-making and prioritize investments in technology and processes.
Huge motivation. A compelling vision can also motivate employees and stakeholders to embrace change and pursue innovation. By painting a picture of the organization's future state, you can inspire people to work towards a common goal and overcome any obstacles that may arise.
When creating a vision, it is essential to consider factors such as clients' needs, emerging technologies, and all the important industry trends. You may also want to involve stakeholders from across the organization to ensure that everyone has a voice in the process and is invested in the outcome.
Involve Specialists and Invest in the Right Technology
You don't need to invest in all the current tech innovations to be successful. On the contrary, proper digitization involves clear planning and a professional approach to updating, as well as using only the right tools to improve your services.
So, it does not matter whether it is website development or mobile app optimization; you need to conduct a preliminary analysis of the market, your product, and the target audience, and also find experienced specialists who will help you choose the right technologies and invest in them wisely. This will significantly speed up the transformation and save a lot of money and effort.
Get Both Your Employees and Customers Involved
The process of engaging employees and customers in digital transformation is about transparent communication, providing training and support, and creating opportunities for feedback and collaboration. This is what helps you adapt your target audience to the changes, form a solid logistics management system and make customers fall in love with the new product.
This is a critical step, and here are a few reasons why:
It helps ensure people are ready for change and motivated to use new tools and processes. By involving employees at different levels and departments in the planning and implementation of digital transformation initiatives, you can also leverage their knowledge and experience and ensure that solutions are tailored to their needs.
Customer feedback is incredibly important. It helps ensure that solutions meet their needs and expectations. By gathering customer feedback and ideas, you can gain insight into their challenges and preferences and use this information to shape your digital transformation strategy.
The success of digital transformation in logistics depends on the acceptance of changes by both employees and customers. By involving them in the process, you can help ensure they are more likely to embrace new tools and processes and overcome any resistance or skepticism.
It is also worth noting that both employees and customers can be a source of innovation and new ideas. By creating channels for feedback and collaboration, you can harness their creativity and implement new solutions to drive digital transformation and create a competitive advantage.
Conclusion
So, wrapping up, digital transformation has become essential for logistics companies to remain competitive in the transportation industry, optimize their operations, reduce costs, and increase revenue. Real-time data processing and tech tools that automate manual processes are key components of digitalization that help businesses to achieve these goals.
Digitalization also plays a vital role in building trust with clients, ensuring capability, reliability, simplicity, and transparency. So transportation companies need to invest in technology to keep up with the pace of industry development and take full advantage of the digital world.