Intro
Growing an SEO agency isn't easy. But if you lack streamlined workflows at your business, you're not just swimming upstream, you've got lead weights strapped to you.
Process improvement is vital for the growth of any business. However, it's even more important for SEO.
Your team is your greatest resource (and expense) as a professional services organization. And if you don't have the systems to streamline your SEO workflows, you'll burn through your bottom line trying to produce assets for clients.
This post will cover the real cost of inefficient processes at your SEO agency and what you can do to streamline workflows today.
The True Cost of Inefficient Processes at Your SEO Agency
The cost of inefficient processes sneaks up on you.
On average, employees spend:
Yikes.
So, it shouldn't be a shock that the average office worker has around 2 hours and 53 minutes of productivity daily.
The All-in-One Platform for Effective SEO
Behind every successful business is a strong SEO campaign. But with countless optimization tools and techniques out there to choose from, it can be hard to know where to start. Well, fear no more, cause I've got just the thing to help. Presenting the Ranktracker all-in-one platform for effective SEO
Time for some quick, back-of-the-napkin math to see how much this costs your agency.
According to Indeed, an SEO specialist's average salary is $54,579. Assuming they're only productive for 3 out of 8 hours each day (37.5%), you're losing around $34,111.87 yearly in productivity per employee.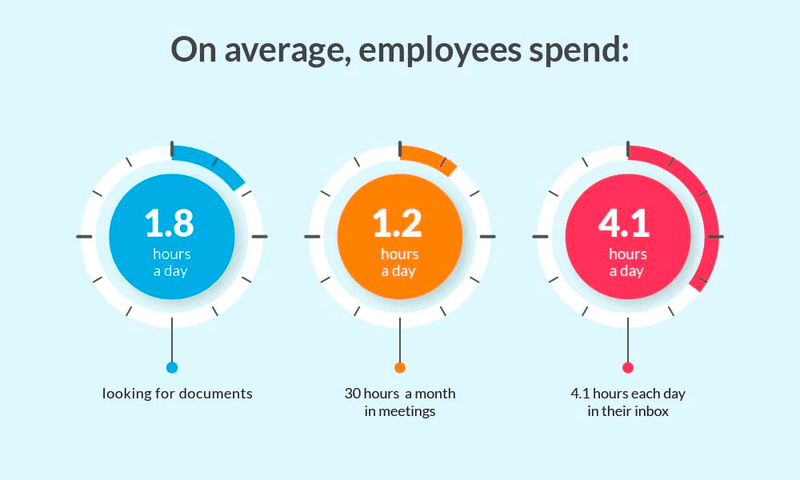 Work with contractors instead of employees?
Let's say your contractors work 30 hours a week at $50 per hour (the lower end for SEO rates). But, they're only productive 37.5% of the time.
Then you're losing $45,000 a year (30 hours a week X $50 an hour X 48 weeks gives you $72,000 X .625 for the percentage of time wasted.)
The All-in-One Platform for Effective SEO
Behind every successful business is a strong SEO campaign. But with countless optimization tools and techniques out there to choose from, it can be hard to know where to start. Well, fear no more, cause I've got just the thing to help. Presenting the Ranktracker all-in-one platform for effective SEO
Granted, these are rough estimates.
Still, this shows you how much time and money go toward admin work and other tasks that don't directly bring clients results. In other words, work that's outside of scope.
Inefficient Processes Burn Out Your Staff
The costs are higher in other ways, too. As a result of inefficient processes, your staff is less productive and more stressed.
This negatively impacts your business. Stressed employees buried underneath a mountain of administrative tasks don't have time to focus on getting results for their clients.
Worse, your team will usually work outside their contracted hours to manage tasks and catch up.
While you may earn back some of the money you lose on inefficient processes this way, it'll cost you more in the long run. Your employees will resent you. The quality of their work will go down. And they'll be less excited to work at your agency.
Eventually, they'll leave your organization for a more efficient agency.
This damages your workplace culture. Burnt out employees tend to drag other employees down around them. As a result, your workplace may become toxic.
Managing employee churn is also very expensive. Usually, it costs around 1.5x - 2x the employee's salary to replace an employee.
Keep in mind that this ignores costs from the negative impact on workplace culture, existing clients, and overall brand.
The Real Reason Your Agency Has High Employee Churn
With the "Great Resignation," "Inflation," and "Quiet Quitting" headlining the news, you can easily conclude that everyone is unhappy with their jobs everywhere.
That's not exactly the case, though.
While there are many ways to improve your workplace culture (better communication, more praise, higher pay, better benefits), all of these ignore the real cause of dissatisfaction. People leave unnecessarily stressful jobs where a lack of structure and guidance makes simple work much more complicated.
SEO requires time.
You need time to research, create, and optimize assets. It's also extremely easy to connect results to the efforts of your team using analytics. That pressure to drive results through an obstacle course of inefficiency can burn out your team quickly.
That's why your workflows are the foundation of your business success.
Without clearly defined processes supported by templates, tools, and standard operating procedures (SOPs), your team will struggle to knock out deliverables quickly.
Instead, they'll get caught up in a kaleidoscope of menial tasks that eat away at their days while deadlines and the need to drive results stress them out.
Eventually, they'll have enough and leave.
How to Improve Processes at Your SEO Agency (5 Steps)
If inefficient processes are the problem, process improvement is the solution.
Be prepared. Change is hard.
And as the owner of an SEO agency, you'll need to put in the extra time and work upfront. It won't be easy. But it will be worth it.
Follow these five steps to streamline processes at your agency.
1. Map Out Your Workflows
You can't fix processes until you outline what processes you already have.
You can use a whiteboard, post-it notes, notebook paper, or apps like LucidChart or Creately. You don't need fancy tech. But, apps are better for remote agencies because they make collaboration easier.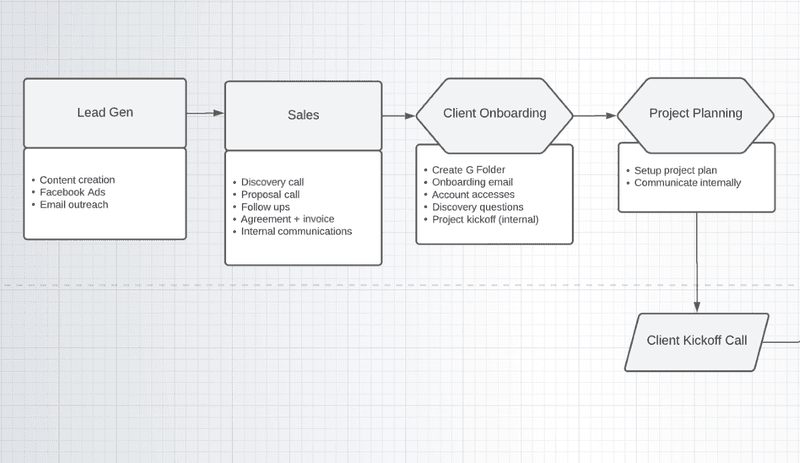 Example of Client Onboarding Workflow Mapped in Lucid Charts
Pick a problem area in your business and start mapping out the workflows. You want to be as detailed as possible.
It can be something small, like finding flaws in your process for optimizing existing posts. Or, it can be a more complex workflow, like trying to optimize your onboarding process for new clients.
Once you've highlighted the steps in each process, invite your team to collaborate and review. They'll make sure you don't miss anything.
2. Identify Inefficiencies
It's very easy to see problems once you map out everything.
You'll notice bottlenecks, redundancies, and other slowdowns. Highlight these areas and discuss whether they're necessary for your team.
3. Find Solutions
You have three paths you can take to improve workflows:
Eliminate: Remove any unnecessary process.
Consolidate: Combine redundant processes.
Improve: Use tools, training, and templates to streamline processes.
You'll spend most of your time improving processes. But there are a couple of important points to note before you adopt any solution.
To begin with, speak with your team before adopting any new tools. They may have other recommendations. Or, they may not like the tool you choose. You want them invested in any new platforms. Otherwise, you'll waste money on tools no one uses.
Also, training and templates take time and resources to create. But, the payout is worth it in the end. Instead of starting from scratch each time, your team can knock out work with a few clicks.
Most importantly, create video walkthroughs for complex processes. Written-out SOPs are helpful, but videos clearly outline the steps your team needs to take. This will save everyone time and frustration.
4. Upgrade Your Processes
Start with the most problematic (inefficient) workflow first. Use the data gathered from the first steps to improve your processes.
SEO involves a series of processes with detailed instructions at each step. You want clearly defined SOPs and video walkthroughs for complex steps. For simple tasks, you'll need detailed instructions.
People all process information differently. The more details, communication, and guidance you provide, the easier it is for your team to knock out tasks quickly and accurately.
And if you onboard any new platforms, you'll also need to create processes around training your team on those tools.
For the best results, it's important to have someone directly connected to the workflow to flesh out the processes. This maximizes efficiency and ensures your team follows the process.
This is a time and resource-intensive process. It can be frustrating and a bit of a headache. But, you're investing in the future success of your business. It's worth it.
5. Track Results and Reflect
Once your new process is in place, you must track results and reflect on the workflow. After completing the task, you must ask each team member to reflect on the workflow.
Ask your team these process improvement questions:
What worked?
What didn't work?
What could be improved?
And would you improve it?
Is there anything else about this process you'd like to share?
If you don't already do it, you should track your team's time on tasks.
You need to be careful with this, so it doesn't come across as micromanaging. Instead, explain to your team that time track is a way for you to identify where the "time sucks" are. This way, you can prioritize which workflows should be optimized next.
Without time tracking, you can't be certain whether or not your changes improve your workflows.
Finally, you should set up regular meetings to review processes and implement new suggestions from your team. This will ensure that your SEO agency remains streamlined.
Don't Forget This Critical Process Improvement Task
You cannot improve anything in your SEO agency without support from leadership. It's critical to see process improvement as an investment in your organization.
The All-in-One Platform for Effective SEO
Behind every successful business is a strong SEO campaign. But with countless optimization tools and techniques out there to choose from, it can be hard to know where to start. Well, fear no more, cause I've got just the thing to help. Presenting the Ranktracker all-in-one platform for effective SEO
You're developing smarter ways of working to deliver better results to your clients, reduce stress for your team, and compensate everyone more. After all, you can't onboard new clients and increase your margins if you're drowning in administrative work.
Still, it will fall apart without follow-through from leadership.
You need to support and drive the change. Listen to your team's and client's frustration. Get everyone hyped. Emphasize how these process improvements will make work less stressful and more enjoyable.
With the right mindset, approach, and followthrough, you can create a more enjoyable workplace and a streamlined, more profitable SEO agency.