Intro
As social media's role in connecting people continues to grow, so does the possibility of **social media marketing **for businesses. This is especially true for e-commerce businesses, which face growing competition from each other with every passing day. To stay ahead of the competition, e-commerce businesses must adopt different digital marketing strategies to connect with their target audience.
The global social media ad spending is on a sharp rise, expected to increase from USD 181.2 billion in 2021 to USD 358 billion by 2026. This clearly shows the growing reliance on social media for marketing efforts, which is totally understandable.
Social media sites not only offer access to a vast audience, but also allow businesses to engage with them and potentially have positive interactions with existing customers. For an e-commerce business, what could possibly be a better marketing platform?
10 reasons why social media marketing matters in e-commerce business
It would be an understatement to simply say that social media marketing is beneficial for e-commerce businesses. In fact, not using social media can put your business at a serious disadvantage in the face of today's competition. Here are 10 reasons why social media marketing is important for an e-commerce business.
1. Large audience
The vast audience that a business can reach through social media marketing is its most obvious advantage. With the number of social media users worldwide crossing 4.59 billion already, more than 50% of the global population has access to social media. A strong social media presence can grant your **e-commerce business **high visibility and exposure among the target audience. Social media marketing seamlessly beats conventional marketing mediums in this aspect.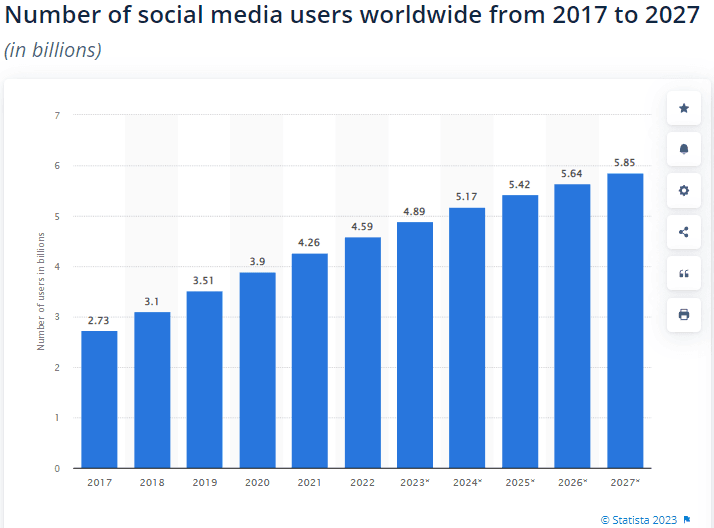 (Source: https://www.statista.com/statistics/278414/number-of-worldwide-social-network-users/)
The above graph shows the growing number of social media users worldwide every year from 2017 to 2022, as well as the projected growth till 2027.
2. Improved SEO performance
One of the most remarkable things about digital marketing is how seemingly unrelated strategies and techniques complement each other. Search engine optimization (SEO) is a vital marketing technique for businesses trying to drive more organic traffic to their websites.
Google's search engine algorithm evaluates numerous factors when ranking the search results, and your brand's authority on social media is one of them. In other words, your website's SEO ranking depends on its activity and prominence on social media.
3. Highly targeted marketing efforts
Alongside offering businesses a vast audience to connect with, social media marketing also allows them to target the intended audience with high precision. When running a social media ad campaign, an e-commerce business can narrow down its ideal target audience, based on several factors, including location, demographics, and interests.
The All-in-One Platform for Effective SEO
Behind every successful business is a strong SEO campaign. But with countless optimization tools and techniques out there to choose from, it can be hard to know where to start. Well, fear no more, cause I've got just the thing to help. Presenting the Ranktracker all-in-one platform for effective SEO
In other words, the advertiser can choose who would be seeing the ads. Marketers can even target specific types of customers based on what they might be seeking. This, in turn, ensures higher conversion rates. Targeted marketing is highly efficient and can help your **e-commerce business **cut down its ad spending while increasing profits.
4. Driving more website traffic
E-commerce businesses are more reliant on website traffic than any other kind of business. This is one of the biggest challenges for a newly launched e-commerce business. Without substantial marketing efforts, it would be impossible to draw enough traffic for the business to even be profitable. This is where social media marketing comes into play.
Your e-commerce website may not have many visitors yet, but popular social media platforms do. Social media ads are a great way to send interested users to the target page, i.e., your e-commerce website.
5. Advanced data analytics and actionable insights
In the face of contemporary competition, digital marketing campaigns must be well-planned and data-driven. Marketers can't tailor a strategy properly without actionable data on how the existing marketing efforts are faring. Thankfully, this isn't much of a problem when it comes to social media marketing.
For instance, businesses can use a variety of conversion-tracking tools to track their ad campaigns on Facebook. These tools offer accurate metrics and detailed insights, enabling marketers to optimize their strategies effectively. Based on the metrics, an e-commerce business can scale its social media marketing efforts or optimize its strategy.
6. Brand building
Brand building is indispensable in any business, not just e-commerce. A strong brand not only attacks more customers but also more investors and business collaborations. No matter how good a business might be, its brand image depends on how it's perceived at large. It's more than just reputation - branding is about giving the business a personality of its own. You'd want your audience to associate your business with certain qualities that would make them choose it over the rest.
A strong digital branding strategy requires an e-commerce business to choose and maintain a consistent brand voice and tone. Allowing businesses to reach out to their audience in personalized ways, social media marketing is perfect for this purpose. The scope for personalization and creativity is endless, which enables brands to stand out with unique brand images.
With the growing popularity of social media platforms, such as TikTok, businesses have the opportunity to further enhance their brand presence. They could search people on TikTok to actively find and connect with their target audience who align with their brand values and engage with them directly. This enables businesses to build authentic relationships with potential customers and create meaningful interactions.
7. Humanizing an e-commerce brand
This goes hand-in-hand with brand building. Humanizing a brand makes it easier to create meaningful relationships and build trust. Customers find it easier to trust a brand they feel close to, you can't make them feel close to your brand without humanizing the latter.
Of course, the opportunities offered by social media are priceless in this regard. The growing use of memes and wholesome video content in marketing is a perfect example. Using such content strategically, brands can take a more humanized approach for their social media presence.
8. Social Commerce
Social media is no longer just a marketing platform for businesses - an **e-commerce business **can even sell products directly on social media. With sales forecasted to reach USD 2.9 trillion by 2026, social commerce has evidently turned out to be a success. Especially with mobile shopping growing more popular, it's easy to see why a concept like social commerce would gain traction so quickly.
The All-in-One Platform for Effective SEO
Behind every successful business is a strong SEO campaign. But with countless optimization tools and techniques out there to choose from, it can be hard to know where to start. Well, fear no more, cause I've got just the thing to help. Presenting the Ranktracker all-in-one platform for effective SEO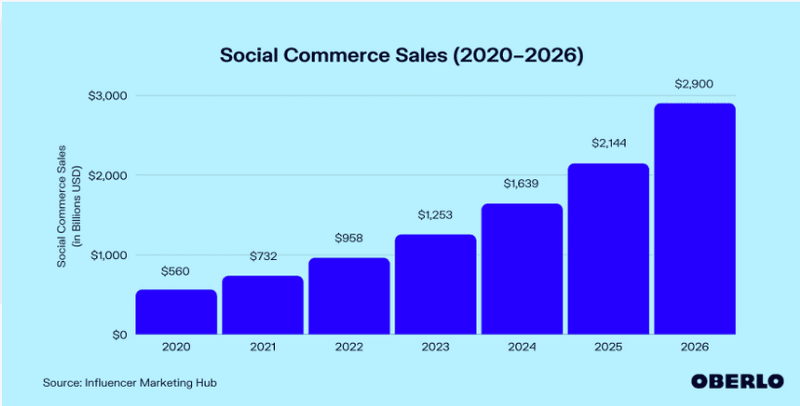 (Source: https://www.oberlo.in/statistics/social-commerce-market-size#:~:text=According%20to%20recent%20research%2C%20the,worldwide%20amounted%20to%20%24958%20billion)
The All-in-One Platform for Effective SEO
Behind every successful business is a strong SEO campaign. But with countless optimization tools and techniques out there to choose from, it can be hard to know where to start. Well, fear no more, cause I've got just the thing to help. Presenting the Ranktracker all-in-one platform for effective SEO
The graph projects the expected growth of social commerce sales till 2026.
Social commerce allows brands to build a stronger connection with their followers while opening up a new sales channel. Additionally, it also boosts discoverability and promotes impulse shopping. An **e-commerce business **that leverages social media marketing to the fullest can use these features to generate more sales and gain greater visibility.
9. Customer engagement
Simply attracting more customers isn't enough - an **e-commerce business **also needs to retain its customer base by regularly engaging with them. Naturally, the opportunities to connect and engage are immense on social media. Brands can actively promote two-way communication, interacting with consumers to get a better understanding of their needs.
Not all social media marketing strategies involve paid advertising. Promoting customer engagement by hosting events on social media can do wonders. Social media events and contests are great for creating strong connections with customers and gaining their loyalty. Depending on the nature of the event, the customers may even end up advertising the business for free.
10. Creating product awareness
Launching an innovative product is often a very rewarding decision. However, an **e-commerce business **must first create a demand for the said product. Once again, social media marketing turns out to be the perfect solution. Social media platforms are great for spreading product awareness and informing your audience of your latest product launches.
Effectively using social media for this purpose, businesses can quickly drive demand for a product that hasn't even entered the market yet. That's how effective social media marketing is.
Tips to use social media to boost your e-commerce business
Let's be honest here - while social media makes marketing easier and more effective the competition is still high. With numerous businesses using social media to market their products, yours needs to stand out from the rest. Here are four tips on using social media to boost your e-commerce business.
1. Use social media for customer support
In addition to conventional customer support channels, a business can also use social media to provide customer support. While this may not be directly related to marketing, it's a great way to help customers who might have questions regarding a product advertised on the platform. Besides, offering a good customer support experience on platforms convenient for the customers is always a good idea.
2. Collaborate with influencers
Influencer marketing is one of the most popular social media marketing strategies, and for a good reason. Collaborating with the right influencers on social media can significantly boost a business's sales and exposure. By "right influencers", we mean influencers whose followers are the ideal target audience for your brand.
3. Utilize user-generated content
User-generated content like product unboxing videos and reviews makes great marketing material. Most importantly, businesses can gather such content for free and share them on their social media pages. Customers feel more connected to a brand when they come across content generated by other customers due to its authenticity.
4. Use smart social media management tools
Lastly, e-commerce businesses adopting social media marketing need to work smart. Sophisticated social media marketing tools simplify the whole process and help make your marketing efforts a success. Getting the right tools for the job is important if you're to stay ahead of the curve.
Endnote
Ultimately, an e-commerce business has every reason to invest in social media marketing. The perks are simply too valuable to miss out on. Having a well-planned social media marketing strategy in place is an absolute necessity in today's business paradigm. Even a newly launched business in a highly competitive niche can succeed with the right marketing technique.