Intro
Enhancing the visibility of your Etsy shop and products in search engines and within Etsy's search results is known as Etsy SEO.
While SEO may seem daunting, it's crucial to grasp the fundamentals of SEO best practices to optimize your shop for search and attract more potential buyers.
If you need a headstart with Etsy search engine optimization, here are ten straightforward techniques to assist customers in discovering your Etsy listings in Bing or Google search engine results:
1. Research Relevant Keywords
Keywords are super important when it comes to boosting your Etsy SEO. Etsy & Google really like it when your shop includes keywords that match exactly what shoppers are looking for.
Here's a 4 step plan to create a list of potential keywords to use in your product listings;
Start by trying to put yourself in a buyer's shoes to find the best keywords for your shop. What would your ideal customer search for? Which terms do you think they'd type into the Google or Etsy search bars? Create a list of potential keywords you think your target consumer may use.
Now, take a peek at the keywords used by your competing Etsy sellers. What have they included in their headlines, descriptions, tags etc.
Type the main keywords into google and take note of any extra terms google displays in the autosuggest.
Lastly, have a look at the related searches on the bottom of the google search results page for even more ideas.
One of the most important Etsy SEO tips is never to forget about using long-tail keywords or keyphrases.
These types of keywords are great because they have less competition, and when people search for exactly what they want, they're more likely to buy something.
Here are some examples of long-tail keywords that buyers possibly use on Etsy:
"handmade sterling silver heart necklace"
"vintage-inspired gold hoop earrings"
"personalized birthstone charm bracelet"
"minimalist stackable rose gold rings"
"mother's day personalized locket necklace"
Following all these steps will ensure you've gathered a list of most of the keywords you'll likely need to get started.
The All-in-One Platform for Effective SEO
Behind every successful business is a strong SEO campaign. But with countless optimization tools and techniques out there to choose from, it can be hard to know where to start. Well, fear no more, cause I've got just the thing to help. Presenting the Ranktracker all-in-one platform for effective SEO
However, when it comes to improving your Etsy SEO, using an SEO tool like Ranktracker to dive deeper into keyword data and get insights on backlinks, content ideas, and more keyword suggestions, can be a real game-changer.
This tool can help you unearth valuable long-tail keywords that can help you rank higher in both Etsy and Google search results.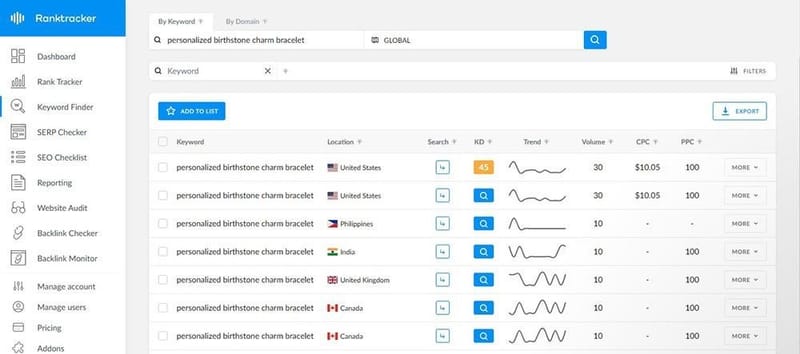 To create a strong Etsy SEO strategy, make sure to incorporate keywords in tags, titles, categories, and attributes. This way, you'll have a better chance of matching your listings with what consumers are searching for, which will boost your visibility.
That being said, it's important not to go overboard with keywords. Avoid stuffing your titles with too many of them or using other keyword-stuffing methods. Etsy is actively working to minimize the visibility of titles that are overloaded with keywords.
2. Optimize Your Listing Title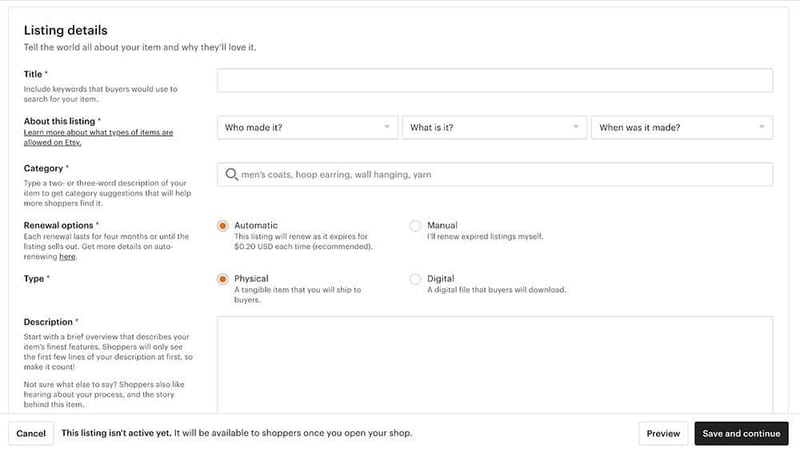 Optimizing your Etsy listing title is super important for getting more visibility in Etsy & Google search results and boosting your conversions. Here are the steps to follow:
Use your keywords:
Start your title with the keywords that matter most. Both the Etsy & Google algorithms pay extra attention to the keywords at the beginning. Just make sure these keywords relate directly to your awesome product.
Make it readable:
While keywords are key, don't forget about making your title friendly and exciting for real people visiting your shop. A title crammed with keywords might come off as spammy and turn away potential customers.
Include important details:
If you have room, mention important details like color, size, material, or personalization options. This helps attract the right buyers and sets accurate expectations for your incredible product.
Keep it short:
Etsy lets you use up to 140 characters for your title, but not all of it shows up in search results. Google uses 55-60 characters for search results titles. Aim for a title under 60 characters if you can, so it can be fully seen in all results.
Use delimiters:
To make your title easier to read, consider using punctuation or special characters (like | or -) to separate phrases or keywords. It adds a friendly touch!
Avoid all caps:
Shouting isn't cool! Using all caps makes your title harder to read and seems like you're yelling at potential customers. It's better to use sentence case or title case.
Avoid special characters or emojis:
These can clutter your title and not everyone will understand them. Stick to clear, simple language that everyone can relate to.
3. Optimize Your Listing Description
Optimizing your Etsy listing description is absolutely crucial for transforming curious browsers into delighted buyers, and it can even give your Etsy store a boost in search engine rankings.
The All-in-One Platform for Effective SEO
Behind every successful business is a strong SEO campaign. But with countless optimization tools and techniques out there to choose from, it can be hard to know where to start. Well, fear no more, cause I've got just the thing to help. Presenting the Ranktracker all-in-one platform for effective SEO
Let's explore some tips to help you craft a more effective Etsy listing description:
Start strong:
The opening lines of your description are pure gold! They appear in Google search results and are often the first thing customers read. Make sure to include your main keywords and essential product details right at the beginning.
Provide detailed information:
Cover all the necessary bases by including important product details like size, color, materials used, and craftsmanship. If your product offers customization, be sure to explain the available options.
Write for your customer:
Connect with your ideal customer by using language that resonates with them. Address their questions, concerns, and desires in a way that makes them feel seen and understood.
Use bullet points:
Break up long paragraphs with helpful bullet points. This makes your description more digestible and easy on the eyes.
Tell a story:
Share a little bit of the magic behind your creation. Whether it's the inspiration or the creative process, weaving a story creates an emotional connection with buyers and makes your product truly shine.
Use keywords wisely:
While the description doesn't hold as much weight in Etsy's search as the title or tags, it's still smart to naturally incorporate your keywords throughout. Find those perfect spots where they fit seamlessly.
Add a FAQ section:
If you find that Etsy shoppers frequently ask the same questions about your products, consider including a dedicated FAQ section in your descriptions. This anticipates their queries and provides helpful answers upfront, plus incorporates a few more keywords.
4. Optimize Product Images & Alt Tags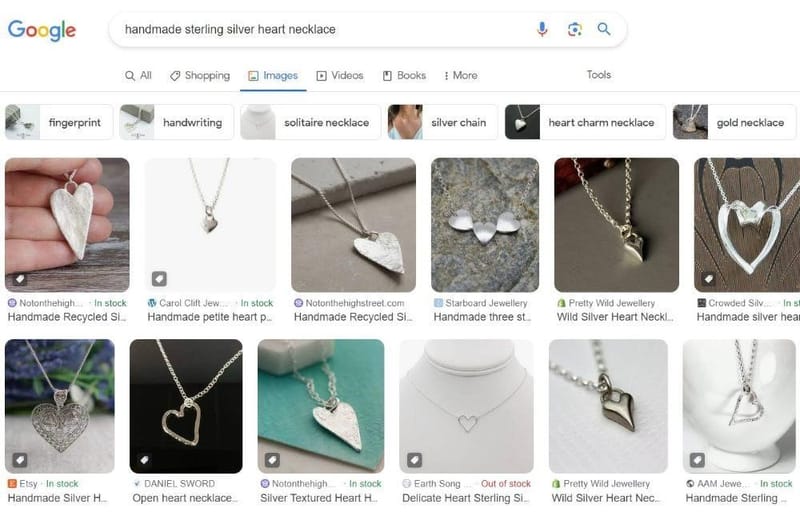 Images play a major role in Google searches. People rely on Google Images to discover products, and captivating product photography has the power to draw users towards your listing page.
Include multiple product images that showcase various item variations or demonstrate different ways to use it. Etsy recommends images with 72PPI resolution and 2000px on the shortest side.
Remember to provide descriptive alt text, also known as alternative text, for each image. Alt text serves as a helpful description for individuals with visual impairments, and it's also significant for SEO purposes.
Precise alt text enables Google to gain a better understanding of your image content, potentially boosting its visibility in image-based searches.
When crafting alt text, make sure to describe the photo clearly and accurately. Consider incorporating details such as color, texture, and material.
To add alt text to an image in your listing, simply hover over the photo and click on the pencil icon. It's as simple as that!
5. Add Video to Etsy & YouTube: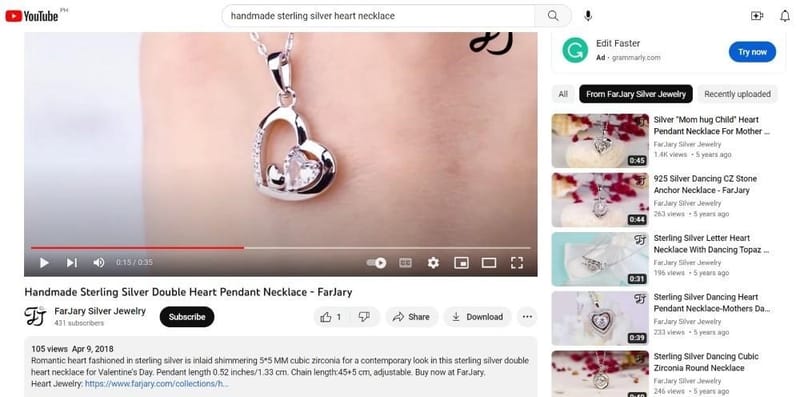 Including captivating product videos on both Etsy and YouTube can truly take your Etsy SEO to the next level!
Your videos need to offer a comprehensive glimpse of your amazing products, capturing the attention of potential customers and fostering higher engagement. Plus, when you link your YouTube videos back to your Etsy store, you have the power to drive extra traffic, boosting the visibility of your store.
Not only can your YouTube videos feature in the top results of the search pages for your main keywords, it's worth noting that YouTube itself is a search engine.
By optimizing your video descriptions carefully using your keywords, you can attract new customers who may stumble upon your products organically via YouTube search.
6. Create YouTube Shorts of Your Etsy products:
Crafting YouTube Shorts showcasing your Etsy products can also improve your Etsy SEO!
These Shorts have the power to drive extra traffic from YouTube to your Etsy store, giving your shop a fantastic boost.
Shorts are incredibly popular and highly shareable, allowing you to effortlessly reach a wider audience.
By including links to your Etsy store or specific product listing in the descriptions of your Shorts, you create multiple pathways for potential customers to discover your products.
This not only improves your visibility but also indirectly enhances your Etsy SEO. Plus you can reuse your shorts on Instagram, TikTok & Facebook giving you an even broader reach.
7. Add Images of Your Products to Pinterest: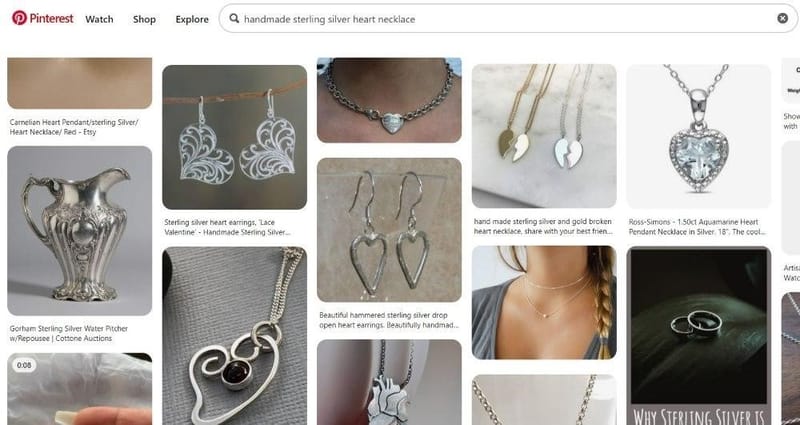 Including your Etsy product images on Pinterest can do wonders for your Etsy SEO! This social boost can drive extra traffic straight to your Etsy store.
What's exciting is that Pinterest images often rank high in Google searches, which means even more eyes on your products.
By linking your Pinterest images to your Etsy listings, you create multiple pathways for potential customers to find your store, which enhances your Etsy store's search performance, potentially leading to higher conversion rates.
8. Request Product Reviews from Established bloggers:
Sharing products with established bloggers for reviews can work wonders for boosting off-page SEO for Etsy shops.
Bloggers, with their loyal following, offer an excellent opportunity to introduce your products to a fresh audience, potentially driving more traffic to your Etsy store.
What's even better is that when these bloggers include a link back to your Etsy shop in their review, this helps with link building, a crucial element of off-page SEO.
These high-quality backlinks not only increase referral traffic but also enhance your shop's credibility in the eyes of search engines, ultimately improving your overall SEO.
9. Use Medium to Drive Traffic:
Etsy sellers have an amazing opportunity to utilize Medium, a popular blogging platform, to share captivating stories about their stores and products while driving valuable traffic to their Etsy shops.
Although it's worth noting that Medium employs no-follow links, which means they don't directly impact your store's SEO, they still hold immense value. Plus due to Medium's own SEO authority, your content is likely to show up in Google's search results for your desired keywords.
By crafting compelling articles that highlight your products, the artistic process, or the unique story behind your shop, you have the power to engage readers and entice them to explore your store further.
10. Create Social Media Accounts & Actively Maintain Them:
Building complete social media profiles is another way to boost your Etsy SEO under Google's E-E-A-T (Experience, Expertise, Authoritativeness, and Trustworthiness) guidelines. You can use social media platforms to showcase your expertise and authority.
Connect with your audience by regularly updating your profiles with captivating Etsy product details, exciting new product launches, and inspiring stories that bring your store to life.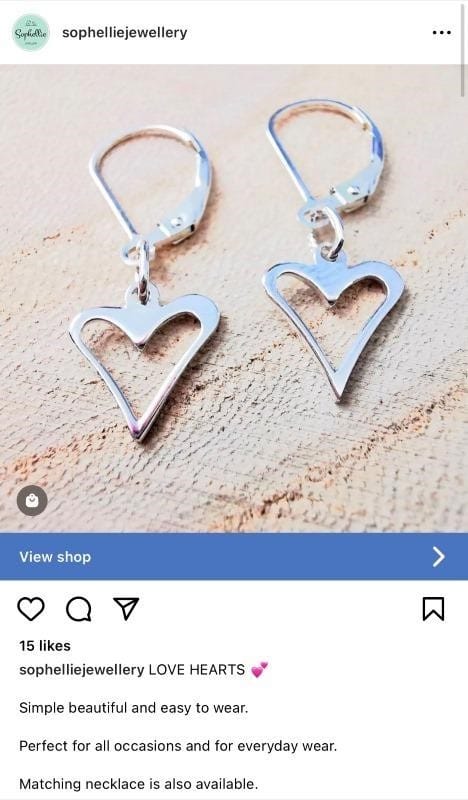 Sharing these insights demonstrates your deep knowledge and expertise in your craft, which adds a touch of professionalism and trustworthiness to your brand.
Plus sharing your store's inspiring story helps build a genuine bond with your audience, fostering trust and credibility that can truly set you apart from your competition.
Remember to link back to your Etsy store from your social media profiles. Although these links may be "no-follow" and don't directly impact SEO, they pave the way for increased traffic and engagement.
More traffic means more opportunities for customers to engage with your products, potentially leading to more sales and indirectly improving your Etsy SEO.
Keep in mind that Google's E-E-A-T guidelines aim to deliver valuable, trustworthy content to users. By maintaining robust and up-to-date social media profiles, you're on the right path to providing an outstanding user experience and boosting your Etsy SEO.
Etsy SEO strategies: FAQ
Are Etsy and Google SEO the same?
Though Etsy and Google SEO share some similarities like using keywords, optimizing product titles & descriptions, and using alt texts for images, etc., they are different.
Etsy SEO is specific to the platform, while Google SEO is for the entire web. However Etsy falls under the purview of Google's search engine algorithms, meaning Etsy listings can show up on Google SERPs.
What is Etsy listing quality score?
The listing quality score is a metric Etsy uses to understand the popularity of your listings among buyers and Etsy search results.
The All-in-One Platform for Effective SEO
Behind every successful business is a strong SEO campaign. But with countless optimization tools and techniques out there to choose from, it can be hard to know where to start. Well, fear no more, cause I've got just the thing to help. Presenting the Ranktracker all-in-one platform for effective SEO
Factors influencing the score include views, favorites, and purchases. The score also tells Etsy the likelihood of people interacting with your listing.
Etsy SEO - Summary
An effective Etsy SEO strategy should have a two-pronged approach. You're looking to not only increase your visibility within the Etsy SERP'S, but also to be easily found in the search results of Google, Bing & other search engines and drive organic traffic to your Etsy shop.
Try to think beyond just keyword and listing optimization and use off-page SEO tactics to find new potential customers.
Improving your SEO and generating new leads isn't a one time task however. It's a continuous process and your skills will evolve over time.
Use tools such as Ranktracker to help you stay on top of new and evolving SEO practices and ahead of your competition. You can also join the Etsy community to discover what other experienced Etsy sellers are doing.