Intro
Search Engine Optimization (SEO) plays a massive role in helping businesses attract more conversions and increase sales. Fintech SEO strategies have additional features to the SEO fundamentals, making them unique.
Search engine optimization (SEO) is a strategy to improve a website's visibility by raising its position on the search results page. How do you even make a choice? Many aspects, including your keywords and the competition, go into developing effective fintech SEO strategies for ranking a website.
Fintech companies must shift their attention away from search engine rankings and toward creating a recognizable brand name within their target audience. The term "fintech" has been trending for some time, and it is anticipated that this will continue as more industries utilize this technology.
FinTech SEO
The SEO definition finance entails ranking a FinTech company on the search engine. The algorithm used in ranking takes into consideration several factors to index a website. Tweaking your website to align with the search engine algorithm enables your website to rank higher.
FinTech companies undergo more scrutiny from search engine algorithms. The algorithms consider the companies part of the Your Money or Your Life (YMYL) industry. YMYL sites undergo a critical analysis for their authoritative nature, expertise in the field, and brand trust. Therefore, you need to provide reliable and verifiable information for your website to rank higher as a FinTech company.
Financial application development is steadily growing in recognition and use. Let us explore some of the best and proven-effective SEO tactics for FinTech.
Best SEO Tactics for FinTech
The FinTech industry is very competitive. To have your website rank high, you need to employ successful SEO strategies. Many companies use fintech marketing strategies to drive heavy traffic to their website. It can help build brand awareness, drive traffic to your website, and increase sales. A solid SEO plan for your fintech business can make all the difference in achieving success. Search engine optimization is an important marketing strategy for technology companies, as it helps them rank higher on search engine results pages and SEO for technology companies gain more visibility. Here are four successful SEO tactics that financial application developers should consider:
Research Keywords
When it comes to SEO, keywords are key. The right keywords can help your website appear in search engine results when people look for fintech solutions. To find the best keywords for your business, research what people are searching for related to fintech. You can also use keyword tools such as Google Keyword Planner or Ahrefs to help identify the terms and phrases that get the most search traffic. Once you have identified your keywords, optimize your website's content with them so that customers can easily find it when they search.
Cash App is a good example of a fintech company that has optimized its website for keywords. They have used keywords like "payment app," "send money," "cash app," and "money transfer" to optimize their website content.
The All-in-One Platform for Effective SEO
Behind every successful business is a strong SEO campaign. But with countless optimization tools and techniques out there to choose from, it can be hard to know where to start. Well, fear no more, cause I've got just the thing to help. Presenting the Ranktracker all-in-one platform for effective SEO
It is necessary to research the best keywords to use. The use of tool sets such as Ahrefs and Google Trends provides you with trending keywords for a specific niche. You should carefully review the keywords to ensure you pick the ones with a "product/service" focus instead of a "content article" search intent. It is challenging to rank a product or service on a "content article" search intent keyword and vice versa.
Create a Content Strategy
Before you design a content strategy, conduct research by either directly engaging with the clients or speaking to people with direct engagement with clients. The study will help you know your target audience, their problems, how your product or service can solve those problems for them, and how it stands out from the competitors.
The goal is to encourage customers to engage with your products and services. Therefore, your website has to stand out and resonate with clients' needs.
Optimize New and Existing Content
Your website should aim to provide customers with an informative page and a user-friendly interface. Navigation through the website needs to be easy and with attractive graphics that keep the customer interested. An adequately analyzed and structured landing page will satisfy a client's needs and convert a visitor into a customer.
Search engines rank new content higher than older content. If you have any existing content, it is crucial to analyze it and identify 'quick win' opportunities. These opportunities are simple changes that one can make to boost traffic, such as adding a new keyword that will help the page rank higher.
Review of Technical SEO
The technical aspect of the site is equally essential as content optimization. A technical review helps you identify issues associated with your site that may affect its ranking. Always ensure;
The page is loading fast.
Broken pages are redirected.
Images and videos are compressed.
If you have a physical location, it's important to use local SEO tactics such as registering your business on popular sites like Google My Business and Yelp. This will help you appear in local search results, allowing customers to find your fintech business when searching for solutions easily. Additionally, create content related to local events or initiatives connected to financial technology, which can help build up your local SEO efforts.
For example, the fintech company LevelUp uses local SEO to connect with potential customers. They've registered their business on popular sites like Google My Business, Yelp, and Foursquare. They've also created content related to local events in their area, such as a hackathon focused on financial technology, to boost their local SEO efforts further.
Content Promotion and SMM
Good content generates traffic on its own. To maximize its reach, you should consider promoting it. Some of the best FinTech marketing strategies include; email marketing, social media posts, and guest postings. To have a steady stream of articles to advertise to your expanding audience, try to develop a plan for each quarter that is in line with the production timeframes of your content.
Social media can be a great way to reach potential customers and engage with your existing ones. By actively promoting your fintech business on social networks, you can build an audience of people interested in financial technology solutions. Utilize relevant hashtags connected to your fintech business, share content related to financial technology, and engage with people who comment or post about topics in the industry. This method is also used as an SEO marketing strategy to attract customers to fintech companies' websites.
A good example of this is Abra, a fintech startup that gained a strong following by engaging with its audience on Twitter.
Link-Building
One of the best strategies for SEO for technology companies is link-building. Link-building is the use of backlinks to form a web-like structure within websites. Linking to a website with a good ranking boosts your website's ranking.
The All-in-One Platform for Effective SEO
Behind every successful business is a strong SEO campaign. But with countless optimization tools and techniques out there to choose from, it can be hard to know where to start. Well, fear no more, cause I've got just the thing to help. Presenting the Ranktracker all-in-one platform for effective SEO
Backlinks are of two forms; internal (outbound) and external (inbound) links. Internal links are links to your articles. Linking your articles together encourages a reader to view more of your articles. External links, on the other hand, are acquired from other websites. Acquiring external links can be through networking with other journalists or simply sending a request to a website with a good ranking that you deem relevant to your content.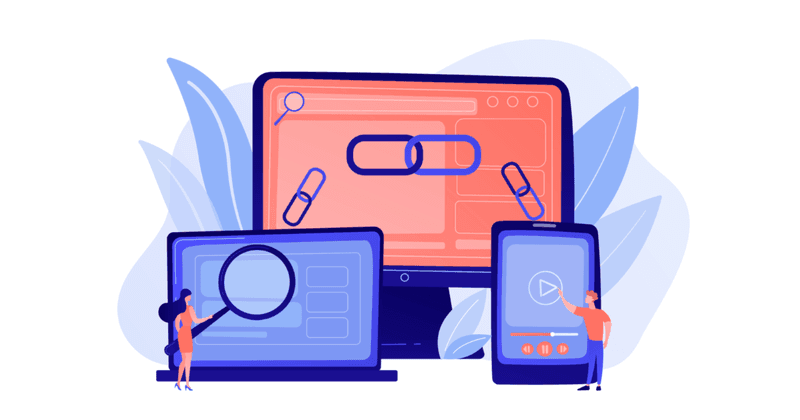 (Source: SearchEngineJournal)
Inbound links from other websites to your own can help boost your rankings in search engines. To find link opportunities, start by researching sites related to fintech and see if they have a resource or blog page you could be listed. You should also look for websites that mention your fintech business and contact them to see if they would be willing to link back to you. Additionally, try reaching out to influencers or fellow fintech companies and ask if they'd be open to linking to you in their blog posts or on social media.
A good example is a company, TransferWise, which has a blog filled with helpful tips and resources related to money transfers. This content is shared on social media, allowing the company to gain a large audience and build relationships with other fintech companies.
Proven-Effective SEO Strategies for FinTech Companies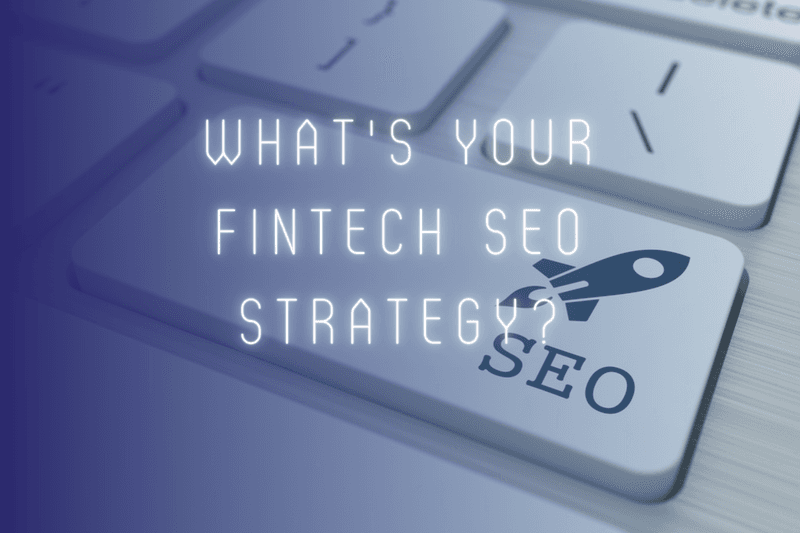 (Source: ContentRewired)
Focus on Building Trust
As a FinTech company, you should aim to earn the trust of your customers. If customers can view your products or services as trustworthy, they will be more confident to interact with them.
The All-in-One Platform for Effective SEO
Behind every successful business is a strong SEO campaign. But with countless optimization tools and techniques out there to choose from, it can be hard to know where to start. Well, fear no more, cause I've got just the thing to help. Presenting the Ranktracker all-in-one platform for effective SEO
Here is how to gain trust from customers;
Consistently providing reliable information.
Ensuring that your products or services have safety features.
Having customer-centric products or services
Quickly addressing issues that may arise.
Optimize Mobile Devices
The ability of your website to run smoothly on any device is essential in search engine ranking. Websites that have an equally user-friendly interface on mobile devices rank higher.
Video Advertisements
Video adverts prove to be better drivers of sales in comparison to other forms of advertisement. A good video needs to strike a balance between being informative and entertaining.
Monitoring and Evaluation
Ultimately, evaluating the results of your on and off-site activities is critical to determine what is effective. By testing different strategies, you can decide which one is best. If, for instance, a page is not gaining the desired traction, you can pick on it and re-optimize it for better results.
FinTech companies must employ well-thought SEO strategies to be more visible in search results and obtain a competitive edge. These companies must strive to maintain their image by fostering good customer relations, so yours should also.
These strategies are all effective ways for fintech companies to increase their visibility on search engines and build a recognizable brand. For example, stripe.com, a popular fintech company, uses all the abovementioned strategies. They have optimized their website for relevant keywords, built an impressive backlink profile, regularly engage with customers on social media, and are listed on Google My Business. These strategies have enabled the company to gain a strong online presence and become a leading player in the fintech industry.
Following these four successful SEO strategies for fintech can help your business stand out in the competitive online marketplace. With the right keywords, link-building activities, social media presence, and local SEO tactics in place, you can ensure that your fintech company is easy to find and well-positioned to thrive in today's digital world