Intro
Finding it tough to stay on top of your marketing tasks while working remotely? Consider leveraging these 11 super-actionable tips for marketing teams working in a remote setting.
It can be an uphill battle to manage a marketing team, keep track of campaigns, and analyze metrics, especially when you're not in the same physical space.
But the rewards are worth the effort: 77% of employees in a remote setting report greater productivity, and 52% are less likely to take time off.
So, how do you overcome the challenges of leading a marketing team while reaping the benefits of working remotely?
Establish clear expectations, maintain an organized structure, communicate regularly, and utilize appropriate tools. Once this is achieved, your marketing team is all set for success.
In this article, you'll learn the most effective processes and tips for managing marketing remotely. Apply these to your business, and your team will be more manageable and successful.
The All-in-One Platform for Effective SEO
Behind every successful business is a strong SEO campaign. But with countless optimization tools and techniques out there to choose from, it can be hard to know where to start. Well, fear no more, cause I've got just the thing to help. Presenting the Ranktracker all-in-one platform for effective SEO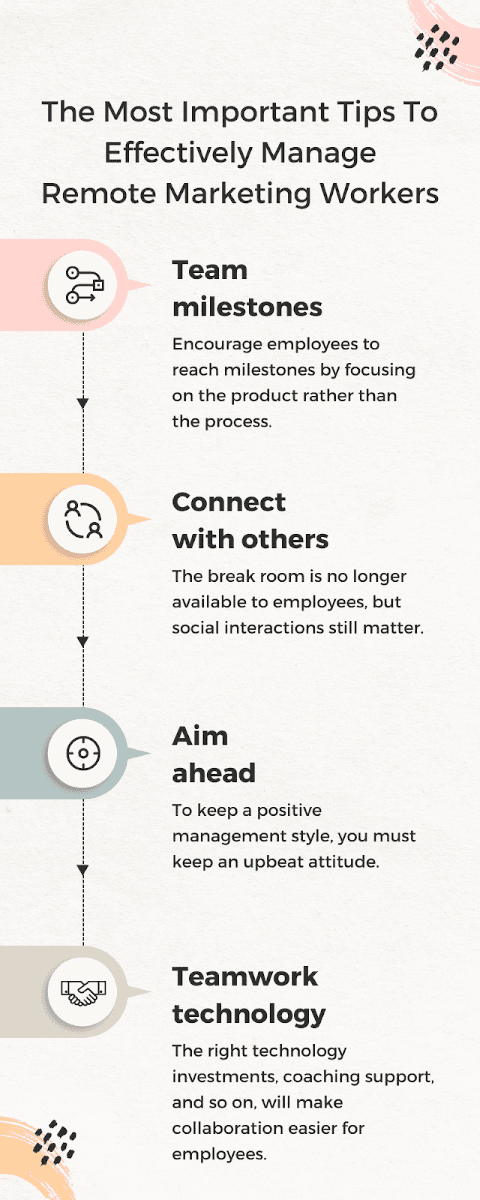 1. Create A Flawless Remote Hiring & Onboarding Process
To successfully manage a remote team, you must hire and onboard your talent effectively.
Begin by using digital platforms such as Indeed or LinkedIn to promote your new job position and ensure that it's clear the position can be held remotely from any location. This will make it easier for potential candidates to find your listing and apply.
When evaluating remote candidates, a virtual hiring process can be very effective. This could include video interviews with hiring managers, virtual tasks, or written tests to assess a candidate's skills.
If you're open to hiring candidates in different locations and time zones, accommodate them during the hiring process by scheduling interviews during their work hours.
During the interview process, put aside any judgments about a candidate's location and evaluate them based on their qualifications and fit for the role.
If you're hiring for a role that can be remote or in-office, conduct all interviews via video call to avoid location biases.
The All-in-One Platform for Effective SEO
Behind every successful business is a strong SEO campaign. But with countless optimization tools and techniques out there to choose from, it can be hard to know where to start. Well, fear no more, cause I've got just the thing to help. Presenting the Ranktracker all-in-one platform for effective SEO
Once you've hired your new team member, provide a smooth virtual onboarding process introducing them to the company and their team.
Digitize your onboarding process by providing essential documents and resources in a PDF, Google Doc, or online format. Consider creating an internal training website or knowledge base for new hires to access.
Consider conducting virtual training sessions for more complex processes to walk new employees through various tasks.
Regular check-ins, career chats, and ongoing training with their supervisor are essential to ensuring remote employees feel supported and progress in their roles.
To improve your virtual onboarding process, ask new remote employees for feedback after their first few months to determine what's working and what needs to be improved.
Ultimately, onboarding remote employees aims to make them feel informed, supported, and confident in their new role.
2. Set Clear Goals & Expectations
Don't just assume your marketing team already knows what goals you expect them to reach—give them more direction than you would if you were in the office together.
Give your team autonomy to reach those goals. This will make them feel more purposeful in their work and give them a sense of ownership over their projects.
In marketing, setting KPIs for employees in creative roles can be challenging since there's not always a direct link to leads generated like in other roles.
To overcome that, set campaign-specific targets for the team to work towards together – everyone will have a solid sense of purpose.
Shift your team's mindset to view goals as something they can work towards to improve overall communication and team bonding.
3. Listen To Everyone's Ideas
We've all had an experience or two of working in a bad environment at some point in our careers. It's more often than not because we didn't have the space to grow or feel heard.
This is especially true for remote marketing teams that rely on creativity and communication to excel in their roles. With video call meetings, it's easy for some voices to go unheard.
Create dedicated spaces or workshops for innovation and suggestions. If video calls don't work for everyone, try using a team brainstorming tool like Miro.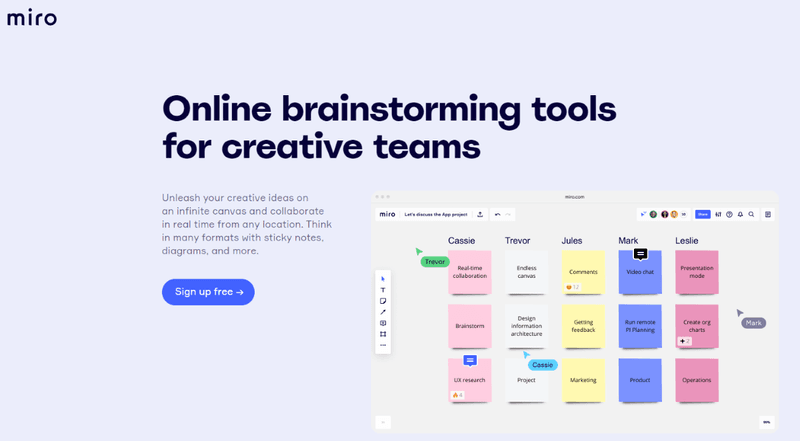 If you're not currently spending time on innovation, it's time to start. Consider carving out a specific time for your team to focus on it. Rethink how you approach innovation and make it a priority.
Give your team the space to innovate to unlock their full potential and create a more positive working environment.
Remember, a bad working environment can be toxic to your team's morale and productivity. Foster an environment encouraging growth and innovation to create a more engaged and motivated team.
4. Leverage The Right Marketing Software
Be sure that your team uses tools that are easy to manage and efficient to use.
Marketing teams often rely on various software tools, such as email marketing platforms, social media management tools, design tools, CRMs, and web publishing tools.
While these tools can make marketing management easier, don't overcomplicate things with too many software options.
To streamline your remote marketing management, consider using fully integrated marketing solutions. Your remote team members can't just pop over to a colleague's desk to ask a quick question or get an update.
When your marketing tools and apps work together on a single platform, it's easier to manage your work remotely.
That reduces the need for technical support and ensures that your entire team is always on the same page.
Integrated marketing solutions save time and make running campaigns much easier, which is crucial when managing marketing remotely.
5. Use Easy Communication Software
If you're working with a remote marketing team, one of your top priorities should be establishing effective communication channels. Working effectively together is nearly impossible without connecting easily with your team.
Emails can be slow and unsynchronized, so have the right team messaging and video meeting platform in place.
Look for quick and easy-to-use software that makes it convenient to stay in touch with your team, collaborate on projects, and get instant updates when needed.
Remote content teams rely on various services for communication, collaboration, and organization. Some of the widely used services include:
6. Don't Sleep On Your Remote Team's Online Security
One of the risks of managing a remote marketing team is the potential threat to information security.
To mitigate this risk, have your remote team use a remote-access VPN to create a secure connection whenever and wherever they use the internet.
When you use a VPN on your iPhone or whatever device you are on, your browsing data is encrypted, meaning it can't be intercepted or viewed by anyone trying to access it.
This is particularly important if you're working with confidential information or accessing company networks and resources from home.
Be cautious about sharing passwords across various web-based services your team uses. Use reliable password management services like LastPass and 1Password to make password management easier and more secure.

If your freelancers use company computers for their work, practice proper etiquette to keep the devices secure and protect sensitive data.
Here are some tips for employees using their work computers at home:
Do not save personal documents to your work computer. A buggy file could compromise security, and any content downloaded onto the computer belongs to the company once the freelancer leaves.
Avoid browsing any websites that you wouldn't want your boss to see. This applies to office and home settings, and suspicious websites could contain viruses or malware that could harm the device.
Resist the temptation to shop online, as cookies and pop-up ads could slow down the work device or compromise security.
Use only your work email, as personal emails could potentially bring viruses or phishing emails into the work device.
Maintain secure log-ins with multi-factor authentication and follow proper internet safety rules to keep the remote worker focused and prevent cyber attacks.
7. Regular Check-ins: Keep Your Team On Track
When managing a remote team, it can be challenging to maintain a strong connection with each member. You can't really have casual conversations with them or ask them questions face-to-face.
So schedule regular one-on-one meetings and informal virtual coffee chats to maintain a personal connection with each employee.
Discuss their work progress during these meetings, offer support, and provide feedback.
Also, scheduling regular career chats with each employee can show them that you care about their professional growth and that there are opportunities for advancement within the company.
To make yourself more accessible to your remote team, leave some flexible time on your calendar. This allows you to jump on a call or video conference when a colleague has a question or concern that is better addressed in person than via text-based messages.
Communicate your availability over instant messaging software, so your team knows when they can reach you. Make "air time" part of your schedule to offer your team members quick check-ins to catch up on their work progress and keep them feeling supported.
8. Be Aware Of Timezones
Remote work provides the opportunity to hire talent from all around the world. That increases the diversity of your team and broadens your perspectives.
But the kicker? You need to adjust to different time zones. As a remote team manager, find ways to work around your team's varying work hours and encourage everyone to be considerate of their teammates' schedules.
When onboarding new employees or creating a team calendar, ask remote workers to specify their working and non-working hours.
Have an initial discussion with the team about time zones and preferred work hours to ensure everyone is aware of each other's availability.
If a significant portion of your team is in a different time zone, consider adjusting your schedule to match theirs for one day a week.
Another option is to implement a split shift where you work during the most active hours of each time zone. This approach can help you stay connected with your global team members and stay up-to-date on their work progress.
9. Build Strong Bonds Among Team Members
Building a strong team culture can be challenging in a remote work environment where colleagues may only interact during business meetings and team celebrations.
Consider organizing virtual activities such as Pictionary or karaoke to foster better team bonding. These activities have nothing to do with work but can allow teammates to chat, learn about each other, and have fun.
Identify opportunities for personal interaction with individual team members.
Schedule remote coffee chats or other informal conversations solely dedicated to getting to know your teammates on a more personal level.
Get to know your team members and understand how to work together, communicate, and interact.
Whether in virtual activities or informal conversations, time spent together builds rapport and strengthens team culture despite physical distance.
10. Be Emotionally Intelligent
Managing a remote team can bring emotional challenges, and emotional intelligence (EQ) is essential in dealing with them. EQ allows you to recognize your emotions and respond appropriately to various situations, even when working remotely.
For instance, micromanaging remote workers can be tempting, but an emotionally intelligent manager will schedule check-ins to ensure the team is on the right track.
Maintain autonomy and trust to be successful at remote team management.
Say an employee makes a mistake while you are offline. An emotionally intelligent manager would avoid sending angry emails and instead plan a chat to discuss constructive feedback with the employee.
Remember that digital communication should be respectful and professional.
When disagreements arise among teammates, quickly address them and signal to the team that you are available to resolve issues. Encourage your team to use EQ in their work lives. Make it clear what behavior is acceptable.
Use emotional intelligence to build trust and encourage your team to come to them with questions and concerns.
11. Keep Your Learning Resources Updated
To ensure that a remote marketing team is always learning and improving, have a dedicated communication channel for sharing knowledge and training sessions. Set up regular team meetings where members can share their experiences and tips.
Keep all learning resources up-to-date and easily accessible. This can include a shared set of documents with standard operating procedures (SOPs), templates, and other helpful resources.
Have these resources readily available to quickly reference the correct information when needed. That'll help streamline workflow and improve efficiency.
Encourage team members to continue learning independently through resources like online courses, webinars, and industry conferences.
The All-in-One Platform for Effective SEO
Behind every successful business is a strong SEO campaign. But with countless optimization tools and techniques out there to choose from, it can be hard to know where to start. Well, fear no more, cause I've got just the thing to help. Presenting the Ranktracker all-in-one platform for effective SEO
Provide access to these resources or offer a budget for team members to attend to stay updated on the latest marketing trends and strategies.
Wrapping Up
If you've never had the opportunity to work remotely or lead a team of remote workers, it can feel overwhelming to develop an effective strategy for managing dispersed teams.
But don't let the initial challenges discourage you. With time and effort, you can create a thriving remote work culture that enables your team to perform at their best.
Focus on creating a work environment that encourages collaboration, creativity, and mutual respect among all team members, regardless of their location.
Invest in building a positive company culture to help team members from diverse backgrounds feel empowered to share their unique perspectives, ideas, and approaches to work.