Intro
Google Analytics (GA) is commonly used for identifying patterns and trends in how people engage with a website. With features to help with data collection, monitoring, analysis, visualization, reporting, and more, it offers vast insights into customer behaviors.
But have you ever used Google Analytics to track your Search Engine Optimization (SEO) efforts? Probably not! This detailed guide will discuss 13 ways to use Google Analytics for SEO. Take a look-
1. Synchronize GA (Google Analytics) with GSC (Google Search Console)
To track your SEO efforts with Google Analytics (GA), begin with synchronizing your GA account with your Google Search Console (GSC) account. Without GSC, GA will only provide a partial view of the capabilities. The synchronization will allow you to find opportunities for growth with selected keywords and websites you would like to rank on. You may do this by using queries.
With the help of GSC, you can find out what terms consumers are using to locate your material, what content they are finding, and where it ranks on Google. You could look at the data to find ways to improve the performance of your pages and make it more likely that Google will put your website on the first page of its search results.
2. Develop SEO-Focused Objectives
If you're currently working on an SEO plan, it will help if you create related SEO objectives in GA to access detailed insights. You can also take things forward by creating conversion pages for tracking your progress toward those goals. The conversion page could be something as simple as an acknowledgment page that notifies a visitor that their form is submitted.
When creating conversion pages, ensure they have URLs and feature the NOINDEX tag to prevent organic ranking and improve data accuracy.
Also, when tracking SEO performance, the quality of the organic traffic is more important than the number of people reaching your website organically. You can do this by setting up lead generation goals for organic SEO. It'll allow you to track website traffic and how many visitors convert into leads.
3. Set Up the Section for Organic Visitors
To track SEO by Google Analytics, ensure that you utilize filters and segments, as they can prevent junk traffic from impacting data accuracy. Ghost spam and fake referrers (crawlers) are the two primary forms of unwanted web traffic that may corrupt your statistics.
In GA, create a new view so that spam traffic does not appear in the reports. But note that new views only prevent spam traffic after implementation. It'll not remove the spam traffic from past reports. You'll have to utilize Google Analytics segments and custom dashboards to remove retrospective spam.
The All-in-One Platform for Effective SEO
Behind every successful business is a strong SEO campaign. But with countless optimization tools and techniques out there to choose from, it can be hard to know where to start. Well, fear no more, cause I've got just the thing to help. Presenting the Ranktracker all-in-one platform for effective SEO
Using regex codes is another effective solution to track spammy traffic. For instance, you can use it for capturing multiple versions of spammy domains with different TLDs.
4. Organic Ranking Scale Conversion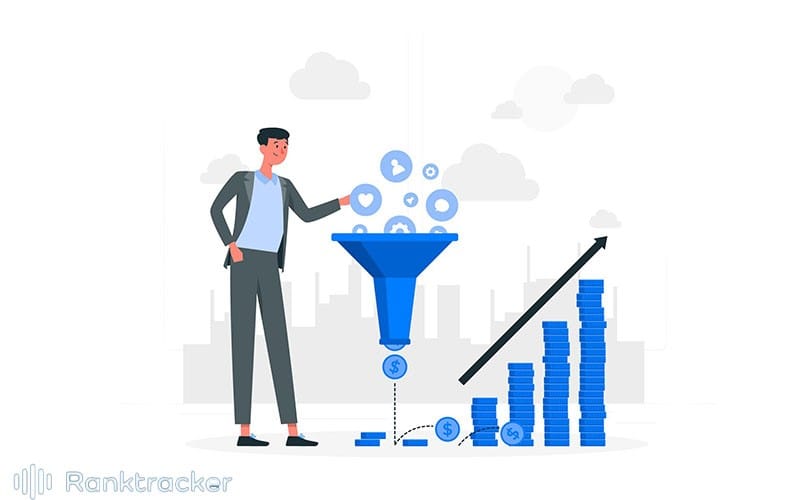 One of the most effective methods to boost a website's income is to use Google Analytics conversion rate optimization features. It can flag out any unfavorable tendencies that are happening, which you otherwise may not have seen due to the lack of this information. Every month, you should see an increase in conversions.
If you know the most important SEO KPIs, you should pull your data into the Google Analytics dashboard templates. There, you can change the SEO Metrics and look at them all in one place.
5. Improve SEO of Pages with Highest Conversions
You can use GA to find a list of pages bringing the highest conversions. Then, those pages can be optimized further to ensure they remain at the top of search results. You can optimize the pages with something as simple as an improved CTA or updating content.
To find this report, log in to your GA account and click Behavior > Top Landing Pages > Filter by Organic.
When searching for such pages, focus on ones from which the organic traffic has significantly dropped or ones with plenty of visitors but don't deliver the expected business value. It is these pages that generally have vast potential.
6. Utilize Content Drilldown Report
If you're looking for ways to use Google Analytics for SEO, content drilldown is a report that can help. It can be used to track and compare website segments' performance, such as blogs. The report offers insights such as page views, bounce rates, exit rates, and more.
The report can be used for gaining insights into the pages and website segments that are doing well and how they can be improved further.
The All-in-One Platform for Effective SEO
Behind every successful business is a strong SEO campaign. But with countless optimization tools and techniques out there to choose from, it can be hard to know where to start. Well, fear no more, cause I've got just the thing to help. Presenting the Ranktracker all-in-one platform for effective SEO
But while the content drilldown report offers valuable insights, it requires you to select various sub-categories for page comparison. A smarter alternative can be using Google Analytics SEO dashboard templates as they can streamline the process and track all the popular pages on a single screen.
7. Include Annotations to Monitor Content Updates
It is essential for a business that is currently in the process of pruning or optimization to keep tabs on the outcomes and record them.
Utilizing the annotation option on a specific date is a quick and simple method for accomplishing this goal inside Google Analytics. Using the markers in Google Analytics helps determine how good an article is after it has been optimized.
You can use this information to figure out, for future measurements, if these changes helped improve SEO or not.
8. Use Multi-Channel Funnel Reports
All the conversions and purchases are credited to a search, campaign, or advertisement that a visitor last used before converting. However, it does not provide a clear picture of what role things like referrals and website searches played in the process. The multi-channel funnel report fills this gap.
The report breaks down all your marketing channels contributing to your conversions. For example, let's assume that someone Google searched your brand and made a purchase. But they might have first seen your ad on social media or some blog. The multi-channel report will provide a detailed overview of the entire customer journey across channels.
9. Find Websites that Accept Referrals
If you are involved in proactive off-page Search Engine Optimization methods, you must be aware of whether or not you are constructing links and their performance.
You can use the referral data in Google Analytics to find connections that other tools don't show, and you can also use it to find journalists or writers that can be pitched to depending on who has linked to your site before.
10. Managing Your Pay-Per-Click Spending
Tracking Google Analytics will indeed be essential to ensure that you earn a profit from all of your advertising efforts. This is because Google Analytics reveals exactly which search terms convert into sales and which do not.
You should ensure not to throw away a significant amount of money on keywords that do not convert and keep a careful eye on our keyword use and conversion rates.
11. How Does Google View Your Website?
High-quality niche websites rank higher, as they are considered authoritative by Google. You can track SEO by Google Analytics to know how your website is viewed by Google.
It can be done by selecting the categories your visitors are interested in to position the E.A.T (Expertise, Authoritativeness, and Trustworthiness) score and improve content. For this, you can check the Overview of Audience Interests and view the In-Market Segment, Affinity Category, and Other Category lists.
The data offers excellent insights into the interests of your visitors. Based on the information, you can adjust your content strategy. Google creates the categories based on how it views your website. Delve deeper into these categories and find common categories/interests around which you can build your content strategy.
12. Create Custom Dashboards for SEO
If you want to use GA for SEO, you cannot miss out on custom SEO-focused dashboards. GA allows you to customize the dashboards based on the metrics most important to you. You can also find Google Analytics SEO dashboard templates to display only the metrics that matter.
The All-in-One Platform for Effective SEO
Behind every successful business is a strong SEO campaign. But with countless optimization tools and techniques out there to choose from, it can be hard to know where to start. Well, fear no more, cause I've got just the thing to help. Presenting the Ranktracker all-in-one platform for effective SEO
The custom dashboards instantly offer a bird's eye view of important metrics, making it easier for you to dedicate resources to things that can help improve those metrics. For instance, you can segment by location, URL, channel, etc., to only focus on specific website traffic and draw practical conclusions on your SEO performance.
13. Improve Page Speed with GA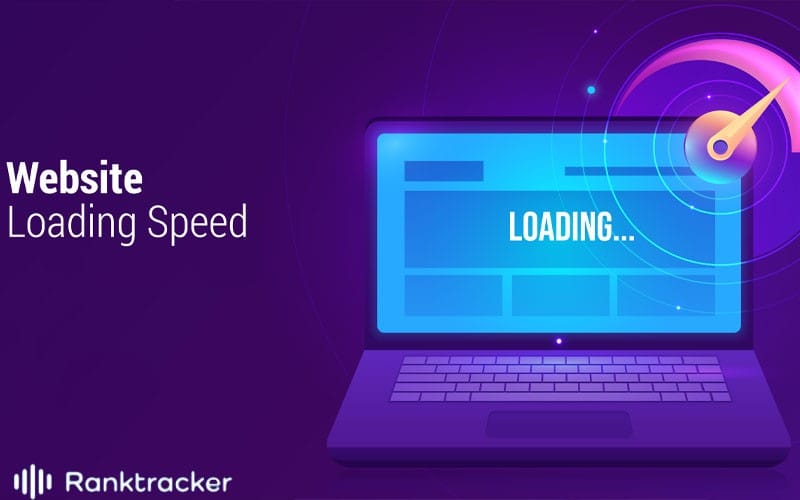 If you know anything about SEO, you'd know how important page speed is to rank higher. You can generate site speed report with GA by clicking on Behavior > Site Speed Report.
The report presents the page-load time and the speed at which the interactions are executed. Here, you can track issues that are impacting page speed and report them to your developers.
Conclusion
As can be seen, you can track SEO by Google Analytics in many different ways. By looking at things like organic traffic, time on page, and bounce rate, you can get a good idea of how your site is performing in the search engines.
Additionally, you can use goal tracking to see how many people are completing desired actions on your site. By tracking your SEO progress, you can make the necessary changes and tweaks to improve your results.