Intro
A lead magnet is a free offer given to your prospects in order to get their contact details. It can be a product or a service that adds value to the prospects. A lead magnet is used as a marketing strategy to encourage prospects to share their personal details. By getting these details, you can send different promotional offers in the future and convert them into paying customers. A lead magnet can be an ebook, a free trial, a webinar, a tutorial, a case study, or anything else.
Importance of Lead Magnets in 2023
Capture High-Quality Leads
High-quality leads are essential to increase your business's sales and overall revenue. To collect high-quality leads you can use a QR Code on your print-media campaigns using a Dynamic QR Code Generator and offer your target audience something valuable so they can easily exchange contact details. You can also offer something relevant and personalized to the audience so they can feel the importance. Moreover, know your target audience, their needs, and interests so that you can design the campaigns better.
Grow your Email List
Use the lead magnets to grow your email list. Create relevant and valuable content that will entice your target audience to subscribe to your email list. The bigger the email list, the more quality leads you will get. Use multiple lead magnets to address different pain points, which can help to increase the number of the email list.
Build Trust and Authority
Building trust and authority through your lead magnet is essential for establishing a strong and long-lasting relationship. Through your lead magnet, you can solve a pain point or a problem your target audience is experiencing. Furthermore, demonstrate your expertise and provide high-quality content that meets the needs and interests of your target audience.
Traditional Lead Generation Vs Modern Lead Generation
The difference between traditional and modern lead generation
Today's lead-generation methods are very different from the traditional methods that were used for years in the business world. The traditional lead generation methods often rely on outbound marketing strategies such as direct mail, print ads, and telemarketing. These traditional methods need more effort and time cost, with less return.
On the other hand, modern lead generation methods rely on inbound marketing tactics such as content marketing, social media marketing, and search engine optimization. Through these marketing channels, you can provide content that solves the pain points and address your customers' specific needs and interests.
Moreover, modern lead generation methods also involve advanced analytics and data-driven strategies to target potential customers. Tools like Google Analytics, Facebook Insights, Amplitude, and others help you segment the customers to understand their behavior and deliver personalized content.
Elements of a Great Lead Magnet
A great lead magnet must have the following elements:
Analyze Buyer Personas
Analyzing buyer personas can help you create a lead magnet tailored to your target audience's needs, interests, and pain points. Before you design your lead magnet campaign, you must understand your audience, identify pain points, determine the solution, and focus on the benefits they get through the lead magnet. Moreover, you can collect all the insights to help them overcome the challenges.
Personalization
Personalization is the secret used in marketing strategies to make customers feel valued. Use the prospect's name in your lead magnets to grab the attention and build personal contact. Offer customized content so that it brings value to the prospects' life. Moreover, you can segment your list based on shared traits like demographics, geography, age, or gender to make it more specific.
Optimized Content
As discussed above, optimal content is inevitable if you want to generate quality lead magnets. After understanding prospects' pain points and problems, come up with content that offers the best possible solution to improve their lives. Whether it's in eBooks, videos, tutorials, or case studies, make sure it is relevant and valuable to attract lead magnets.
15 Examples of Lead Magnets to be used in 2023
1. Ebooks
How to use an ebook as a lead magnet?
Using ebooks for the lead generation magnet is one of the top strategies used in the modern era. Informative and valuable ebooks are a great source of attracting new leads to your business. In addition, select a catchy and informative book title and design the ebook to be easy to read and navigate. Moreover, promote it on your website, social media, and other platforms so that more and more audiences will get access to it and become potential leads.
Benefits of using an ebook as a lead magnet
A free ebook as a lead magnet can provide value to potential leads and help them become paying customers
It can establish the authority and expertise of your brand
Build a long-term relationship and better reputation
It's a cost-effective marketing tactic
Increases your leads, sales, and revenue ultimately
Here's a great example of an eBook as a lead magnet from Hinge Marketing.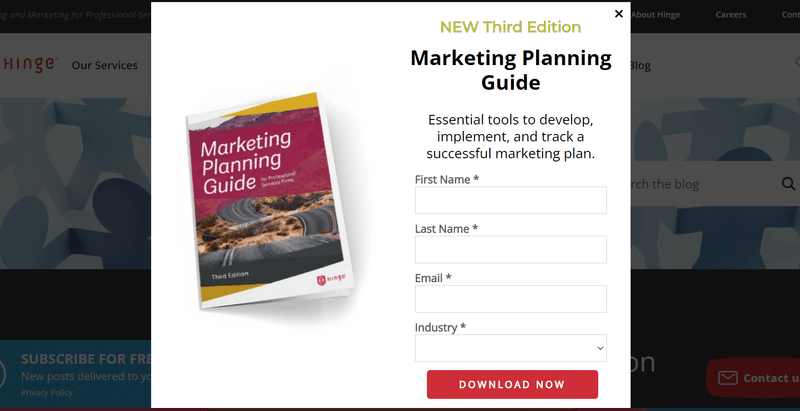 (Source)
2. Webinars
How to use webinars effectively for lead magnets?
Webinars can be used as a powerful lead magnet because they allow you to connect with your target audience directly. You can share your expertise and provide value to potential leads in real-time. Choose a topic that is relatable and valuable to your target audience and comes with quality content. Moreover, promote the webinar through various channels so that it will reach more and more potential leads. The webinar should be engaging and interactive so that you can get to know your audience and their problems.
Benefits of webinars for lead magnets
Through webinars, you can build brand awareness
You can generate high-quality leads
Build trust and credibility among your audience
Build a long-term relationship and brand ownership
Increase leads, sales, and revenue
Here's an upcoming webinar by Gartner- it can therefore grab the email addresses of potential leads using the form on the right side of the page.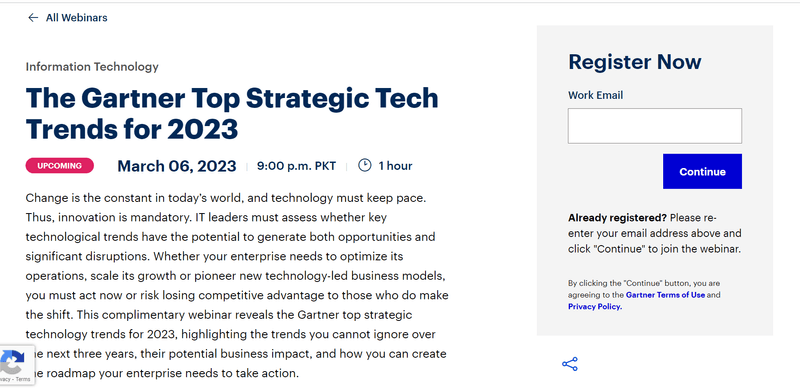 Alternatively, you can design a page and list down all upcoming webinars like this,
The All-in-One Platform for Effective SEO
Behind every successful business is a strong SEO campaign. But with countless optimization tools and techniques out there to choose from, it can be hard to know where to start. Well, fear no more, cause I've got just the thing to help. Presenting the Ranktracker all-in-one platform for effective SEO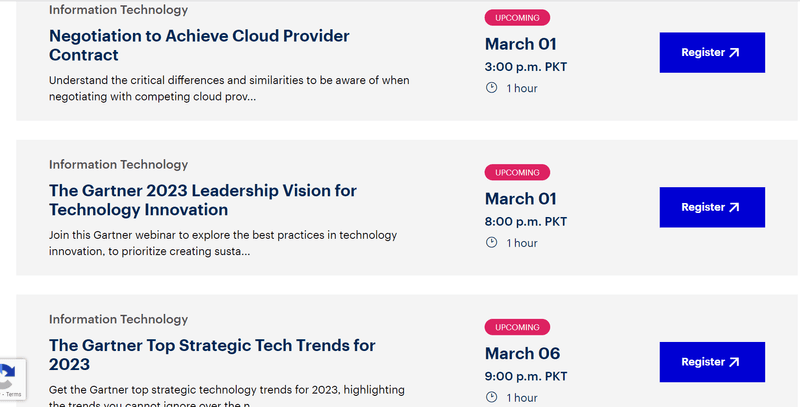 (Source)
3. Free Trails
Why free trials are still the best way to generate lead magnets?
Giving free trials is another great way to generate lead magnets because it gives the opportunity to potential customers to try a product or service before purchasing. It is a try-first-and-purchase approach that helps customers test the product before the financial commitments. Moreover, it increases trust and credibility by giving a valuable service or product to the target audience. For you as a business, it helps in identifying potential leads and customers.
Benefits of webinars for lead magnets
It's a low-risk approach that attracts new customers
You can get quality leads.
Better customer experience
Collect data on potential leads
4. Discount Coupons
Why discounts are important to generate leads?
Discounts are very important to generate lead magnets and attract price-sensitive customers. It encourages customers to make purchases they might not have made otherwise. Moreover, they create a sense of urgency among the target audiences and build customer loyalty.
Benefits of using discount coupons for lead magnets.
You can attract new customers.
Most businesses discount a tactic to boost sales.
Increase the repeat purchase
You can build brand awareness and sales.
5. Access to Private Groups/Communities
Why giving access to premium groups is the best lead magnet generation strategy?
Proving access to premium groups and communities is an effective strategy to generate lead magnets because it offers value to potential customers. It connects the target audience with others who share similar interests. Through these groups, you can provide resources, support, or valuable content that can help potential leads. It increases trust and credibility and increases loyalty and advocacy.
Benefits of using a private community group for lead generation
It establishes a community of people with similar interests.
Build trust and credibility.
Personalized interactions
Increases leads and sales
6. Free Consultation
Why free consultation is considered one of the best strategies to generate lead magnets?
Offering a free consultation is a good strategy to generate leads because it offers value exclusively. It's a personalized approach and gives you a chance for your audience to share the problems and pain points to get solutions. This establishes trust and credibility and helps you can upsell opportunities.
Benefits of using the consultation to generate high-quality lead magnets
Offers value to potential audiences
Grow email list and potential leads
Establishes trust and credibility.
Personalise connects which increases brand reputation.
7. Templates
What type of templates you should use for lead magnets?
Designing templates is another effective way to generate quality leads. Today, quick design tools have made life much easier to run such campaigns. There are endless template ideas that you can take and offer in exchange for the contact details of your target audiences. For example Task Planners, Content calendars, Marketing templates, book templates, goal planners, and many more.
Here's a great lead magnet by Digital marketers for its Facebook Ad templates.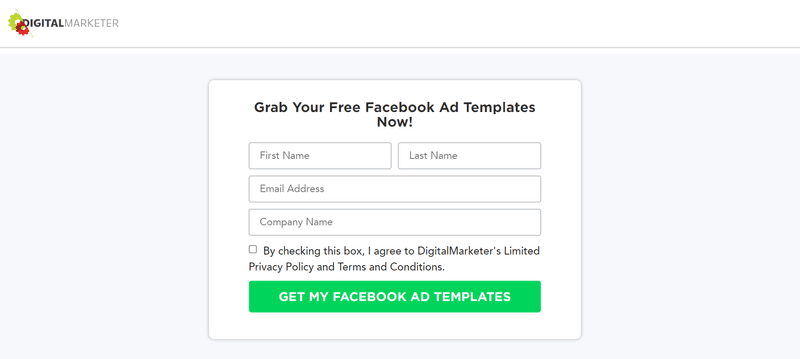 (Source)
8. Guides
How to use guides for generating high-quality lead magnets?
Content marketing in the form of guides has been the best strategy to generate high-quality lead magnets. These guides solve the problems of your target audience even before they decide on your purchase.
What type of topics you should choose for guides?
Choose the topics that are relevant to your target audience and can help them to solve their pain points and problems. Providing valuable content not just only help them find the solution but establish a long-term relationship.
9. Tutorials
What is the right strategy to generate lead magnets through tutorials?
Tutorials are another important source of generating quality lead magnets. Various businesses use Edtech websites, like Udemy and Skillshare to prepare video tutorials and provide it to the target customers. This offers a lot of value to your audiences and helps them purchase your product or service.
10. Survey Reports
How to use them for lead generation?
Survey reports can be shared with your target customers for the exchange of contact details. This is very valuable, especially in B2B businesses where your target customers are other businesses. These reports can provide valuable data and help them in making better business decisions. Moreover, they establish trust and credibility in your business while growing your email list.
11. Videos
How to effectively use videos for lead generation magnets?
Using videos in the form of tutorials, documentaries, reports, case studies, and others is another modern tactic to collect the contact details of your target audiences. These videos can offer a lot of value to your target audience and make them your lead.
The other way of using videos for lead magnets is to offer intro videos, movie trailers, and other forms, an example where you can ask for the contact details for complete videos.
12. Free Access to Premium Resources
Almost every one of your target customers loves getting free access to premium resources. This is a tactic to persuade customers and collect contact details to make them pay customers forever. You can offer resources like a free trial of a premium tool for a limited time, a tutorial, or any other resource.
Check out Tom's exclusive info on products & special offers.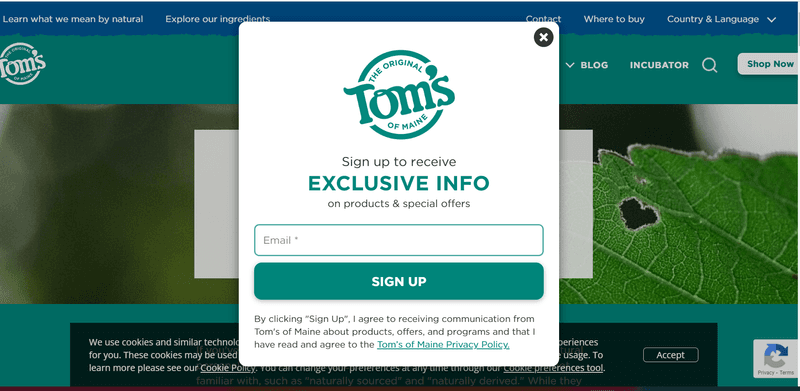 (Source)
13. Free Event Tickets
Why free tickets are important for lead generation magnets?
Getting free tickets is the hobby of millennials. Whether it's a flight ticket, an important event ticket, or a concert ticket, it's acceptable. Offer such free tickets to your target audience and encourage them to exchange their contact details. Such tactics can increase not only the number of lead magnets but also offer a lot of other benefits, including brand awareness, referral marketing, and boosting sales. This method will be beneficial for your word-of-mouth marketing efforts, as your customers would love getting free tickets and will recommend your company to their friends and family members.
14. WorkBooks
How to use workbooks for lead generation?
To your target audience, offer workbooks to hello and other resources. You can promote such tools on social media, your website, and other platforms. These tools can make the tasks of your audiences easy and simple and build a bond of trust with your businesses. Make sure such workbooks are designed in a way that they are easy to use and navigate in order to bring value to the target customer's life.
15. Case Studies
What type of case studies you should use?
In the business world, case studies are a great source of learning while using other businesses. Such case studies can help your target customer learn and develop strategies on their own. Use the relevant, valuable and important case studies and ask for the contact details in exchange. Such strategies can increase your email list while building a strong bond with your customers.
16. Giveaways, contests, and lotteries
Giveaways, contests, and lotteries are powerful lead magnet tactics that can help you generate new leads and grow your email list. By offering an enticing prize, you can incentivize potential customers to provide their contact information and engage with your brand.
The All-in-One Platform for Effective SEO
Behind every successful business is a strong SEO campaign. But with countless optimization tools and techniques out there to choose from, it can be hard to know where to start. Well, fear no more, cause I've got just the thing to help. Presenting the Ranktracker all-in-one platform for effective SEO
Personalized products can be particularly effective in these types of promotions, as they create a stronger emotional connection with your audience. By offering a prize that is tailored to the winner's interests or preferences, you can demonstrate that you understand and care about your customers on an individual level.
One common misconception about these tactics is that you need to have an inventory of products to give away. However, you can easily use print-on-demand services to create custom products only when they are ordered, so you don't have to worry about keeping stock or managing shipping logistics.
When running a giveaway, contest, or lottery, it's important to ensure that the terms and conditions comply with any relevant laws and regulations. In particular, lotteries are often subject to strict legal requirements, so it's important to consult with a legal professional if you plan to run one.
Conclusion
Using effective lead magnets is crucial to promote and grow your business today. Lead magnets can help you generate high-quality leads, and sales and increase revenue. The amount of lead determines the sales and revenue. In 2023 you can use many strategies to generate leads including free ebooks, free trials, free consultations, webinars, templates, case studies, and many more.