Intro
Now that 64.4% of the global population has gone digital, brands are under pressure to implement effective digital marketing strategies to gain a competitive edge. If you already have one but failed to generate strong results, then it's time for you to use digital marketing optimization.
How to optimize your digital marketing strategies? In this guide, you will discover 5 proven approaches to optimize your digital marketing lifecycle and strategy. We also include best practices, practical advice, and tools to ensure your business is set for long-term success.
Are you ready to make the right changes? If so, here you go.
5 Proven strategies to try for digital marketing optimization
Optimization is the go-to solution to ensure all your marketing campaigns and activities are running efficiently and meeting all your business goals. Here are 5 proven strategies to get your edge back.
1. Collect & analyze marketing data for insights

(Image Source)
Digital marketing optimization begins with the collection of the right data. It will give you a holistic view of the overall digital marketing performance - what actually works and needs improvement.
What data should you collect? It depends on your target area to optimize. If you intend to focus on your ad campaigns, you can collect data based on a list of questions (priorities):
How do people find your ad campaign (through Google search, social media links, etc.)?
How many of them click the links available on your ad campaign?
How long do they stay? Are they new or returning visitors?
Data collection can be time-consuming when done manually. You can speed up the process using an analytics tool like Google Analytics and HubSpot. You can watch out for the following key metrics:
Leads
Impressions
Bounce Rate
Total ad spend
Conversion rate
Cost Per Lead (CPL)
Click-Through Rate (CTR)
Cost Per Conversion (CPC)
Most analytics tools are highly customizable. Therefore, you can add and view the performance metrics that matter the most to your ad campaigns. You can also use** cookies** and Global Positioning System (GPS) to pinpoint where and when people click on your ads.
Do you want a direct approach? You can run a quick online survey to reveal the strength of your marketing tactic.
Key takeaway: Eliminate guesswork
The more data you gather, the more accurate your decision-making will be. Monitor and assess every digital marketing activity and campaign regularly so you can make changes whenever necessary.
2. Revisit your business objectives
Once you gather all the data you need, it's time to plan how to implement it. We recommend revisiting your business objectives first to set you on the right path.
The All-in-One Platform for Effective SEO
Behind every successful business is a strong SEO campaign. But with countless optimization tools and techniques out there to choose from, it can be hard to know where to start. Well, fear no more, cause I've got just the thing to help. Presenting the Ranktracker all-in-one platform for effective SEO
You can use the valuable insight you have gathered to revise them. It's an excellent method to lead it in a direction that's even better than where you originally planned. Most business owners and marketers focus on increasing brand awareness.
Brand awareness shows how familiar your target audience is with your business. The more they show interest in your brand, the more they invest in your products. It will also encourage positive word-of-mouth recommendations and repeat purchases.
One method to optimize your brand awareness is using the demographic insights from your ad campaigns (current and past). It will show you which potential customers respond well to your ads. You can also mine data from other sources to get accurate information. Data from your website, social media channels, and email are good sources.
Collate and sort all the necessary details, and you will have a new customer base to target. From there, you can build buyer personas. A buyer persona is a data and research-based representation of your ideal customers.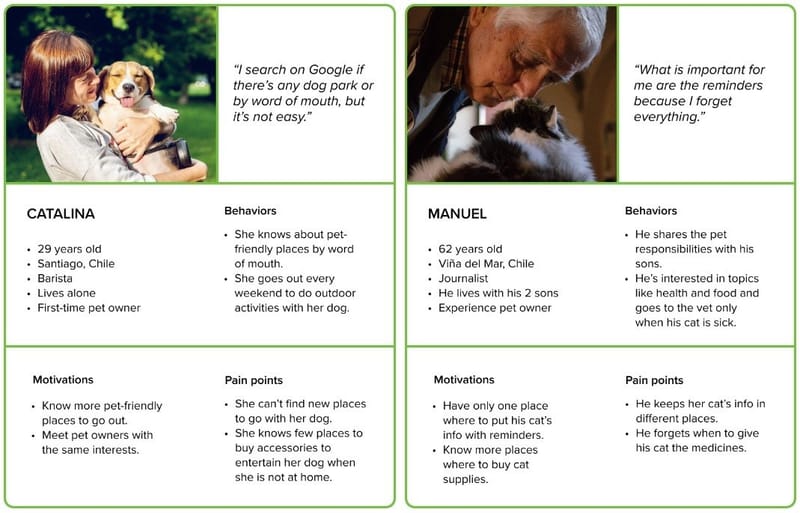 (Image Source)
Let's say you're building a pet brand persona. You can build your buyer persona by combining the traditional demographic insights and core pet owner behavior types (new, family companion, etc.). You can also provide solutions to people's common pain points to make them more relatable. Here's a list of solutions you can offer:
Potty training
Teach pets common tricks (sit, stay, come, etc.)
Stop the pet's unwanted behaviors (aggression, chewing, etc.)
Some pet owners love taking their pets anywhere they go. You can target them by providing in-home training programs tailored for specific pets. Ensure to lay out the main goal: improving their pet's behavior. After you create a buyer persona, you can apply it to your paid ads and content creation to boost your ROI.
Key takeaway: Data-driven approach
Ensure you base your goals on accurate data from your marketing efforts. Goals are more achievable when they are specific and measurable.
3. Retargeting & remarketing
Did you know that the average shopping cart abandonment worldwide is 71.82%? A poorly designed customer journey is commonly the problem. It either forces consumers to create an account, or there are issues with the checkout process.
The All-in-One Platform for Effective SEO
Behind every successful business is a strong SEO campaign. But with countless optimization tools and techniques out there to choose from, it can be hard to know where to start. Well, fear no more, cause I've got just the thing to help. Presenting the Ranktracker all-in-one platform for effective SEO
Provide a good customer experience. It means that your website should be easy to navigate, make it easy to find your products, and simplify the shopping and checkout process. You can deliver the latter by breaking the processes into smaller steps.
Don't get disheartened with your missed sales because there's a way to re-capture them. Retargeting and remarketing are two digital marketing strategies you can implement.
A. Retargeting
Have you ever browsed a product's page, and after leaving the website, you keep seeing its ad campaign wherever you go? Retargeting is the digital marketing strategy behind it. It uses cookie-based technology to track website visitors around the web anonymously. It will work as soon as you place the simple Javascript codes on your website.
You can optimize retargeting campaigns through geotargeting. Geolocation advertising allows you to create a campaign for one territory and set one language. If you have a multilingual website, creating individual campaigns per territory is advisable.
Also, it's recommended to exclude your and existing customers' IP addresses. Existing customers are unlikely to make another purchase in a short period. What you can do for them is optimize the user experience for better customer retention.
B. Remarketing
Remarketing is about engaging with your prospects through email marketing campaigns. Including a generous offer or lead magnet is recommended to entice them. Most SaaS products offer a free trial version for 7 to 30 days. It gives your ideal buyer a chance to explore your product risk-free.
You can also take Raima's approach. You can download the SDK version of its database management software for free and without any time limitations. They only restrict the evaluation of the product, which they can get after purchasing a license.
Key takeaway: Build trust
Retargeting and remarketing have different approaches to re-engaging your target audience. But one thing is sure, they can give you satisfying results. The key to success is to stay true to your promise and deliver the product as advertised.
4. Content marketing
Content marketing is one of the best digital marketing strategies to implement. The reason: high-quality and engaging content heavily influence the consumers' purchasing decisions. It evokes emotions that deepen customer loyalty.
Check out the digital marketing services.
When creating the content, you can use Cialdini's principles of influence. All principles use different techniques of persuasion to boost conversion. The most popular principle is Authority. People trust experts or anyone with authority figures more because they provide evidence of the product's effectiveness.
No matter what approach you use in creating the content, ensure to match it with the proper format. Videos and blog posts are the top choices. For example, if you're offering cleaning services, you could write how-to guides on starting a cleaning business. You could also write content discussing:
Free cleaning tips
Tutorials about your app for mobile users
House cleaning supplies and products checklist
SEO is an integral part of content marketing. It helps your content rank high on search engine results. Choose the best keywords relevant to your niche and audience's needs. You can use Google Keyword Planner or Ahrefs to start with the search.
You can also build backlinks from reputable websites to improve your site's domain authority and overall online reputation.
Key takeaway: Create an emotional connection
People love authenticity. So, write original content highlighting your brand's human side. Show them that you genuinely care about resolving the pain points they are currently facing. You can also apply creative thinking techniques to help you come up with new ways to communicate with your target market.
5. Social media marketing
Search engines are the largest source of organic traffic. But thanks to the continuous development of digital technologies, social media channels remain in the second top spot.
Find out which social channels your target audience engages in most and build your community. YouTube, TikTok, and Instagram are ideal for video-oriented content. If you prefer to create content with a combination of text and images, here are your options:
Twitter
Pinterest
Snapchat
Facebook
LinkedIn, on the other hand, is the ideal digital channel for B2B businesses and professionals. You can create content that can help anyone land their dream job. You can also post job search advice for preparing resumes and passing interviews.
Creating content consistently isn't an easy feat. You can simplify the creation process using social media trends and user-generated content. Trends like memes and challenges are great for maximizing engagement. While user-generated content boosts visibility and promotes brand loyalty and affinity.
Key takeaway: Stay active on social media
Social media is a two-way communication between consumers and brands. Stay active and engage in meaningful conversations to gain more followers and trust.
Digital marketing optimization best practices
If you want to get the attention of your target audience, you have set an edge over the competition. This is more challenging than it sounds, but it is possible. Here are digital marketing best practices to help you reach your goals.
I. Timing is important
Timing is a crucial factor in the success of your marketing campaigns. You have to be at the digital platform where your target audience is most engaging and interact with them during their most active time.
How do you know when your audience is most active? You can check on your social media and other digital analytics systems. It includes graphs to show you the days and times your audience is engaging on the platform. You can create a schedule for your content posting from the insights you will get.
There are also tools online (demand intelligence and data platform) where you can track all the events worldwide. You can check all upcoming events in your location and prepare content in advance.
II. Set a realistic marketing budget
Overspending is a common marketing challenge. Some spent hundreds, even thousands, just to widen their reach and increase their conversion. But the truth is, you can achieve these results without spending too much.
It's advisable to set a realistic budget for your marketing spend. Identify all potential costs and strategically allocate your money. The costs may range from marketing materials and tools to content creation.
Pro Advice: Explore marketing techniques that cost you time, not money
The key to a successful campaign is mining actionable data (customer insights) and incorporating them properly into your marketing initiatives. There are also marketing techniques available that don't require money.
SEO
Cross-promotion
Create branded hashtags
Do blogs and guest posts
Communicate with your fans
III. Build a referral program
Another excellent digital strategy that doesn't cost money is building a referral program, also known as an affiliate program. It's performance-based advertising, where you allow your customers or individuals to promote your products. They will receive a commission for every sale they generate or business goals they meet.
It's an excellent way to start a lifelong relationship between your brand and consumers. A good example is the Shop Solar Kits affiliate program, which sells affordable solar equipment for home, RV, and off-grid properties.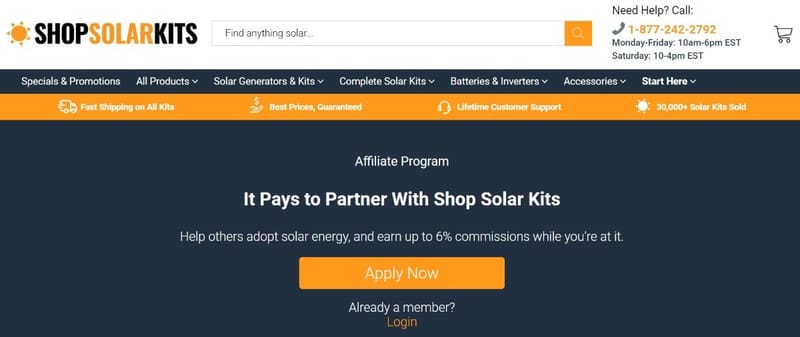 (Image Source)
Partner with the company and consumers can earn up to 6% commissions on all custom solar kit sales they generate. The best part is they don't have a limit on how much their partners can earn. So, everyone can earn as much as they can. They also provide FAQ sections to answer customers' questions.
Pro advice: Use different affiliate marketing channels to promote
There are different types of affiliate marketing channels where you can promote products or services. A blog is the most popular option because it has a solid audience base and is packed with helpful content. Other channels you can use are listed as follows:
Email
Review sites
Coupon sites
Influencer marketing
IV. Credit the owner
Creating original content consistently is challenging. That's why using user-generated and curated content is acceptable to increase your brand value. Suppose you found share-worthy content, credit the owner.
You can tag them or send them a private message. It's an excellent way to network and build lasting relationships with your community. Remember to put your personal touch on the campaign message. Include something helpful to your audience for added value.
If you don't have time to juggle content creation and other administrative tasks, hiring a virtual assistant can be a huge help. You can assign them tasks like:
Answer customer concerns
Write copy for your ads and email campaign
Respond to customer reviews (good and negative)
Maintaining your social media channels and website
Compose 500-word blog posts and other web content
V. Perform strategic planning
Improving your digital marketing strategy starts with strategic planning. It helps business owners and marketing directors understand what the company wants to achieve and the solution they need to meet these goals. One method to implement is the RACE framework.
It's a practical framework that's composed of 4 stages. Each stage includes online marketing activities that can help small and large businesses meet their objectives.
Reach = Attract new customers
Act = Encourage your target audience and existing customers online to interact with your business site and social media channels
Convert = Generate sales (online and offline)
Engage = Build customer loyalty and satisfaction
This framework uses a customer-centered marketing strategy. Therefore, customer satisfaction and loyalty are highly achievable.
4 Crucial tools for digital marketing optimization
Selecting the right tools is necessary for performing the job. That's why we put together a list of digital marketing tools for your convenience.
a. Website analytic tools
Digital marketing optimization is about creating educated decisions. Web analytics analysis can make that easy for you. All analytics activities can uncover problematic areas and opportunities you're likely missing out on.
Google Analytics is the popular option because it's free and reliable. It can turn data into actionable insights and measure advertising ROI. Other excellent options to choose from are listed as follows:
Crazy Egg for website and app analysis
Woopra for customer core journey analysis
b. Marketing analytics software with multi-channel marketing
Multi-channel marketing is a great digital strategy to spread out your marketing message. Whatagraph is an excellent choice for its cross-channel reporting tool.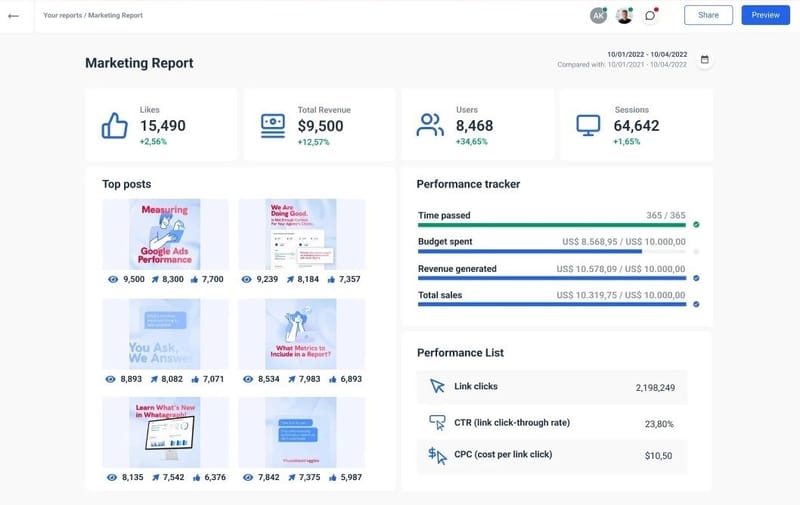 (Image Source)
You can track the campaign performance and turn them into visually-appealing reports. It's a plus that it includes expense tracking and can monitor up to 30 channels.
c. SEO tools
SEO (Search Engine Optimization) is the go-to digital strategy to increase your visibility on search engines. With the right tools, you can consistently get data and alerts about your website's success and overall health. Ranktrancker, an all-in-one SEO platform, is the go-to solution.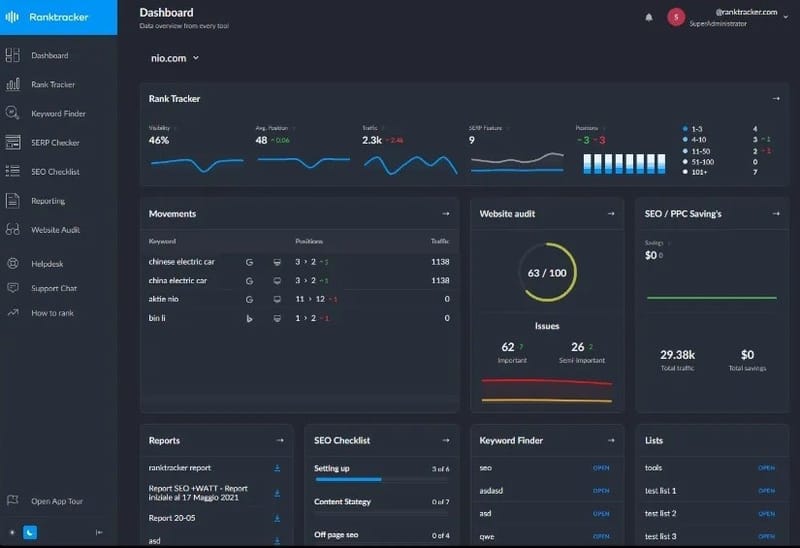 It provides you with all the tools you may need to achieve success at every stage of the optimization process. Web audit, backlink checker, and SERP checker, to name a few. One unique feature it offers is the free SERP Simulator.
It's a simple tool that allows you to preview what your site will look like on the search result pages (mobile and desktop view). It includes simple instructions to ensure you will only follow the search engine's correct format.
d. Content curation tool
The digital marketing optimization process requires a lot of work. So, having to write content consistently can be a challenge. Content curation tools can lighten your workload by providing relevant topics and content types based on your search term or area of interest.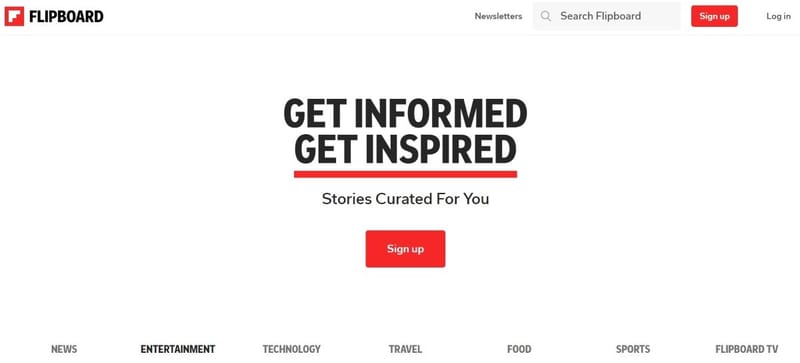 (Image Source)
Flipboard is a recommended content curation tool for mobile and desktop. Though it's famous for its news-related articles, there are various niches you can explore. You can watch the video below to find out how easily you can use it.
The All-in-One Platform for Effective SEO
Behind every successful business is a strong SEO campaign. But with countless optimization tools and techniques out there to choose from, it can be hard to know where to start. Well, fear no more, cause I've got just the thing to help. Presenting the Ranktracker all-in-one platform for effective SEO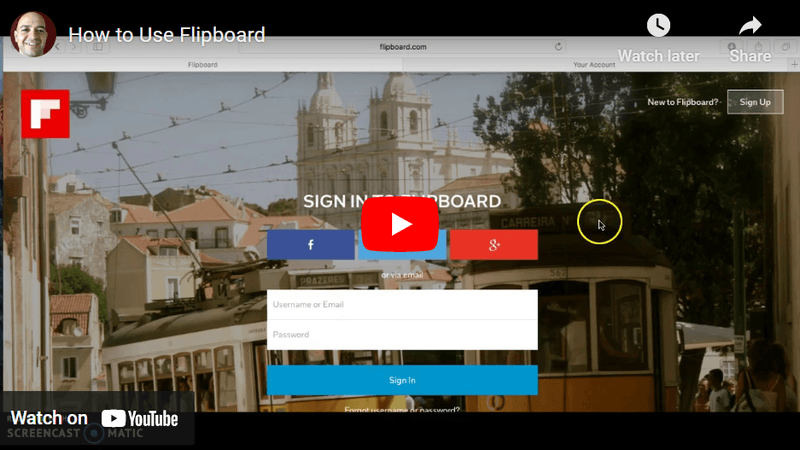 Key Takeaway: Take advantage of the technology
Marketing technology is constantly evolving. Instead of getting overwhelmed, learn to leverage it.
Conclusion
Digital marketing optimization plays a vital role in your campaigns' success. It makes small changes to your ad campaign and website to increase performance. It also ensures that all results are measurable, consistent, and positive.
Since digital marketing utilizes internet technologies and mobile marketing tools, you can also maximize your reach. The strategies and best practices mentioned in this guide can get you on the right path. But without completely understanding your goals, your digital marketing efforts can fail.
So, ensure to collate all the data you need and analyze them carefully. Once you determine the key drivers that can improve the effectiveness of marketing activities, you can start employing them on individual marketing tactics you use.
Optimizing your digital marketing strategy is an ongoing process. Ensure you have the right tools to easily track and monitor every stage of the digital optimization process - from planning to solving issues. Try Ranktracker's web audit and see how well your site is performing based on your existing digital marketing strategies.