Intro
Buyer personas are essential for effective content marketing; why? Because a persona represents your ideal customers. A persona helps you delve into your potential customers' real-world challenges and preferences.
Personas offer deep insights into communicating with your prospects in a way that almost guarantees conversions.
According to the Marketing Insider Group, 93% of companies that exceed their revenue goals segment their databases by buyer persona.
In this article, let's learn how to build accurate buyer personas and improve content marketing outcomes.
What is a Buyer Persona?
Imagine your favorite characters from PC games, movies, or novels. Now think of your ideal customer. Do they look like one of them?
If yes, you already have a decent idea of your buyer persona. In simple terms, a buyer persona is a fictional representation of your ideal customer. Moreover, with a buyer persona, you try to describe your target customers.
Buyer personas are the life and soul of successful content marketing efforts. And they make your life easy. That's because when you have deep knowledge of your prospects' content preferences, you can create exactly what they need.
Content Marketing Personas: Why Are They Essential?
Content marketing personas help you reach the right people with your content. In addition, building accurate content personas help improve content efficiency and outcomes.
With personas, you can understand your audience's problems and work on solving them with branded content.
Everybody has different content needs, likes, and preferences. By knowing who your audience is, you can create content that they find helpful and accessible.
For example, consider two companies: a productivity tool for HR teams and an educational tool for college students. The ideal customer persona for both of these will be very different.
The All-in-One Platform for Effective SEO
Behind every successful business is a strong SEO campaign. But with countless optimization tools and techniques out there to choose from, it can be hard to know where to start. Well, fear no more, cause I've got just the thing to help. Presenting the Ranktracker all-in-one platform for effective SEO
Do you get the drift?
Here's another important reason why you should create content personas.
The world is full of content. How do you make yours reach the people who want to buy from you? Learning about audience demographics and psychographics makes it easier to tailor your content marketing and make it more audience-centric.
Furthermore, you can create content that aligns with different customer lifecycle stages. Such content fetches you the objectives you set out to achieve with branded content.
Content personas help to analyze your audience's emotional needs. These details allow you to give your branded content a unique voice.
A lot of companies focus on creating search-friendly content. Unfortunately, as a result, they fail to focus on user intent.
Developing detailed buyer personas helps marketers to create believable value propositions for prospective customers.
Having personas lays the foundation for making content more human.
Let's now understand the process of building buyer personas for your business.
Details You Need for Creating a Buyer Persona
Here are the things you need to include in your buyer persona documentation:
Key pain points: list the problems your customers face right now.
Professional life: What do your potential customers do to make a living? Make a list of job titles you're targeting.
Aspirations: Work towards finding the target audience's personal and professional ambitions. For instance, are they looking to buy a new house or car? Are they looking for a career shift?
A typical day: What does the average day in the life of your ideal customer look like? Try to find out what drives them to do what they're doing. Are they searching for specific products, services, or information?
Product fit: Analyze if your product or service fits their objectives.
Online platforms they use: If you know where your prospects hang out, you'll know where to publish your content and engage with them. Hence, this aspect of your study is critical.
How Many Personas Should a Business Have?
Every business has a different strategy for who they wish to target and in what proportion. So, whether you have three personas or eight depends on your products and services.
Optimizing your persona number to personalize your messaging effectively is the best strategy.
Make sure you create profiles of the customer types most profitable to your business.
List your best customers and put them into segments. The number of segments you have is the number of personas you need.
Start by Collecting Data
To build accurate content personas; you should focus on audience data quality. In this section, let's understand the different aspects of this vital process.
Segment Your Customers
The ideal way is to determine what customers buy from you.
"Identify who buys from you and who has the greatest success using your product. Don't exclude the former from buyer personas but know that the latter should be your primary targets," says Nadine Heir, Creative Director, Messaging Strategy at Feral.
In more advanced customer segmentations, you can consider the stage in their customer lifecycle journey stage.
Create a Set of Research Prospects
Once you have a few relevant segments of customers, you can chalk out an action plan to survey them. But first, develop in-depth surveys to send to a wide variety of people within your sample.
Ask them questions to gather relevant information. Then, use your survey to understand your prospects' fundamental goals and values.
Analyze Research to Create Content Personas
You can create one for each customer segment. Add an illustration and supporting text. Plus, you can name your personas based on individual segments.
What do Personas Look Like?
Take a look at this buyer persona example: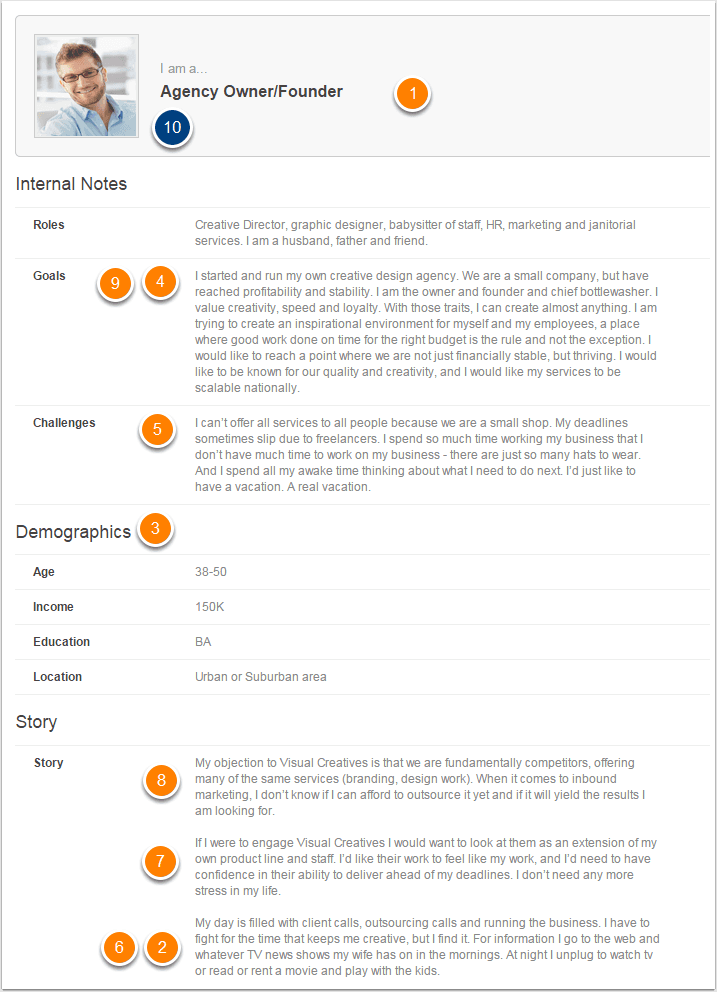 The All-in-One Platform for Effective SEO
Behind every successful business is a strong SEO campaign. But with countless optimization tools and techniques out there to choose from, it can be hard to know where to start. Well, fear no more, cause I've got just the thing to help. Presenting the Ranktracker all-in-one platform for effective SEO
This is precisely how you can create one for your business.
B2B Vs. B2C Buyer Personas
There's a fundamental difference between B2B and B2C content marketing. And that's why you need to create different audience personas for these two content marketing types.
A B2B buyer's journey is usually long. A B2B decision maker has to go through a long and tedious process before making a purchase decision. On the other hand, B2C decision-makers can make a purchase decision within a few hours or a few days. B2C buyers often visit an e-commerce store and browse a few products before buying the most suitable one.
B2B buyers take time to purchase a product because such products are high-priced and need considerable deliberation. B2B products and services are often an investment for the company buying them. The same is not true of B2C products; they're meant for personal consumption.
A B2C buyer is looking to fulfil emotional needs, whereas a B2B buyer is happy to learn about a product's or service's business benefits.
Creating a B2B Content Persona
B2B buyers are professionals and decision-makers. Hence, while creating such personas, you must concern yourself with their business goals.
For instance, a business process manager would be looking to reduce redundancies in everyday business processes.
The All-in-One Platform for Effective SEO
Behind every successful business is a strong SEO campaign. But with countless optimization tools and techniques out there to choose from, it can be hard to know where to start. Well, fear no more, cause I've got just the thing to help. Presenting the Ranktracker all-in-one platform for effective SEO
"When creating B2B personas, you need to focus on the professional designations of prospective customers and whether they are the relevant decision-makers," says Natalie Ann Holborow, Content Marketer at Thingi.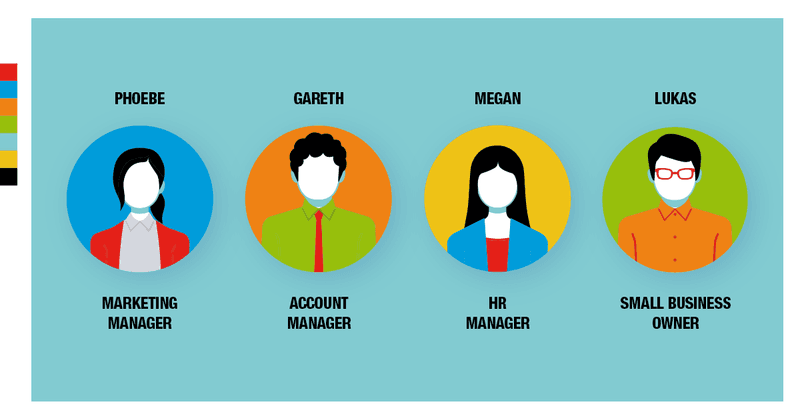 (Source)
Most B2B content marketers create multiple content marketing personas. That's because they want to build relationships with different decision-makers across companies.
How to Create a B2C Persona
Creating accurate B2C buyer personas can help you turn them into content marketing gold. Precise B2C personas can help get the right people to buy from you.
B2C buyers are looking to fulfill their aspirations. And you must not forget this essential fact.
Learn about the social media platforms and offline locations they hang out.
Try to know about the things that they care about. Plus, you need to make a list of their essential lifestyle habits.
Other exciting details you need to know about your B2C customer personas include their income level, current financial status, spending habits, and preferred payment methods.
Understand their life status and research extensively to know as much about their habits as possible.
Lastly, you must study the key influences in your B2C customers' purchase decisions.
Here's an interesting B2C content marketing persona example: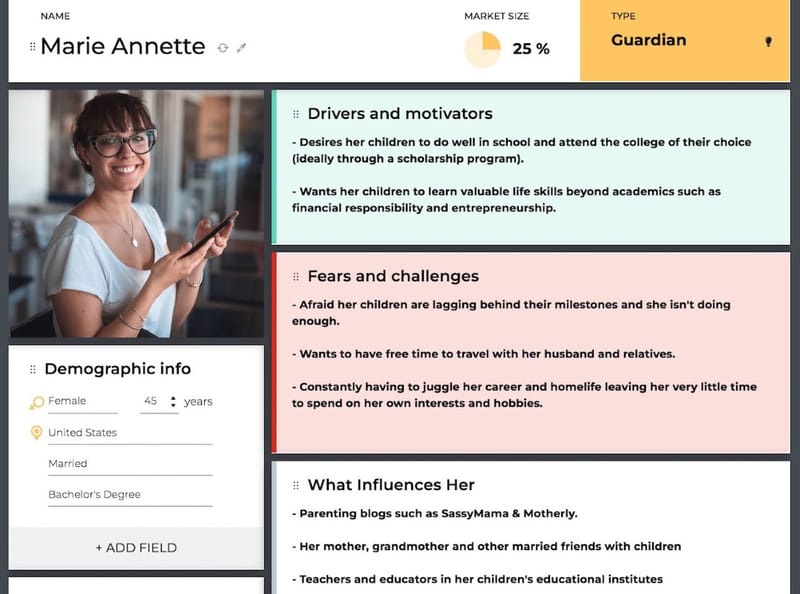 (Source)
Applying Content Personas to Branded Content
Here comes the fun part.
When you know your ideal customer personas, it's time to understand their human side. Document and circulate these personas with your content team and start having discussions.
Talk about the best ways to create content that would resonate with these people.
Build strategies and campaigns to tailor content for different segments and personas.
Divide your sales data into different personas to send them personalized messages and content.
Final Thoughts
Content marketing personas can give valuable insights about your target customers. They offer you key consumer trends and help you find the best content opportunities for your business. When you do in-depth consumer research, you can envision your audience. It's the best way to give your writing team a clear idea of how to communicate with potential customers. Finally, documenting audience personas helps you segment your audience and create content that attracts them to your business.