Intro
Did you know software spend is the third-biggest spend in an organization next to employee and office lease spend?
Yes, SaaS applications, unlike legacy apps, are easier to purchase. Anyone with access to a corporate credit card can purchase a SaaS application without the approval of the IT or finance teams.
This uncontrolled spending, technically termed "shadow IT," increases the number of free and unsanctioned apps within your SaaS portfolio. Hidden from IT and finance teams, these apps can lead to missed renewals and, in the worst-case scenario, data breaches too.
This is where SaaS spend management platforms come into play. This blog post'll explore the top seven platforms available today and discuss the benefits of using such software.
What is a SaaS spend management platform?
A SaaS spend management platform is a software solution designed to optimize and streamline SaaS apps' procurement, spending, and expense management processes.
It can integrate with your finance, SSO, and HRIS systems to give businesses comprehensive visibility into their SaaS spend, shadow IT, and help control costs effectively.
IT and HR teams can use the visibility offered by a SaaS spend management platform to identify shadow IT and eliminate duplicate apps. These tools also have real-time reminders and workflows to prevent auto-renewals and help your team renew the SaaS contract on time.
The All-in-One Platform for Effective SEO
Behind every successful business is a strong SEO campaign. But with countless optimization tools and techniques out there to choose from, it can be hard to know where to start. Well, fear no more, cause I've got just the thing to help. Presenting the Ranktracker all-in-one platform for effective SEO
Increased SaaS spend due to missed renewals, shadow IT, etc. will impact your budgeting decisions and revenue if left unchecked. So, let us look at the best SaaS spend management tools that can help optimize your SaaS spend.
Top 7 SaaS spend management platforms
CloudEagle takes the lead as it is one of the most comprehensive spend management platforms on this list. Its extensive app management, cost optimization, procurement, vendor management features, and user-friendly interface have made it the go-to platform for SMBs and enterprises.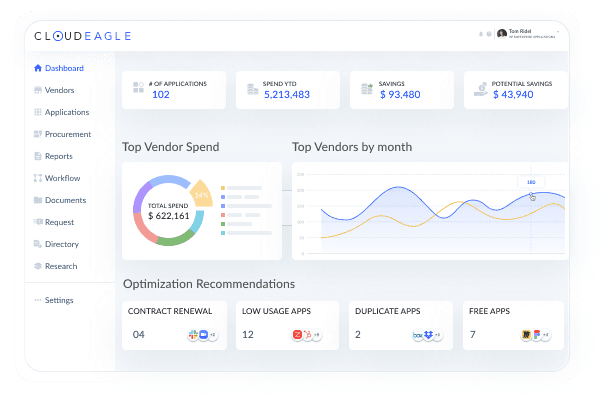 CloudEagle can integrate with your internal SSO, finance, and HRIS systems. This lets you gain 100% visibility into your SaaS stack, track app usage insights, identify underused and duplicate apps, and keep shadow IT in check.
The platform also offers automated workflows to streamline your procurement process and renewals, saving your team valuable time and effort. With CloudEagle, managing contracts and invoices becomes a breeze, as you can store them in one place and track them easily.
CloudEagle's SaaS buying experts will help you find the right software and negotiate on your behalf to purchase the right software at the right price. Furthermore, CloudEagle excels in renewal monitoring. It'll send reminders via Slack and Email 90 days before the renewal deadline and escalate them to various stakeholders until the contract is renewed.
Features
Application visibility and accurate usage insights
Automated user provisioning and deprovisioning
Workflows for procurement and renewals
Slack notifications for procurement and renewals
Assisted buying services
AI-powered vendor recommendation engine
License and contract management
Custom reports.
Pricing
The starter plan is priced at $1000 per month.
Finly
Finly is an advanced cloud-based finance management solution built to track and manage the spend and expenses incurred by users and operations within an organization. The cool aspect of Finly is that it can track and process all expenses, whether on paper receipts or digital records.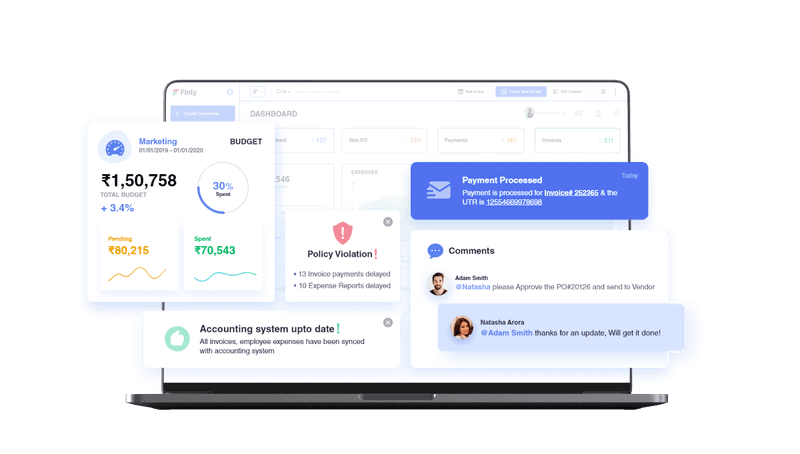 The All-in-One Platform for Effective SEO
Behind every successful business is a strong SEO campaign. But with countless optimization tools and techniques out there to choose from, it can be hard to know where to start. Well, fear no more, cause I've got just the thing to help. Presenting the Ranktracker all-in-one platform for effective SEO
Finly is equipped with Optical Character Recognition (OCR) technology, which makes the tool extract relevant information from receipts, including date, vendor details, and amount spent. This information is then processed to automatically generate comprehensive expense reports.
These reports are then sent to managers for review and approval. Once approved, they move to the finance team for reimbursement, ensuring timely and accurate processing of employee expenses.
If your SaaS stack has duplicate applications due to shadow IT, Finly can help you find who purchased the application by analyzing the receipts or invoices. By using finance management tools like Finly, organizations can enhance accountability for shadow purchases and implement measures to prevent their recurrence.
Features
Automated workflows
Activity and expense tracking
Reimbursement management
Automate contract payments
Manage purchase order payments
Budget control system
Corporate credit card payment management
Pricing
Three pricing tiers are available: Small business, Fast growth, and Enterprise. What type of business are you in? Are you a fast-growth startup? You can contact Finly's team for pricing details.
Ramp
Unlike the other platforms on this list, Ramp offers a unique solution that would prevent employees from purchasing SaaS applications without IT approval: A Ramp corporate card.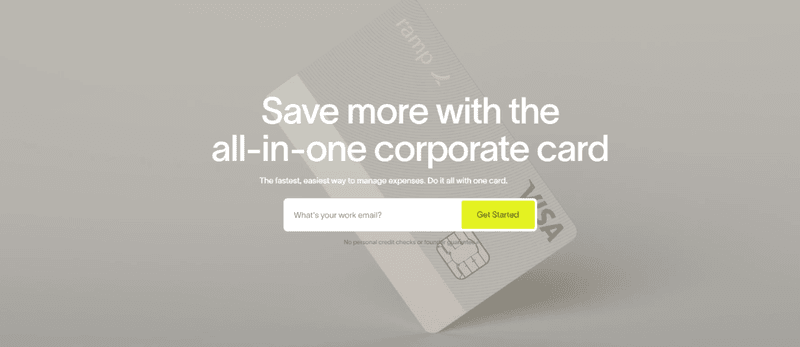 How can a corporate card prevent employees from making shadow purchases?
These cards can be configured in various ways. For instance, you can assign a specific budget to the card that would prevent the teams from overspending, and you can also limit expenses on these cards to keep the spend optimized.
With Ramp business cards, SaaS budgeting becomes effortless as each department can be assigned a dedicated corporate card with a predefined budget tailored to their needs. This approach increases accountability and prevents shadow purchases.
In addition to business cards, Ramp is also a robust expense management and vendor management platform. It simplifies payment processes by accurately collecting and verifying receipts, ensuring a seamless experience for users.
Features
Vendor and expense management
Set spending limits for business cards
Blacklist vendors to prevent unwanted purchases
Prevent vendors from charging more during auto-renewals
Map transactions to the right vendor
Pre-defined approval workflows for procurement
Centralize all employee and SaaS expenses for easy management.
Pricing
A free trial is available. You need to contact the team to learn more about the pricing.
Spendesk
Spendesk is an intuitive spend management solution to help businesses efficiently manage their user and application expenses. It offers various dynamic features like expense automation, virtual cards, invoice matching with OCR, etc., to streamline spend management.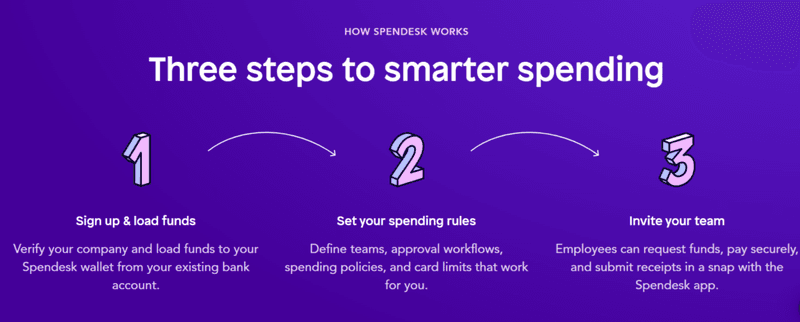 It enables businesses to automate repetitive expenses, reducing manual effort, saving time, and increasing team productivity. This automation feature streamlines the expense management process and ensures consistency.
The Optical Character Recognition (OCR) software enables Spendesk to match invoices with expense claims automatically. This helps accurately relate spend to relevant invoices and simplifies the reconciliation process.
Like Ramp, Spendesk also provides single-use virtual credit cards, which can be used for secure online purchases within an organization. These cards can be configured with spending limits and pre-defined budgets to prevent users from overspending on products and services.
Features
Virtual cards and customer debit cards
Budget control on cards
Track finance and accounting transactions in real-time
Create pre-defined spending rules
Manage app subscriptions easily
Expense reimbursements.
Pricing
You can get a custom quote from the team based on your requirements.
Payhawk
Next on our list of the best SaaS spend management software is Payhawk, which combines corporate cards, multi-entity management, expense management, and accounts payable into one platform.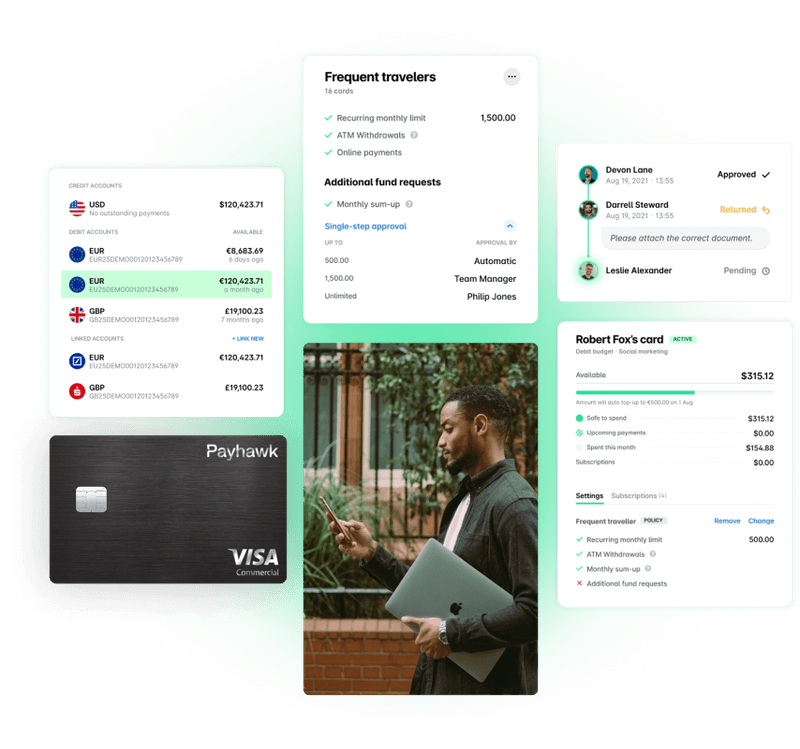 This unified solution enhances visibility into cash flow, optimizes spending, and simplifies Group-wide planning, enabling businesses to take an efficient and streamlined approach to managing their financial processes.
Corporate cards have spend management features like spend limits, policies, and rules to configure budgets and control individual and team-based spending. You can track the usage in real time and freeze the card and further transactions when users are involved in shadow purchases.
The best aspect of Payhawk cards is that you don't have to manage individual cards. The account automation feature will enable you to track and manage cards in bulk. You can set budget and spending rules and apply them to the entire department with a click.
Features
Proactive budget and spend controls
Bulk card management
Create cards with shared, pre-defined budgets
Expense management
Approval workflows are available
Payhawk mobile app is available
Pricing
Premium cards - €199/mo
All-in-one spend - €299/mo
Enterprise - Custom quote based on requirements
Expensify
Expensify is a cloud-based business expense management system that handles expense and transaction management through real-time data processing.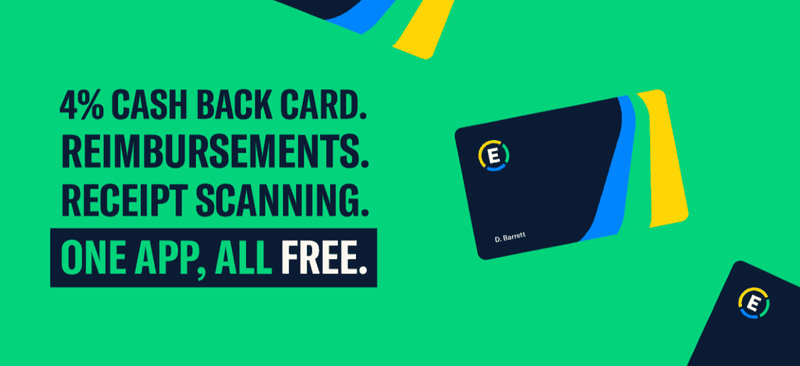 It offers a range of features to streamline expense tracking, analyze spending patterns of users, manage vendor relationships, create a robust budget plan, manage receipts, and manage reimbursement processes.
Expensify also offers corporate credit cards to help finance teams control and manage their expenses effectively. You can set smart limits for each card to control spend. Once they reach the limit, the card will be turned off until approval of the previous spend.
You can create smart, comprehensive expense reports by compiling individual and group expenses with customizable formatting. You can share these reports with colleagues, managers, or accounting departments for collaboration and to facilitate smart decisions.
Features
Rogue agent detection system for compliance
Expense and invoice management
Centralized travel arrangements and personal payments
Advanced automated workflows and integrations
Priority support
Receipt scanning app.
Pricing
A free version available with limited features
Collect plan is priced at $5/user/month with Expensify card
Control plan is priced at $9/user/month with Expensify card.
Spendflo
Spendflo is an end-to-end SaaS management and spend management platform with many features to manage your entire SaaS lifecycle, from app management to procurement and spend management.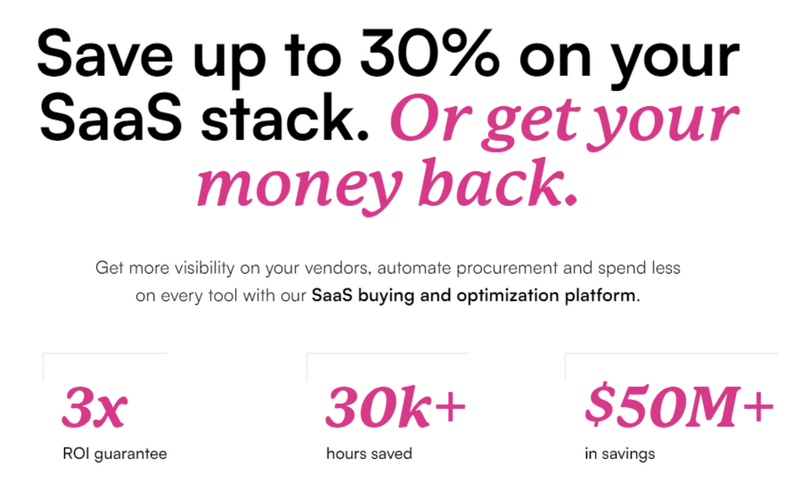 Accelerate the SaaS buying process by automating the approval workflows. Spend fewer manual hours and let your team focus on more strategic tasks to manage your SaaS spend.
Spendflo can seamlessly integrate with your internal SSO and financial systems to track spend data. You can get a 360-degree view of how much your team is spending on each application. Compare the planned spend to the actual spend and calculate where you've underspent and overspent. This will help you plan your budget effectively.
The All-in-One Platform for Effective SEO
Behind every successful business is a strong SEO campaign. But with countless optimization tools and techniques out there to choose from, it can be hard to know where to start. Well, fear no more, cause I've got just the thing to help. Presenting the Ranktracker all-in-one platform for effective SEO
Analyze the usage data of each application, identify underutilized licenses, and right-size them to increase your SaaS savings, which will significantly impact your bottom line.
Features
Manage applications and contracts from one place
Spend analytics and accurate usage tracking
Automated approval workflows and assisted buying
Vendor risk assessment
Conduct sentiment survey
Manage portfolio, spend, and security from one platform.
Pricing
The starter plan is priced at $2,500 per month (billed annually), and the pricing increases based on your annual spend.
Benefits of using spend management software
Implementing a SaaS spend management platform can bring many benefits to your business. Here are some key advantages:
Cost Optimization
A spend management platform helps you gain visibility into your SaaS spend through SSO and finance integrations, enabling you to identify unnecessary licenses, and eliminate redundant services, resulting in significant cost savings.
Visibility and Centralized Tracking
With a spend management platform, you can get a bird's eye view of your entire SaaS stack and consolidate all your SaaS applications in one place, allowing for easy tracking, monitoring, and management. Complete visibility prevents shadow IT, duplicates, and redundant apps and ensures compliance with company policies.
Streamlined Workflows
Spend management software can automate repetitive tasks like invoice processing, expense tracking, and approval workflows, reducing manual effort and increasing productivity.
Usage tracking
Thanks to the integration capabilities of spend management software, you can track application usage in real time. Identify the unused and underutilized apps and make the necessary optimizations to control your spend.
Contract and renewal management
These platforms provide comprehensive asset management capabilities, enabling you to track contract terms, automate renewals, and negotiate better deals with suppliers with the help of assisted buyers.
Conclusion
There you go, the seven best SaaS spend management platforms to look for in 2023. Software spend has become an uncontrollable burden for finance teams due to the lack of a sophisticated system to manage the entire SaaS portfolio.
You can use platforms like CloudEagle and Spendflo for better SaaS management and spend management processes. Get complete visibility on what your teams are using and where they are spending, and make necessary optimization decisions to increase SaaS savings.
Platforms like Ramp and Expensify provide corporate virtual credit cards, which can be used to control the spending patterns of your team and keep the spending well within your budget.
So, what's the choice for you?