Intro
Customers feel disheartened when they call for assistance and are told to wait because the call operator is busy with another customer. This also leads to bad reviews and customer frustration. However, such instances are going to disappear quite soon as a new form of customer support has arrived. Companies now utilise digital channels to provide customer support.
Digital customer service has become the most popular way of assisting customers around the world. However, phone call support is still alive in all of these companies. Companies now utilise customer service software and social media platforms to address the issues faced by their customers.
To implement these digital services, companies turn to software houses offering call centre automation services. If you're a company looking to install digital customer services software, you should consider studying the different components of it. The purpose of this solution, what it will bring to the company, and how it will improve customer satisfaction are some of the factors we need to look at.
In this article, we will discuss the 9 key components of implementing digital customer services and explore their importance. We will also discuss some common FAQs regarding the same topic.
Importance of Digital Customer Service
Before we delve into its different components, it's important to understand why digital customer service is crucial. The customer service technology offered by a company should engage customers through online interactions.
In the past, a phone call was a digital customer service's main way to provide customer support. Nowadays, technology has paved the way for digital platforms like websites, applications, and social media to be used by customers for support.
This type of customer support is important because it is quick and easy for customers. If the customer is talking to a chatbot in real time, it will save them time. Consequently, as soon as their issue is resolved, customer satisfaction will be that much guaranteed.
Key Components of Implementing Digital Customer Services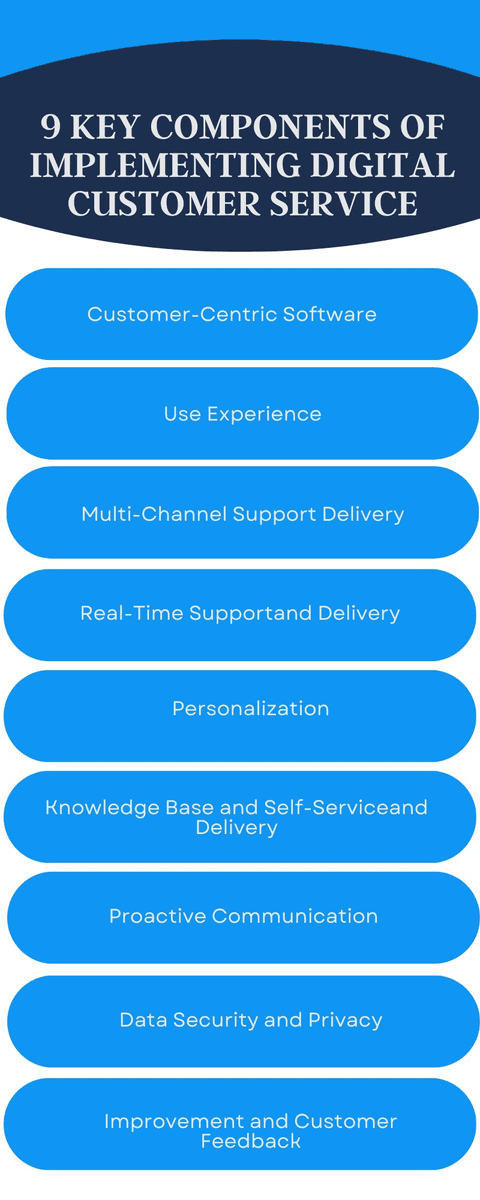 The All-in-One Platform for Effective SEO
Behind every successful business is a strong SEO campaign. But with countless optimization tools and techniques out there to choose from, it can be hard to know where to start. Well, fear no more, cause I've got just the thing to help. Presenting the Ranktracker all-in-one platform for effective SEO
Implementing any software in a company requires thorough research and analysis. Implementing a whole new way of customer service is a tough but rewarding task. It has various implications, such as ensuring seamless support for customers at all times.
The following is a list of Key components of implementing a digital customer service system:
1. Customer-Centric Software
The design of the website and support applications is centred around a customer. If the customer can move around your website with ease, they'll be more satisfied. Similarly, the customer should have all the support options available in front of them. Having a customer-centric digital experience platform will significantly improve customer satisfaction.
2. Use Experience
This is another thing that should be built around the customer's needs and requirements. The company website and application, as well as social media, should be able to ensure customer satisfaction at best. If the user experience of your platforms is satisfactory, it will lead to customer loyalty.
3. Multi-Channel Support
Digital customer support should have different channels for assisting customers as not everyone favours Twitter DMs. Email, live chat, various social media platforms, websites, and applications are different channels through which you can provide digital support. Customers love it when they can access a company's support team through their favourite platform.
4. Real-Time Support
Not all customers prefer to chat with a bot for customer support. That is why many companies neglect this aspect of customer support. However, having a live chat option guarantees real-time solutions to customer issues. Many, if not all, customers love receiving real-time assistance regarding their issues.
5. Personalization
Customers should feel a sense of personalization as they approach any of your company's support channels. If your company has access to analytics and customer data, it should be analysed to understand customer preferences. Once you know this, you can use it to provide personalised assistance to your customers.
6. Knowledge Base and Self-Service
Having a knowledge base like a blog and an FAQs section on your website elevates the whole customer support game. If you want your customers to have self-service options, which some people absolutely love, you need to have a knowledge base of solutions to common customer issues with your company.
7. Proactive Communication
When your support team proactively communicates with customers, they feel more engaged with your company. Routine notifications about inquiring customers and asking them if they have any issues with the company is an example of proactive communication. It increases the value of the company in a customer's mind and they develop a connection with the company.
8. Data Security and Privacy
Providing different means for digital customer service means your company will have access to multiple sensitive and private data of customers. Ensuring careful handling of all this data and preventing any compromise is vital for maintaining customer trust. If your company's software is protective of customer data, they'll feel easier when submitting any data in the future.
9. Improvement and Customer Feedback
A customer feels immense pride and satisfaction when their suggestion is taken into account and actually implemented. For example, if a customer requests a UI change, and the company implements it. The customer will feel trusted and will remain loyal to the company. Likewise, your company should evolve its customer service automation solutions based on customer feedback.
Wrapping Up
No one wants to wait for hours when they're facing an issue with their computer or mobile
phone. If the company only offers phone call support, then it is not easy to provide seamless support to everyone on time. This led to digital means becoming a way of customer support.
Implementing a digital customer service solution has its perks and benefits. Customers will have multiple options for support, and the support will be provided quickly. The satisfaction of your customers will lead to loyalty and future interactions with them.
In this article, we discussed the key components of implementing digital customer service. There is a detailed discussion regarding what needs to be a part of your company's digital support options. Additionally, we talked about the importance of using digital means for providing customer support.